This post may contain affiliate links, which means we may receive a commission if you purchase through our links. Please
read our full disclosure here
.
The '90s were a time of big trends and even bigger personalities. Denim overalls, navel rings, *NSYNC, the Spice Girls — it seemed everyone and everything could achieve immediate fame and subsequent short-lived success.
Looming over the multi-faceted and diverse fashion scene, however, was a headliner act that topped all others: the supermodels of the decade, collectively known as the "Big Five".
The Era of the Supermodel
Back when print magazine covers featured models rather than movie stars and celebrities, there were five spectacular ladies that attained cult status in the world of fashion: Linda Evangelista, Christy Turlington, Cindy Crawford, Naomi Campbell, and Claudia Schiffer.
Though it was their flawless bone structure and bikini-ready bodies that first brought these young women into the limelight, the combination of stellar business acumen and larger-than-life personalities was what it really took to transform the "Big Five" from mere models to celebrities in their own right. By the time Linda Evangelista's famous words — "I don't get out of bed for less than $10,000 a day" — were first broadcast, the far-reaching implications of the phrase were already undeniable; the reign of the supermodel had begun.
After all, with household names like these (Linda, Christy, Cindy, Naomi, and Claudia), who wouldn't be a fan? These ladies absolutely dominated the fashion scene, going from magazine cover to cover and gracing New York's finest runways with expert walks and killer hair. On-camera or off, their every move was vigorously documented by the paparazzi, and a dedicated fan base of men and women alike found themselves plastering their spreads onto sacred bedroom walls.
Perhaps the peak popularity of the girls in the '90s was always fated to be short-lived; not long after a fresh-faced Kate Moss joined the circle of models, the "Big Six" waned in editorial demand. Though many of them are still out and about in the public sphere, involved in fashion in some way or another, they've given way to a new generation of models: the so-called "Instagirls". Still, one thing's for sure: you can't beat this blast from the past.
Keep reading for five looks inspired by the "Big Five"!
Linda Evangelista
Then: Dubbed "The Chameleon" for her versatile and exotic look (the only one out of the group to rock a short coif!), Canadian-born Linda Evangelista was the cornerstone of the entire clique, forging professional contacts and taking new talent under her experienced wings.
Now: Linda is still holding on strong to her title as the supermodel with the highest amount of Vogue Italia covers! The number to hit if you want to beat her? Twenty-six.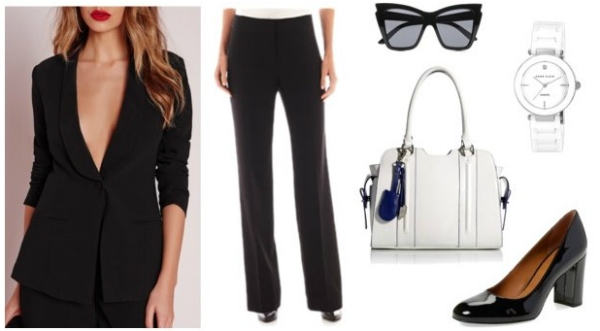 Products: Blazer, Pants, Pumps, Bag, Sunglasses, Watch
How-To: Match Linda's tenacity and strong-willed determination with a ready-for-work pantsuit combination that'll announce your professionalism to the world! Add on a sleek purse, black pumps, sunglasses, and a reliable watch and you'll be geared up to climb the fashion and corporate ladders.
Christy Turlington
Then: From being the face of Calvin Klein to "The Face of the 20th Century," Christy Turlington used her natural smarts and winning smile to land dozens of high-profile ad campaigns. While still pursuing a modeling career, she went back to school and graduated cum laude at NYU.
Now: Christy is dedicated to the humanitarian cause, heading her own non-profit organization, Every Mother Counts. She's also directed a 60-minute documentary on maternal health and has authored a book, now in its third edition, on healthy living through yoga.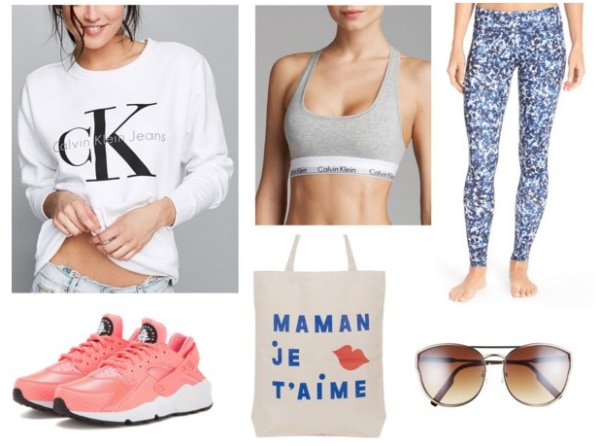 Products: Sweatshirt, Leggings, Bralette, Shoes, Bag, Sunglasses
How-To: Emulate Christy's calming yoga lifestyle and Calvin Klein superstar status with a CK sweatshirt and bralette, leggings, running shoes, and sunglasses. Also, support Christy's charity with an Every Mother Counts tote bag — 100% of the proceeds go towards helping the cause!
Cindy Crawford
Then: Unabashedly athletic with all-American looks, Cindy Crawford was single-handedly responsible for the rise in popularity that sultry brunettes and lip moles enjoyed in the '90s. In 1995, she was named the highest paid model in the world by Forbes magazine.
Now: Cindy still uses her influential status in the fashion arena to provide celebrity endorsements as well as lending her name to furniture and beauty collections. Most recently, she landed the cover of Vogue Paris with her daughter Kaia.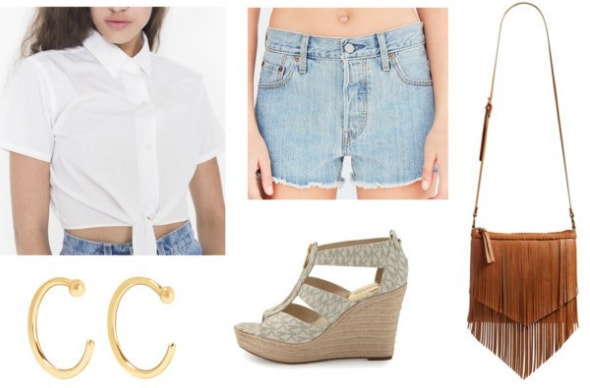 Products: Blouse, Denim Short, Wedges, Bag, Earrings
How-To: Transform Cindy's casual, sporty vibe into music festival attire by matching a white blouse with cut-off shorts (à la her famous Pepsi commercial), wedges, and a fringe bag. Finish up the look with C-shaped earrings (C for Cindy) and you're ready to rock out!
Naomi Campbell
Then: Easily the fiercest of them all, English-born Naomi Campbell dominated the runways of New York and Paris with her piercing gaze and signature walk. She was also notorious for her quick temper and prima donna personality.
Now: Naomi is still very much a huge presence in the fashion industry, heading The Face, a modeling competition reality TV show, and speaking out against racial prejudices faced by minority models from veteran designers.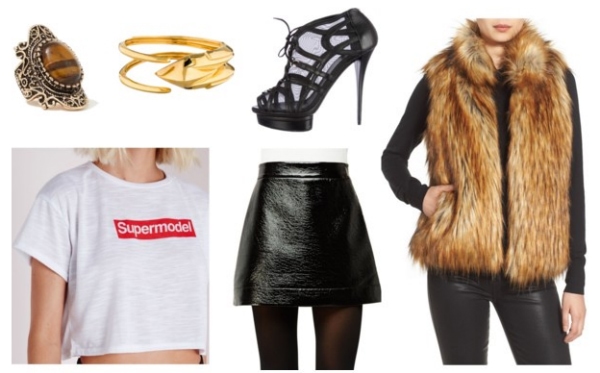 Products: Top, Faux Fur Vest, Mini Skirt, Booties, Bracelet, Ring
How-To: Copy Naomi's diva charm by slipping on a supermodel tee (the world's gotta know who you are), mini skirt, and black booties. Top it all off with a fabulous faux fur vest, gold cuff bracelet, and lavish ring — then, step out of the house and into the world because you're all set to slay!
Claudia Schiffer
Then: Compared to the likes of Brigitte Bardot, German-born Claudia Schiffer was a first-rate mix of stunning good looks and girl-next-door personality. Her ads for GUESS jeans made one thing clear: gentleman (and women) prefer blondes.
Now: Claudia continues to endorse luxury brands and co-runs a chain of restaurants called the Fashion Cafe with fellow model friends Christy and Naomi. You may also remember her from that brief cameo she did in the film Love, Actually.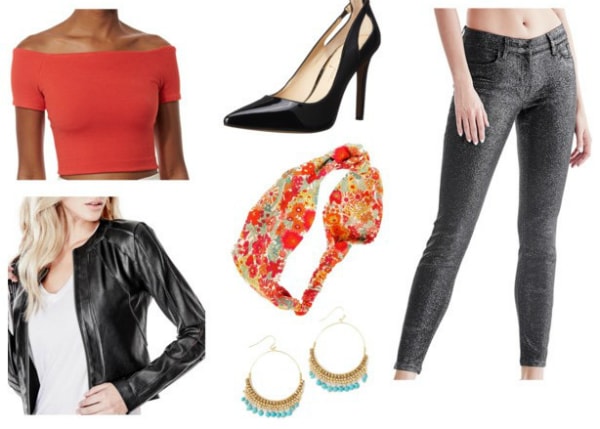 Products: Top, Jacket, Jeans, Pumps, Head Wrap, Earrings
How-To: Imitate Claudia's sultry good looks with a hot red crop top, GUESS jeans, and a rockin' motorcycle jacket. While Claudia didn't need the heels (she stood tallest of the group at 5'11"), go ahead and wear them for the confidence boost. Finally, add on a cute head wrap and dangly earrings and you've got a look that's sexy-meets-cute.
What Do You Think?
Which "Big Five" supermodel was your favorite and why? Do you think magazines should go back to using models as covers or stick to movie stars? Are you a '90s baby too? Are there any other '90s trends or celebrities you'd love to see on College Fashion?
Leave your comments down below!