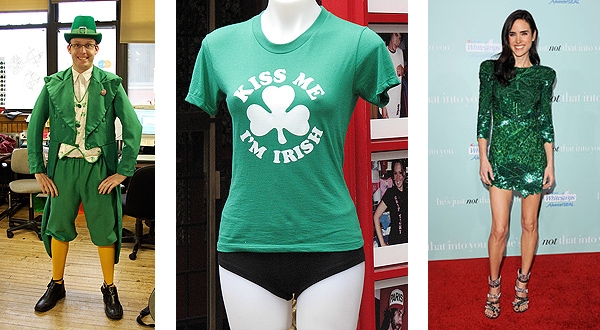 St. Patrick's Day is fast approaching, and we all know what that means – it's almost time to add a splash of green to your look!
I don't know about you, but green isn't a color I normally incorporate into my wardrobe, so I always have to think ahead to make sure I have something to wear for St. Patrick's, especially if I'm planning on donning a casual outfit and something more appropriate for going out. If you have this problem too, some outfit inspiration may be the key to solving your wardrobe woes!
Whether you're proud to be Irish or just don't want to get pinched on March 17th, here are some St Patrick's Day outfits that have gone green without being too over-the-top!
Outfit #1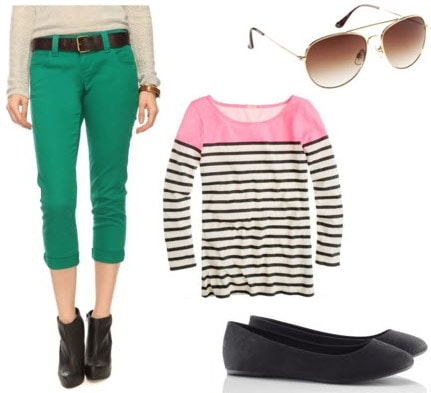 Product Information: Cardigan – Urban Outfitters; Shoes – Topshop; Shorts – Topshop; Tank – ASOS; Ring – Glencara; Bag – Topshop
Stay comfy, casual and low-key on St. Patrick's Day with this outfit. The pale green jeweled flats kick the simple look up a notch and keep it from being just another basic cardigan/shorts combination. Add a Claddagh ring for a traditional Irish touch!
Outfit #2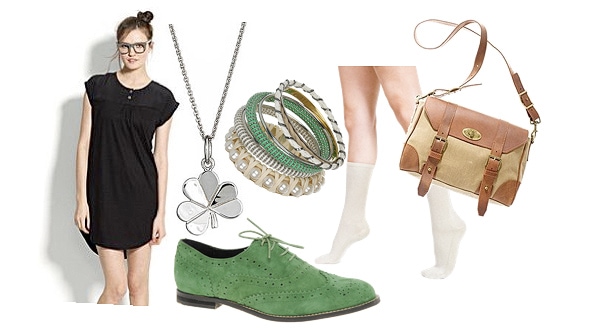 Product Information: Dress – Madewell; Necklace – Max & Chloe; Shoes – ASOS; Bangles – Topshop; Socks – American Apparel; Bag – Madewell
Give a simple black tunic dress an exciting pop of color with these awesome green brogues! Dress it up with some cute green-toned bangles and a clover necklace for an outfit that's great for day or night.
Outfit #3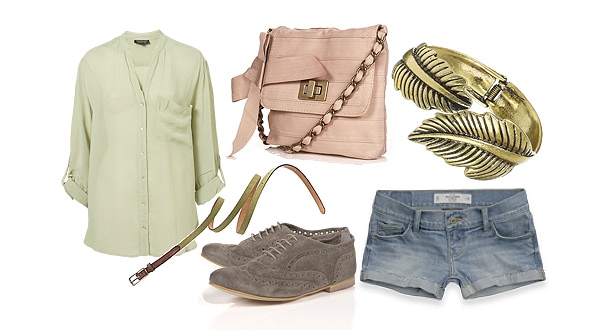 Product Information: Shirt – Topshop; Belt – Madewell; Bag – Topshop; Shoes – Topshop; Bracelet – Topshop; Shorts – Abercrombie & Fitch
Two different shades of green together will make your outfit all the more interesting! The green in the look is based around a simple green button-down shirt, and a bright green belt. Add a flirty, feminine touch with this pale pink bow bag. If you're lucky enough to live in an area that's already warm, don a pair of short shorts. If not, add tights underneath for now!
Outfit #4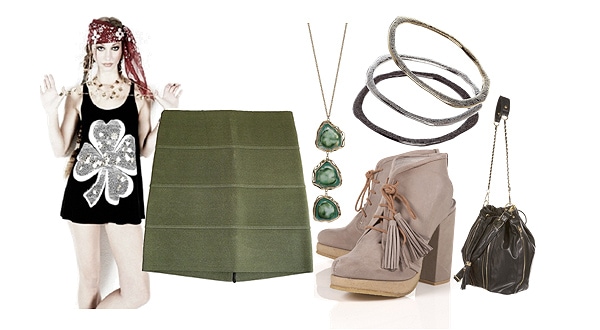 Product Information: Top – Lauren Moshi; Skirt – Pleasure Doing Business; Necklace – Topshop; Shoes – Topshop; Bangles – Topshop; Bag – Mark B**
Combining a looser tank with a super form-fitting green skirt is perfect for a night out on St. Patrick's Day. (FYI, Pleasure Doing Business skirts are the gold standard and surprisingly flattering for a wide range of body types!) The clover design on the top adds a nice Irish touch, making your outfit all the more festive. Of course, if it's still cold where you live, be sure to wear a jacket!
Outfit #5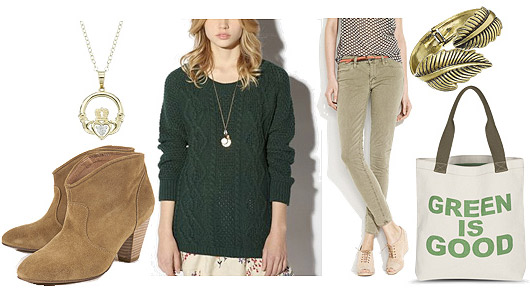 Product Information: Necklace – Amazon; Shoes – Topshop; Sweater – Urban Outfitters; Jeans – Paige Premium Denim; Bracelet – Topshop; Bag – Hayden-Harnett
For those of you who want more than a splash of green, yet don't want to look to over-the-top, try combining a darker green top (like this fisherman knit sweater: great for those who still have to keep bundled up!) with some lighter olive bottoms. A Claddagh necklace is great if you aren't really a ring person, and this super durable eco-tote bag from Hayden-Harnett is perfect both for St. Patrick's Day and every day (it also works great as a reusable grocery bag!).
Outfit #6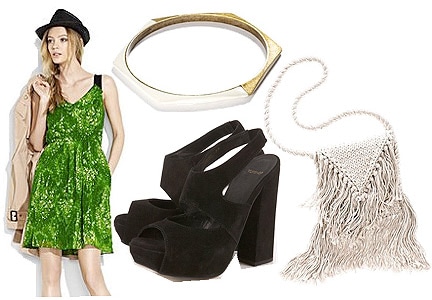 Product Information: Dress – Madewell; Bracelet – Madewell; Shoes – Topshop; Bag – Wool and the Gang
This bright green printed dress is sure to be attention-grabbing on St. Patrick's Day – or on any day, for that matter! It can easily be dressed up or down, but pairing it with some sky-high pumps makes this outfit perfect for nighttime.
What About You?
Are you planning to wear green on St. Patrick's Day? If so, are you going all-out with Irish pride, or are you planning on pulling off something a bit more subtle? Leave a comment with your thoughts. And whatever you do, remember to have fun and stay safe!