This post may contain affiliate links, which means we may receive a commission if you purchase through our links. Please
read our full disclosure here
.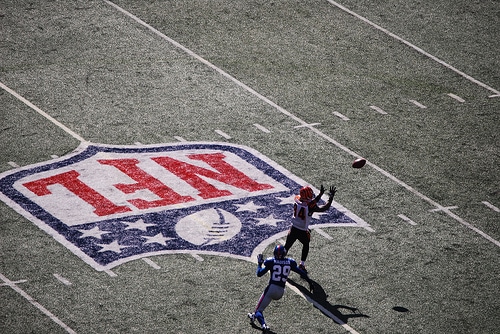 Ah, football season – time for crisp air, great company and an absolutely valid excuse to sit on your couch for three hours while eating half a bag of Doritos and far too many finger foods. What could be better?
As mentioned in my previous post on outfits for a baseball game, I'm really not a sporty kind of gal. But despite my lack of die-heart interest, I do love watching the game with friends and on occasion, I do enjoy going to an actual football game. And although I am not the world's biggest fan, I obviously still must dress for the occasion, as I am a lover of all things fashion.
We've already covered what to wear to a college football game, so to round out our coverage of all things gridiron, I have put together four NFL-appropriate outfits — two for hanging at home, two for going to the game — that are equal parts festive and fashionable. (Plus, you could totally change the colors and rock them for college games, too!) Read on to see them!
*DISCLAIMER* As NFL merchandise tends to be incredibly expensive, any of the sports merchandise used in the outfit posts can so very easily be swapped for a solid color shirt and you'll still look just as fanatically fashionable. And that goes for swapping your sports team colors as well!
Hanging at Home
As every football fan knows, you don't have to physically attend a game to get into the spirit! Whether you're watching the game at home or attending a party at someone else's place, I've created two looks to help you support your team in style.
Outfit 1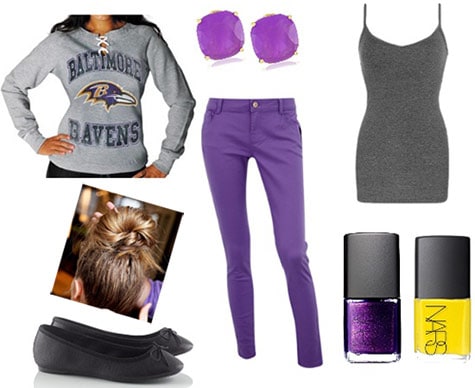 Top: footballfanatics.com, Jeans: Dorothy Perkins, Shoes: H&M, Tank: Buckle, Earrings: Kate Spade, Nail Polish: NARS, Hair: ELLE
(Note: I apologize, Steelers fans, but I do love my purples…)
If you're hanging at home with friends and family for the game, this outfit is for you. Pair a simple, comfy team crewneck with bold colored jeans in a team color. Add a coordinating tank for another layer in the look. Simple earrings are all the bling you need, as your nails will be looking extremely festive in your team colors. Finish off the comfy look with an effortless top knot and black flats.
This look is perfect for laid-back ladies – just swap in your team's colors and you can easily and comfortably hang on the couch or sit around a table with chip and dip in hand!
Outfit 2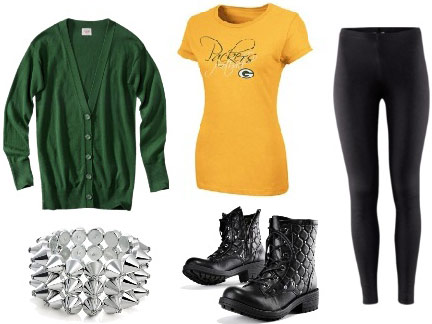 Top: footballfanatics.com, Leggings: H&M, Cardigan: Target, Bracelet: Amazon, Boots: Kohl's
I love the green and yellow colors of the Packers, so I went with them for this look. (But, again, substitute your team's colors!)
Again, I decided to keep this "at home" outfit simple and comfortable. Start with a pair of your favorite black leggings. Throw on your team t-shirt and layer on a long cardigan (long enough to cover your behind – remember, you're wearing leggings!). Lace up your combat boots and add a spiked bracelet for edge. You'll not only look cute and a little funky, but no opposing team fan will dare to taunt you with that bracelet on.
Going to the Game
If you're venturing out to the game and the stadium is without a dome, either of these two options would be a great as we transition into fall. I do not recommend them for those cold, cold months… but that should be obvious!
Outfit 3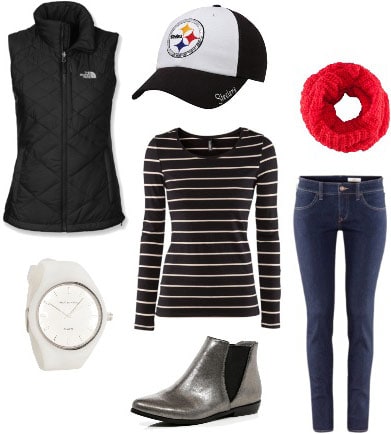 Vest: North Face, Hat: steelers.fantaics.com, Scarf: H&M, Watch: Debenhams, Shirt: H&M, Jeans: H&M, Boots: River Island
To switch it up a bit, I decided to forgo a logo=laden shirt and instead include a cap as the fan piece. Like I mentioned earlier, NFL merchandise can get really, really pricey, especially when you talk jerseys and shirts – unless you are a true fan, a hat will do just fine.
Now it's time for the clothes. A basic vest like this makes an excellent transition piece into the cooler fall months. Layer a long sleeve striped shirt underneath it for warmth and to add a pop of pattern. Pull on your favorite blue jeans and pair them with metallic boots for extra style points! Finally, throw on a warm, red scarf for a pop of color, and you'll be warm, stylish and ready to cheer for the team! GO STEELERS!
Outfit 4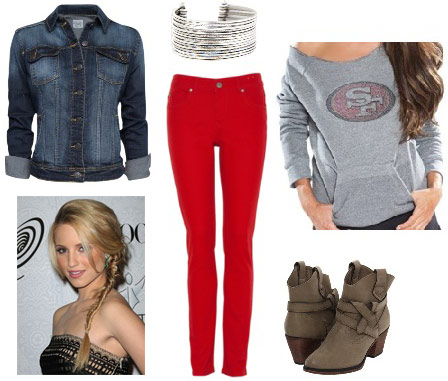 Top: footballfanatics.com, Jean Jacket: Mango, Cuff: Mango, Jeans: Awear, Shoes: Zappos.com, Hair: ELLE
Your jean jacket is another great summer-to-fall transition piece. Keep it out for a while longer and layer a light team logo sweatshirt underneath of it. Again, I love the idea of wearing colored pants in a team shade – these bold red ones are not only spirited, but on-trend for fall.
Again, keep the accessories simple with just a silver cuff for some sparkle. Throw on some low-heeled boots and messily braid your hair. You'll be the most fashionable fan in the stadium — I'm sure of it!
Your thoughts?
Are you excited for football season? What team do you cheer for? What is your football season fashion staple? Favorite gametime food? (I love, love nachos.) Which outfit do you like the most? Tell us down below! ALSO, keep the suggestions for future columns coming! 🙂