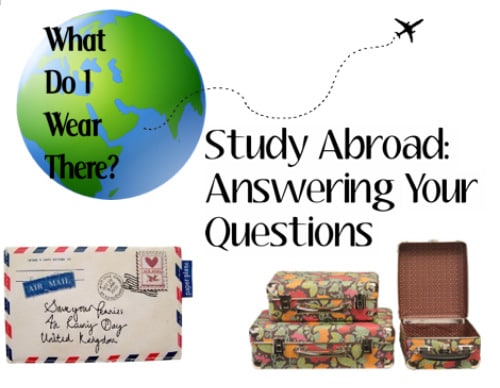 I was so excited to see all of your responses on my first study abroad post! The number of comments was so great that I decided to change up my approach a little bit for the rest of the articles. While I still want to do specific posts on exact locations, I figured I would take this time first to clear up some of the questions and comments from last week's introductory article.
And be sure to read all the way to the end of this article for a chance to be featured in one of the future "What Do I Wear There? Study Abroad…" posts!
1. Personal Style Abroad
Reader Milana commented last week, asking:
"Why not bring your personal style abroad? Especially here in Europe we appreciate the fact that people are different. Be fabulous and be yourself anywhere you go. With the Internet it is not hard to figure out the temperature of the country you're going to, so pack your style and have an awesome stay!"
And she is absolutely correct! I did not mean to give the impression that you should sacrifice your personal style when you go abroad. What I'm really aiming to do is give you some idea of what the current trends are in these different areas, as well as the expectations you can have for the climate there. As Debbie said,
"I'm all for taking your own style with you, but it can get a little uncomfortable sometimes if it doesn't mesh with the country you're living in!"
However, I want to thank Milana for pointing this out and reinforce that you should definitely bring your personal style with you wherever you go! Even if you don't have a lot of space to pack all of your favorites, you can certainly express yourself through jewelry and accessories (which I will focus more on in following articles).
2. Respect the Culture
Lianne also made an important point in last week's comments, saying:
"Although this is a very good idea for a series of posts, I do think the most important piece of advice anyone could take with them while traveling abroad is missing and that is to consider the cultural standards of the area. I love my summer skirts, but they're not acceptable in a number of nations by cultural practice alone and it's important to recognize and respect that."
This is another great point. Since I had not yet pinpointed which locales I was covering, I had not yet mentioned this, but it is definitely important to heed the standards of appropriate dressing when you go abroad. As Lalalina suggested in the comments,
"For you girls going to Muslim countries, it is really important that you see if your program can provide you with a past participant to talk to, they will let you know if you need to wear a hijab or head scarf. Morocco is less conservative, but you SHOULD NOT wear any tank tops (without something on top) or cap sleeve shirts, and nothing low cut. You should stick with pants and longer skirts. And in terms of being stylish there, I looked a lot to the local girls, they knew how to cover up and be cute."
The idea of talking to people who had already been there is great! You'll hear about what they found to be appropriate and what their experience has taught them about the style there. It's invaluable knowledge.
I also wanted to note that as Katharin said, even if you are going to a place like London or Paris that has less cultural restrictions on style, it is important to bring along some more conservative clothing if you plan on visiting any churches or going sightseeing in any other places of worship.
3. Check the Weather
CF reader Tamara pointed out how crazy it would be to try to literally pack for all weather, saying,
"About the post, I think it's good, but I also feel no one should make a suitcase for "any" weather, that's just impossible. You should check the weather on the internet before picking up your clothes: even if you're staying away more than one season, I live in Argentina and I know our winters might feel like Canadian springs (for example), for example, so you wouldn't need a super warm jacket or super warm boots."
Now, I admit that I may be a little bit biased in what I suggested for basics (considering how excited I am for London!), as I know that I am going to have to deal with colder, rainier weather. However, it is super important that you check the weather for where you are going!
Try to see if you can find the average temperatures for the month you are arriving and the month you are departing so that you can figure out the range. Also, see if you can figure out how rainy/humid/dry it is, which is good to know not just for packing clothing but also for packing beauty supplies.
Remember: just because the season is still labeled "winter" does not mean it is the winter you are used to!
4. Study Abroad Inspiration
In my last post, I suggested looking for style blogs from locals in the area you are going to. However, I understand that finding a good blog for fashion inspiration can be tough to do! Therefore, I suggest going to Lookbook.nu.
Lookbook is an amazing style site in which members submit pictures of the creative outfits they donned that day. The best part is that LookBook members are literally from all over the world, so they are perfect examples of fashion from abroad! If you click the "search" button, a list will appear along the right side of the page with search criteria, including the option to sort by country.
Here are just some of the inspiring looks I found after doing a quick search!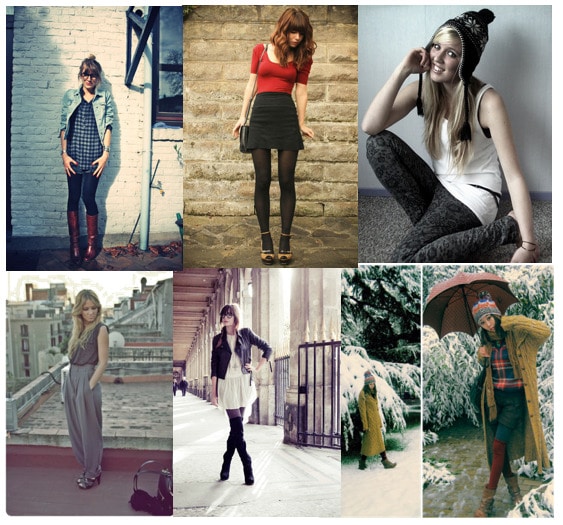 (Clockwise from top left: Looks from Brussells, England, Netherlands, Spain, France, China)
Star style blogger Susie Bubble also has a list of blogs along the left-side column of her page organized by locales that are worth clicking through to see style from all over!
5. Expert Advice
Lalalina kindly requested in the comments that I get some expert opinions from seasoned study abroad-ers in these articles, noting,
"Colleen I mean you no disrespect, but all of you with specific location questions should really consult someone who has been where you are going. They can give you the best advice on the fashion in those places."
I completely agree! I was planning on asking some of my upperclassmen friends who traveled for advice, but then I saw all of the great comments from you guys who live outside of the United States and/or have previously studied abroad. So many of you were so helpful, detailed, and thorough that I thought I would first turn to you guys for advice!
So if you have studied abroad or are currently living outside the US and would like to share some fashion/packing tips with us, e-mail them to me at whatdoiwearthere AT gmail DOT com.
Tips about what is appropriate and/or trendy in the local you visited are definitely appreciated. If you would like to send some street style pictures, that would be great as well! Send over any info you think is important for a student planning on studying abroad to know. I will credit you in the post if the site you write to me about makes it onto CF!
What Do You Think?
Did this article help clear up any confusion from the last one? Is there anything still missing you would like to see?
Also, I will still be tallying comments to see which study abroad sites are most popular for the specialized posts for the next couple of days, so if you did not comment yet, go ahead and share your destination here!