This post may contain affiliate links, which means we may receive a commission if you purchase through our links. Please
read our full disclosure here
.
We've all heard of bell-bottoms, but have you considered bell sleeves? They're exactly what you'd think: sleeves fitted until a certain part of your arm, then flared out in an ethereal bell shape. They're bold, statement-making details that will turn heads everywhere.
Love them or hate them, flared sleeves have wriggled their way into attention and we have the street style photos to prove it. Want to give these a try? Here are some ideas.
Ways to Wear Bell Sleeves
Layer. In this look, a button-up with flared sleeves is worn under a tame navy sweater and tucked into jeans. The contrast between the sweater and shirt brings even more attention to the already unique shape of the sleeves, making them the star of the show.
If you're going big, keep the rest of your outfit simple. As I said before, bell sleeves can be quite the statement, and to make sure your outfit isn't getting too crazy, wear your flared sleeves with staple pieces. In this look, a sweater with bold flared sleeves is worn with classic jeans and black sunglasses.
Try a dress with bell sleeves. The overall color and cut of this piece is simple and classy, allowing shape of the sleeves to really draw attention. Dresses can be an easier way to wear this trend because you don't have to worry about whether the sleeves look right with the rest of your outfit.
Where to Get Bell Sleeve Pieces
If you're ready to try this trend, I'm here to help you shop it. Here are some cute and affordable bell sleeve items to snap up:
Bell Sleeve Tops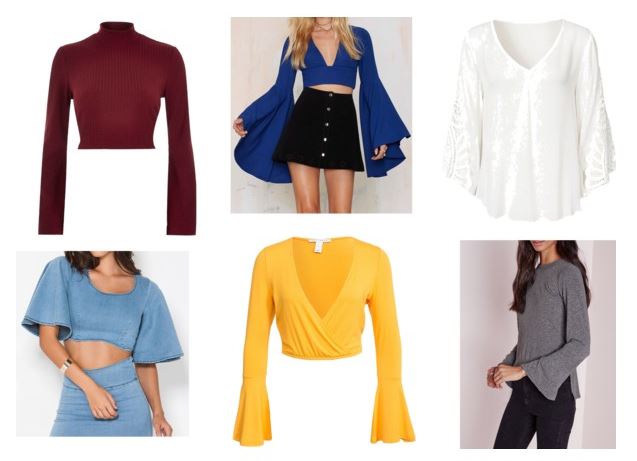 Products: Top row: 1, 2, 3 Bottom row: 4, 5, 6
Bell Sleeve Dresses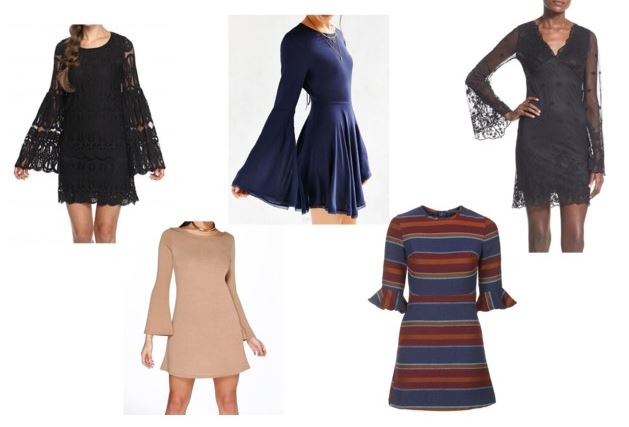 Products: Top row: 1, 2, 3 Bottom row: 4, 5
What do you think?
What do you think? Do you like the bell sleeve trend? Will you try out the flared sleeves? Let us know in the comments! We'd love to hear from you!