This post may contain affiliate links, which means we may receive a commission if you purchase through our links. Please
read our full disclosure here
.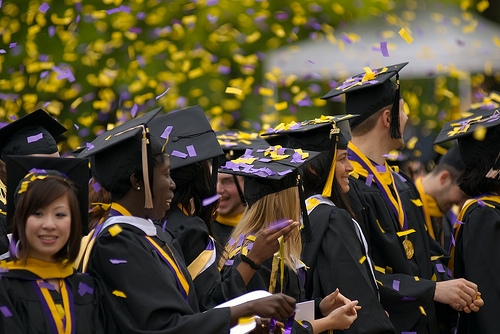 Many of my friends are graduating today and I couldn't be happier for them! They've all worked incredibly hard to be where they are. (We all have!) Whether you're at the beginning of this crazy academic journey or nearing the end, you know college is an amazing experience. It's a time for learning, growth and experimentation both for yourself and your wardrobe.
After four fantastic years, almost everyone finds their niche, a trusty circle of friends, and a personal style that we begin to think of as a second skin. So the thought of leaving all of that behind in exchange for a diploma and a stack of resumes doesn't exactly sound pleasant.
But for all of you who are graduating this spring or in the near future, fret not! The real world is not as scary and drab as it sounds. I personally graduated in 2008, took a year off to do social work, and now I'm back at law school. The post-grad life is as much of a rollercoaster as undergrad. You will find you way while no doubt looking fab!
So here are some styles inspired by a few of my friends and the amazing journeys they're about to begin post-college.
The Big City Dreamer
My friend Laura has lived in Tucson for as long as I can remember, but she's always been a big city girl at heart. She has interned for a huge fashion mag, sings and dances, and is OBSESSED with musicals. How could she live anywhere else but in a big city?
Well, this summer, she's following her dream and moving to THE city — New York City! She's entering the world of fashion journalism. Her post-grad life means she is going to be surrounded by a city full of culture and style, not to mention lots of well-dressed bosses and co-workers.
For a fashionable office look, pair a feminine top with an edgy geometric skirt and powerful nude pumps. Throw a blazer on to pull the stylish, yet professional look all together and accessorize with a flirty ring and bracelet. Store your Blackberry, notebook, pens and other career gear in a modern, knotted tote.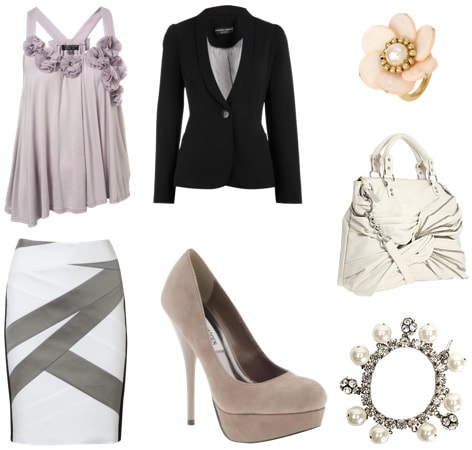 Shop: Top, Blazer, Skirt, Shoes, Flower Ring, Bag, Bracelet
The Future Lawyer
Just like me, my friend Gabby just could not get enough of school … and reading, writing, and homework (I should stop before I scare her away), so she's going to law school! Graduate and professional schools are a great way to go if you're looking to go into a specific profession or if your academic appetite just has yet to be satiated.
Unfortunately, wearing your trusty sweats and Uggs is not going to fly as a grad student (except maybe during finals…). As fun as grad school can be, it's also important to look your best in front of future internship/employment opportunities, professors, and fellow students (who will someday be your colleagues!).
The white top and dark denim combo always gives a polished, yet casual look, while a floral cardigan will definitely freshen up the classroom. Top it off with a mix of leather and metal bracelets and bright flats. And make sure you stash your books in a sturdy satchel, because – surprise, surprise – they actually require you to read in grad school.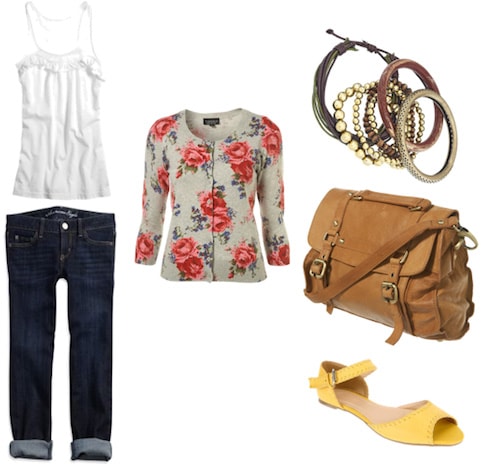 Shop: Tank, Jeans, Cardigan, Bracelets, Bag, Flats
The Opportunistic Grad
So you may not have already snagged your dream job and you may not be on your way back for a second helping of academia. But that's okay! Taking time off to enjoy yourself, figure out your future, or find a dream job of your own is just as important.
If you don't have any concrete plans for post-grad life, that just means your future will be open to incredible opportunities that may come your way. Our economy is not at its best, but that doesn't mean you can't look yours.
Find a dress that is as flexible as your future. You never know where you're going to end up – a job interview, a relaxing post-grad vacation, or taking the time to celebrate with your friends and fam. Start off with a classy, yet versatile dress and work your way into an incredible opportunity with accessories galore.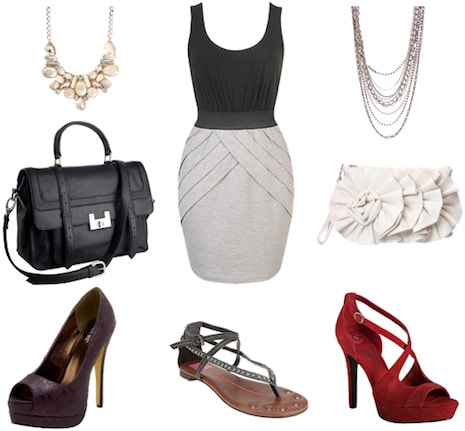 Shop: Dress, Jeweled Necklace, Black Bag, Purple Pump, Sandal, Red Pump, Clutch, Chained Necklace
What are your thoughts?
Are you graduating this year? What are your plans for the future and will you be adapting your wardrobe to your post-grad plans? If you've been out of undergrad life for some time now, share your stories with us! We're dying to know what the real world is like … Let us know your thoughts by leaving a comment!