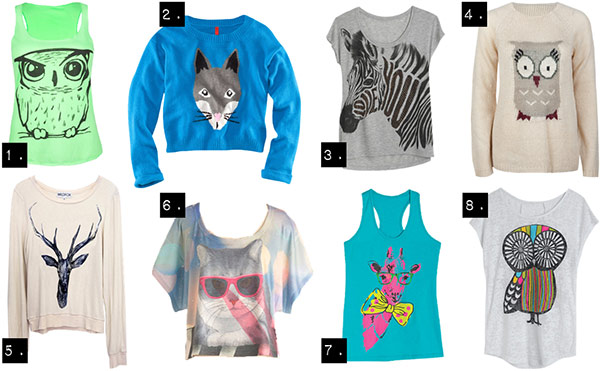 Product Links: 1. Tilly's, 2. H&M, 3. Delia's, 4. Tilly's, 5. Wildfox Couture, 6. Modcloth, 7. Delia's, 8. Delia's
I'm always the first girl in my group of gal pals to try out a new trend. My friends always comment they they love my eccentric style and wish they were brave enough to wear bold outfits like I do. But want to know a little style secret? Before I debut a new trend, I do some research and see how it was styled on Lookbook and other well-known fashion sites to get my inspiration going. Sure, I could re-invent the wheel and try on a new piece with everything in my closet, but I'm a busy girl (and I'm sure you are too!).
Here at CF, we try to take the legwork out of trying new trends for our beautiful and loyal readers like you! Today, we're breaking down a trend we've all seen on television the past two years, but just now seem to be breaking through to college campuses in "flyover" states. I'm talking about animal graphic tops.
Tips and Tricks for Rocking Animal Graphic Tops
Have fun shopping for this trend! Owls and tigers are always popular in fashion, but I've seen kittens, reindeer, lions, elephants, and more pop up in stores lately. Pick whatever suits your personality best!
The easiest way to wear animal graphic tops is by purchasing a basic animal graphic t-shirt or sweater. Tuck it into high-waisted shorts, pair it with a bandage skirt, layer it under a cardigan or leather jacket, or go bold and wear it with a maxi skirt.
Many animal graphic tops (especially sweaters) tend to have a cutesy, young, girly look about them. If you want to keep from looking too sugary-sweet, these tops look awesome juxtaposed with edgier pieces, like leather shorts, skinny cargos, distressed denims, or spiked jewelry.
Another option is to run with the cutesy school girl look of these tops, and pair them with pleated skirts, ballet flats, and knee-high socks. Very Rachel Berry!
As always, layering is key, especially during the fall! (See our tips on layering for fall.) How awesome would a tiger shirt look under a blazer, denim vest, or army parka?
Outfit Inspiration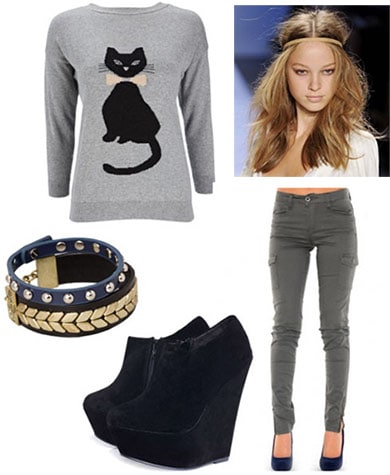 Products: Sweater, Pants, Shoes, Bracelets | Hair photo: ELLE
This kitty sweater is prim, proper, and girly on its own. However, you can make it more fashion-forward by pairing it with tougher looking pieces, like skinny cargo pants and leather bracelets. Velvet wedges will fancy up the outfit, making it perfect for a night on the town. Finish with messy, tousled waves for just a hint of sexy.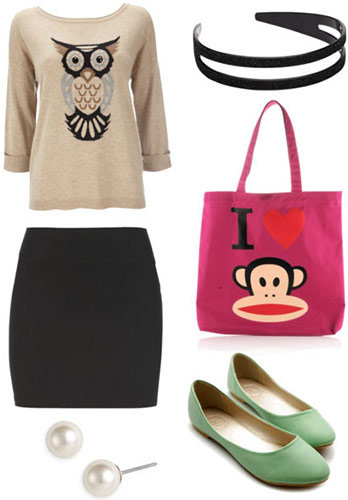 Products: Sweater, Skirt, Shoes, Earrings, Headband, Bag
This take on the trend is polished and preppy, perfect for wearing to class or a study group! Pair a animal graphic sweater or shirt with a conservative black skirt and your comfiest pair of ballerina flats. Keep the prep school vibe going with a headband and pearl studs. Finish with your trusty school bag!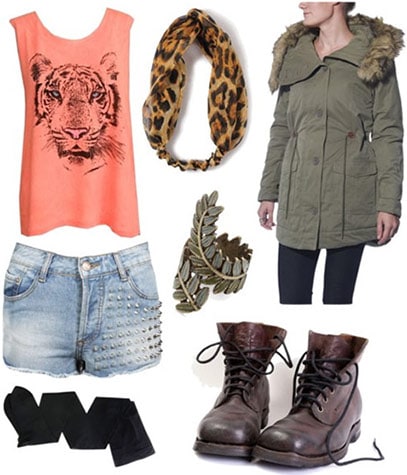 Products: Shirt, Parka, Shorts, Tights, Shoes, Ring, Headwrap
This look represents an edgier, more rock 'n roll take on the trend. Over the last few seasons, we've been loving the look of black tights worn with shorts and combat boots — so street style chic! Add an animal top (a tiger is especially edgy-looking) and a cool army parka to keep you warm. Finish with a statement ring and a leopard print headwrap.
What do you think?
Are you going to try the animal graphic top trend? Have you tried this look out before? What are some of your favorite ways to style this trend? What other trends have you tripped up this season? Leave a comment and let us know what you think!!