This post may contain affiliate links, which means we may receive a commission if you purchase through our links. Please
read our full disclosure here
.
For my last post here on CF, I'm going to talk about some of my style resolutions for the New Year. New Years is a great time to make resolutions to change your life for the positive: from getting in shape (one of my non-style resolutions!) to studying more, it's a time of positive change and that makes it a great time to look at your personal style and mix it up a little bit.
So here are some of my fashion & style resolutions for 2010! Hopefully these will inspire you as well.
Resolution #1: Add Color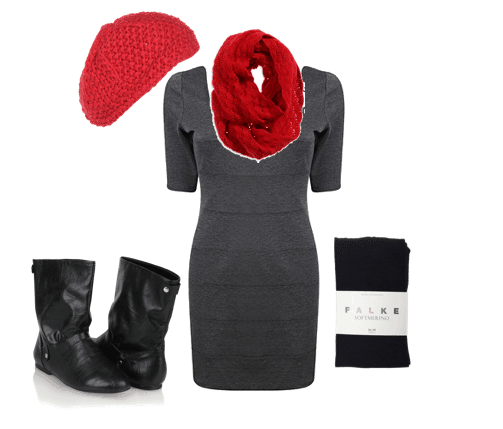 Product Information: Dress – Forever 21. Scarf – American Eagle. Hat – Topshop. Tights – Asos. Boots – Forever 21.
I always tend to wear the same few colors: black, grey, white, and navy blue. So, this year I'm going to try to add color with accessories: scarves, jewelry, hats, belts, and anything else I can find! One of my favorite colors is red, which I feel like I never wear, so I decided to add two pops of red (a cute hat and a great scarf) to my favorite go-to outfit: a gray dress with black tights and black boots.
Adding pops of color can be as easy as throwing on a cute hat or a pretty scarf – two much-needed accessories during the winter! But you could also add some fun colored or patterned tights, a great piece of technicolor jewelry, or a fabulous, colorful bag. Using accessories is a cheaper way to grow your wardrobe and make it easier to mix and match!
Resolution #2: Mix It Up!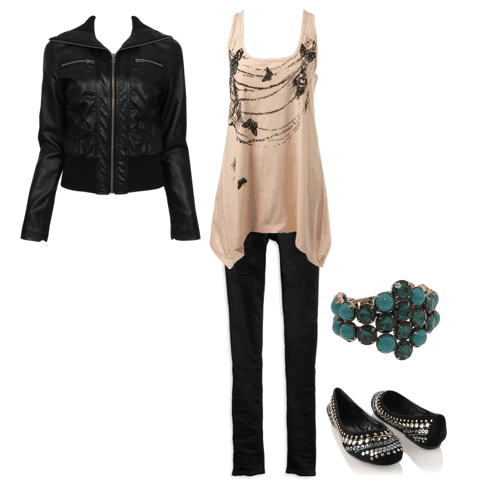 Product Information: Jeans – American Eagle. Top – Miss Selfridge. Flats – Forever 21. Faux Leather Biker Jacket – Forever 21. Bracelet – Zappos.
Confession time: in September, I bought a leather jacket much like the one pictured above… and I haven't worn it yet! I cannot figure out what to wear it with – and I think the reason for that is because I am stuck in a "safe zone".
To break out of that safe style zone, I'm going to mix all the "tough to wear" pieces in my wardrobe together with my staple pieces. For example, my "dressy" black jeans with a casual tank, some cute embellished flats, and a colorful bracelet will help make me more comfortable wearing my adorable leather jacket on top. This is my second style resolution: to mix and match all the pieces in my wardrobe to make a more unique style and a more versatile array of clothes.
Resolution #3: Dress Up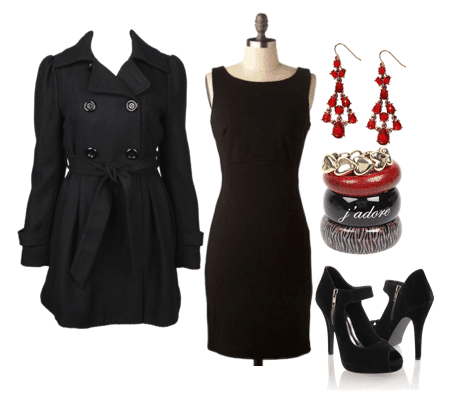 Product Information: Shoes – Forever 21. Dress – ModCloth. Coat – Forever 21. Earrings – Fantasy Jewelry Box. Bracelets – Asos.
My friends and I tend to throw ourselves into our work and only surface for air when the term ends! In 2010, it's my main goal to make more time for the people in my life: for my friends and I, that means getting dressed up and spending some time away from the books.
I love basic black with a few splashes of red, and this outfit would be great for going out with my bests: a practical trench that I can wear anywhere, a shift dress that I can dress up or down, two classic pieces of jewelry, and some fabulous shoes.
Dressing up is a great way to boost your spirits: looking fabulous is good, but feeling fabulous is even better – and spending time with the people in that matter most is a huge part of that.
What do you think?
What are your style resolutions for 2010? Do you have any similar resolutions to mine? How are you going to make 2010 your most stylish year ever?
On one last note, I have had a great experience writing for CF for the past four months: CF readers are some of the most fashionable and fabulous people on the internet, and it has been so rewarding to write for you and to hear from you every single week! Whenever I asked for comments, I always said I love hearing from you guys – and it's true! Your comments provided me with great insight and great ideas. Never forget how fabulous you all are – inside and out!