This post may contain affiliate links, which means we may receive a commission if you purchase through our links. Please
read our full disclosure here
.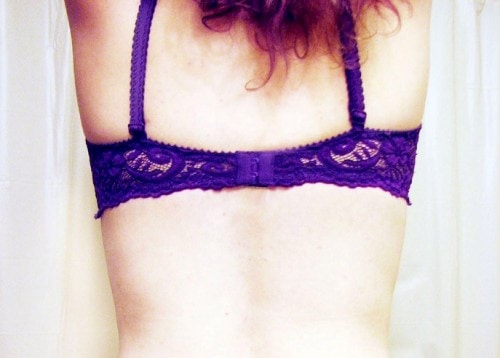 First of all, let me say I was blown away by the positive feedback for this column's first post. It seems like I'm not the only one who's been craving body-positive fashion advice. Using a super-scientific metric of demand for various topics, I discovered that what most of you want to read about (or at least, a highly vocal minority) is how to dress when your bra cup doesn't exactly runneth over. Your wish is my command!
Every era has its own associated "ideal body shape." In the Victorian era, a curvaceous hourglass figure was a hot commodity, whereas in the sixties, the age of Twiggy, women strove to look as flat and androgynous as possible. So, for one thing, it's weird that there are trends regarding the shape of a human being's form, when you think about it. Also, though, it looks like small boobs are actually making a comeback right now. According to the New York Times, women who used to be reaching for the extra-padded bras are embracing their flatter figures (which is one small step for A-cups, one giant leap for body acceptance everywhere). If you know where to look, there are beautiful small bra options galore. (Although, for those of you who more resemble the Victorian ideal, I'll have a post for you soon, I promise!)
Small boobs have all kinds of advantages. First of all, your undergarments can be more decorative than functional. This is way fun, or at least preferable to wearing a sports bra that resembles a straightjacket. Also, you can wear lower-cut shirts without displaying cleavage everywhere, making these low-cut items more appropriate for any occasion. You can even get away with going braless in a structured top or dress, or wearing a bandeau as a bra under a sheer top. The small-chested population is one of the only groups that can rock this awesome look comfortably, so I say go for it.
Tips for Dressing Your Awesomely Small Chest:
1. Channel the Johnson Administration
The sixties were the golden age of flat-chested women, so look to their style for inspiration. The mod look and more relaxed flower child–inspired outfits will highlight and flatter your chest.
2. Utilize your Resources
There are things that only you can wear, and you have a duty to your country to wear them. You're still feeling patriotic after the July 4th festivities have died down, right? Of course you are. Well, your country needs you to wear bandeaus and corset-tops. I can't tell you why. It's classified.
Outfit 1: Flower Child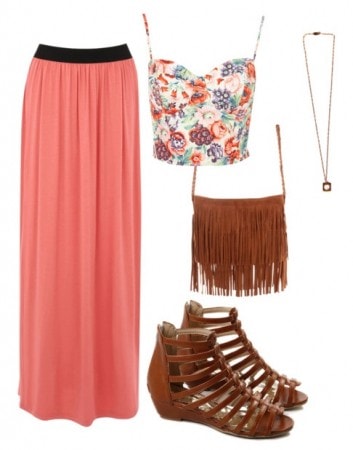 Skirt – House of Fraser, Top – Topshop, Necklace – Edge of Urge, Bag – Chicwish, Shoes – Wholesale-Dress.net
You are so bohemian. You wear a corset, because you don't have any bras, because you burned them all to protest the patriarchy or something. Now, you counterbalance the bareness of your top with a long flowy skirt, and add on fringed details (minimally, so as to avoid looking like you are in a halloween costume). Let your hair fall in its most natural position, and remind a friend to love Mother Earth today.
Outfit 2: Back to the Future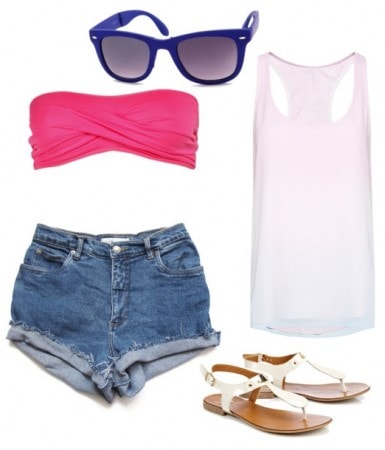 Sunglasses – Charlotte Russe, Bandeau – Eluxe.ca, Top – Mango, Shorts – Etsy, Shoes – Wallis Fashion
This look is very modern. I feel like if Skrillex held outdoor concerts in 90-degree heat, this is what the cool girls would be wearing. You can absolutely pull off a bright bandeau under a loose and sheer white tank, and you also happen to be reppin' College Fashion's favorite colors. Win win.
BONUS! Swimwear!
Since it's summer, I thought I'd throw in some attractive bikini options for the small-chested. Bear in mind that stripes, ruffles, and patterns enhance the appearance of whatever they cover, so if that's what you're looking for, these suits will suit you (#badpun).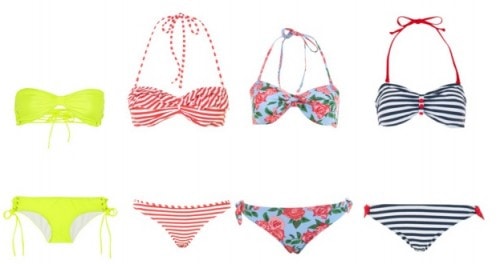 L-R: 1. The Outnet, 2. Topshop (top and bottom), 3. Miss Selfridge, 4. JOY
What Do You Think?
What body feature should I tackle in the next installment? What do you wear to show off your small boobs? Do you think society is a little bit weird for picking a new "ideal body" every decade or so? Is anyone else put off by this? I'm a little put off by this. Tell us in the comments!