This post may contain affiliate links, which means we may receive a commission if you purchase through our links. Please
read our full disclosure here
.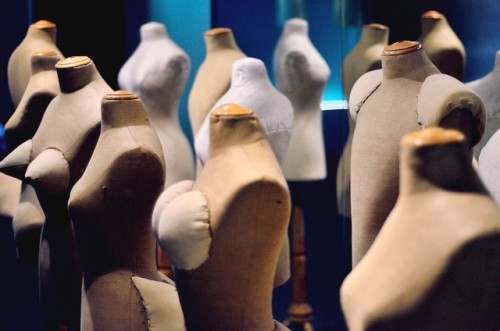 In my experience, summertime is the hardest season to feel good about your body. In the winter, we can wrap ourselves up in parkas and sweaters and forget about our body woes. On the other hand, as soon as the thermometer creeps up past 85°, I want to be wearing as little clothing as possible, which means pretty much everything is on display.
Like most girls, I am no stranger to insecurities. At any given point in my life, I could have told you that I thought my freckles, hair, legs, boobs, thighs, feet, wrists, ears, stomach, back, or nail beds were just awful and needed to be fixed immediately. (Also, I have really bad breath in the morning. Ew.) The thing is, that's exhausting, especially because – as I now know – I'm actually attractive.
Seriously. I have really nice cheekbones, my freckles make me stand out in a crowd, and I'm tall enough to intimidate people sometimes. My boobs, awkward as this might be to declare on the internet, are spectacular, and I have long fingers perfect for playing the ukelele. (Thus ends my self-absorbed rant.)
Most importantly, I am certain that you have exactly as many fantastic qualities. If a list doesn't immediately come to mind, step away from your computer, put on Who Says, and look in the mirror until it does. (Done? Okay, cool, come back.)
Confidence, I think, comes from focusing on the things that you love about yourself, and not dwelling on your self-perceived "flaws." Fashion is a big part of this. While the fashion industry tends to idealize one particular body type (possessed primarily by twelve-year-old boys), there are endless ways to use clothing to make yourself feel awesome, emphasizing the things you love about yourself.
About This New Column:
Over the weeks ahead, this column will focus on dressing for your body shape while truly embracing – and loving – said body. While there are ways to "hide" whatever aspects of your body you happen to dislike, I'm not going to help you there. In the end, you're going to have to learn to love every bit of you.
This week's edition will focus on dressing your long legs. Whether you're on the taller side or are just built with a shorter torso and longer gams, if you have great legs, I'll teach you the best ways to show them off.
Tips for Dressing Your Awesomely Long Legs:
1. Embrace Simple Dresses
Cute t-shirt dresses or a-line frocks are great in the summer, especially since my motto tends to be, "the less clothing touching my body, the better." If you err on the shorter side, your bangin' legs will be the center of attention.
2. Try High-Waisted Pants or Shorts
High-waisted jeans or shorts make it look like your legs start even higher up than they do. While I would usually say that optical illusions are simply reinforcing the hegemonic notions of desirability, I really like feeling like my legs are eight feet long, so I'm going to go ahead and endorse this trend.
3. Rock Platforms
Platforms are fantastic when you want to elongate your legs and also want to be able to walk around for more than an hour. I'm opposed to anything that ornaments your body by making it lesscapable, so I refuse to wear any shoes that I couldn't run down the block in. Ergo, platforms are the bomb.
Outfit 1: Dinner with Girlfriends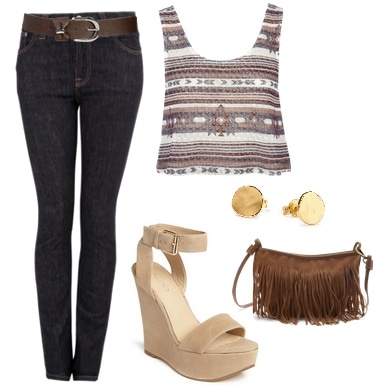 Pants – MyWardrobe.com, Top – River Island, Shoes – Nordstrom, Bag – Charlotte Russe, Earrings – Piperlime, Belt – Wet Seal
This outfit is perfect for an evening out with friends. It's casual, but polished. The high-waisted jeans are even more striking with a belt and a cropped top in a cool pattern. Your legs will be showstoppin'.
Outfit 2: Summer Barbecue
Dress – Agent Ninetynine, Jacket – H&M, Sunglasses – Madewell, Necklace – Topshop, Shoes – Heels.com
This outfit is great for a casual summer get-together in somebody's backyard, complete with a potluck of the one thing that everybody knows how to cook. I'll bring the pancakes, you bring spaghetti, k? The combination of masculine touches (like this more or less shapeless dress and timeless shades) and feminine accessories (like the simple and chic layered necklace) creates a super trendy look, and these shoes will make your legs look great.
What Do You Think?
What's your favorite part of your body? (If you say your hair I will personally go into your home and play uplifting songs by Disney stars until you give me a real answer, so help me god.) How do you emphasize your great legs? What other areas would you like to see me cover in this column? Let me know in the comments!