This post may contain affiliate links, which means we may receive a commission if you purchase through our links. Please
read our full disclosure here
.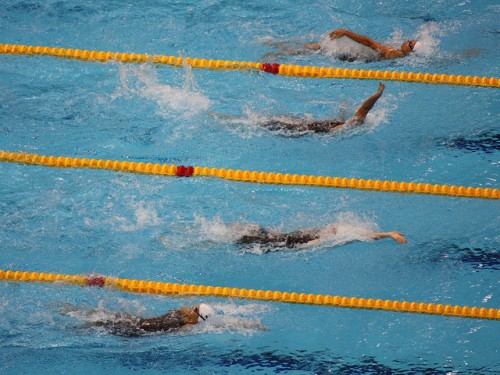 Is it too late to still be thinking about the Olympics? Because I'm still thinking about the Olympics.
Here's what I'm thinking: In the Olympics (and other athletic pursuits), bodies are appreciated for what they can do, not their aesthetic qualities. I heard a few people grumbling about how so-and-so didn't look "feminine" and all of that, but for the most part we put aside our societal expectations and let ourselves just be impressed with what these athletes could do.
That said, I imagine it's pretty hard to dress yourself if you're, say, Missy Franklin. First of all, she's 6'1″, which must make buying jeans somewhat problematic. (By the way, post in the comments if you'd like a column on dressing your mega-tall body!) But as a byproduct of her sport, she's got killer shoulders. Her arms are the kind that win gold medals, guys. They're awesome. But they're probably sort of tricky to outfit.
This post is for all you athletes out there who want to show off your muscular back and arms, and it's also for all of y'all who were just born this way, with your hips narrow and your shoulders broad.
Tips for Dressing Your Broad Shoulders
1. Get The Right Sleeves (or lack thereof)
Michelle Obama is a pro at this (and, in my opinion, a fashion icon in her own right). If you can just look at what she wears and try to adapt it for the college girl, you will always look put together and your best features will stand out in the best possible way. Below I'll show a couple of my favorite types of tops that flatter your arms and shoulders.
2. Balance with your butt.
Styles that emphasize your lower curves just a little bit will make your shoulders look more proportional and flatter your natural shape. Luckily for you, the peplum trend is still raging on, and it's the perfect way to add volume to your hips without trying to hide your actual shape. Also, when you widen your hips and your shoulders are already wide, you end up magically developing a defined waist. Look at that!
3. Add bling.
For a more dramatic effect, you're going to need some arm candy. Immediately start dating Ryan Lochte. Or, if that's not an option for some reason, stock up on bracelets and bangles. Anything that draws attention to your arms is a good thing, and people tend to look at shiny objects. We're sort of like birds, really.
Outfit #1: Über-feminine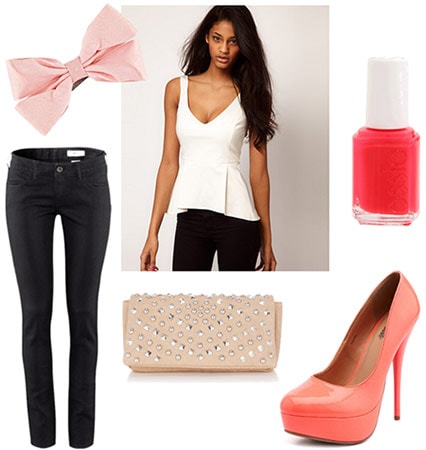 Jeans – H&M, Top – ASOS, Shoes – Charlotte Russe, Bow – Debenhams, Bag – Warehouse, Nail Polish – Essie
This outfit showcases how girly a broad-shouldered look can be. The peplum top and slightly shiny jeans balance out your body, while still showing off your narrow hips. (The coated denim trend was pretty much made for you!) This top's neckline and slightly thicker straps are mega-flattering as well. A studded clutch is the perfect way to draw attention to your arms and add sparkle. Finally, I love this nail polish so much that I found coordinating shoes and a hair bow – the intersection of red, orange, and pink is the place I want to spend the rest of my days.
Outfit #2: Summer-to-Fall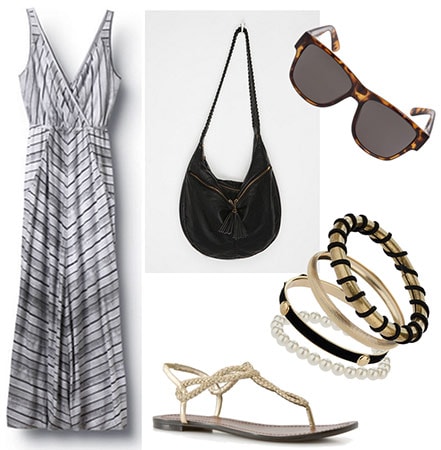 Dress – Quiksilver, Sunglasses – Zappos, Bracelets – Miss Selfridge, Bag – UO, Sandals – DSW
This outfit is ideal for those last days of warm weather, sitting outside while the sun is setting, feeling just chilly enough that you're glad there's fabric on your lower half. (I'm convinced that the maxi dress is best suited for early fall). The neckline of this dress is also super flattering to broad shoulders, and the fact that the dress goes all the way to the floor keeps things balanced. These bracelets serve a dual purpose: they draw attention to your arms, and they push this look a little closer to the fashion-forward side of things. (Edge is in right now, guys! I might just start listening to The Academy Is… again.)
What do you think?
How do you dress your muscular upper half? What topic should I cover next? Let us know with a comment.