This post may contain affiliate links, which means we may receive a commission if you purchase through our links. Please
read our full disclosure here
.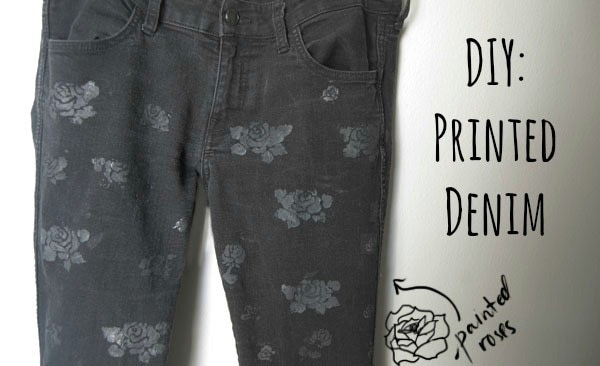 My default winter uniform consists mainly of printed pants, since everything else is covered by a large (but fabulous) black puffer jacket. However, it took me a really long time to embrace said trend – patterns are scary!
For today's DIY, I created a pair of subtly printed jeans that even pattern-shy individuals (including myself!) can rock with ease. Scroll down to learn how to make DIY printed jeans:
Materials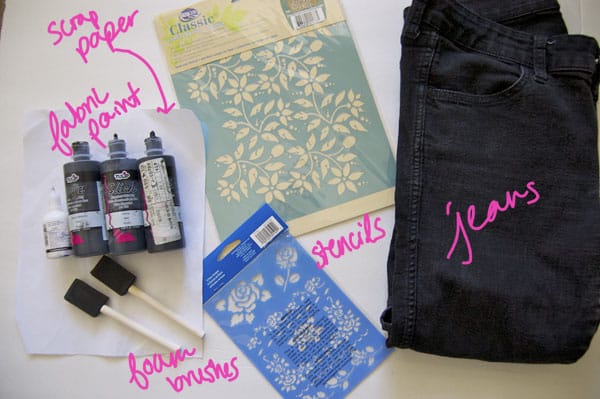 Black skinny jeans*
Stencils
Foam brushes
Fabric paint* – I chose metallic black, matte black, regular black, and a little bit of white.
Scrap paper
*You don't have to use black! Pick any color you'd like, but make sure that the fabric paint colors are very similar to the color of the jeans you're using!
Step One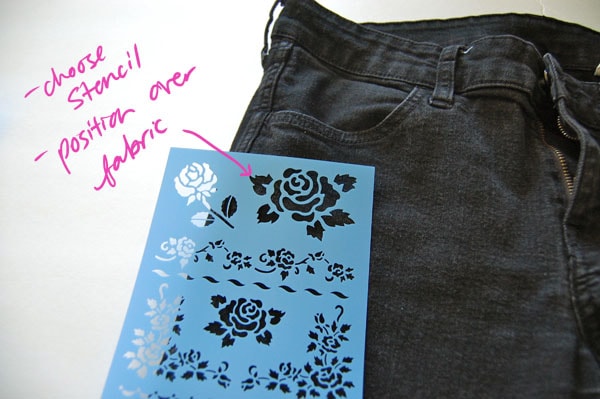 First, choose a stencil design. Floral prints have been really popular, so I opted for a rose pattern. Position it where you want the design to be.
Step Two
Stencil on your design. Simply hold taut the fabric of the jeans, and press the stencil firmly against the fabric. Use a foam brush to apply the paint.
There are actually two different ways you can apply the paint:
Method One: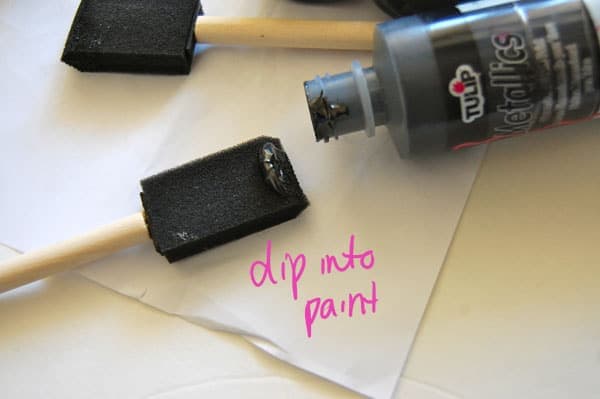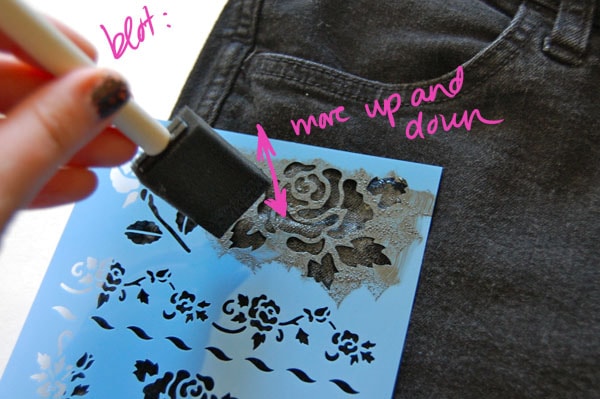 Dip the foam brush tip into the paint, and blot it through the stencil by moving the foam brush up and down. This method will result in a more blended/artistic design.
Method Two: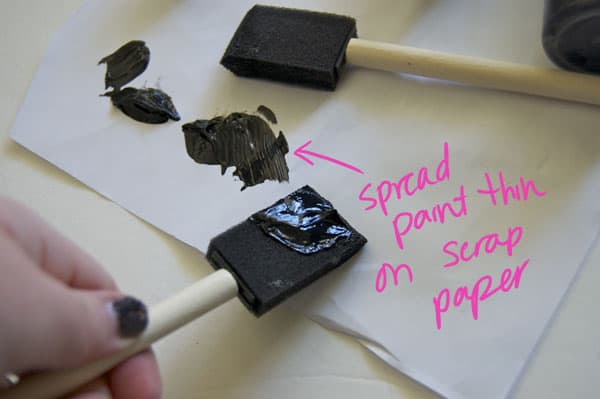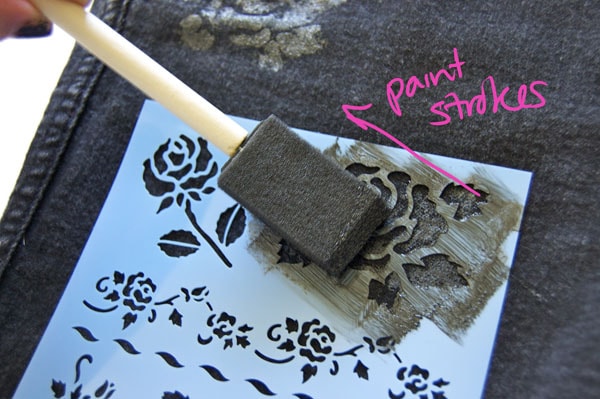 Alternatively, you can squeeze some paint onto the foam brush, then even out the paint by painting some strokes on the scrap paper. With the remaining paint (there should not be a lot), use the foam brush to "paint" on the stencil design (move the brush as you would a paint brush). This technique will yield a more defined/sharp design.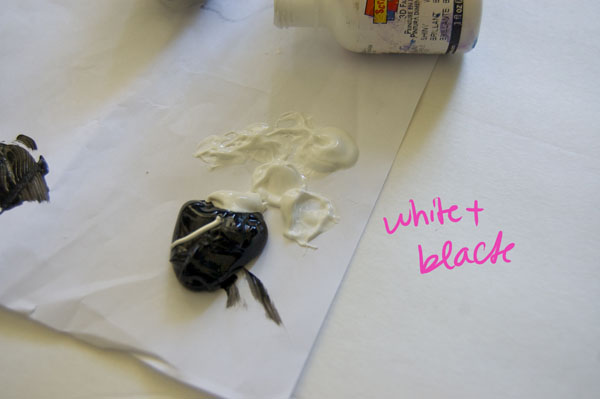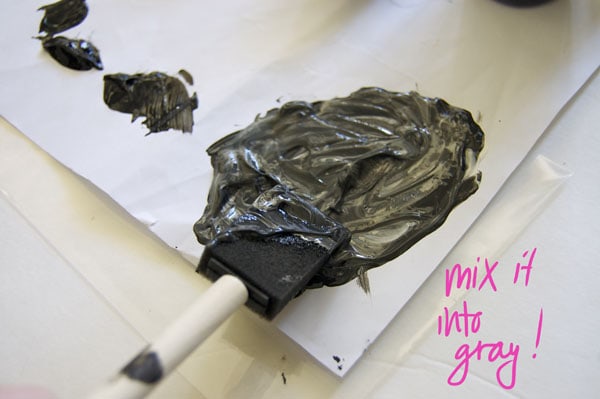 Don't feel constricted to the colors you have! I actually used a dark gray color (that I created by mixing together black and white paint on scrap paper) to create a subtle contrast between the design and the pants.
Feel free to vary both techniques of applying paint, too. You can also overlap the stencils on top of each other (make sure that the "bottom" layer is dry first), or even bring in different stencils to add more dimension. The design is completely up to you!
Step Three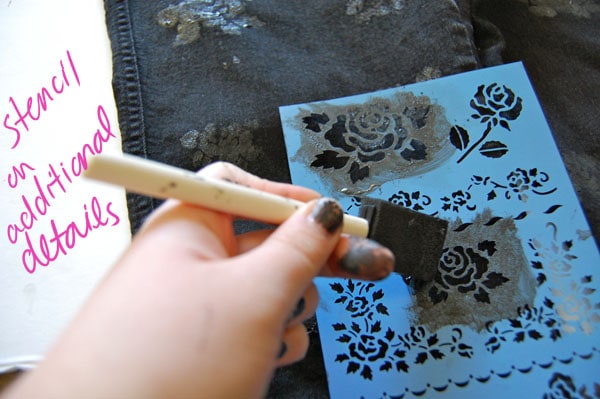 After you finish stenciling on the main design, feel free to go back over the pattern to add additional details. I ended up stenciling on smaller roses in between the large ones.
Step Four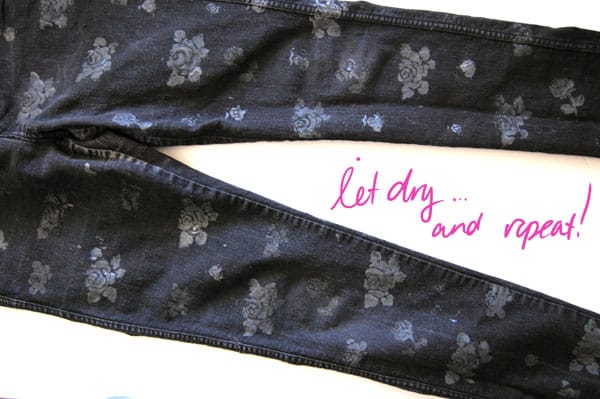 Let dry, then repeat the process on the back of the jeans.
Finale: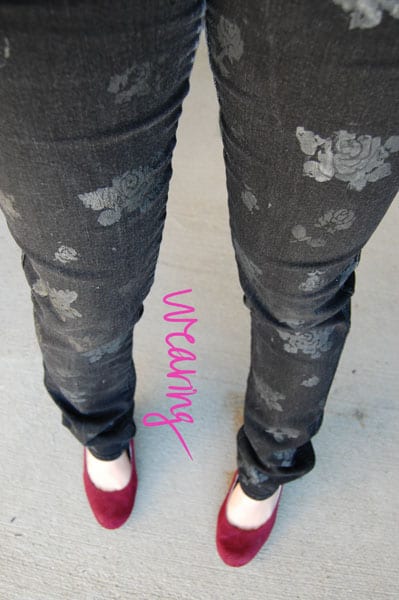 Simply pair with a solid-colored shirt, some outerwear to keep you warm, then finish it off with a pop of color in the shoes. (For more ideas, see our tips on how to wear printed jeans.)
Feedback please:
What do you think of the patterned pants trend (love it or hate it)? What do you think of this DIY? Would you try this tutorial? Are there any other tutorials you would like to see the tutorials for? Let me know in the comments!