Blanket Scarves from ASOS: 1, 2, 3
Do you struggle with transforming your outfits from day to night? Don't worry, CF is here to help turn that daily annoyance into a fun challenge. Class to Night Out focuses on one piece per week, and aims to help you take your look from study sessions in the library to dancing the night away.
A blanket scarf is a cozy piece to wear on cold days when you just don't want to get out of bed. These large scarves can be tied and worn a multitude of different ways, and were made popular by the Burberry blanket scarves that graced the runway at their Fall 2014 show. Celebs have been spotted everywhere rocking this trend as the temperatures have started to cool, and who can blame them? These scarves are both chic and functional.
You don't have to wear a blanket scarf that is actually the size of a blanket to try out this look (I mean, the Burberry version is HUGE). There are plenty of smaller options out there that will keep just as nice and toasty. In this post, I'll be showing you how to style a beautiful plaid blanket scarf for both class and a night out!
Blanket Scarf: Class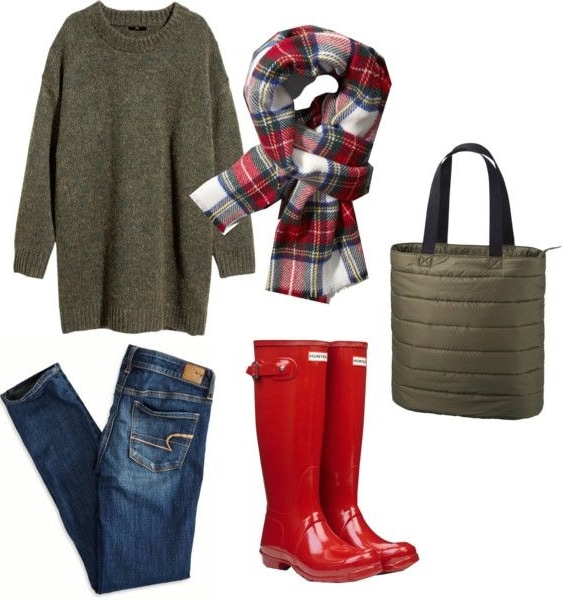 Product Information: Scarf, Sweater, Jeans, Boots, Bag
Imagine you wake up for your morning class to find that it is chilly outside and slush covers the ground. Getting out of bed and putting yourself together seems like a huge challenge on mornings like these. That's where the blanket scarf comes in. Throw on a pair of dark wash skinnies and an oversize olive-toned sweater, then add an element of chic perfection with a big blanket scarf wrapped flawlessly around your neck.
This pairing will keep you looking warm and trendy, while a pair of shiny red Hunter wellies will protect you from the slushy ground and add an element of preppy charm. An olive-hued tote in a down fabric mimics the outerwear of the season and, since it's waterproof, is perfect to carry all of your essentials.
Blanket Scarf: Night Out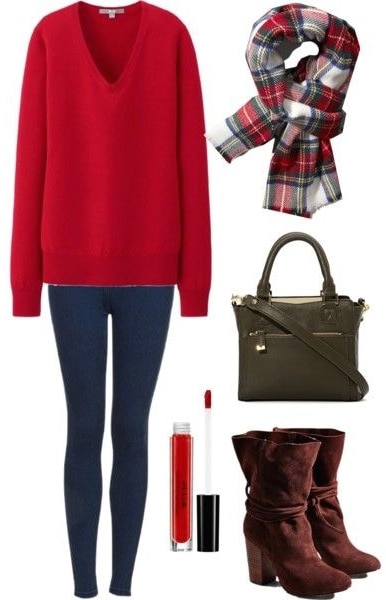 Product Information: Scarf, Sweater, Jeans, Boots, Bag, Lip Color
Blanket scarves can also look stylish for a casual night out. Pair this blanket scarf with a sweater in a true red color and dark indigo super-skinny jeans. The ensemble gets more of a night out feel when paired with adorable chocolate brown heeled boots and an olive green mini satchel. A bright red lip matches the rest of the outfit perfectly and amps up this nighttime look.
Your thoughts?
Would you ever wear a blanket scarf? To class? For a night out? How would you style this blanket scarf? Let me know what you think of the outfits in the comments, and tell me what other pieces you'd like to see featured on Class to Night Out!