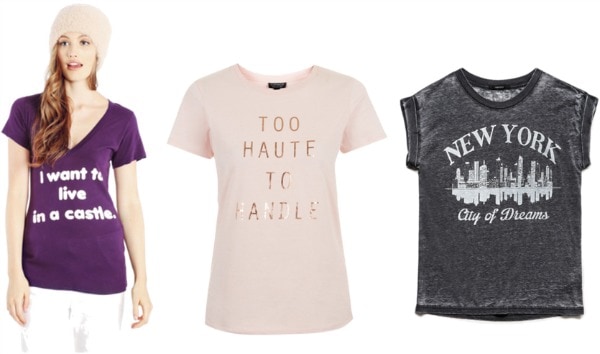 Tees (left to right): Wildfox, Topshop, Forever 21.
Everyone has a favorite t-shirt. I know I have several that I love but don't wear very often because I prefer to be a little dressier most days. However, it is totally possible to wear your go-to tees in a high-fashion way.
Obviously, solid and striped tees are fantastic layering basics with skirts and blazers. I could do a whole post on how to remix a great tee, be it graphic or printed or solid – and indeed, other CF authors have. But today, ladies and gentlemen, I want to focus on the often misunderstood member of the t-shirt family, like the crazy uncle who eats all the cranberry sauce, the message tee.
First Things First
I say the message tee is misunderstood because it can be really hard to find a great one. Lots of lame message shirts give the piece a bad rep. We've all seen t-shirts with slogans that are rude, pointless, or just kind of stupid. Furthermore, while a few years ago they would have been considered far from the height of fashion, chic labels like Wildfox and 3.1 Phillip Lim have made them an it-girl staple.
However, the idea of the message tee is very much in line with the idea of having great style – it's all about the message you're trying to send, right?
Each and every day you might be going for a different vibe or reflecting a different mood – be it confidence, flirtation, punk, princess, or savvy business lady. Just like you might add an inspirational quote to the title of a blog post or to a Polyvore set, choose a message that inspires you and matches the mood of your outfit.
When wearing a message tee, the important thing is that it really reflects who you are, what you love, and what inspires you. That's why most people don't have a closet full of message tees – the important thing is to find what speaks to you. For example, I have a tee featuring my favorite Shakespearean sonnet and love, love, love the slogan on the one I'm wearing below, "This princess saves herself." If you want your style to speak loudly, the medium is the message tee.
Once you've found the perfect one, you could just pair it with jeans and Converse and call it a day, but I'm here to offer a few more stylish suggestions. Just add your own spin to these chic formulas (I promise they're way more fun than the product rule).
Outfit #1: Message Tee + Blazer + Boyfriend Jeans + Statement Necklace + Heels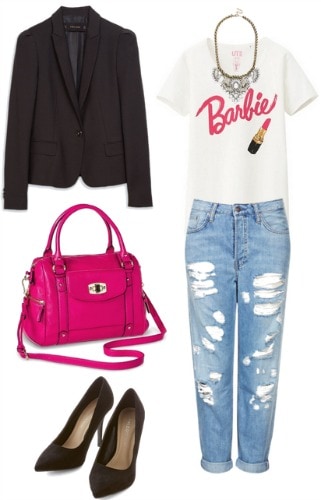 Blazer, Tee, Jeans, Bag, Heels, Necklace
Here we have a fave outfit of mine from a few weeks back to provide an example! I felt awesome in this look because it's both playfully girly and bada**. A tee with a flirty, feminine message (and maybe a little pink) plays well with ripped boyfriend jeans and a black blazer.
I love the combo of a casual tee and a statement necklace, and you'll see it's a constant in both of these outfit equations. Essentially, this whole ensemble is about contradiction: sparkles with distressed denim, structure with slouch, and casual with dressy.
While I think a heel of some sort is necessary to keep the outfit's feminine edge consistent, you don't have to go for pumps. I chose more casual stacked heel ankle booties for a Friday on campus.
I'd also generally recommend a neutral shoe (although a leopard pair could be blogger-level fabulous), because you want the focus to be on the contrast of the tee, blazer, necklace, and jeans. It should look streamlined despite the contradictions, and that's why I'd also recommend a fairly limited color palette.
Pick a bag either in a neutral to match the blazer, like in my outfit, or to match a bright color in the shirt, like in the set above. Like the shoes, the bag shouldn't steal too much attention, but a nice structured carryall will fit with the vibe of the outfit.
Outfit #2: Message Tee + Pencil Skirt + Statement Necklace + Cool Shoes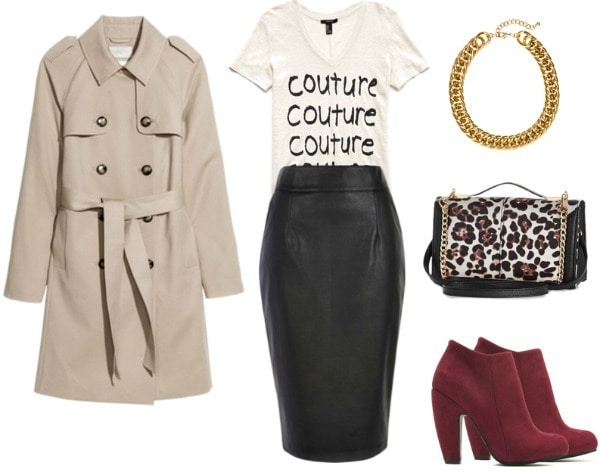 Trench, Tee, Skirt, Booties, Bag, Necklace
This outfit is too chic for words for a night out with the girls. Again, a statement necklace over the tee (but not so big that it covers the message!) instantly silences any doubts about turning this basic into high-fashion.
I love the idea of a message tee messily tucked into a pencil skirt (make sure the message doesn't get cut off – some strategic tucking may be required). Pick a skirt in a color that matches one in the tee. If you have a neutral shirt, like in this set, pick a pencil skirt with cool texture, like faux leather, or a print, like leopard. Then, add accessories that match the vibe!
A floral tee with a bright skirt may play better with nude pumps and pearls, but with the ensemble above I played off the edgy-elegant mood. Adding a pop of deep color with the booties and a polished print with the structured bag takes the look to a new level.
With a long pencil skirt, you need some sort of a heel to keep the proportions in check, otherwise the skirt may end up making you look shorter. You could pair this look with any number of chic jackets (I'd love denim or tweed), but a trench that hits at the same point as the skirt makes you look like you could be hitting Paris Fashion Week.
What do you think?
How do you wear your favorite message tee? Are you a fan of shirts with slogans, or do you prefer to avoid them altogether? Would you rock any of these looks? Let me know in the comments!