This post may contain affiliate links, which means we may receive a commission if you purchase through our links. Please
read our full disclosure here
.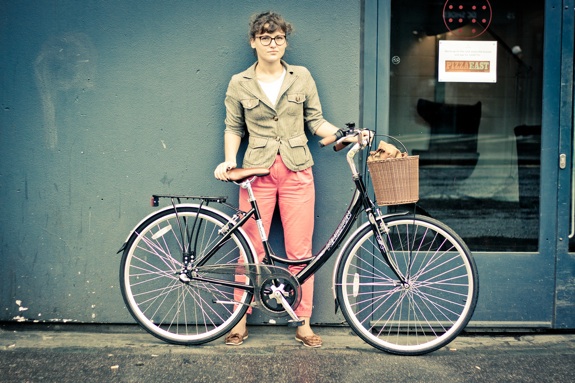 Welcome to the latest edition of Ask CF! Every couple of weeks, we select a reader fashion question and answer it here on the site. Do you have a specific fashion question for us? Scroll to the bottom of this post to learn how to send it our way!
Ask CF Question
Dear CF,

I'm on a bit of a health kick and want to ride my bike around campus. What are some bike-friendly fashions for all sorts of weather?

And–this may be a bit of a stretch–but is there a way to wear a helmet without ruining my hair? My campus is urban and head protection is a must!

Sincerely,

Biker Chick
Our Response
Dear Biker Chick,
There are a few key tips to keep in mind while deciding what to wear on a bike. An obvious first rule of thumb is do not wear anything that will be revealing while pedaling. To combat this, wearing any pant, short, or romper would work, but if you love your dresses and skirts, don't be afraid to wear them over biker shorts, leggings or tights. Secondly, don't wear anything that could potentially get stuck in your wheels like a long scarf or sweater (I once tied a sweatshirt around my waist while riding a bike and it got caught in my wheel spokes. Not only did it almost buck me from my bike, but it also tore my favorite sweatshirt. Both definite fashion and safety no's). And lastly, make sure your clothes and shoes will let you move freely and comfortably.
It's so important to wear a helmet and we're so happy you asked about some good hairstyles to wear with it. There are tons of helmet-friendly hairstyles to try: Both Self Magazine and Refinery 29 San Francisco have some fab ideas to get you started.
On the fashion front, I have created a few bike-friendly looks that you can check out below for inspiration. I hope you find them helpful and inspiring. Enjoy!
Sincerely,
Jessica
Outfit # 1: Sunshinin' Days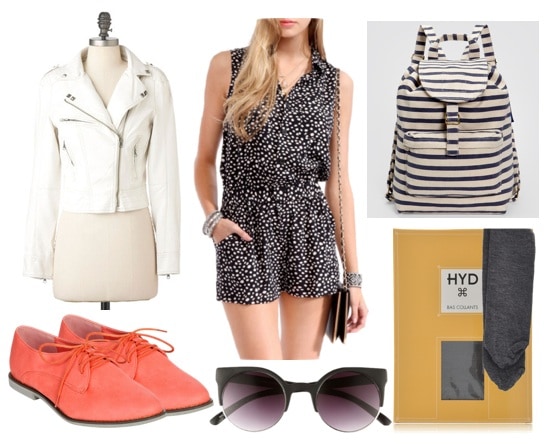 Product Information: Jacket, Romper, Backpack, Tights, Sunglasses, Oxfords
For a beautiful day when the sun is shining, you want your outfit to express a similarly cheerful vibe. To do this, pair a printed romper with a bright pair of oxford flats. You need your hands and arms free while riding, so grab a cool backpack like this striped one for a safe way to tote your essentials. Depending on how cool it is, choose a pair of grey tights and/or faux leather moto-jacket to keep with that biker-cool aesthetic. Complete the look with some retro sunnies and you'll be ready to pedal away in style.
Outfit # 2: Gloomy Skies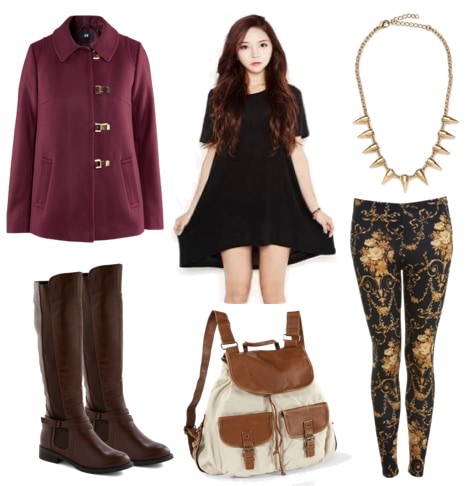 Product Information: Jacket, Dress, Necklace, Leggings, Backpack, Boots
There's something about gloomy, autumn days that makes us reach for rich, warm colors and thick, comfy fabrics. For this look, I chose to use a pair of baroque print leggings – one of fall's hottest trends. Leggings are great for biking since they are durable but also super easy to move around in. To keep away from any fashion faux-pas, pair your leggings with a dress or tunic that isn't too short. Sturdy riding boots are perfect for your ride to campus and walking around once you arrive. Finish the look with a burgundy coat, bullet necklace, and two-toned backpack.
Outfit # 3: Rain, Rain, Go Away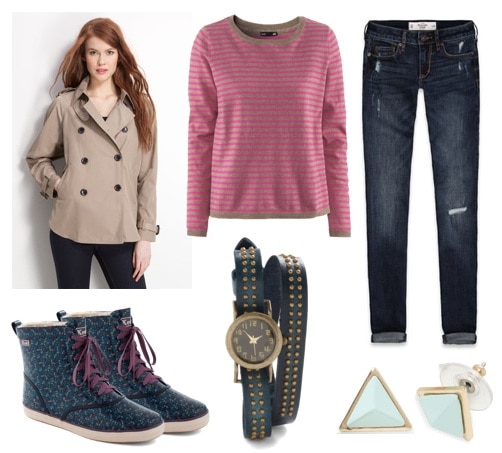 Product Information: Jacket, Sweatshirt, Jeans, Earrings, Watch, Rain Boots
In fall, rainy days are inevitable. And while riding your bike in a downpour might not be ideal, there is a way to dress for light showers that can help keep you dry. The essentials here, of course, are the rain jacket and waterproof shoes. A classic trench style coat is perfect for a rainy day to whisk away the water, and a pair of rain booties (as opposed to the popular Wellington style rain boots) will give you a little more control while pedaling. Next, choose a simple striped sweater and dark wash jeans. Lastly, accessorize with a studded watch and triangle post earrings.
Do you have a fashion question? Send it our way!
Is there something in your closet that you can't seem to figure out how to wear? Do you have an event coming up and need an outfit idea? Do you have a specific fashion conundrum you need help with?
If you have a question you want to see answered in this column, just send it on over via email to askcf @ collegefashion.net and one day you might see your question answered right here on the site!
Please note: We get A LOT of email and unfortunately cannot respond to every single question. However, we will read through every question and then decide which ones will be most helpful to the most readers. Thank you for your understanding.
What do you think?
Do you ride your bike to school or work? Do you have a similar dilemma? Did you find the advice helpful? Which outfit is your favorite? Do you have any other advice for our bike-riding readers? Please let us know what you think by leaving a comment below!