This post may contain affiliate links, which means we may receive a commission if you purchase through our links. Please
read our full disclosure here
.
Welcome to the latest edition of Ask CF! Every two weeks, we select a reader fashion question and answer it here on the site. Do you have a specific fashion question for us? Scroll to the bottom of this post to learn how to send it our way!
Since we began our Ask CF series, we have answered some great questions from our readers. This week, we received two similar questions about one topic. Therefore, we thought more of you might be wondering how to wear thigh high socks for fall, too. Read on to learn our best tips!
Ask CF Question
Dear CF,

I'm currently having a fashion dilemma, and want to incorporate my brand new collection of thigh high socks into my wardrobe, but I am consistently frustrated because I cannot find the right outfit. Also as a working college student I want to find an outfit that is easy to wear and walk around campus in and that can transition for work.

Please help,

Over-the-Knee in Frustration
Our Response
Dear Over-the-Knee in Frustration,
Thank you for your question. I can definitely relate to it as I myself have struggled with this fashion dilemma before. But with a little experimentation, you can wear thigh-high socks without a problem. I have created a few outfits below for inspiration on how to wear this trend. And if some of you aren't into thigh-high socks, a shorter pair of socks or a pair of tights would work just as well. I hope these outfits inspire you to play with your own outfits yourself. Enjoy!
Sincerely,
Jessica
Outfit #1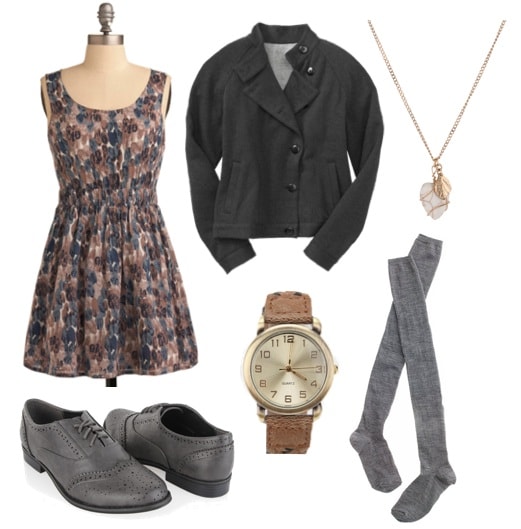 Product Information: Dress, Jacket, Necklace, Socks, Watch, Shoes
An easy way to wear this trend is to pair thigh-high socks with a shorter dress. Heather gray socks are a great option since their neutral color means they work with everything. Wear a simple swing jacket over a printed dress to keep you warm and covered. Finish the look with a simple pendant necklace, a watch, and some oxfords in a similar hue to your socks.
Outfit #2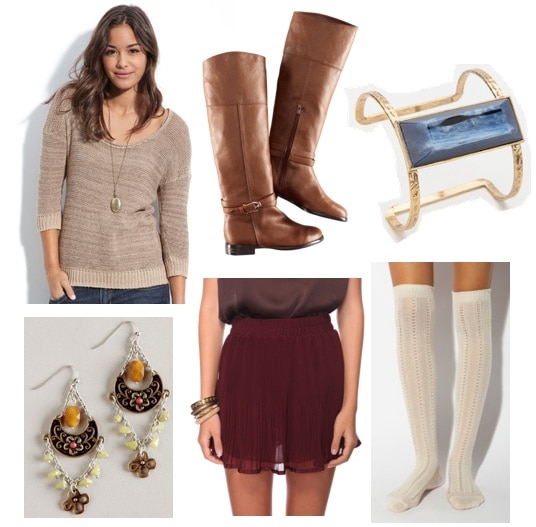 Product Information: Sweater, Boots, Bracelet, Socks, Skirt, Earrings
Cream-colored thigh-high socks are another example of a neutral-hued pair that will go with everything. For this outfit, layer a sweater over a pleated mini skirt. (If this skirt is too short for work, you could either layer darker-hued opaque tights under your socks for coverage, or opt for a longer skirt.) Next, slip into some cognac riding boots. Accessorize with some pretty drop earrings and a statement-making bracelet.
Outfit #3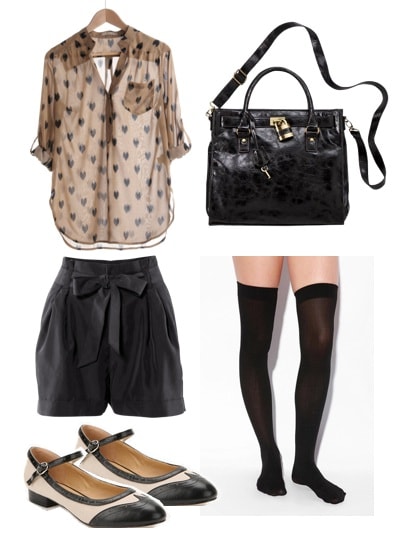 Product Information: Shirt, Bag, Socks, Shoes, Shorts
Thigh-high socks can also work with shorts. In this look, I chose both items in black for a simple and classic pairing. Tuck a printed button-up shirt into these high-waisted shorts – this shirt is see-through so make sure to wear something appropriate underneath. Keep the look simple and classy with these dainty flats and a structured bag.
Outfit #4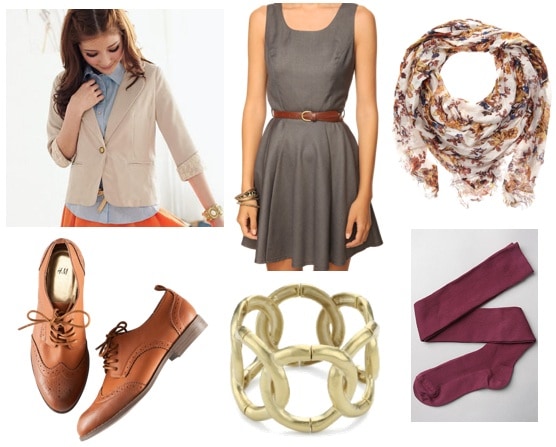 Product Information: Jacket, Dress, Scarf, Socks, Bracelet, Shoes
While this outfit is basically a reincarnation of the first, I still thought it was important to include an option that used a pair of socks that weren't neutral in color. I personally love the color maroon for fall so I began there. This a-line dress is such a great classic shape and you can never go wrong adding on a structured blazer. To tie the colors of the outfit together, throw on a printed scarf. Brogues and a simple bracelet complete the ensemble.
Outfit #5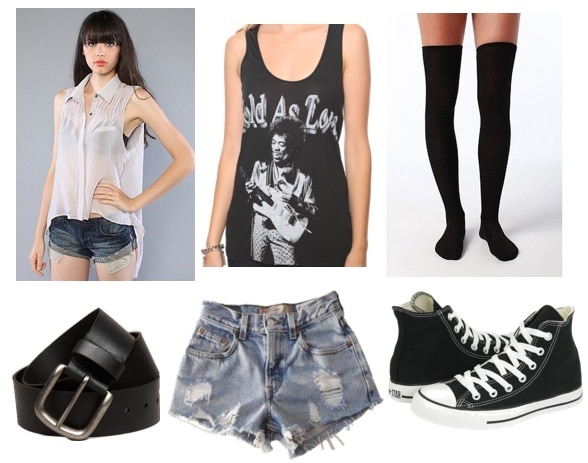 Product Information: Sleeveless Shirt, Tank, Socks, Shoes, Shorts, Belt
While this look may not be work-appropriate (unless of course you happen to be Jimi Hendrix's roadie), I thought it was important to showcase the versatility of thigh-high socks. The outfits above all have a similar aesthetic to them, however that doesn't mean the trend is limited to one style. As you can see with this outfit, they can also work for those of you who are a little less dainty and a lot more rock n roll.
While the band tank alone would suffice as a top for this look, try layering on a sleeveless button-up for a unique aesthetic. Vintage-inspired cutoffs are three-season staples that pair easily with just about anything. Simple black socks, a wide belt, and Converse High-Tops add the finishing touches to the look.
Do you have a fashion question? Send it our way!
Is there something in your closet that you can't seem to figure out how to wear? Do you have an event coming up and need an outfit idea? Do you have a specific fashion conundrum you need help with?
If you have a question you want to see answered in this column, just send it on over via email to askcf @ collegefashion.net and one day you might see your question answered right here on the site!
Please note: We get A LOT of email and unfortunately we will not be able to respond to every single question. However, we will read through each question and then decide which ones will be most helpful to the largest number of readers. Thanks for understanding!
What do you think?
Would you wear thigh high socks? Have you worn them before? What is your favorite way to style them? Do you like these outfit suggestions? Please let us know what you think by leaving a comment below!