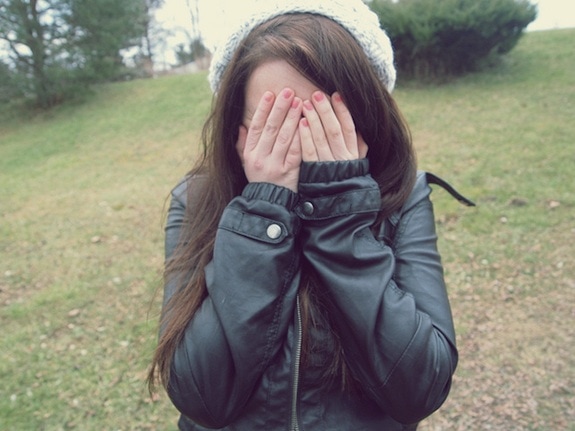 Welcome to the latest edition of Ask CF! Every few weeks, we select a reader fashion question and answer it here on the site. Do you have a specific fashion question for us? Scroll to the bottom of this post to learn how to send it our way!
Ask CF Question
Dear CF,

I have this really cool bomber-style brown leather jacket (slightly oversized) that I can't figure out how to wear. Can you help? I really need some outfit ideas. I hate that it is just put away in my closet! Thanks 🙂

Sincerely,

Needing Inspiration
Our Response
Dear Needing Inspiration,
Thank you for your question! I particularly love these types of questions because we all have those pieces in our closet that we adore, but can't quite figure out how to style. And since my BFFs and I own a brown leather bomber jacket together (Sisterhood of the Traveling Pants-style!), I have found some fun ways to wear this item from my own experience.
Below, I've created three looks featuring a faux leather bomber jacket to help get your creative juices flowing. I tried to create looks that were a little more unexpected to push the boundaries. However, I also love to pair a leather bomber jacket with jeans, a sweater or tee, and boots for more casual and easy look.
And for those of you who own different colors or even different styles of (faux) leather jackets (moto, blazer, cropped, etc.), each of these looks was created to work with most styles. I hope you find them helpful and inspirational. And hopefully you can finally pull that jacket out of the depths of your closet and let it receive the attention it deserves!
Sincerely,
Jessica
Outfit #1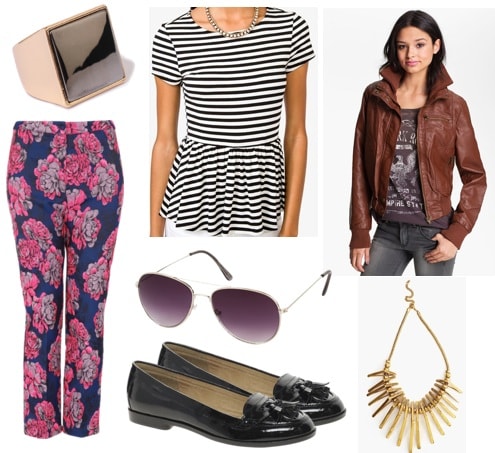 Product Information: Ring, Top, Jacket, Necklace, Shoes, Sunglasses, Pants
Okay, okay I know: Aviators with a leather bomber jacket might be a little cliché, but I couldn't help myself (nor could I let Tom Cruise down). To keep this look from feeling too Top Gun, add a modern twist by mixing prints with floral print pants and a striped peplum top. A statement necklace and cocktail ring add another fun dimension to the look. Lastly, slip on some black penny loafers, throw on your bomber jacket, and get ready to fly (or walk/ride/drive) in style!
Outfit #2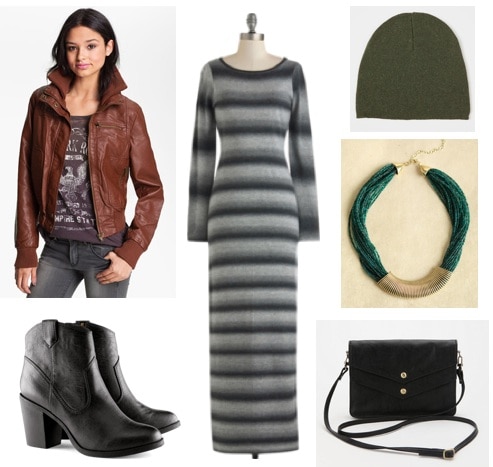 Product Information: Jacket, Dress, Beanie, Necklace, Bag, Shoes
This next look incorporates a fab long-sleeve maxi dress that's perfect for winter and early spring. To allow the true essence of this dress to take center stage, only add on a few accessories. I love the idea of pairing emerald green with the look and this necklace is perfect. Additionally, beanies have been wildly popular lately and I think one would look great paired with the jacket and dress. Finish up the look with a black cross-body bag and ankle boots.
Outfit #3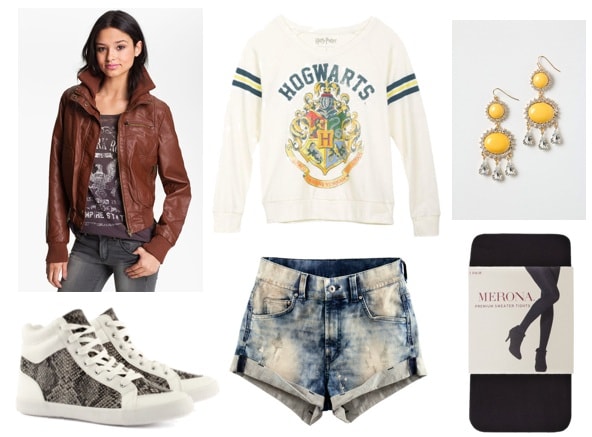 Product Information: Jacket, Shirt, Earrings, Tights, Shorts, Shoes
For this last look, I wanted to create an outfit using denim shorts and tights. These acid wash shorts fit the bill perfectly – they're edgy, fun, and would look great with a bomber jacket. Here at CF, we are huge Harry Potter fans, so when I found this shirt, I knew I had to work it into a look. Finally, complete this ensemble with some sparkly chandelier earrings, your trusty leather bomber jacket, and some cool faux-snakeskin high-tops.
Do you have a fashion question? Send it our way!
Is there something in your closet that you can't seem to figure out how to wear? Do you have an event coming up and need an outfit idea? Do you have a specific fashion conundrum you need help with?
If you have a question you want to see answered in this column, just send it on over via email to askcf @ collegefashion.net and one day you might see your question answered right here on the site!
Please note: We get A LOT of email and unfortunately we will not be able to respond to every single question. However, we will read through each question and then decide which ones will be most helpful to the most readers. Thank you for your understanding.
What do you think?
Do you own a leather bomber jacket? How would you style it? What do you think of these outfits? Which one is your favorite? Please let us know what you think by leaving a comment below!