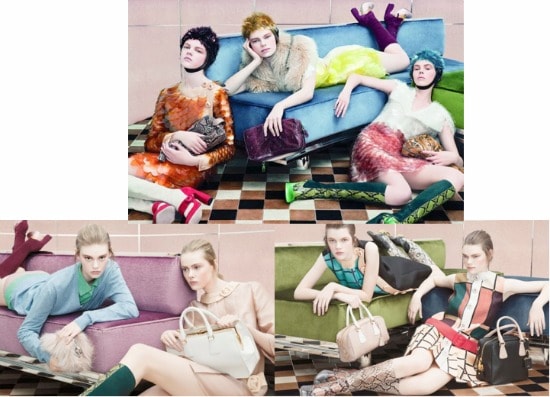 After a few weeks of remaking designer looks for less, this week, the attention is instead on the most important aspect of any collection – the details!
Inspired by Anna's post last week on lucite accessories, Miuccia Prada's Spring collection seemed a fitting follow-up. Not only does Prada's collection incorporate this season's favorite clear baubles but also unexpected prints, heavy embellishments and fun fabrics.
The merging of modernity and classicism played in the fabric of the opening "business" section: precise, angular gray duchesse satin and nylon coats, jackets, vests, and Bermudas that had been scissored off to leave raw edges. Manipulated photographic prints showing palm trees, beach umbrellas, and lounging holidaymakers were then applied to jackets, short shorts, and panties—seemingly an evocation of the fifties and sixties…Prada did "business to beach," a representation, she said, of "how life is today. High and low, palazzos, and the popular," and, she smiled, "I really liked it." – Style.com
As the runway show neared its end, Prada sent statement-making pieces down the runway including crystal-embroidered tops and chandelier-inspired dresses. As Miucca concluded, "When things are bad, you have to come out from that." "Optimism," she declared, "is a choice."
Using Prada's optimism and Spring 2010 "business to beach" style as inspiration, I've found items to help you capture these trends – while still staying within your budget! The best part? They're all fun, young trends that are perfect for rocking in college.
Lucite Accessories
Lucite is big this season. Whether it's incorporated into a pair of heels, flats or jewelry – it's sure to make a statement. Prada's collection demonstrates just how versatile the material can be in an outfit. Lucite sandals with a structured heel, for example are chic and modern for spring, and even office-appropriate as the weather warms. In contrast, the material can also be added to an outfit by way of an over-sized necklace or some bangles. One of the greatest benefits of lucite accessories? No need to worry about color clashing!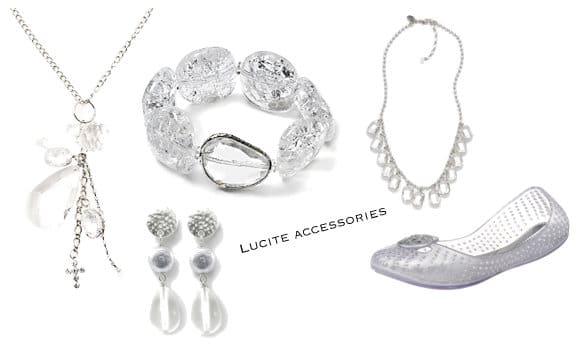 Product Information: Crystal Cluster Necklace – Torrid, Earrings – Chicos, Bracelet – Bloomingdales, Clear Necklace – American Eagle, Flats – Endless
Tips for Making it Work:
Find the balance between quirky and tacky. Granted, it may seem silly to worry about piling on clear jewelry, but it's very possible to go overboard. Too much clear jewelry, for example, can easily start to look cheap. The trick is to just rely on one focal piece, be it a large necklace or a stack of bangles – that's really all you need to make an outfit!
Not all lucite is created equal. Pay attention to the details..of the details. Is that necklace accented with a gold chain? Ribbons and pearls? The materials and style surrounding the lucite create the vibe of the piece. Take lucite heels, for example: there's a fine line between Prada chic and Playboy playmate…
Tropical Prints
One of my favorite aspects of Prada's Spring 2010 collection was the unexpected retro beach prints. Who could have known that an ombre pink tropical print could look so chic? Tropical printed fabric is a great way to add a unique pop of color to any piece, whether it's a dress or just a pair of sunglasses. Do you own any tropical print clothing? What do you pair it with?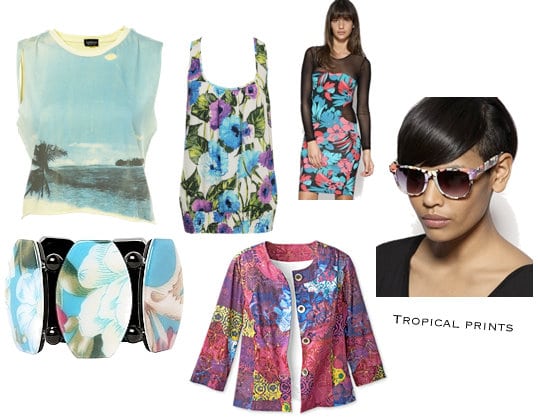 Product Information: Crop Top – Topshop, Cuff – Torrid, Tank – Forever 21, Dress – ASOS, Sunglasses – ASOS, Jacket – Coldwater Creek
Tips for Making it Work:
You can get away with any tropical print – just pay attention to the fabric! If Prada's collection proves anything, it's that tropical printed silks are chic, modern and office-appropriate. On the flip side, that same print would come across very differently on a cotton or jersey garment. So for this trend, find a print that you love and take your cues from the fabric and texture when mixing and matching for specific occasions.
In addition to the material, fit and style play an important part in pulling off Hawaiian prints. Even if you love a print, if it's splashed across a short-sleeved button-up, you will probably still end up looking like a middle-aged tourist. However, a fitted tank or dress in the same fabric will look fresh and young.
Embellished Tops
Definitely a college-girl favorite, embellished tops and dresses can be found at almost every price point these days. Although Prada's collection incorporated some rather over-the-top interpretations, it also enforced the fact that these built-in details make perfect statement pieces. The reason embellished tops are so popular among girls on a budget is that fact that they are essentially a top and a necklace in one. Plus, in colors like gray, silver and black – these items are perfect for a night out or paired with jeans and flats for class!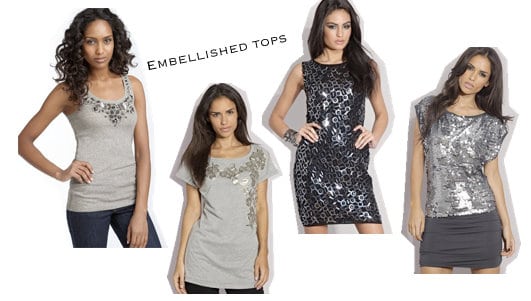 Product Information: Nordstrom, ASOS, ASOS, ASOS
Tips for Making it Work:
Although it's awesome that almost every store has their own interpretation of the embellished tank, that doesn't mean you have to own every style! In the last few months it seems that every time I go shopping, I inevitably come home with an embellished piece of some sort. After a few weekend excursions, I started to realize that most of them look pretty similar. So avoid overspending and purchasing almost identical items by looking through your closet before you head out.
Get the most out of your clothing by dressing it up and down! Even though these tops have their own built-in flare, add earrings and bracelets for a Saturday night out. Even if it has heavy embellishment, any piece can be dressed down for classes as well. Throw a cardigan or jean jacket on and a pair of jeans to achieve the perfect, fun daytime look – without loosing that sparkle.
Tying it all Together
Take a look through all of Prada's Spring looks – see how the outfits, the details and the beauty trends all come together to create each look? In the midst of the popular trends this Spring (denim, florals, nudes, etc.), Miuccia's collection stands out with unique accents and fabrics.
What do you think of the collection? Are these accessories and fabrics that you would incorporate into your wardrobe? Do you already rock some of these looks? As always, I love to hear from you guys – especially suggestions for future designer spotlights! Be sure to leave a comment.