This post may contain affiliate links, which means we may receive a commission if you purchase through our links. Please
read our full disclosure here
.
This summer, I've been doing a fair amount of traveling. As you can imagine, I've spent a good portion of that time studying what fashionable ladies across the globe are wearing! One combo that I've seen again and again is a tried-and-true classic: a simple bustier crop top and a high-waisted skirt.
Now, it may be easy to assume that this outfit can be classified as "hipster" or "hippie" or "artsy." It's true that, at first glance, those may be our initial impressions of these individual pieces. But think again! If those words don't describe your personal style, that's okay – by changing up your accessories, this outfit can take on a completely different set of adjectives.
Keep reading to see how you can reinvent fashion stereotypes with varying accessories.
Look #1: Edgy Night Out
Product Information: Bustier, Skirt, Clutch, Necklace, Earrings, Ring, Wedges
Who says that flouncy skirts and pretty tops should be reserved for the girly girls out there? This summer, add some edge to your look by incorporating one of this season's most popular trends: studs.
To begin, pile on necklaces with spikes, sparkles, and chains. These are the building blocks of edge! Complementary rings and earrings intensify the look while a studded clutch (black is always a good edgy color) and sky-high wedges embolden the entire outfit. Finally, practice your best smoky eye makeup tricks and hit the town.
Look #2: Music Festival-Ready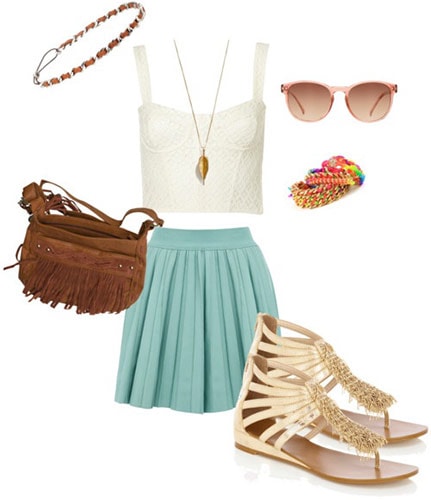 Product Information: Headband, Bag, Necklace, Sunglasses, Sandals
My initial thought about this outfit is that I would 100% wear it to a music festival. It's breezy, sexy, warm-weather friendly, and a little bit '70s inspired.
Start with a bag – this fringe-embellished one will carry all of your concert essentials while keeping your hands free. Gladiator-styled sandals will ensure that your shoes stay on your feet – just swap them for flats if you're planning to be in the center of the crowd to save your toes. Simple accessories like a pendant necklace and friendship bracelet won't get in the way of your fun, and with the sun pounding down during the day, you'll want a cute pair of sunglasses to block the rays. Finally, when you need to put your hair up (braids, perhaps?), top the look off with a hippie-esque headband.
Look #3: Pops of Coral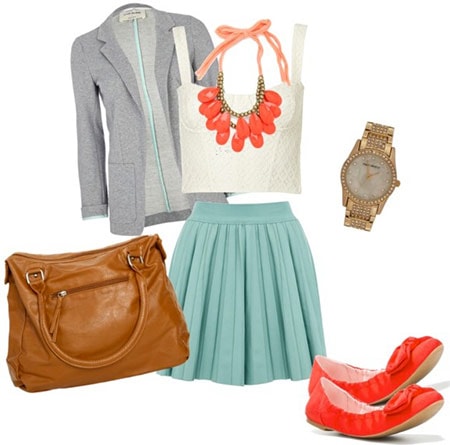 Product Information: Blazer, Bag, Necklace, Watch, Flats
Tummy-bearing tops and skirts tend to be on the riskier side of fashion styles. However, it's easy to tone down your outfit by adding a blazer. The strong shoulders will balance out the hem of the skirt, while the extra coverage will make a peep of skin that much more acceptable.
Throw in some pops of color with a pair of coral flats and a statement-making necklace. Other accessories (like a watch and a tote bag) should stay in a more neutral color scheme; you don't want to overpower the look with too many pops!
Your turn!
It's easy to assume that a piece of clothing fits one fashion stereotype. (Feathers are for hippies, pearls are for preps, etc.) But the old rules are boring – challenge those stereotypes by using your favorite accessories to change the look of any piece!
Now, it's your turn. What do you think of the outfits featured above? Would you do anything differently? Can you think of another way to wear this combo? What do you think about fashion stereotypes? Make sure to leave your thoughts below!