This post may contain affiliate links, which means we may receive a commission if you purchase through our links. Please
read our full disclosure here
.
Have you ever walked into a friend's dorm room or apartment and thought "it's really empty in here?" With limited college budgets, it can be hard to fully furnish your temporary home. My roommates and I are guilty of leaving our living room pretty much as it came– with a black sofa, chairs, and wooden coffee table. The walls are nearly sparse, with the exception of a trio of black-and-white paintings.
We had a few friends tell us that our room lacked personality and was too monochromatic. Since we aren't allowed to paint the walls and don't have huge budgets for buying new furniture, we decided to spice up the room with a bit of color. A few printed pillows, a bright blue "hello" sign, a blue lamp, and a green elephant poster are all the decorations we have. But ever since we added these colorful accents we've gotten many more compliments on our living room. People tell us the change has made our apartment more homey and cozy.
If you're feeling like your room isn't exciting enough, try adding in a few bright accents. Whether it's a planter or a new rug, your space will instantly feel happier. The best accents are usually brightly colored, especially if your current furniture is neutral-toned. Read on for some color inspiration and ideas for what to add to your dorm shopping list.
Sky Blue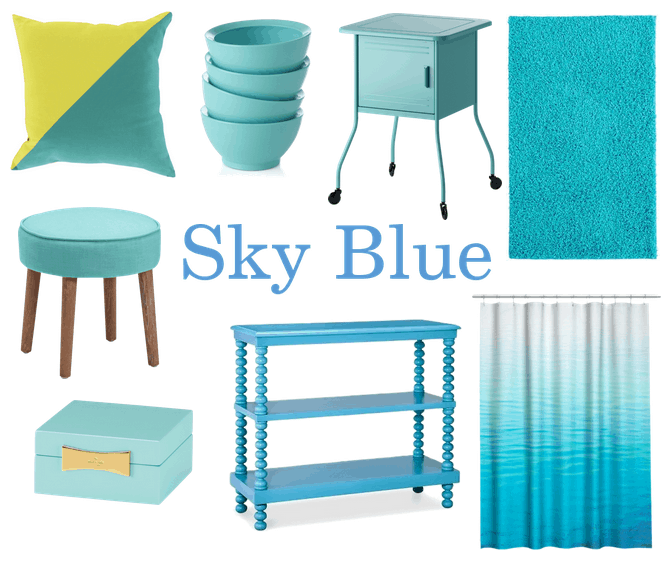 Product Information: Pillow, Bowls, End Table, Rug, Shower Curtain, Bookshelf, Jewelry Box, Stool
Bright blue is a great color, especially as we head into summer. There's something about reflecting the color of the sky that leads to a peaceful, calm feeling.
Dark blue can sometimes invoke feelings of sadness, so try to find the right shade that says "relaxation." Too much blue might have an overwhelming effect, but highlighting the room with a few key pieces is an excellent way to incorporate this color into your space.
Lime Green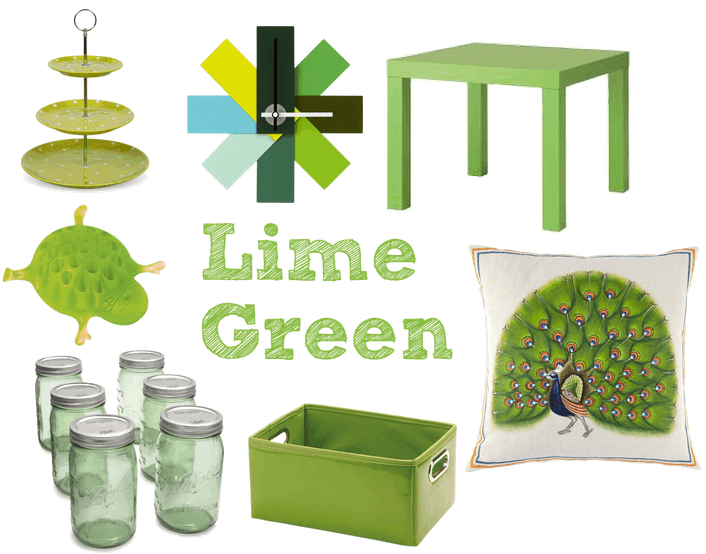 Product Information: Jewelry Stand, Clock, End Table, Pillow, Storage Basket, Mason Jars
Before college, I was never a huge fan of green. Dark greens always turned me off because they didn't seem cheerful, but I've grown to enjoy lime green. It's such a fun and youthful hue!
Last year, my comforter was a sky blue mixed with lime green, and I loved it. The combination of these two colors is beautiful (which you can see in the clock above), especially because green already has tones of blue and yellow. Green is refreshing and can turn a boring room into a cool hangout spot.
Violet and Eggplant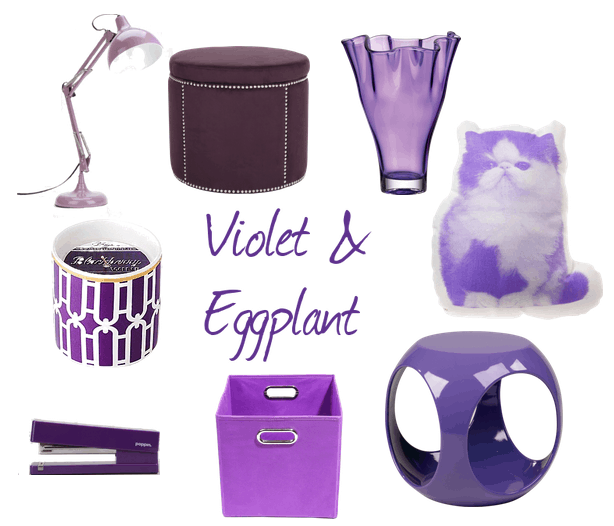 Product Information: Lamp, Storage Ottoman, Vase, Pillow, End Table, Storage Basket, Stapler, Candle
Purple is a really weird color to decorate with since there are so many shades and it tends to not mix well with lighter colors. However, the drama and sophistication associated with a rich eggplant cannot be beat.
If you want to add color to your room, but want the space to retain its maturity, try throwing in purple accents like staplers and candles. Purple has often been associated with royalty or luxury, and you can recreate this vibe by mixing purple against a clean white.
What do you think?
How do you typically incorporate color into your room? Is there a particular hue that you like to accent with? Let me know in the comments!