This post may contain affiliate links, which means we may receive a commission if you purchase through our links. Please
read our full disclosure here
.
One of my favorite parts about having my own apartment is being able to personalize my space according to what's going on in my life. I love to travel, so I'm always on the lookout for cute ways to incorporate my latest adventure into my room.
Next week, I'm heading to Berkley to visit my best friend, and many of my peers are preparing for other spring break adventures. Even if you aren't traveling and you're staying at home/school, spring break is a great time to relax and run around town trying new things. Personally, after being back in school for a couple of months, I'm in the mood to mix things up and have some fresh new decor.
While thinking about my trip, I realized some of the best apartment decorations I've seen come from materials picked up while on vacation. In case you're traveling this break, or even visiting new places, here are some travel-inspired DIY projects to keep in mind, so you can pick up what you need:
Canvas Maps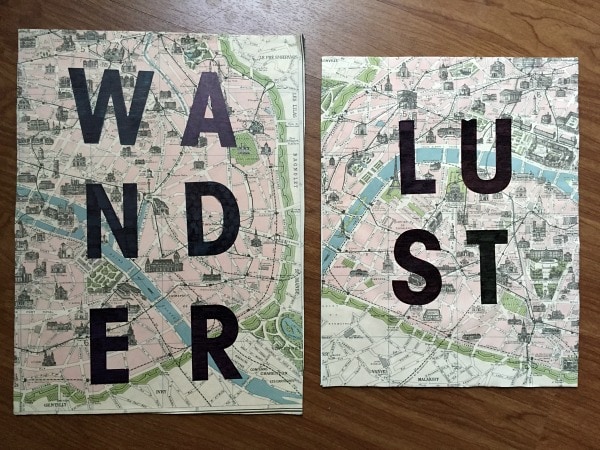 I love maps – especially the large ones they sell at tourist shops that mark out way more sites than you could ever see on a trip. I made the above canvas project after my trip to Europe this summer.
While I didn't get my map in Paris, I really wish I had! I picked up this paper at a local art store, however, so if you're staying at home that's a good place to search. Personally though, I would love this project so much more if I had actually used a paper map in the city and then taken it home to be turned into art.
Though your phone's GPS will probably guide you on spring break, it's still fun to have a paper relic of your destination. You can grab a flat canvas board and simply glue the map on, or try layering over it with pictures, words, or letters. I bought some large sticker letters, then colored over them in black Sharpie.
State Art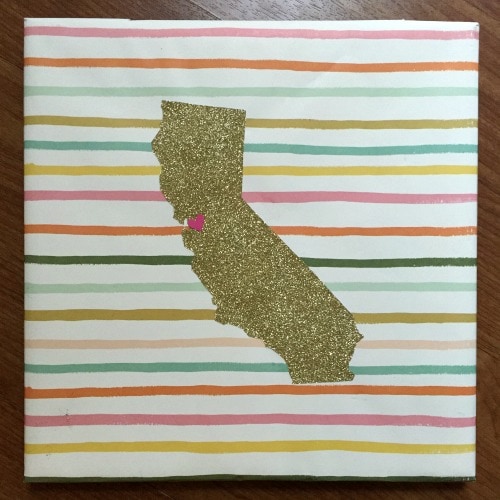 So, this DIY project doesn't require you to actually travel anywhere (which is good news for your wallet!), but is awesome if you end up visiting a state or country that you fall in love with. I'm originally from California, which is why I chose this design, but you could also use your current place of residence.
It's fairly simple – I just followed this tutorial. I bought some glitter paper at the same local store, however, so I avoided the hassle of using actual glitter.
Photo Wall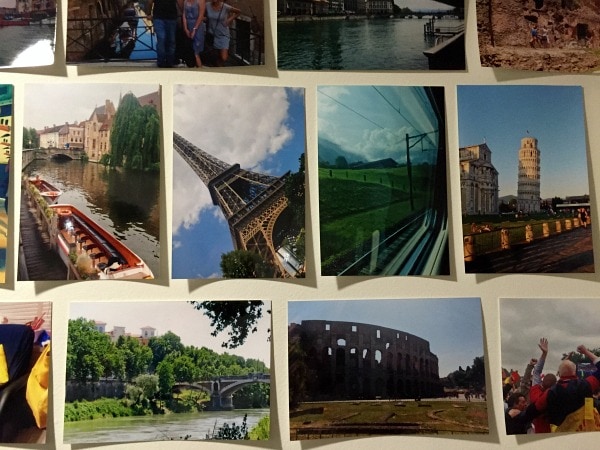 This project is so, so simple, but actually gives me a lot of joy. I did this last year with some photos I took during winter break and loved it. I usually upload my pictures to Facebook and send them to my mom, but rarely get a chance to look at them afterwards. By making this photo wall (which literally takes no more than five minutes once you print the photos) I get to reminisce on all the great memories.
If you're going somewhere this spring break, consider actually printing out your photos at CVS or Target and making a small photo collage. That way, you can be reminded of your travels once you're back on campus. If you're not going anywhere, you can do the same thing with pictures of your friends from college. I prefer layering the walls with photos instead of just putting them on a bulletin board because I can fit more.
Miscellaneous Things to Grab:
I don't have projects made with these items yet, because I'm actually going to try them when I come back (maybe I'll do a followup post!). Things I love to grab on my travels include postcards, business cards, and any stubs from movies, public transit, or events. You can make a pennant banner, a shadow box, or even a really cool scrapbook page to hang up.
Some other ideas I had involved stretching tourist t-shirts onto canvas, or even finding a thin, decorative towel from a new city and framing it. While on spring break, be on the lookout for quirky items that could be future dorm decor, such as shells, umbrellas, or even shot glasses.
What are you bringing back from spring break?
Do you have any ideas for how you will use spring break as decor inspiration? Will you be trying out any of these projects? Do you even have room in your luggage to bring back extra materials? (I might not!) Let me know in the comments!