This post may contain affiliate links, which means we may receive a commission if you purchase through our links. Please
read our full disclosure here
.
Nothing quite satisfies the stomach and warms the soul like a thick, piping hot bowl of potato soup. Unfortunately, creamy soups that contain ingredients such as cheese, bacon, sour cream, butter, and salt don't fall under a typical person's definition of "healthy" eating. Alas, the weather outside is treacherous and I've been craving something that tastes just sinful. Can you blame me?
After a bit of experimenting and some research, I've put together a recipe for healthy potato soup that has all of the great flavors and textures of potato soup, but sneaks in a ton of veggies and cuts out a lot of unnecessary fats and calories.
Additionally, this soup incorporates two very important kitchen trade secrets that every casual college chef should know about – a roux and a mirepoix. This recipe is an easy way of introducing these two kitchen tricks to beginners. Read on to learn a bit more about each technique:
Roux
The thick and creamy base of this soup is made using a small amount of roux. A roux is a thickening agent that's made when flour is combined with a fat (usually butter or bacon grease, but any type of fat will work). When you add milk or broth to a roux paste, it cooks up into a thick and rich sauce or soup that will stick to noodles, veggies, and your ribs.
Mix roux with cheddar and milk and you've got the perfect cheese sauce for macaroni or broccoli. Use the grease rendered from sausage for the roux and combine it with some milk and black pepper, and you've got yourself a kick-butt gravy to ladle over biscuits or mashed potatoes. Mix butter roux with half and half cream and some Parmesan cheese for a homemade Alfredo sauce.
Seriously ladies, if you take anything away from this post, let it be the invaluable importance of knowing how to make a roux base.
Mirepoix
The other important kitchen skill that this recipe incorporates is flavoring a dish with mirepoix. Mirepoix is just a fancy French way of saying chopped onions, carrots, and celery, but these three aromatic vegetables make up the holy trinity of flavorful cooking.
You'll be surprised at how many diverse dishes from all over the world use these three vegetables to form a base flavor. Everything from pot roast and Italian meat sauces to Cajun gumbo and Chinese stir-fry uses some variation of a mirepoix. Plus, cooking them together will make your home smell amazing.
Now that you know about the two kitchen tricks we'll be incorporating into our potato soup, let's get to the recipe!
Warning:despite incorporating a ton of vegetables and reducing a sizable fraction of the fat, this soup taste like a luscious, indulgent, satisfying treat. Cook a pot of this, and hot guys from blocks away may or may not show up at your doorstep. Just saying…
Sneaky Slim Potato Soup
What You'll Need
4 medium sized russet potatoes (alternatively, you could use leftover baked potatoes)
3 carrots
3 stalks of celery
1/2 of an onion
4 cups of chicken or vegetable broth (or, 4 cups of water and 4 chicken/vegetable bullion cubes), plus 1-2 cups of chicken/vegetable broth if thinning is needed
4 strips of bacon (substitute for a tablespoon of olive oil if you're a vegetarian)
1 tablespoon of olive oil
1 tablespoons of all-purpose flour
1/2 – 1 cup of half-and-half
1 cup of shredded cheddar cheese
Salt and pepper
Optional: 1-2 cups of frozen cauliflower
Optional toppings: shredded cheddar cheese, bacon crumbles, sliced green onion, a dollop of sour cream or Greek yogurt, croutons
How To Make It
The first thing we need to do is prep all of the veggies. Chop an onion in half, peel it, and dice up into small pieces. I'm a lazy girl, so I cut the halved onion in half again, tossed it into a food processor, and pulsed it a few times. You'll end up with roughly chopped onion without the tears or fears of slicing one of your fingers open. Seriously girlfriends, if cooking is something you love to do, you can find mini food processors at Walmart for around $25 that will chop or shred veggies for you in seconds.
Peel the rough outer layer of the carrots off and diced those up as well. Again, I'm a lazy, lazy girl, so I cut the carrots into thirds, threw them into a food processor, and pulsed until they were chopped into smithereens, too. Will they look as pretty and uniform as they will if you diced them by hand? No, but they'll taste the same, and make the soup look awesomely rustic and homemade. Celery becomes an awkward stringy mess when you try to chop them in a food processor, so I just diced those up the old fashioned way.
Tip: if you have extra time, go ahead and dice up the extra onion, carrots, and celery you have, and freeze them in Ziploc baggies. The next time you make a soup, stir-fry, Bolognese sauce, pot roast, stew, or anything that calls for a mirepoix, you'll already have your veggies prepped and ready to go.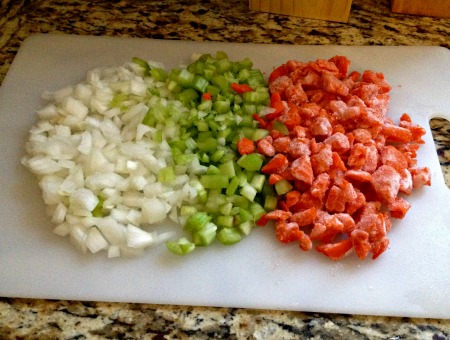 Lastly, peel the potatoes with a stiff vegetable peeler and dice them by hand into 1/2 inch cubes. Use the heaviest knife you have, and be careful! Potatoes are roundish and slippery, so take your time on this step, and pay attention. I was SO focused on safely dicing the raw potatoes that I forgot to take a picture of this step. Whoops!
Finally it's time to get cooking. Dice up four pieces of bacon and throw them into a heavy soup pot. Turn the stove on medium, and let the bacon do its thang. It'll take about 15 minutes for the bacon pieces to render all of their fat and become delicious crunchy little bits.
Ladies, the day I started cooking bacon on medium heat is the day I was born again. It takes quite a bit longer than cooking them at high or medium high, but the bacon will not burn and always turns out perfect.
Use a slotted spoon to remove the bacon bits from the soup pot and lay them on a paper towel to drain. Put the bacon in a baggie or a bowl and save for topping your soup later…that is, if you can control yourself from eating them immediately!
Take a look inside of your soup pot. There should be a tablespoon or two of bacon grease inside the pot, covering a layer of delicious brown bacony bits stuck to the bottom of the pot. These bits provide some major flavor that's almost impossible to artificially replicate.
Leave the stove on medium and toss the onion, celery, and carrots into the pot.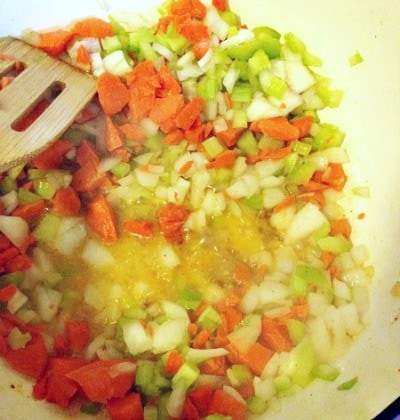 Stir the mirepoix around in the oil with a wooden spoon or hard spatula, scraping the bottom of the pot so the delicious browned bits break off the bottom of the pot and mix up with the veggies.
Let the veggies soften and cook in the oil for 4-5 minutes. (If you're a vegetarian, let the veggies cook in 1 tablespoon of olive oil instead of the bacon grease).
Remove the softened veggies from the soup pot with a slotted spoon and place them in a bowl next to your stove. There should be just a small amount of oil still in the pot – about a teaspoon or so.
Add one more tablespoon of olive oil to the pot, then sprinkle in a tablespoon of all-purpose flour. Use a wooden spoon, spatula, or whisk to thoroughly combine the flour and oil to make a smooth, bubbly paste. Now you're making a roux, baby!
Let the roux bubble and cook for 2-3 minutes, watching it carefully to make sure it doesn't burn. It should turn golden brown and smell a little nutty – that's a good thing!
Dump the bowl of mirepoix – juices, oils, brown bits and all – back in the soup pot. Add the diced potatoes, the 4 cups of chicken/veggie broth, plenty of salt and pepper, and the frozen cauliflower (if you want to add that in).
Crank the stove up to high and bring to a boil. Once it's bubbling like crazy, back the heat down to a medium and let it cook away for about 20 minutes or until the potatoes and carrots are soft and easily pierced by a fork.
If the broth starts to look scarce, splash a little more in. I ended up pouring in one extra cup of chicken broth in the soup while it was cooking.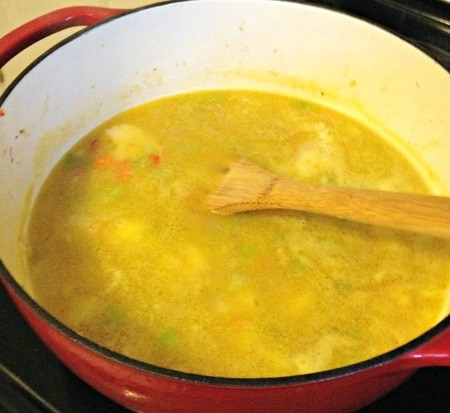 After about twenty minutes pass, the veggies will all be soft and the liquid should be a bit thicker than normal broth – similar to the consistency of the liquid in egg drop soup. This is thanks to the roux we made. If we used more roux, the soup at this stage would be even thicker, but in order to accomplish that, we'd have to use two or three times the amount of butter or bacon grease. Instead, we're going to thicken the soup with something from within – yes, the veggies themselves!
Scoop out 1/2 to 2/3rds of the soup with a ladle and pour it into a food processor or a blender. Try your best to get the very large chunks of carrots and cauliflower (if you added it), but be sure to leave some of the diced potatoes and mirepoix in the pot so you'll have a variety of textures in your soup.
Turn your blender or food processor on for about 10 seconds, or until the veggies and broth look kind of like baby food. (I promise it will taste loads better than baby food, though!)
I forgot to take a picture of this step, but don't worry, you're not missing out on much. Just to warn you, this isn't the prettiest step in the process. I advise that you breeze past this step before your roommates walk in the kitchen and begin to question your culinary prowess.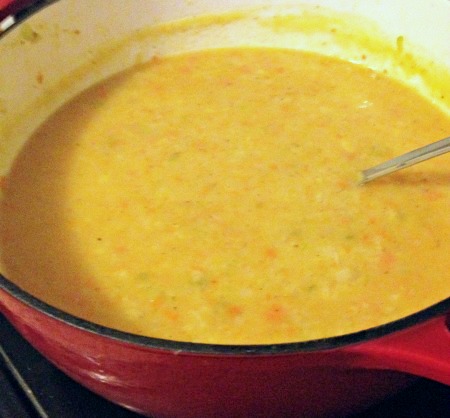 Take the pureed soup and mix it back in with the rest of the broth and vegetables. See how much body that soup has? Now we're talking!
And now for all of the best ingredients that make potato soup so delicious. On medium-low heat, pour in 1/2 to 1 cup of half-and-half, then watch the soup go from a vibrant yellowy-orange to a creamy dream right before your eyes.
Stir in one cup of cheese (I opted for the low-fat variety because well, why not?). After you add the cream and cheese, it's important to make sure that the soup doesn't reach a boil again or else your soup could get grainy. Taste and add more salt and pepper if needed.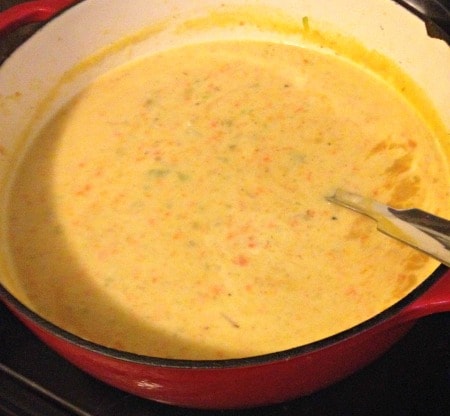 To serve, ladle into a pretty bowl with some of your favorite baked potato toppings. I went for a dollop of sour cream, green onions, some grated white cheddar cheese, and a very, very generous sprinkling of bacon. Hey, I'm eating cauliflower, onions, celery, AND carrots in this bowl of soup! I deserve it indulge myself a little bit right?…RIGHT?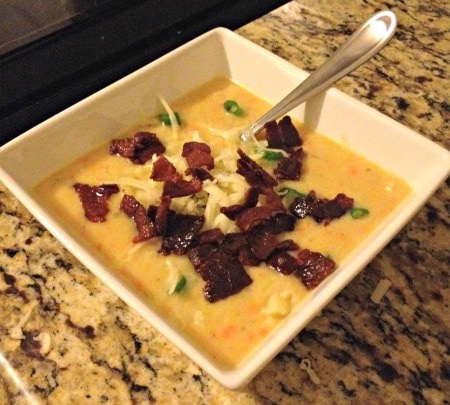 Here are a few tips and variations on this recipe:
If you like to eat low-carb, one option is to completely replace the potatoes with cauliflower in this recipe. It won't be potato soup anymore per se, but it'll taste awesome!
Eliminate the roux for a gluten free recipe. Add an extra potato or two and puree 3/4 of the soup to make up for the lost thickness.
Try mixing a cup of pumpkin puree along with the half-and-half and cheese to super-charge the veggie content.
A bottle of rich amber-colored beer will taste amazing mixed into the soup, too. It's reminiscent of Wisconsin beer cheese soup, but lightened up!
Don't be afraid to play with seasonings and spices in this soup. I think cayenne pepper, white pepper, regular or smoked paprika, dill, or thyme would taste fantastic with it.
This soup will stay good in the fridge for 4-6 days. It also freezes well, so stock up and freeze in single serving containers that will be easy to heat up in the microwave!
What Do You Think?
Are you a fan of potato soup? What are some of your favorite soups to eat during cold winter months? What other foods would you like to see us write about on CF? How do you make potato soup? What tips do you have for other CF girls?
Leave a comment and tell us what you think!