This post may contain affiliate links, which means we may receive a commission if you purchase through our links. Please
read our full disclosure here
.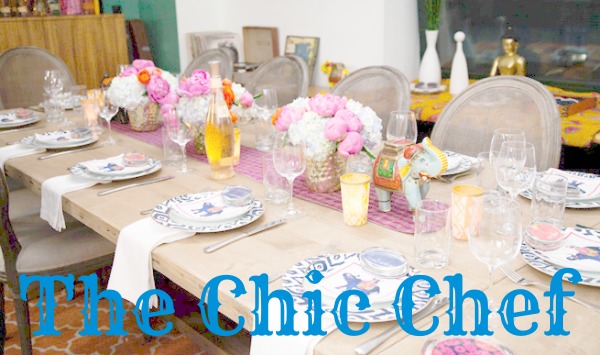 Photo Credit: ELLE
Hey girls! It's a new week and a new year, and I've got three more easy and delicious recipes to add to your repertoire. This week, we're making crispy-skinned roast chicken thighs, easy roasted baby potatoes, and a simple yet sophisticated beet and goat cheese salad.
If you're a Pinterest-a-holic like me, you're bound to have come across at least 10 different chicken recipes that claim to be "better than fried." While nothing can quite replace the crunchy skin and moist meat of an awesome piece of country friend chicken, I'll be bold enough to say that this method comes pretty darn close. By nature, chicken thighs manage to stay insanely juicy while cooking, and I'll show you a great trick for getting the skin crisp, savory, and delicious.
Baby yellow potatoes have anaturally sweet and buttery taste to them, so roasting them up with just a little salt and pepper is all you really need to do to make them great. Plus, since they're so tiny, they take under 30 minutes to make!
Balance out the savory chicken and hearty potatoes with a green salad, spiked with beets and goat cheese. Beets are packed with vitamins, and provide gorgeous color that really lights up a plate. Goat cheese is a tangy and creamy treat that automatically makes any salad go from "okay" to "amazing."
Let's get right to it!
Crispy Roasted Chicken Thighs
I wouldn't exactly call this recipe a light or low fat dish, but it does taste amazing and is a heck of a lot easier to make than deep-friend chicken. Balance it out by serving it with a fresh green salad or steamed veggies!
What You'll Need
1 package of bone-in chicken thighs, with skin (the ones I get at the store come in packs of 4)
Olive oil
1-2 tablespoons of butter in stick form
Salt and pepper
a spice of your choice (rosemary or paprika work wonderfully in this)
a glass baking dish
How to Make It
You read that correctly, I want you to use chicken thighs for this recipe rather than chicken breasts, and I'm sure you're wondering why.
Well, first of all, chicken thighs are insanely tender and juicy. I'm not sure why, but something about this cut of meat manages to stay moist, no matter how long you bake it. Secondly, they cost about half the price of chicken breasts! Insane, I know. If you've never tried them before, trust me…you're in for a treat!
Preheat the oven to 375 degrees Fahrenheit. Spritz a glass baking dish with cooking spray.
Take the chicken thighs out of the package, rinse them in the sink, and pat them completely dry with paper towels. It's important that the chicken skin is totally dry, so they'll crisp up the way they're supposed to. Put them in a bowl and toss with olive oil, salt, and pepper.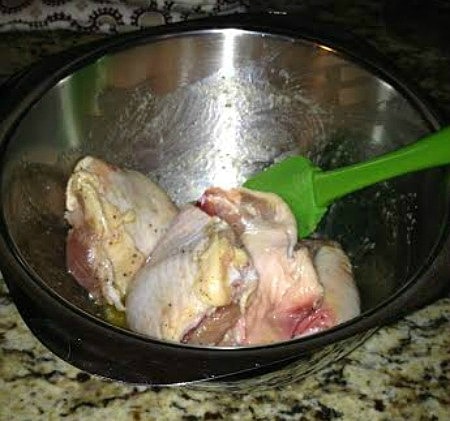 Cut the butter into thick chucks, about 1/4 or 1/3 of a tablespoon in size, making sure to have a chunk for each chicken thigh that you have. Arrange the thighs into the glass baking dish.
Feel around the chicken skin for the loose side, and gently pry the skin away from the meat, so it forms a pocket large enough to slip a piece of butter into. Yeah, if you're squeamish about touching raw chicken, this part kinda sucks. But trust me, it's well worth it.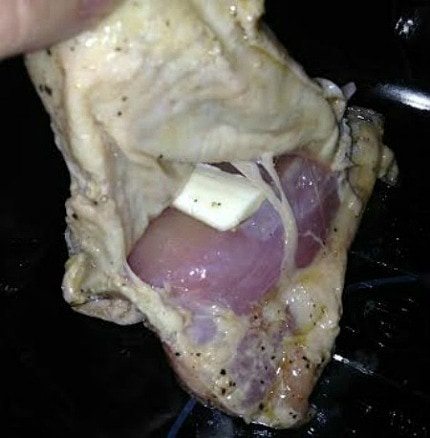 Why the butter? Well, when the chicken is cooking, the butter heats up and the water in it eventually evaporates. This motion puffs the chicken skin away from the meat, allowing it to crisp in the oven. Meanwhile, the delicious fats from the butter absorb into the chicken, making it juicy and delicious.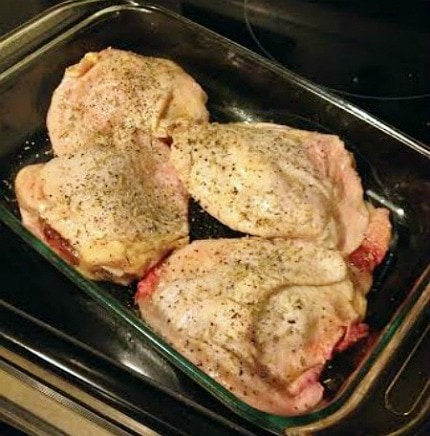 Once you're done stuffing all of the chicken thighs, sprinkle a little more salt, pepper, and the spice of your choice on top of the chicken. Now you're ready to put it in the oven! Let it bake for 30-35 minutes.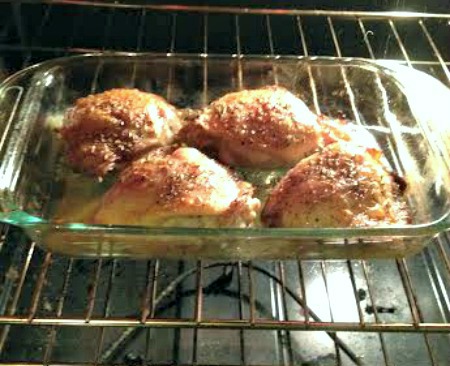 Slice into the thick part of a thigh and check to see that the juice runs clear and not red or pink – that means it's finished cooking through. At this point, you could take the chicken out and serve it, but the skin will still be a bit slippery and limp.
This next step is the one that will make all of your friends say "holy schnikes, this girl can cook her butt off!" Crank the oven up to broil, and let it cook away for five minutes.
After five minutes, turn on the oven light and watch the chicken to make sure it doesn't turn black and burn, but let it cook a few minutes more. I usually take it out after about three more minutes, but sometimes it takes up to five more minutes to get a perfectly browned and crunchy exterior.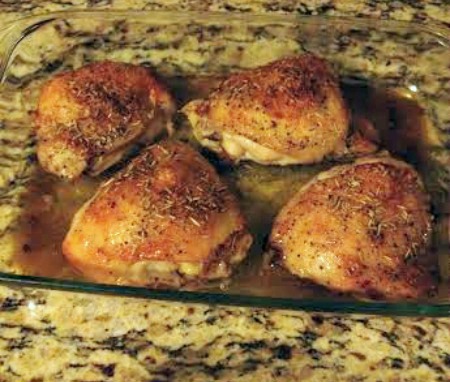 Here's my finished product. The skin is crisp, and tastes just as (well, almost as) good as fried chicken skin. The meat will be melt-in-your-mouth moist. These will last in the refrigerator for about a week, but the skin will be at its most delicious immediately after cooking.
Here are a few variations and tricks for this recipe:
I'm pretty generous with the butter in this recipe, but to lighten it up, you can use 1/8 of a tablespoon of butter under the chicken skin instead. Just make sure the exterior is sufficiently coated in olive oil.
Another cool trick is to stuff lemon slices or fresh herbs under the chicken skin. The flavors will infuse into the meat, and it'll also help the chicken skin puff away from the meat and crisp up.
If you're really watching your fat intake, buy boneless skinless chicken thighs, toss in olive oil and seasonings, and bake as the recipe says but skip the broiling part. Obviously the whole crispy skin part won't be there, but the meat will be tender, juicy, and delicious.
Play with seasonings to toss the chicken in. Try a squeeze of lemon, a splash of sesame oil, soy sauce, or crushed garlic mixed in with the olive oil, salt, and pepper.
Shred up leftover chicken and use it to make chicken salad, or a chicken sandwich, pita or wrap.
These chicken thighs will taste fantastic plopped on top of a bed of leafy greens, or nestled on top of rice, quinoa, or pasta.
Roasted Baby Potatoes
I typically use baby dutch yellow potatoes, but any one or "two bite" potatoes will work for this recipe. Fingerling potatoes taste particularly awesome cooked this way, too!
What You'll Need
1 bag or carton of baby potatoes
Olive oil
Salt and pepper
Garlic powder and/or rosemary (optional)
A roasting pan
How to Make It
Set the oven to 400 degrees Fahrenheit.
Toss the potatoes in the olive oil, salt, pepper, garlic powder, and rosemary. Don't be shy with the salt – potatoes need a good amount!
Spread onto a roasting pan (lined with foil for easy clean-up) and let them roast in the oven for 30-35 minutes.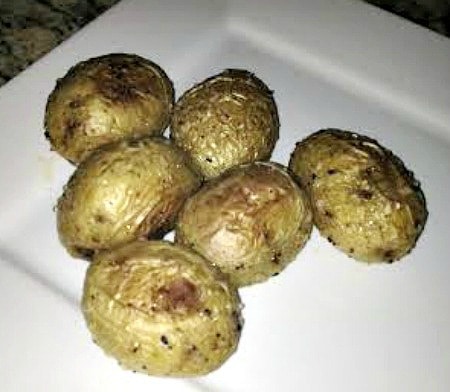 Take the potatoes out of the oven, and let them set and cool down for about 10 minutes before serving. In this time, the potato skins will crinkle and crisp up. This outside will be slightly crisp, and the insides will be fluffy, creamy, buttery, and delicious.
Here are some variations and tricks:
These potatoes stand up remarkably well in the refrigerator. Don't be afraid to cook the whole bag – they'll last up to 10 days in a sealed container.
Heat them up and eat them in the morning with fried eggs and bacon for a hearty breakfast.
If I have extra time, I sometimes dunk the potatoes in boiling water for 5-6 minutes before tossing in olive oil/seasonings and roasting. This ensures that they're totally cooked through and ridiculously fluffy. This is a nice extra step to take if you have the time, but totally optional.
Toss these potatoes with creamy cucumber sauce for a fresh and light take on potato salad.
Toss warm potatoes with tuna, lettuce, and hard boiled eggs for a fun take of a nicoise salad.
Beet and Goat Cheese Salad
This flavorful salad is a staple at trendy restaurants. Luckily, it's insanely easy to make at home!
What You'll Need
Your favorite salad greens
1 can or package of whole beets
1 small log of goat cheese, plain or herbed
Your favorite vinaigrette dressing
Optional Ingredients: shelled edamame, mint leaves, pecans, walnuts, sliced strawberries, diced apples, croutons, or any vegetables, fruits, or nuts that you have on hand.
How to Make It
Measure out enough salad greens for one serving. Put into a large bowl.
Cut 3-4 beets into quarters or eighths, depending on their size. Drain the rest of the beets and store in a Ziploc bag for later use. Toss the cut beets into salad bowl.
Cut about a 1/2 inch slice of goat cheese from the log, and crumble it with your fingers into the salad bowl. Add any other optional salad ingredients that you have.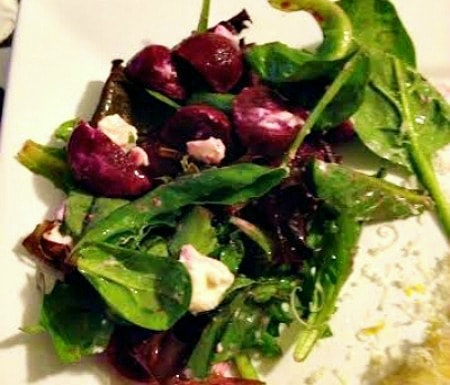 Drizzle vinaigrette around the perimeter of the salad bowl, and toss well. Serve immediately!
Here are a few variations and ideas to accompany this recipe:
Roasting the beets (rather than using canned) will take this recipe to another level. Here's an easy recipe that explains how to do so. Roasted beets taste awesome, but I think canned beets taste just fine and are worth it, since it makes this salad so easy to throw together.
My favorite salad green to use in this recipe is a spring herb mix. The dill and herbs in the mix taste awesome with the goat cheese!
Make your own simple salad dressing by whisking together olive oil, lemon juice, salt, and pepper. Easy, yet delicious.
If you're not a fan of goat cheese, feta, blue cheese, or fresh mozzarella will taste great, too.
Toss in a cup of protein-rich quinoa to make this a complete balanced meal.
What Do You Think?
What do you think about these recipes? What other foods would you like to see us cover? Do you have any kitchen problems that you'd like for us to discuss? What are some of your favorite fast and easy meals? What do you think about roasted chicken vs. fried chicken?
Leave a comment and share you cooking tips with other CF girls!