We're all guilty of retail therapy. I know nothing makes me feel better when I'm down than a warm new cardigan, or a brand new party dress to boost my self-esteem. However, retail therapy can also go VERY wrong. When emotions are high, it's all too easy to make impulse buys that will leave your closet full of regretful purchases and your wallet empty.
Retail therapy doesn't have to turn into compulsive shopping! With a little rational thinking and some brainstorming, I'm here to show you how you can turn your frown upside down for under $50!
My Retail Therapy Recommendations
1. Restyle your room!
When I'm really frustrated, sometimes the best way for me to let off some steam is to change up the atmosphere! Not only does moving furniture burn calories, but it is also therapeutic to declutter and maybe add some new accents to your room! Here are some really cute and inexpensive items that you can add to your room to help kick your retail therapy craving, as well as help you recreate your room! Even one new piece can really make a difference.
…for the walls: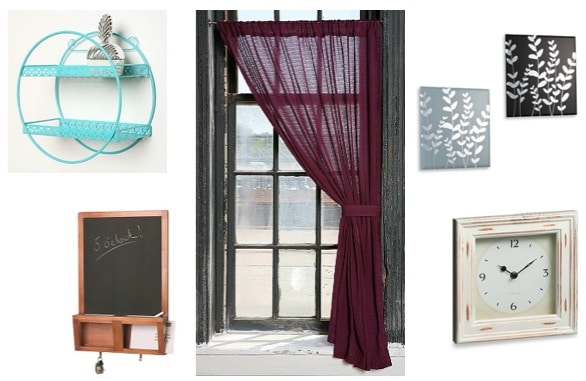 Product Information: Loop de Loop Lace Shelf- Urban Outfitters, Chalkboard- IKEA, Chloe Gauze Curtain – Urban Outfitters, Mirrored Leaves Wall Art- Bed, Bath, & Beyond, White Wash Clock- Bed, Bath, & Beyond
…for your bed: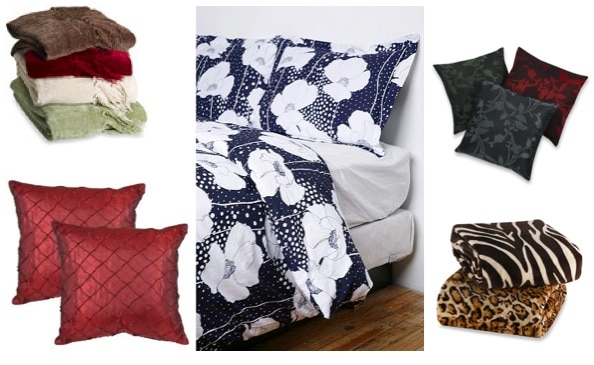 Product Information: Canyon Chenille Throw- Bed, Bath, & Beyond, Red Throw Pillows (set of two)- Target, Floating Poppy Pillow Shams- Urban Outfitters, Animal Print Throws- Bed, Bath, & Beyond, Asian-Inspired Pillows- Bed, Bath, & Beyond
2. Buy an apron and cook a healthy meal!
I feel like aprons are very under-appreciated. I mean, they are super cute and very functional. An apron can be a great gift to yourself, and the best way to justify your purchase is to use it! Put on your oh-so-chic apron and make yourself something quick and healthy to eat! I like using the Food Network's website for recipe hunting because their recipe search allows you to organize your finds by cooking level (easy, please!), cooking time, and you can even search for healthy recipes!
Anthropologie always has a great selection of aprons…here are my favorites: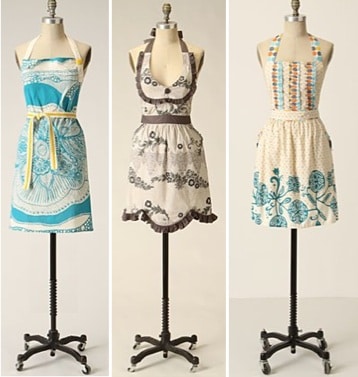 Product Information (left to right): Stockholm Apron, Three-Star Apron, Dotty Match Apron– all from Anthropologie
3. Purchase a new hat!
I personally love trying on hats. No matter how impractical or extravagant- trying on hats is always really fun. Buying one is even better! Why? Well, an accessory can really help you mix up outfits you may already wear…i.e. making a simple change without buying a whole new outfit. Yay for versatility! Even if you buy a cheap one for laughs and don't wear it, you've still gained some satisfaction from your experience – retail therapy.
Here are some really funky hats that could be fun to wear or just to try on! Let me know what you think!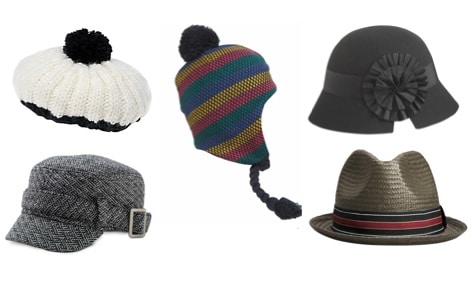 Product Information: White Knit Hat- Aldo, Roxy Plaid Hat- Nordstoms, Multi Color Trapper Hat- Top Shop, Rosette Cloche Hat- Wet Seal, Brixton Castor Hat- Swell
4. Play dress-up!
I was obsessed with dress-up when I was little…I used to make my friends try on my clothes for pretend games and to this day my roommate and I love swapping clothes! Why not collaborate with your best friend or roommate and get all dolled up to go out for cocktails or sushi? Sure, maybe this isn't traditional retail therapy, but it's still a wardrobe change-up. Instead of spending money on a new outfit, you can treat yourself to a drink or some of those delish spicy tuna rolls…not a bad deal!
Here's an outfit similar to what I borrowed from my roommate when we went out for sushi (randomly at 10:00pm on a Thursday):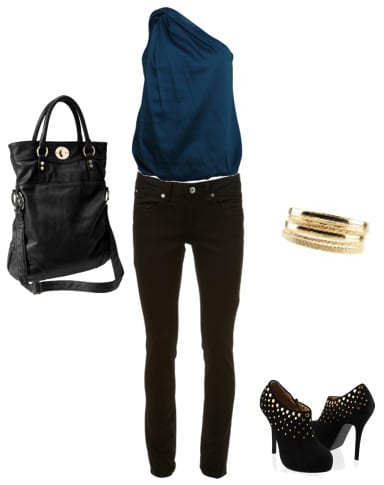 Product Information: Black Booties- Forever 21, Black Skinny Jean- TopShop, Blue Silky Asymmetrical Top- Emily and Fin, Gold Bangles- Forever 21, Black Bag- Old Navy
5. Bring the beauty salon home!
Retail therapy doesn't have to mean purchasing clothes necessarily, so why not treat yourself to an at-home spa day? Here are some really inexpensive products that you could bring home! Indulge in a facial/manicure/pedicure and still have money to spare to rent a movie! And everyone knows a clean face and freshly manicured nails always make you feel beautiful.
…for your face:

Product Information: Alba Deep Sea Face Mask- Ulta, Say Yes to Cucumbers Mask-Walgreens, Winter Solutions Moisturizing Mask- Avon, Pomegrante Face Mask- Walgreens
…for your nails:

Product Information: Juicy Couture Manicure Kit- Sephora, Nars Nail Polish- Barney's, Complete Pedicure Kit- Bed, Bath, & Beyond, Butter Nail Polish- B~Glowing
6. Make yourself a gift basket!
So maybe you're really set on buying clothes- totally understandable! Why not make a project to create yourself a gift basket under $50? Can it be done? Well…here are two hypothetical gift packages that I put together online! I think in-store hunting would be really fun and you could probably find some great items to give yourself in the sale section or through in-store promotions: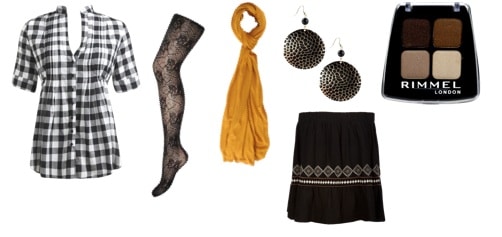 Product Information: Checkered Top- Wet Seal, Pattern Tights- Debenhams, Yellow Scarf- Forever 21, Black Earrings-Forever 21, Skirt- Charlotte Russe, Eye Shadow- Rimmel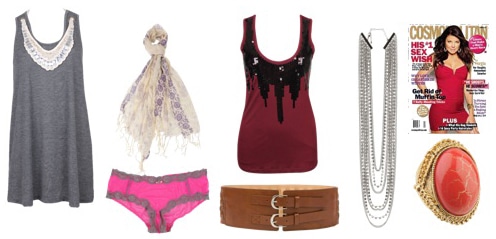 Product Information:Bib Tank, Mesh Boyshorts, Sequin Tank– all at Forever 21, Floral Scarf and Belt– Charlotte Russe, Chain Necklace- Forever 21, Ring- Forever 21, Cosmo Mag- Barnes and Noble
What Do You Think?!
Do you like my retail therapy suggestions? How do you de-stress? When you indulge in a session of retail therapy do you go crazy, or do you try and make a budget/plan before you buy anything? Leave us a comment!