This post may contain affiliate links, which means we may receive a commission if you purchase through our links. Please
read our full disclosure here
.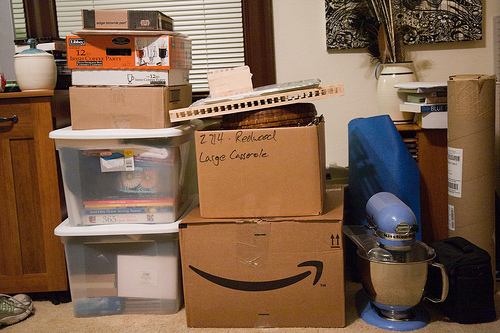 Welcome to the latest edition of Ask CF! Every two weeks, we select a reader fashion question and answer it here on the site. Do you have a specific fashion question for us? Scroll to the bottom of this post to learn how to send it our way!
Ask CF Question
I'm going to be a freshman this year, and I am having the hardest time deciding what I really need to bring with me to college. I was wondering if you guys had any tips for me – is there anything you guys wish you would've brought?

– Clueless College Freshman
Our Response
Starting your first year of college is probably going to be very different from the life you've known at home. You might have more freedom, more people around, and more opportunities to shape yourself into the unique individual you are. You'll need a lot of things when living away from home for the first time, and I'm here to break it down:
As far as clothes and accessories go, I recommend checking out this classic CF post, which outlines college wardrobe essentials. Of course, you can and should tailor it to your specific needs, but if you're drawing a complete blank on what to bring, it's an excellent place to start.
When shopping for dorm or apartment wares, it can be tempting to buy something purely because of it's trendiness or because you've heard that you need this specific item… even though you've never once used one of those things at home. I advise you to be brutally honest with yourself when you're making your shopping list. Odds are that you're not going to become a completely new person when you go away to school, and your purchases should reflect that.
Even though it's tempting to grab those pre-made lists from the internet, Bed, Bath & Beyond or Target and just go wild with new supplies, get your budget and list in order, and only buy things you will actually use. If you're not sure where to start shopping for dorm room storage, bedding, etc., check out our Dorm Room Shopping Guide.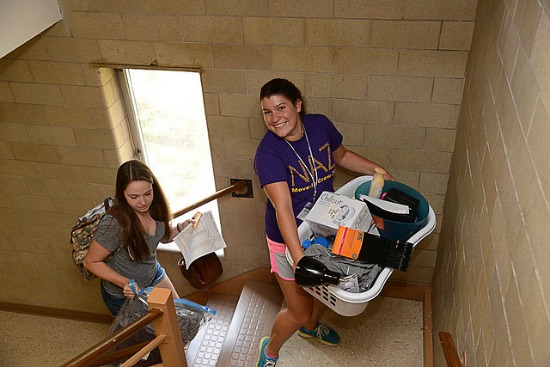 Don't forget about storage. From plastic containers that slide under your bed to decorative yet practical trunks, there are a ton of storage options out there that will help you utilize your new space as best you can. Personally, I like closet organizers and big bins to store large groups of items. Whatever option to choose, having your dorm room organized will help make a small shared space much more livable.
Also, bring items that will make you feel comfortable in your new unknown surroundings. For example, I splurged a bit on a comfy mattress pad; when I was in my shoebox dorm room, it still felt almost as heavenly as my bed at home. Even inexpensive touches, like twinkly lights, can help make your space feel personal and comfortable.
Remember to pack at least one piece of comfy and sentimental clothing – something that can instantly pick you up if you're feeling homesick, like your worn-in high school sweatshirt.
To wrap up, pack items that are currently a big part of your life; there's no need to purchase an entirely new wardrobe when you're headed to college! When it comes to dorm rooms, storage is key, and if you're going to splurge on extras, make sure they're durable items that will make your new living space feel like a home.
Below, I've created three outfits that embody my advice of bringing useful, splurge-worthy, and comfortable items.
Outfit #1: Useful Items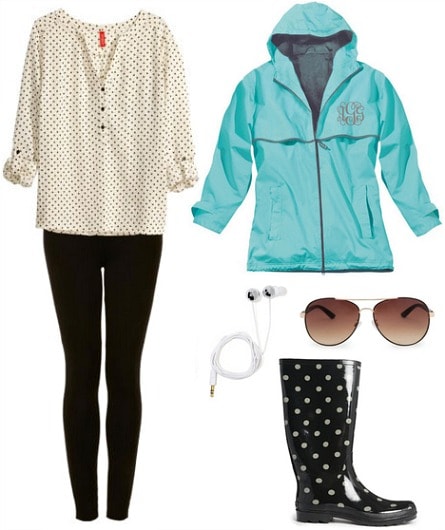 Product Information: Leggings, Tunic Top, Rain Jacket, Rainboots, Headphones, Sunglasses
When it comes to the most useful yet unexpected thing I needed my freshmen year, rain gear is at the top of the list. I don't know about you, but when I'm at home I don't typically have to spend a lot of time walking around outside during a rainstorm. A raincoat and rain boots were crucial for trekking across campus in a torrential downpour, and the options above are cute and functional.
Another useful must-have? Headphones. Use them when watching Netflix in your dorm, studying in the library, and killing it at the gym. And of course, sunglasses are crucial for sunny days on campus.
Outfit #2: Items to Splurge On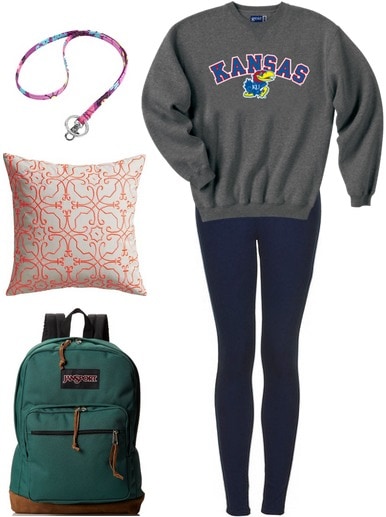 Product Information: Sweatshirt,Backpack, Jeans, Pillow, Lanyard
There are some things that you may be tempted to drop an entire paycheck on, but before you do, consider their durability. For me, I chose to invest in a good backpack, well-made jeans that will weather the seasons and every occasion, and a university sweatshirt to keep me cozy and show my school spirit.
I also suggest spending a bit more on a durable lanyard to carry your student ID card, since most campuses require you to use them daily. Also, do whatever it takes to make your new living space as comfortable and cozy as possible, so invest in an awesome mattress pad or pretty throw pillows.
Outfit #3: Comfy Stuff from Home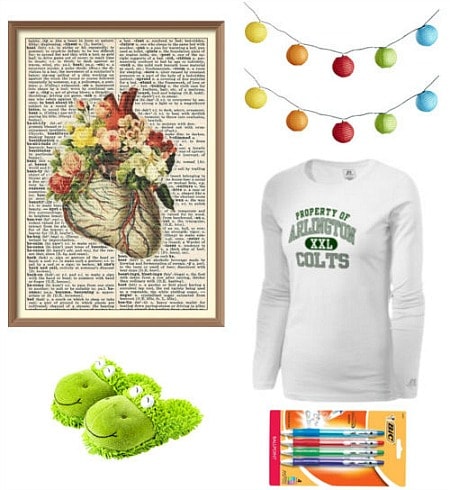 Product Information: Poster, Slippers, String Lights, School T-Shirt, Favorite Pens
Don't forget to bring items to make your new transition from living at home to on campus as smooth as possible! Bring whatever posters and wall decorations you need to keep your room feeling safe and personal, and pack at least one of your favorite mementos from high school for when you're feeling homesick.
Lastly, new school supplies and a new school year go hand-in-hand. I always make sure to buy a new pack of my favorite pens, so that the first day of classes goes great!
Do you have a fashion question? Send it our way!
Is there something in your closet that you can't seem to figure out how to wear? Do you have an event coming up and need an outfit idea? Do you have a specific fashion conundrum you need help with?
If you have a question you want to see answered in this column, just send it on over via email to askcf @ collegefashion.net and one day you might see your question answered right here on the site!
Please note: We get A LOT of email and unfortunately we will not be able to respond to every single question. However, we will read through each question and then decide which ones will be most helpful to the most readers. Thank you for your understanding.
What do you think?
What essentials do you wish you'd brought with you to campus? How did you decide what you really needed for college? Do you like the outfits I picked out? Which one is your favorite? Please let me know by leaving a comment below!