I spotted Jessica while she was on her way to class. After discussing fashion, we got to talking about food and bonded over frozen yogurt and all of the toppings and mixture possibilities. (Can you guys relate to the froyo obsession?) We even compared pictures of our past yogurts and made a promise to eat some together after finals!
It was great meeting Jessica and of course, talking about her fantastic campus style. Read on to learn all about her.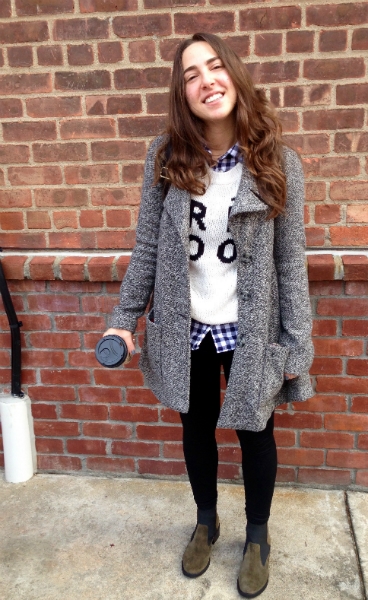 Jessica 101
Name: Jessica
School: Queens College, City University of New York
Major: Business
Hometown: Merrick, NY
Let's Talk Fashion
Where are you heading? "Class."
Who or what inspires your style? "No one specifically, but I like anything that's really comfortable but still wearable in public."
Where do you like to shop? "ASOS, Brandy Melville, Zara, [and] Lord & Taylor."
How would you describe your sense of style? "Extremely casual. I love wearing just a
sweater, a vest, and black leggings to class. It still looks cute but it doesn't take much
thought for me anymore and it's really comfortable
."
Why did you choose this particular outfit? "Honestly, I got to sleep in late today so I had extra time in the morning and didn't mind putting on a put-together outfit. Every once in a while I like to actually get dressed in real clothes."
What are your favorite trends right now? "Sweatpants/joggers that are stylish enough to wear in public. They're perfect for class. I'm always shopping for joggers and [I like] seeing how other people are wearing them to get new ideas. I just got a new pair that are green with black colorblocking and I got so many compliments! I wore them with
white sneakers and a black shirt."
What do you do for fun? "Eat! I take a lot of pride in the food I make or buy. I love
exploring the Instagram-famous food trends (especially the frozen yogurt places) and
making some of the recipes I see posted on Facebook pages, I also watch a lot of reality TV and hang out with my boyfriend Avner who also eats a lot."
If you could raid anyone's closet who would it be and why? "Without thinking about it, Kylie Jenner. Even though it's product placement, she wears all those Adidas sweatpants
and sweatshirts and always looks so comfortable but cool at the same time. Her clothes
are pretty revealing but she works it completely."
What are your favorite colors to wear? "Black and grey. Those colors make up practically 80% of my
closet."
Elements of Jessica's Outfit
1. Coat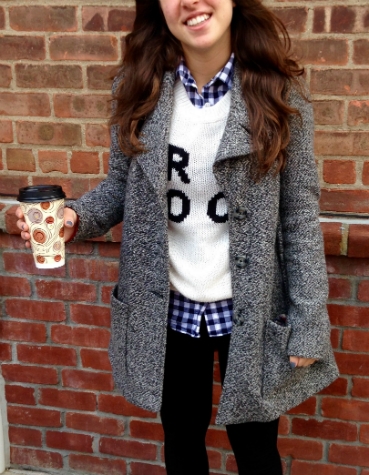 I love trench coats for fall. I think they can really make an outfit look put-together and Jessica's coat is the perfect example. Her coat is chic and the inner red lining made a real statement while she was walking.
2. Sweater + Button down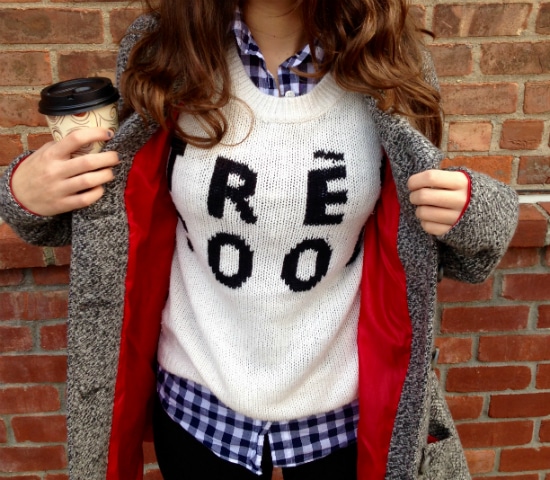 What can I say, I'm a sucker for a cute sweater layered with a
button-down! Jessica matched a graphic sweater reading "Trés Cool" with a plaid
button down. I loved the combination because she appeared dressed up and preppy while
still looking like a youthful student.
3. Shoes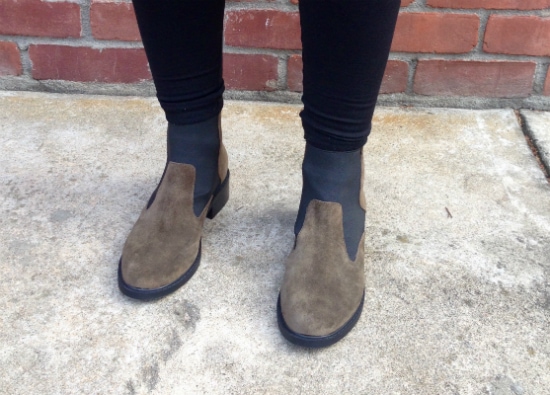 Jessica's green booties are great for class! The color definitely makes a
statement and adds a bit of spunkiness into this outfit.
What do you think of Jessica's look?
Would you wear her style? Do you love her flat booties? Comment below and let us know!