This post may contain affiliate links, which means we may receive a commission if you purchase through our links. Please
read our full disclosure here
.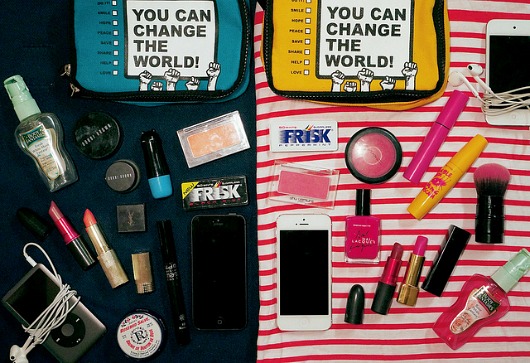 In my last post, I discussed three high-end (a.k.a expensive) makeup products and their budget-friendly yet equally-impressive drugstore dupes.
Well lovely readers, you asked for more dupes and I will give you more dupes! This week, I've chosen three more products that really stand out right now: a blush, a lipstick, and a highlighter/concealer.
All of these products are what you would call "cult" favorites, but I'm going to show you that even the most high-end of products can have a dupe. Read on to check them out:
1. MAC Lipstick in Russian Red vs. Revlon Matte Lipstick in Really Red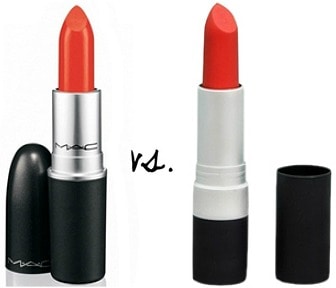 The color of MAC's Russian Red lipstick is a classic matte red that every girl needs to own. However, it's $15 and, depending how much you use red lipstick, you don't always want to keep paying that much when you need to get a new one.
Revlon's matte lipstick in Really Redis an almost identical color and formulation. The only drawback to a cheaper lipstick is the fact that it can cling to dry patches on your lips, so remember to exfoliate and use a really good balm underneath.
Both lipsticks are very matte and classic-looking, so go with the Revlon if you're an avid red lipstick wearer. Stick with the MAC if it's an occasional thing for you since the formulation and hydrating quality is slightly better.
2. NARS Blush in Orgasm vs. NYX Powder Blush in Pinched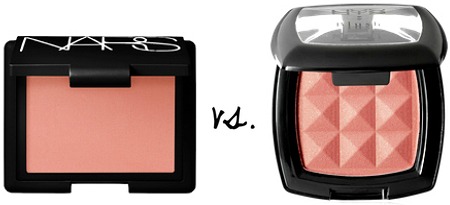 $29 at Sephora | $5.99 at Ulta
Even the descriptions of these two blushes are duplicates for each other. Both are described as a "peachy pink with shimmer" and it's very obvious that the colors are similar.
NYX blushes are very good quality and the color payoff is great. The color Pinched is an absolute dupefor Orgasm and it's clear, even the color of the shimmer particles are that same orange-y pink of the NARS one.
Yes, NARS's Orgasm blush is an absolute cult favorite, but it's $29. If you love it as much as I do, you hit pan quite frequently and buying a 30-dollar blush every few weeks can be a tad ridiculous. The NYX option is only $6, and looks just as beautiful.
3. Yves Saint Laurent Touche Éclat vs. Maybelline Dream Lumi Touch Concealer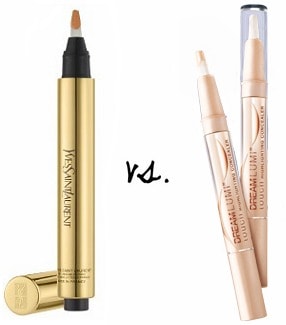 $40 at Sephora | $7.99 at Ulta
YSL's Touche Éclat highlighting concealer is something you don't see any beauty guru without. It's a staple in any makeup bag because it's so versatile: it's a highlighter, concealer, eyeshadow, contour, anything you want it to be, really. The downside? It's $40.
Maybelline's Dream Lumi Touch Highlighting Concealer does all of the same things for a mere $7.99. It even has the same brush applicator and "pen" form.
Both versions do not contain a lot of product in the tube, so keep that in mind before purchasing. These highlighting concealers are definitely a secret weapon in any makeup bag, but I'd recommend sticking to the Maybelline version if you're short on cash.
What do you think?
Do you have a drugstore product that you love? Or a high-end that you think is way overpriced? Leave a comment and let us know!