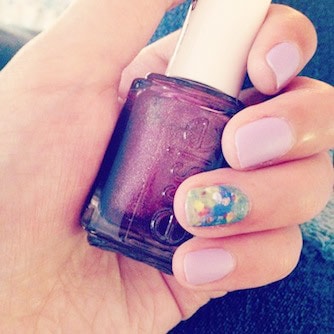 The Impressionist movement is one of my favorite eras in art history, mainly because of the vibrant color palettes and the small but visible brush strokes used in Impressionist paintings.
This week, I was inspired by the works of Renoir, Degas, Monet and Pissarro, to name a few, and especially by the brush strokes that are so apparent in their works. This impressionist nail art tutorial will show you how to easily replicate the same idea onto your nail, no matter your artistic abilities.
Things You'll Need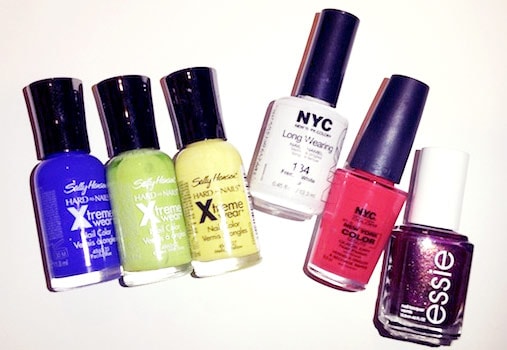 You can change up the colors as you wish – for example, if you want more of a Cezanne or Monet-inspired look, choose lighter, pastel colors; if you prefer something similar to the works of Renoir or Pissarro, choose richer, dark colors and contrast those with lighter earth tones. For this particular look, I decided to use lighter colors, with hints of brighter ones.
Step 1: Paint on the base.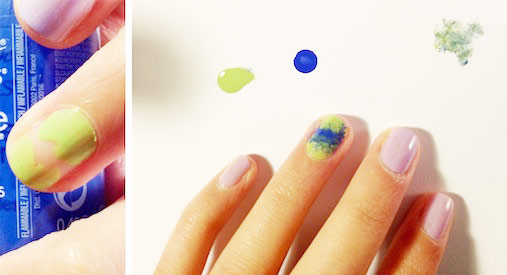 Apply the green polish to the base and tip of your nail, leaving a gap in between. Fill in the gap with a blue polish (you could also do half and half). The first two steps can be done relatively sloppily, as the edges will be blurred.
With your brush (or sponge), take a bit of green and blur the edges, giving the edges a sponged effect. Do it until you are satisfied with the result. There is no big need to wait for the polish to dry, so you can proceed onto the next step anytime you choose.
At this point, you can paint your other nails first or leave that after everything is done. In my case, I used a pastel purple to complement the accent nail's design, but you can also choose any of the colors you chose for the design for the rest of your nails.
Step 2: Add the decorative elements.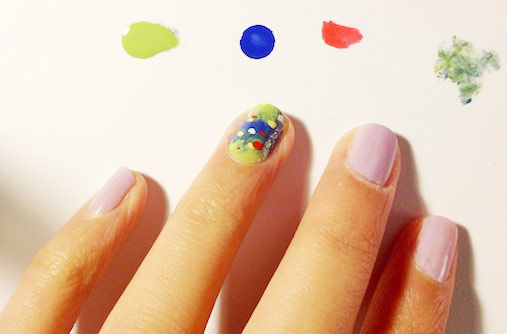 After blurring the edges, take your yellow polish onto a clean brush and make small smudges around the nail (or you can concentrate them on a portion of your nail). These don't have to be any perfect shape, but shaping the nail polish brush as you wipe of excess polish can give different shapes. (If you want to further shape the brush, do so on a piece of paper. You can also use a flatter brush for this step, but I didn't have any.)
In my case, I alternated my smudges between 'dots' and lines. Keep in mind that these dots or lines don't have to be thick, keep them small, soft and thin, since you are working on such a small "canvas".
Step 3: Add some final touches.
Using the corner tip of the brushes, take your remaining colors and dot them around the nail – you can overlap them with the hints of yellow. Finally, an optional step, take a metallic or glittery color and make two or three dots around the nail to add some depth.
At this point, you can leave the design as be, or choose to smudge the colors around a bit (which was what I did). I smudged a bit more green around and blurred out the yellow and white colors as you can see above.
Step 4: Put on a top coat
Usually, I choose to forego the use of a top coat on my nail art because I find that it blurs the lines and colors melt into each other. For this particular inspired look, though, a top coat is a must for me, because I like that it blends everything together, slightly blurring the image and completing the look.
I couldn't get a clear photo of a comparison on my nail, so I decided to show it on a piece of paper instead, so you can see the difference (I apologize for the slightly blurry photo). The sample on the left is one without top coat, while the one on the right is with top coat.
Finally, if you used a brush, don't forget to clean it by dipping it in some nail polish remover and wiping it off on a paper towel. Let your creativity take over and have fun with all the colors. I hope you guys enjoyed this Impressionist-inspired look!
Any questions or comments?
Any questions or comments about this tutorial? Post them down below. I'd also love any suggestions for future nail art tutorials or any interesting nail art ideas you'd like me to attempt! If you try this look, I'd love to know how it goes and what colors you used!