It has been said that jojoba oil is an all-purpose beauty tool. Parched hair? Chapped lips? Dry skin? Jojoba oil has been said to take care of these issues and more. Read on to learn more about jojoba oil and its benefits and uses.
What is Jojoba Oil?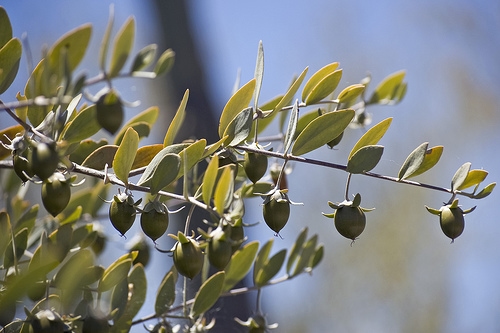 Jojoba Oil (pronounced "hoh-hoh-bah") is an extract and oil that comes from the seeds of the jojoba tree, which is commonly found in the southwestern United States, Mexico, and California. The extract veers more on the side of a liquid wax rather than a typical oil consistency.
The oil is similar to human skin oil ("sebum"), which makes it more easily absorbed by skin than other oils. According to acne.org, "It is theorized that applying jojoba to the skin can 'trick' the skin into thinking it is producing enough oil, thus balancing oil production."
Jojoba oil is also high in E and complex B vitamins, and also naturally contains iodine, which makes it effective at helping to fight bacterial infections and heal your skin. According to healthmango.com, jojoba oil in its purest form is hypoallergenic and non-comedogenic (doesn't cause breakouts).
The Benefits & Uses of Jojoba Oil
Face and Body Moisturizer
Overall, jojoba oil is easily absorbed into skin, making it a great moisturizer. It's also an excellent moisturizer for acne sufferers because it doesn't clog pores. According to acne.org, jojoba oil is great for all-day moisturizing because it doesn't evaporate like many water-based moisturizers. Jojoba oil can also help soothe chapped lips, dry skin, or cracked cuticles.
Makeup Remover
Using a few drops of jojoba oil to remove your makeup is a gentle and effective alternative to makeup wipes or facial soap.
Hair and Scalp Treatment
Jojoba oil can act as a remedy for a dry scalp – just massage little oil into your hair and scalp. The oil also helps to repair and make split ends less noticeable as well as adding some shine to your locks.
Shaving
Dabbing jojoba oil under your shaving cream helps reduce razor burn and irritation. It leaves your skin feeling super smooth, giving you the ultimate shaving results.
Products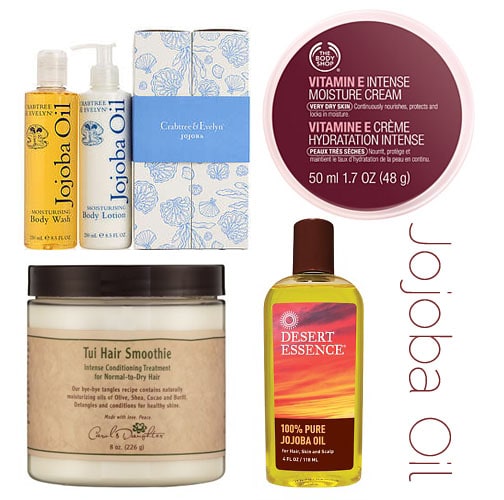 Product Information: Jojoba Oil Moisturizing Duo – Crabtree & Evelyn, Vitamin E Intense Moisture Cream – The Body Shop, Tui Hair Smoothie – Sephora, 100% Pure Jojoba Oil – Desert Essence.
Jojoba oil can be a little expensive, but there are lots of affordable products that list the oil in their ingredients. You can also buy pure jojoba oil if you'd rather moisturize in a simple, safer way (jojoba oil in its purest form is hypoallergenic, thus very safe to use). A small bottle of jojoba oil will last you forever, so buying the oil itself may be the best deal of all.
Your Thoughts?
Would you use jojoba oil? Do you already use jojoba oil? What do you use it for and does it work for you? Would you recommend it to others? Make sure to leave a comment and let us know what you think.