This post may contain affiliate links, which means we may receive a commission if you purchase through our links. Please
read our full disclosure here
.
Even though summer is coming to a close and our schedules are about to get a million times crazier, back to school is the perfect time to try out the season's hottest fashion trends.
But if you're anything like me, you're probably just as excited to start rocking all those gorgeous hair and makeup trends that were spotted all over the fall runways. From the ever-reliable red lip to an eye-catching, colorful sweep of shadow, read on to learn the ins and outs of Fall 2012 beauty.
1. Not-So-Neutral Nails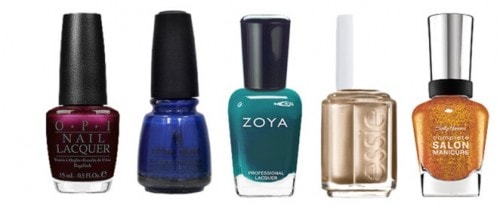 Products (L-R): OPI "German-icure", China Glaze "First Mate", Zoya "Frida", Essie "Good As Gold", Sally Hansen "Gilded Lily" (out in October)
I'm all for a great nude, taupe, or grey nail for fall, but after wearing bright colors all summer, neutrals seem so blah. This season, why not replace those expected shades with more interesting hues, like rich, deep berries, blues, and metallics that channel the fall foliage with much more sparkle and shine.
This color palette is anything but boring and instead feels much luxurious and sophisticated, something we definitely need during the school year. Which bold hue is your favorite?
2. Rosy Cheeks
Michael Kors Fall 2012 RTW | Photo credit: Elle.com
While summer was all about a bronzed, peachy glow, fall calls for a more natural, pink-toned, rosy flush. Instead of looking sun-kissed, this season you'll want to look like you just got in from a walk in the crisp autumn air.
To get the look, choose a blush shade similar to the color of your natural flush. For darker skinned girls, if you don't blush (lucky you), select a cool-toned pink or even a plum. Apply to the apples of your cheeks and make sure to blend well for a beautiful and natural look.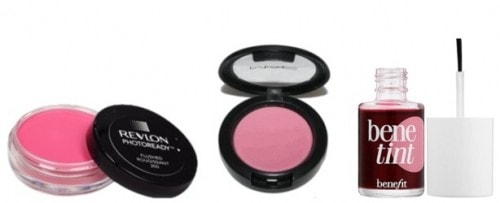 Products (L-R): Revlon PhotoReady Cream Blush in "Flushed", MAC Powder Blush in "Pink Swoon", Benefit Benetint
3. Bold Red Lips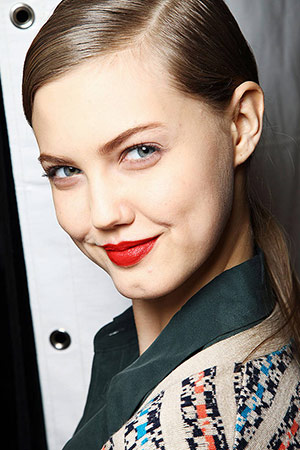 Marc by Marc Jacobs Fall 2012 RTW | Photo: Elle.com
There's nothing more glamorous and statement-making than a dramatic red lip. While this look can seem a little too heavy during summertime, it's absolutely perfect for fall. Your bold pout will be the envy of all on a fun night out or if you're brave enough, on the first day of school.
The great thing about this trend is that there are so many red shades out there — from a classic ruby red, to an intense bluish red, or even a trendy deep wine, the possibilities are endless. For tips on a flawless red lip application, check out this CF video tutorial.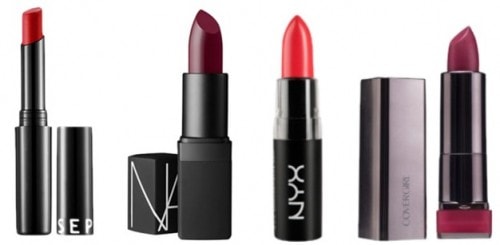 Products (L-R): Sephora Collection Color Lip Last in "Pure Red", NARS Lip Color in "Scarlet Empress", NYX Matte Lipstick in "Pure Red", Covergirl Lip Perfection Lipstick in "Euphoria"
4. Strong Brows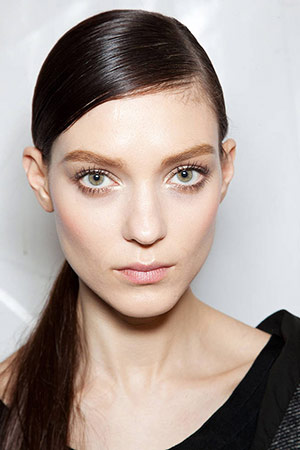 Christian Dior Fall 2012 RTW | Photo: Elle.com
I'll admit it: I used to ignore my brows. Unless they were cavewoman-overgrown or massively over-tweezed, I often forgot about my brows and focused my efforts elsewhere. But these days, I give my brows the attention they deserve… and so should you! Eyebrows frame your face and are so crucial to your overall look; they draw attention to your eyes and bone structure, and can really change the way your face looks.
This season, it's all about a strong, defined brow that is neither bushy nor shapeless. Rather than battling your natural brow shape with tweezers, embrace it! Only pluck stray hairs and fill in sparse areas with a brow gel or pencil. For more on how to beautify your brows, check out CF's latest eyebrow video tutorial.
5. Jewel-Toned Makeup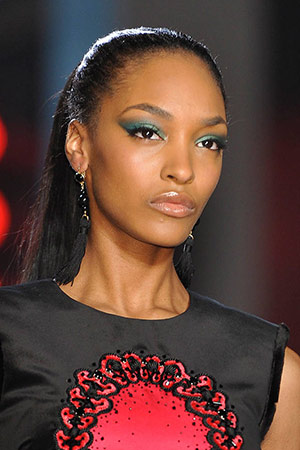 Jason Wu Fall 2012 RTW | Photo: Elle.com
The fall 2012 runways showcased lots of funky, graphic, and colorblocked eye liner and shadow. These looks, while really fun and interesting, unfortunately aren't very practical for everyday wear.
However, you can make this trend wearable by incorporating the rich jewel tones like amethyst, emerald, and sapphire seen on the runways into your eyeliner look. A simple and clean sweep of one of these gemstone-like shades adds an unexpected pop of color that will draw attention to any color eye. If you're feeling a little more flirty, put a spin on the traditional cat-eye with a pop of jewel-toned shadow, as seen in the picture above. You can even draw a thicker line on the upper and lower lash line, smudge it out, and create a colorful smokey eye.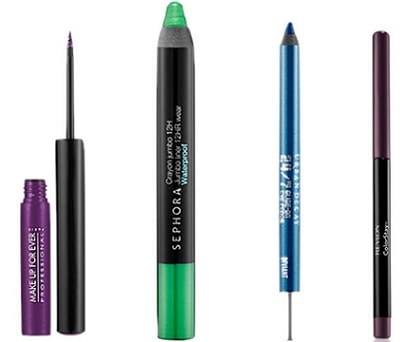 Products (L-R): MAKE UP FOREVER Aqua Liner in "Iridescent Electric Purple", Sephora Collection Jumbo Liner in "Green", Urban Decay 24/7 Glide-On Eye Pencil in "Deviant", Revlon ColorStay Eyeliner in "Blackberry"
6. Texturized Waves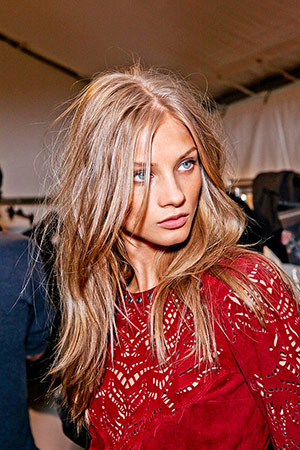 Isabel Marant Fall 2012 RTW | Photo: Elle.com
As school starts up again, so do early morning classes and late nights studying — a combination that does not bode well for our beauty routines. I can't even count how many times I've woken up late, without time to shower, and had to settle for a messy ponytail…so not cute! Thankfully, second-day-hair is IN this fall and instead of looking messy, it looks effortlessly cool and nonchalantly chic.
Start off by using dry shampoo to clean your hair, get rid of excess grease, and add volume. Then, add a small amount of the texturizing product of your choice (my personal favorites are shown below), using your fingers to comb out any tangles and to twist stands into waves — and that's it! It's a super easy way to get delectably disheveled hair.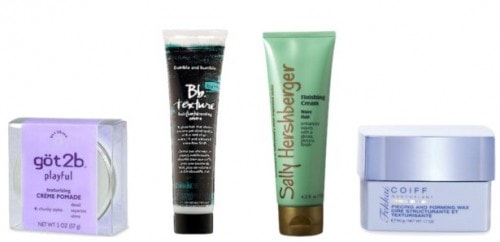 Products (L-R): Got 2 b Playful Weightless Creme Pomade, bumble and bumble Bb. Texture Hair (Un) Dressing Creme, Sally Hershberger Finishing Creme for Wavy Hair, Fekkai Nonchalant Piecing and Forming Wax
What do you think?
What's your favorite Fall 2012 beauty trend? Which are you most excited to try? Are there any others you like that I didn't mention? Let us know in the comments!