This post may contain affiliate links, which means we may receive a commission if you purchase through our links. Please
read our full disclosure here
.
As I've mentioned in my past polish posts, I have a ton of nail polish – at this point I probably own around 100 bottles, which I know (I promise, mom, I know!) is ridiculous. No one needs 100 bottles… or 50, or even 20 bottles of polish. Really, so long as you have a well-curated collection, you definitely don't need a ton of polish.
To help you narrow it down, I've created a list of the top 5 polishes every college girl needs in her nail arsenal. Enjoy!
1. A Neutral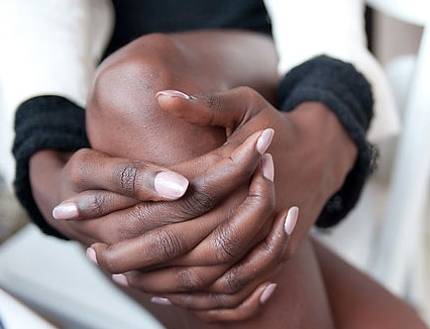 Nails at Zac Posen Spring/Summer 2012 (Image via Glamour.com)
Might as well get the least-fun one out of the way first. Yes, even though we're in college and allowed to wear crazy colors on our fingertips, I think it's absolutely essential to have a great neutral color in your stash.
Neutral colors can be tricky, though: Do you want a beige or pink-toned color? Are you going for mannequin hands or something further away from your skintone? My advice: head to wherever you buy your polish and try on a bunch of different neutrals until you find one you like! Think of a neutral polish like your nails' answer to the perfect LBD – it's always chic and will always, always look good.
My Picks: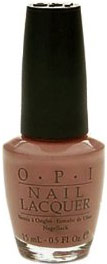 OPI "Barefoot in Barcelona"
This varies so much by skin tone, but some of my favorites are OPI Barefoot in Barcelona ($7.45 at Amazon), OPI Dulce de Leche ($7.35 at Amazon), OPI Samoan Sand ($7.49 at Amazon), and Essie Mademoiselle ($5.85 at Amazon).
2. A Red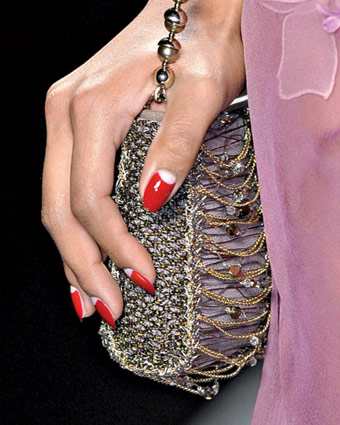 (Red half-moon nails on the Runway via ELLE)
Groundbreaking, I know. Maybe not the most original color, but a great red is definitely a color everyone should have in (his or) her arsenal. I mean, classics are classics for a reason, right? Luckily, as this is the most popular nail shade, there are a ton of options for you to choose from. As with neutrals, go to a drugstore or a salon and try a bunch on to figure out what you like!
My Picks: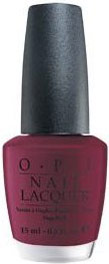 OPI "Mrs. O'Leary's BBQ"
My faves include OPI I'm Really Not a Waitress ($7.99 at Amazon), China Glaze Ruby Pumps ($5.50 at Amazon), and Essie Forever Young ($6.33 at Amazon). My personal favorite is a vampier (no, spell check, not vampire) red, OPI's Mrs. O'Leary's BBQ ($8.21 at Amazon).
3. A Color That Makes You Happy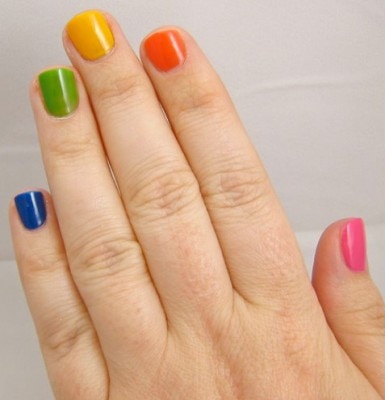 (Skittles manicure via All Lacquered Up)
Sometimes even a Rachel McAdams movie can't bring me out of a funk – and when that happens, I turn to trusty favorite polishes that I know will perk me up.
I'm partial to bright colors, but pick whatever floats your boat. Even if you work at a law firm or don't usually wear varnish, you definitely need a polish in your collection that'll get you feeling happy every time you look at your hands.
My Picks: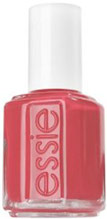 Essie "Cute as a Button"
I love OPI Monsooner or Later ($7.44 at Amazon), OPI Dating a Royal ($8.48 at Amazon), Essie Cute as a Button ($8.13 at Amazon), and Essie Watermelon ($6.78 at Amazon).
4. An 'Ugly' Color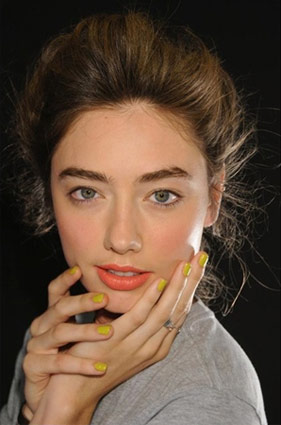 (Karen Walker Spring/Summer 2012 image via Beauty High)
As much as I love pretty pinks and reds, there isn't anything quite as eye-catching as a non-traditional color on nails.
Now, just because the color is ugly doesn't mean is has to be unflattering on your skin tone. OPI's You Don't Know Jacques is the color of mushrooms but looks great on all of my roommates – and we all have different skin tones! Do yourself a favor and pick up an uglier color – it adds the right amount of edginess to any outfit!
My Picks: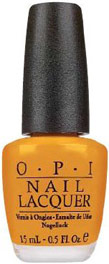 OPI "The It Color"
My favorite "ugly" shades include OPI Uh-Oh Roll Down the Window ($7.35 at Amazon), OPI You Don't Know Jacques ($9.00 at Amazon), OPI The It Color ($8.31 at Amazon), and Essie Chinchilly ($6.25 at Amazon).
5. A Trendy Color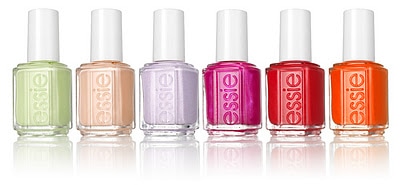 Essie's Spring/Summer 2012 Collection
As much as I covet basically all of Dolce & Gabbana's, Isabel Marant's and Yves Saint Laurent's Spring 2012 nail collections, I probably won't be able to afford even the cheapest item from any of them. However, I probably will be able to purchase at least one trendy color next season.
A new polish runs me about $8, but drooling over Spring collections on Style.com? Priceless.
My Picks: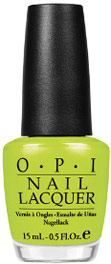 OPI & Nicki Minaj "Did It On 'Em"
I'm obsessed with Essie Shine of the Times topcoat ($4.25 at Amazon) right now, and I can't wait for OPI Did It On 'Em (a Shrek-green from the Nicki Minaj collection), OPI Dutch 'Ya Just Love OPI? (a shimmery purple from the Holland Collection), and Essie Navigate Her (a pastel green from Essie's Spring/Summer 2012 collection).
Your Thoughts?
What do you guys think? What are your absolute must-have shades? Do you own all of these? Tell me in the comments!