This post may contain affiliate links, which means we may receive a commission if you purchase through our links. Please
read our full disclosure here
.
Back in middle school, my parents would give me $10 to spend on beauty products every time we stopped at CVS… which was basically the most exciting thing ever. And while I no longer spend my beauty budget on roll-on glitter and Bon Bon nail polish, I still feel that same "zing" of joy every time I set foot in a Sephora store. The problem is, with the high-end products I've grown into, $10 will only get you half a lipstick, or a quarter bottle of foundation (if you're lucky).
We're a community here at CF, so I feel like we owe it to each other to keep one another in the loop about cool products. So this week, I'm taking a break from talking about my first true love (fashion) to discuss its seductive, high-priced mistress — makeup.
Below, I've listed a few high-end products that I'm obsessed with. And when I say obsessed, I mean I absolutely, truly, passionately LOVE every single item on this list. Get ready for a squealing, ecstatic girl talk session, because just thinking about these babies gets me stoked. Read on, girlfriends!
(PS: After you finish reading, be sure to comment and let us and your fellow CF girls know about the beauty products you love. And be sure to tell us about the expensive products you regret buying, so none of us will make the same mistake!)
1. Benefit The Porefessional Pore Minimizer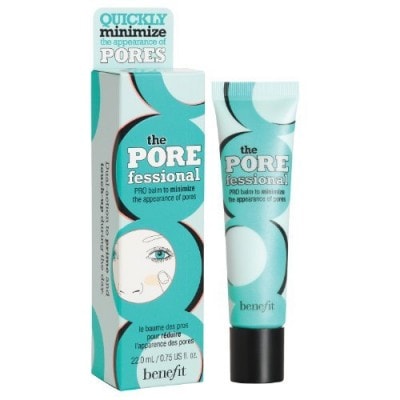 Benefit The Porefessional Pore Minimizer
My entire life, I've been plagued with tiny blackheads and visible pores on my nose. It's so annoying! I've tried everything from scrubs to alpha hydroxy acid to those sticky strips, and nothing seems to completely take care of them. Thankfully, about a year and a half ago, I found a way to remedy this problem. Ladies, meet the Porefessional.
This pore minimizer does exactly what it promises — it leaves a light, matte layer over your trouble areas and virtually erases all of the tiny imperfections in your complexion. Since I just pat a tiny bit on my nose, I've had the same tube for almost a year, and it still works just as great as it did the day I bought it. $30 really isn't much for a year's worth of flawless skin!
The Porefessional is translucent, so although it's medium beige-tinted, it's neutral enough to work for a broad range of skin tones. However, if you have very fair or very dark skin, you might want to test it out at Sephora first, just to be sure!
2. Arbonne Makeup Primer

Have you girls heard of Arbonne yet? It's a cool beauty and health company that markets mainly through house parties and consultants, similar to Scentsy or Mary Kay.
Arbonne is a pretty amazing company — every product they make, from makeup to face wash to protein shakes (yes, they sell those) is 100% natural and vegan. Their skin care line is mineral oil-free, and is infused with tons of vitamins. I actually buy their chocolate protein powder, and, no joke, the stuff tastes pretty great, considering it's a vegan meal-replacement shake. If you don't know any consultants in your area, you can purchase all of their stuff on their website.
Unless you've been living under a rock, you've surely heard of Urban Decay Primer Potion. While I absolutely love this stuff, it's pretty thick and designed just for eye makeup. While I still use UDPP for long nights out on the town, Arbonne Anti-Aging Makeup Primer is a light and effective alternative great for everyday use. This stuff is highly concentrated, so one pump will be plenty to cover the apples of your cheeks and around your eyes. You'll be stunned at how silky smooth your skin looks and feels after applying this primer. It spreads on clear so it works for all skin tones, and it will leave you with a fresh, clean base that will help your makeup go on evenly and last all day long.
The other awesome thing about this primer? It has anti-aging properties that will help protect the sensitive skin around your eyelids. An eye cream and primer in one bottle? Count me in! It's priced at $38 dollars a bottle, so be sure to use it sparingly — I'd estimate that if you only use one pump a day, it should last you from two to three months.
3. NARS Orgasm and Albatross Blushes

NARS blushes in Orgasm and Albatross
I know, I know — NARS Orgasm blush has been on your beauty radar since we were in middle school reading CosmoGIRL and its name made us giggle.
There's a reason why it's featured in every single magazine marketed towards living, breathing women though: This stuff is a freaking knock-out, home-run miracle. And when you pair it with NARS Albatross highlighting blush, prepare for people to bow down to you in the hallways and mistake you for a mystical being.
The best thing about these two blushes? They work for literally every single skin tone.It blows my mind! Back in the dorms, my floormates would line up outside my room every Friday night before we went out and I'd walk down the line and dusk their cheeks with both Orgasm and Albatross. No joke, this combination works for every ethnicity and skin tone. Consider it the eighth wonder of the world.
To apply, start by sweeping Orgasm across the apples of your cheeks with a regular blush brush. Next, smile and dust Albatross over the fleshy top half of your cheeks. If you have a shaky hand, don't worry — Albatross will look amazing on your temples or around your eyes too. Although it looks white in the compact, it lays on a really flattering gold tone. When I wear this blush combo, my friends call it "goddess" cheek because it looks THAT incredible.
Each of these compacts will run you around $28, but Orgasm will last around six months and Albatross will last several months longer. They're expensive, but I highly recomment that you try them as soon as you possibly can. I promise, you will not be disappointed.
4. Fresh Sugar Lip Treatment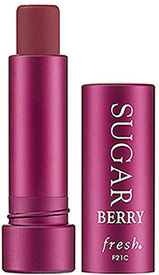 I was blessed with big lips, but let me tell you firsthand — they're hard to keep looking good! Even when my lips feel healthy, they often have rough patches, especially during the dry winter months. That's why I'm so glad I discovered Fresh Lip Treatment, or as I lovingly refer to it as, my BF4L.
This lip treatment is a crazy mix of medicated lip balm, lip stain, and lipstick. It lays on thick and creamy and lasts for hours. It comes in tons of colors, everything from the light pink "Petal" shade to deep red "Passion" and purple-esque "Berry". Most importantly, though, it will completely transform your lips. Instead of feeling puckered or dry, your lips will look and feel supple, smooth, and insanely kissable.
At $22, you might feel hesitant to buy what you might perceive as colored Chapstick. But I'll be the first to admit that I own this in three different shades and I won't hesitate to re-buy more when I run out. I haven't touched any of my other lip glosses or stains since I found Fresh Lip Treatment. I don't even need to use balm anymore! This stuff is insane, and it completely lives up to the hype.
5. Buxom Sculpted Lash Mascara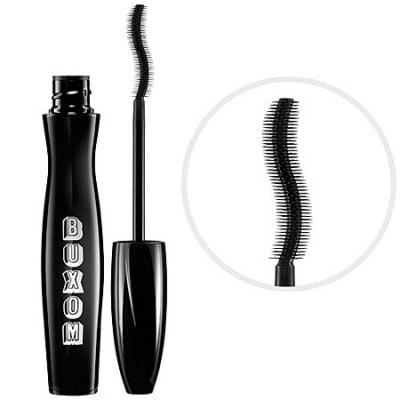 I'll be the first to admit that I'm a total sucker for gimmicky, artsy-shaped mascara brushes. When I saw this at Sephora, I impulsively threw it in my basket and hoped for the best. Boy, was I pleasantly surprised.
Buxom's Sculpting Mascara has an S-shaped brush that advanced beauty girls rotate while applying to create gorgeous, fanned-out lashes. I'm crazy about this stuff because it thickly coats every single one of my lashes in two sweeps. I start by swiping the back of my eyelashes, then finish on the front. If you were fancy, you'd use the interesting brush to extend your outer lashes for a sweet cat-like look. But as a lazy person, I like to be done with my mascara in no longer than 10 seconds, and this mascara gets me there and more.
This mascara retails for $19, which is more than drugstore brands and pretty pricey for something that only lasts a couple months. However, I think it's worth it because of how thick it lays on. You could use this mascara and skip the eyeliner completely if you wanted. It's that good.
Let's talk about beauty, baby.
Now I want to hear from you! What are your go-to miracle beauty products? Do you use any of the products we listed here? What products have you seen at Sephora that you want to try, but haven't gotten around to yet? What expensive beauty products would you NOT recommend to fellow twenty-something girls? Keep this discussion going by letting us know your every rant and rave when it comes to beauty!