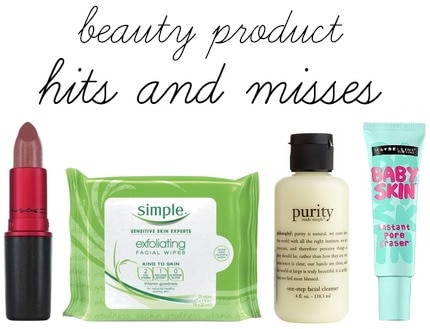 Every month, I normally do some shopping in the beauty aisle at my local Target or at Sephora. During these shopping trips, I come across some products that I add to my "Holy Grail" list, as well as some products to add to the "not-so-hot" list.
This month, I found the perfect "your lips but better" lipstick, my new favorite face wash, and some amazing everyday makeup removing wipes. I also found something I totally regret buying! Read on to find out more about each product:
Hit: MAC Viva Glam Lipstick in Viva Glam V

$16 at MacCosmetics.com
I actually don't know what took me so long to buy this. MAC released the "Viva Glam V" shade in 2004, and it's become known as a cult favorite for its YLBB (your lips but better) hue. So, now that 10 years have passed since its release, I figured it was the perfect time to test it out. (I'm a trendsetter, I know.)
Let me tell you, this is the best lipstick I've ever purchased. Before I found this one, I was addicted to L'Oreal's Colour Riche Balm in Tender Mauve, which I still absolutely love, but MAC's is (not surprisingly) much better.
Why do I love this lipstick so much? The packaging is beautiful, plus the formulation is luxurious. It won't dry your lips out, which is great for winter, but it's not too moisturizing, so I can use it year-round. And the shade? It's perfectly neutral but still has a gorgeous, subtle shine. Hands down, this is the best everyday neutral lipstick out there!
Hit: Simple Kind To Skin Cleansing Facial Wipes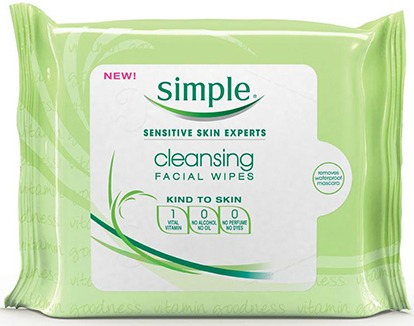 $5.99 at Ulta
A lot of YouTube Beauty Gurus talk abouthow wonderful these Simple face wipes are, so I decided I had to try them. (I sometimes succumb to peer pressure when it comes to YouTubers…) Anyway, I picked them up after class one day and used one as soon as they entered my front door. As I've mentioned in the past, I have dry, sensitive skin and these felt so calming and (literally!) so kind to my skin.
They don't have a strong scent, they aren't drying, and they remove every trace of makeup and oil without sucking all the moisture out of your skin. I've been using these for about a month, and my skin feels smoother and less winter-y every day, if that makes sense! I even carry these in my purse during the day in case I need to use one after the gym or a long day on campus.
Hit: Philosophy Purity Made Simple Cleanser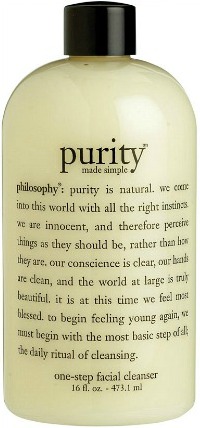 $23 at Sephora
Again, I'm not sure what took me so long to buy this! Since it's been around for a long time, this is a bit of a throwback product, but that just means I know it's great. Philosophy is such an amazing brand; I've used their body butters and lip glosses forever, but I'd never tried their most well-known product.
So, I decided to bite the bullet and buy their Purity Made Simple one-step facial cleanser. The price is a little high, but the bottle is huge and it gives me double the product I'd get with smaller drugstore bottles.
The cleanser is pH-balanced, so it's perfect for all skin types, but works especially well for sensitive and/or dry skin. It also claims to be one-step, which means it removes all traces of makeup, and I can say that it definitely does. This makes my morning and night routines (when I'm full-on cleansing and not using makeup wipes) so much easier and faster!
Miss: Maybelline Baby Skin Instant Pore Eraser Primer

$6.99 at Ulta
So, let me say that this product was quite disappointing and definitely a miss in my eyes. Maybelline's "Baby Lips" products are quite popular today, but I've never liked those either (unlike other CF writers), mostly because I found that they would just sit on top of my lips and not really moisturize. This Baby Skin face primer does almost the same thing.
I expected this product to be really light and to hide my pores, since that's what it advertises. Weirdly enough, I found it almost exaggerates my pores – it definitely doesn't hide them. The formula is clear and smooth, but since it's basically 100% silicone, I feel as though it's clogging up my whole face.
This product did control the oil on my face and kept my makeup on longer, but there are so many other amazing primers out there that don't have such a greasy, clogged feel. Instead of this primer, I'd recommend trying out L'Oreal's Youth Code Texture Perfector Pore Vanisher. It's the best drugstore primer out there – I even prefer it to the high-end Benefit's the Porefessional!
What do you think?
What are your hits and misses of January? Have you tried any of these products? Leave a comment below and let us know!