This post may contain affiliate links, which means we may receive a commission if you purchase through our links. Please
read our full disclosure here
.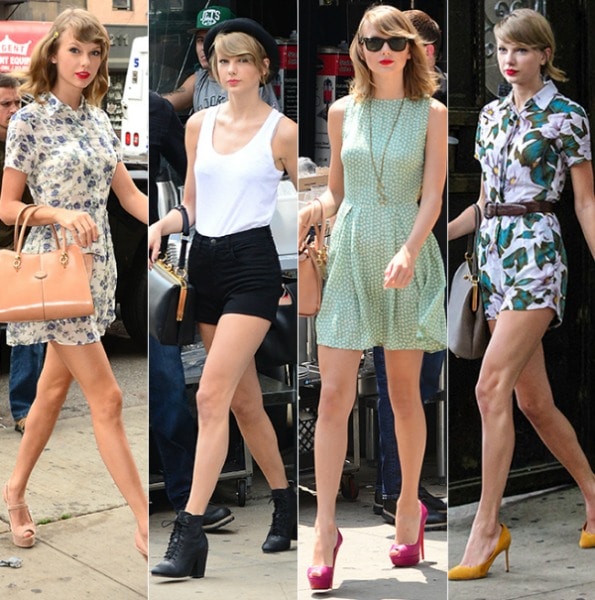 Photo Credit: ELLE
I have loved Taylor Swift since my freshman year of high school, but this year, in anticipation of her new album 1989 (which dropped October 27), my obsession has reached a new all-time high. Along with her album's new sound, Taylor has achieved a new confidence, gotten an amazing new hairdo, and a fantastic new style to go along with it.
In recent interviews with magazines like Rolling Stone, People, and InStyle, Taylor has gushed about how happy she is right now. She loves her new life in NYC, her new music, her incredible girlfriends and career, famously cute kitties, and rocking the single life (she has zero interest in finding a guy at the moment). Her fresh style is very reflective of her newfound confidence and of how much she's thriving. She's the definition of an "it girl."
So how can you get her incredible, effortless street style on a college girl budget? You don't have to be a platinum-selling Grammy winner to do it. I've got all the tips you need right here. I've picked three of my fave T. Swift street style looks and replicated them just for you. And if you're looking for even more inspiration, InStylehas an amazing, regularly updated gallery of her latest ensembles.
1. Rock a crop top and skirt set, then add unexpected pops of color.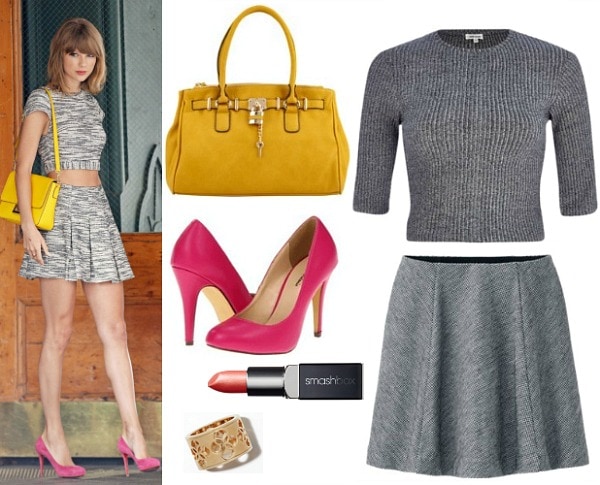 Photo: Pacific Coast News | Product Info: Top–River Island, Skirt–Uniqlo, Shoes–6pm, Bag–Aldo, Ring–Ann Taylor, Lipstick–Smashbox.
Taylor's signature look recently has been crop top and skirt sets. This look is playful and sexy at the same time – just like her!
The perfect set can be hard to find (though I'd recommend H&M and JOA). You can make your own, if you want to mismatch a printed crop top with a solid skirt (or vice-versa), or if you find a matching top and skirt from different places in the same (or different) solid color(s).
If you are going for a solid neutral, like Taylor does here, make sure the pieces have some cool texture or detailing to them to keep it interesting. For prints, it's best to find ones from a brand sold together so they match perfectly.
What Taylor does that's so fresh is rock minimal jewelry but fantastic accessories (knee socks, hats, scarves, bags, pumps, etc.) that pack a punch. The way she adds a random pop of color keeps her ensembles feeling effortless and fun. Here, she adds two! I love the look of yellow and pink together, and the fact that both the bag and the shoes are very structured and polished keeps the look chic, not crazy.
2. Wear heels with unexpected things, like a casual tee and shorts.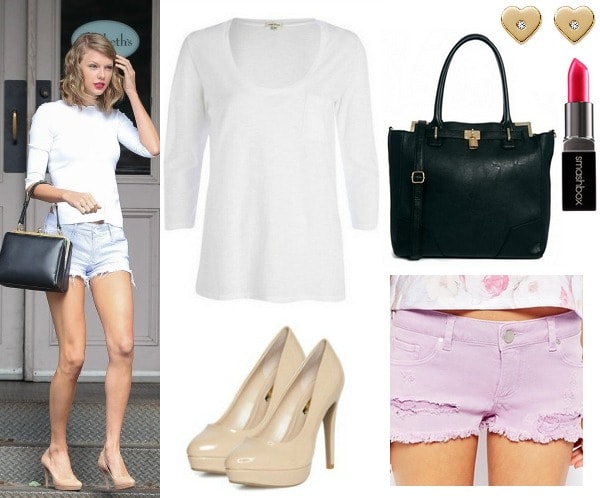 Photo: Pacific Coast News | Product Info: Top–River Island, Shorts and Bag–ASOS, Shoes–Dorothy Perkins, Earrings–Dillard's, Lipstick–Beauty.com.
My jaw dropped when I first saw this look, and I'm a girl who loves prints and colors and craziness. But there's only one word to describe this fresh and young minimalistic outfit: beautiful.
Part of the secret here is that TSwiz's pieces fit perfectly. Her tee skims her body in just the right way, and is structured instead of baggy. The 3/4 sleeves are also much fresher than a typical short-sleeve version. Her shorts are short, but not overly so.
What I love most about this look is that she threw on heels with it. When have you ever seen someone in a white tee and ripped jorts with stilettos on their feet? They make this basic outfit feminine, and the neutral color is perfect with the pastel shorts. Taylor must be REALLY good at walking in heels – it's rare to see her in flats these days, and her pumps and booties make even the simplest outfits stellar.
Now I hear you ladies – no way can we run around campus in 5-inch heels. But throwing on pumps with a tee and jeans or casual skirt is a fabulous idea to consider for a date or other special outing.
Also, shorter, block-heeled booties have been an everyday fave of mine this fall. If you look hard enough, you can find some that are comfy and sturdy for a day of class – just walk around in them for a bit in the store to make sure you don't trip and that they don't rub anywhere. Personally, I just found these amazing (and comfy) oxford booties that I have a feeling would be Taylor-approved.
I thought it was unexpected that Taylor chose a black bag with this otherwise light-toned look. I usually avoid that because it can weigh the outfit down – but here, because the bag is ladylike and not edgy, it allows the light colors to pop more than a neutral-colored bag would, plus it doesn't distract from the simple beauty of her outfit. A pop of pink lipstick completes the modern, feminine perfection that is this look.
3. Pick fun prints.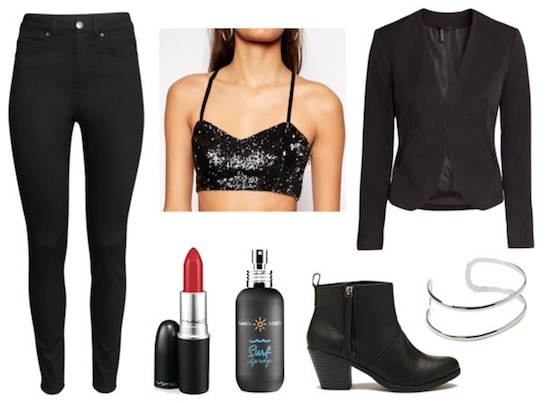 Photo: Pacific Coast News | Product Info: Dress–Modcloth, Shoes–Dorothy Perkins, Bag–River Island, Sunglasses–ModCloth, Lipstick–Smashbox.
Another drool-worthy crop top and skirt ensemble. Also, a very affordable one. Taylor's top and skirt are from H&M, and while they are (unsurprisingly) mostly sold out, some sizes have been coming in and out of stock, so keep checking – you might just get lucky! While writing this post, I noticed size 8 in the skirt had come back in stock… so I ordered it immediately, obviously.
Even without the exact match, you can capture the vibe of Taylor's outfit by choosing a fun, modern print. I love the idea of two prints layered over each other, like her florals and stripes. Another key element of the look? Unexpectedly shiny pumps for day (if they're in a color that matches one in the print, like Taylor's pink, even better!).
The feminine, A-line silhouette makes the trendy print especially fresh and keeps the look pretty and reminiscent of Taylor's old floral print frocks (minus the cowboy boots). I love the way the skirt swishes along with each step, echoing Taylor's bouncy bob!
A neutral bag, bright lip, and classic-but-edgy black wayfarers anchor the bold print and shoes. Perfection.
What do you think?
Are you as obsessed with Taylor as I am? What do you think of her new sound and new style? Which of these looks are you dying to try? Have you listened to her latest album yet? Have a favorite look I didn't cover here? I wanna know, so tell me in the comments!