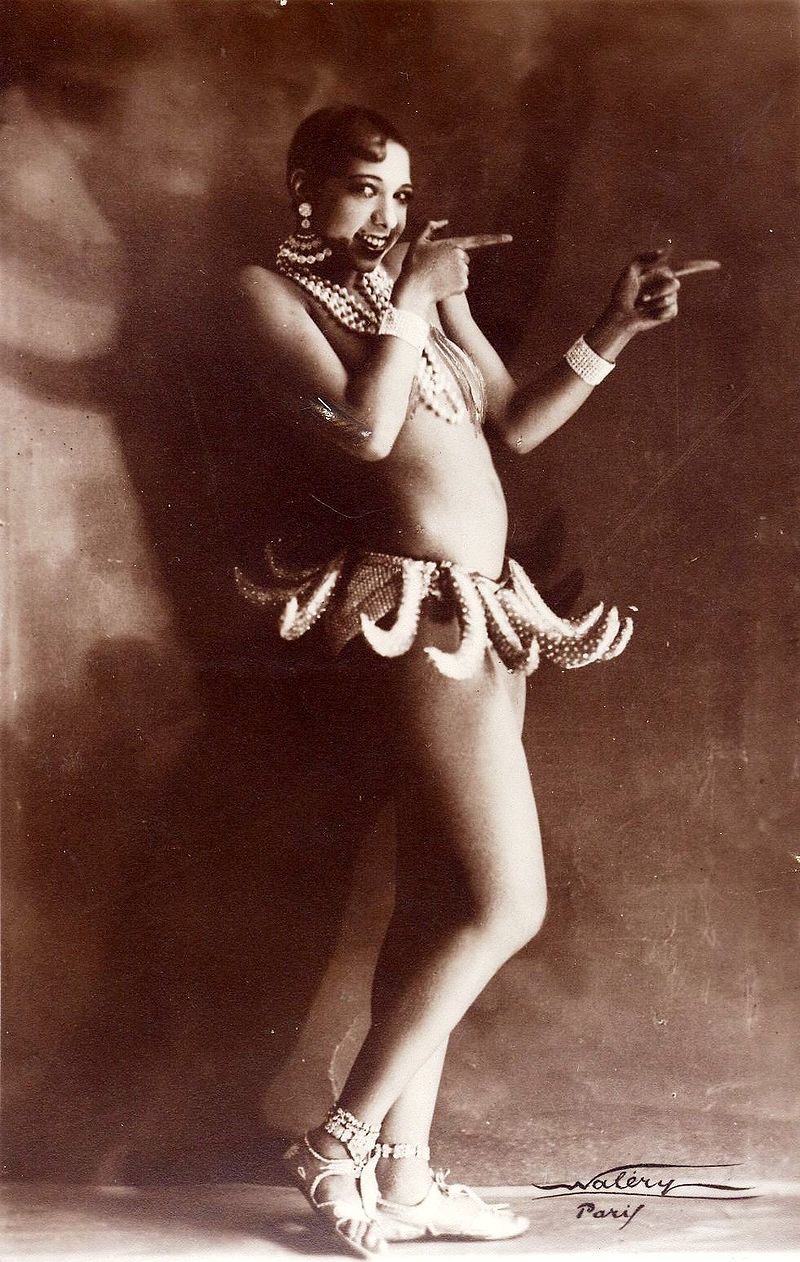 When you think of a fashion icon from the past, who is the first person that comes to mind? Marilyn Monroe? Audrey Hepburn? Edie Sedgwick, perhaps? While all three of those women have enviable styles that we absolutely love, there are so many other fashionable women that have graced the history pages.This biweekly column focuses on just that: unexpected and out-of-the-box fashion icons from the past. We feature women who have not only made an impact, but also have distinct signature styles that we can still draw inspiration from today.
If you haven't seen them already, be sure to check out our other "A History of Style" posts on Amelia Earhart, Billie Holiday, Joan Jett, Louise Brooks, Dorothy Dandridge, Elizabeth Taylor, Edith Head, Mary Tyler Moore, Sylvia Plath, Edith Bouvier Beale, Marlene Dietrich, Frida Kahlo, Cyndi Lauper, Isadora Duncan, Pam Grier, C. Z. Guest and Debbie Harry.
This week, we'll be taking a closer look at entertainer Josephine Baker's bold, glam and completely revolutionary sense of style. Read on to learn more about Josephine's life and unique style, then check out some outfit ideas to help you channel her look for yourself: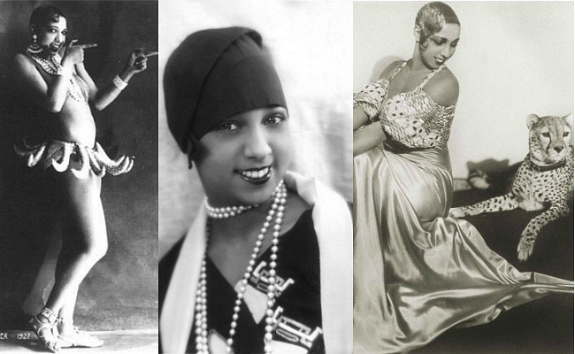 5 Facts About Josephine Baker
Josephine Baker was born Freda Josephine McDonald on June 3rd, 1906 in St. Louis, Missouri. After performing in chorus lines in St. Louis and Harlem, she moved to Paris in 1925 and quickly gained fame due to her bold dancing and brazen costumes.
Josephine had a pet cheetah named Chiquita who she used to take for walks along the streets of Paris. Chiquita even had a fabulous diamond-encrusted collar. (Lucky cat!)
During World War II, Josephine worked as a spy for the French resistance. She relayed information overheard between German officers during her performances and exposed French officials secretly working for the Germans. It was also rumoured that she smuggled secret documents written in invisible ink on her sheet music. After the war, Josephine was awarded the Croix de guerre (the French military honor) for her service.
Josephine was a strong supporter of the American Civil Rights Movement and racial equality. Over the course of her life, she adopted two daughters and ten sons of various nationalities and races. She referred to her family as an "experiment in brotherhood" and the "Rainbow Tribe."
In 1975, Josephine celebrated 50 years in show business with a retrospective revue in Paris. Just four days after the show, Josephine suddenly passed away due to a cerebral hemorrhage. She was the first American woman to receive full French military honors at her funeral.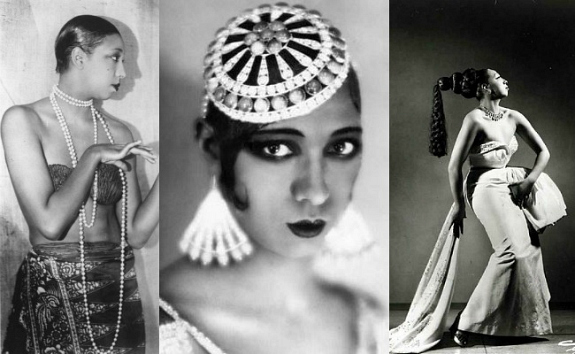 Josephine's Style 101
Art Deco. Josephine's success occurred alongside the rise of the Art Deco movement in Paris, so naturally, her style was influenced by that time period and vice versa. Sleek lines and geometrc shapes are the epitome of Art Deco and Josephine acted as a muse for the movement with everything from her clothing choices to her slicked-down hairdos. Pay tribute to Josephine by rocking a few pieces of Art Deco-inspired jewelry, or try some fun Art Deco nail art.
Wild side. Josephine also had a bold and completely fearless sense of style. Who else could perform in little more than a skirt made out of bananas (yes, bananas) and make it look good?! The next time you're wary of testing out a bold new trend, take a cue from Josephine and just go for it.
Accessories overload. When it comes to accessories, we usually try to follow that age-old adage "less is more," but in Josephine's eyes, more was definitely more. She paired ropes of pearls, door-knocker earrings and oversized cocktail rings together and always looked glamorous and not at all over-the-top. And of course, no Josephine-inspired look would be complete without an elaborate hair accessory. Try a turband or jeweled headpiece for a modern day interpretation.
Outfits for Inspiration
Outfit #1: Decked Out Art Deco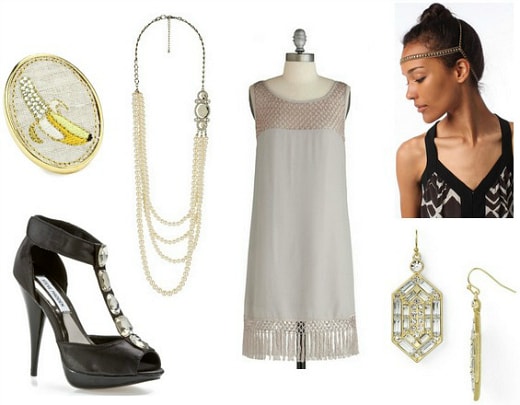 Product Info: Ring- Tarina Tarantino, Necklace- Forever 21, Dress- ModCloth, Jeweled Headpiece- Urban Outfitters, Shoes- Steve Madden, Earrings- Bloomingdale's
Outfit #2: Josephine Goes to the Beach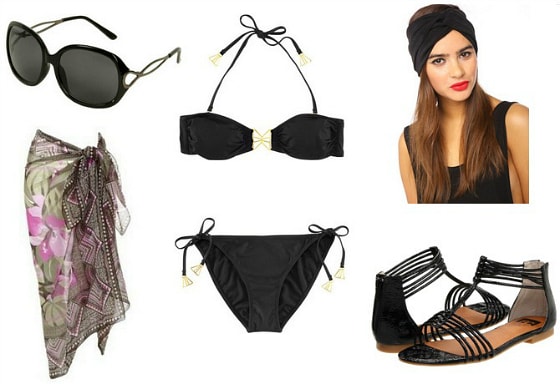 Product Info: Sunglasses- Wet Seal, Bikini- H&M, Turband- Nasty Gal, Sarong- Debenhams, Sandals- BC Footwear
Outfit #3: A Tribute to Chiquita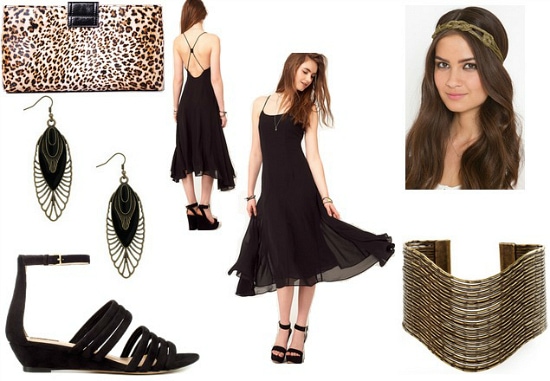 Product Info: Clutch- Akira, Dress- ASOS, Headband- Nasty Gal, Earrings- Forever 21, Shoes- Zara, Bracelet- ModCloth
What do you think?
Do you find Josephine's style inspiring? What do you think of her look? Would you wear any of these outfits? Let me know what you think by leaving a comment below!