This post may contain affiliate links, which means we may receive a commission if you purchase through our links. Please
read our full disclosure here
.
When you think of a fashion icon from the past, who is the first person that comes to mind? Marilyn Monroe? Audrey Hepburn? Edie Sedgwick, perhaps? While all three of those women have enviable styles that we absolutely love, there are so many other fashionable women that have graced the history pages.This biweekly column focuses on just that: unexpected and out-of-the-box fashion icons from the past. We feature women who have not only made an impact, but also have distinct signature styles that we can still draw inspiration from today.
If you haven't seen them already, be sure to check out our other "A History of Style" posts on Amelia Earhart, Billie Holiday, Joan Jett, Louise Brooks, Dorothy Dandridge, Elizabeth Taylor, Edith Head, Mary Tyler Moore, Sylvia Plath, Edith Bouvier Beale, Marlene Dietrich, Frida Kahlo, Cyndi Lauper, Isadora Duncan and Pam Grier.
This week, we'll be taking a closer look at socialite C. Z. Guest's preppy-meets-glam sense of style. Read on to learn more about C. Z.'s life and unique style, then check out some outfit ideas to help you channel her look for yourself:
5 Facts About C. Z. Guest
Lucy Douglas Cochrane was born on February 19, 1920 in Boston, Massachusetts. However, she soon adopted the name "C. Z.," which stemmed from her brother's pronunciation of the word "sissy."
Over the years, C. Z. served as a subject and muse for many artists including Diego Rivera, Salvador Dalí and Andy Warhol.
In 1947, C. Z. married Winston Frederick Churchill Guest, who was a polo champion and cousin of Sir Winston Churchill. Ernest Hemingway acted as Winston's best man, and the wedding took place at Hemingway's home in Havana, Cuba.
C. Z. was an avid horseback rider and had a longtime interest in horticulture. While recovering from a riding accident in 1976, C. Z. was approached by The New York Post and asked to write a column on gardening. She also published several books on the subject.
C. Z. was a longtime fixture in the society pages and was featured throughout the years in magazines like Time and Vogue. Although she passed away in 2003 at the age of 83, her iconic style still serves as an inspiration for many publications and designers.
C. Z.'s Style 101
Clean cut. C. Z. had a very preppy, yet demure sense of style. She wore lots of crisp, clean and well-tailored pieces and stayed away from anything gaudy, showy, or overly embellished. She preferred wearing simple t-shirts, pencil skirts and dresses to create outfits that were both effortless and elegant.
White out. C. Z. was often spotted in all-white ensembles, which further exemplified that understated, yet glam look she made famous. Whether she chose a gorgeous LWD or a fun and playful romper, C. Z. always made an elegant statement with her clothing.
Matchy, matchy. When C. Z. did wear color, she always made sure it was perfectly coordinated with the rest of her look. For example, as shown in the photos above, she matched her red skirt with red shoes or wore emerald earrings with her green pumps. To mimic this look yourself, try wearing a neutral outfit and adding several accessories in the same accent color.
Outfits for Inspiration
Outfit #1: Class Act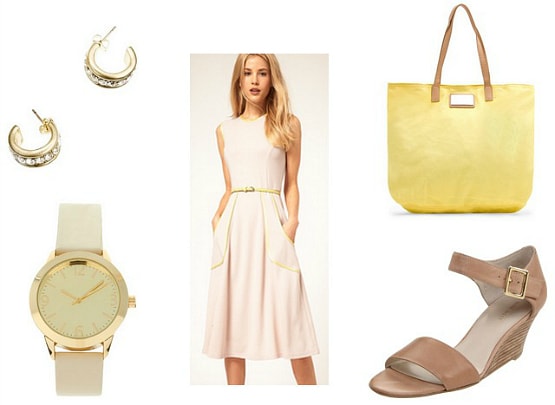 Product Info: Earrings- J. Crew, Dress- ASOS, Bag- Mango, Watch- ASOS, Shoes- Nine West
Outfit #2: Garden Party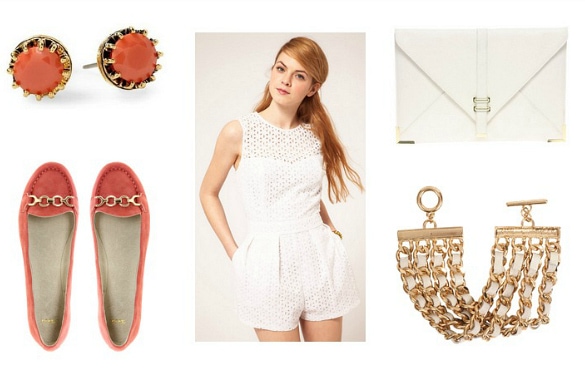 Product Info: Earrings- Juicy Couture, Romper- ASOS, Bag- ASOS, Shoes- ASOS, Bracelet- Forever 21
Outfit #3: Casual Chic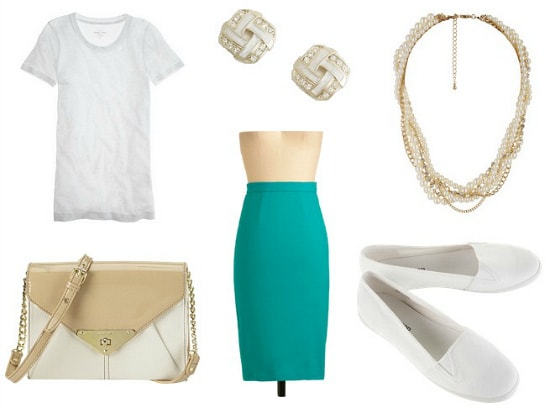 Product Info: Top: J. Crew, Earrings- J. Crew Factory Store, Necklace- Forever 21, Bag- Nine West, Skirt- ModCloth, Shoes- Topshop
What do you think?
Do you find C. Z.'s style inspiring? What do you think of her look? Would you wear any of these outfits? Let me know what you think by leaving a comment below!