This post may contain affiliate links, which means we may receive a commission if you purchase through our links. Please
read our full disclosure here
.
When you think of a fashion icon from the past, who is the first person that comes to mind? Marilyn Monroe? Audrey Hepburn? Edie Sedgwick, perhaps? While all three of those women have enviable styles that we absolutely love, there are so many other fashionable women that have graced the history pages.
This biweekly column focuses on just that: unexpected and out-of-the-box fashion icons from the past. We feature women who have not only made an impact, but also have distinct signature styles that we can still draw inspiration from today.
If you haven't seen them already, be sure to check out our other "A History of Style" posts on Amelia Earhart, Billie Holiday, Joan Jett, Louise Brooks, Dorothy Dandridge, Elizabeth Taylor, Edith Head, Mary Tyler Moore, Sylvia Plath, Edith Bouvier Beale and Marlene Dietrich.
This week we'll be taking a closer look at painter Frida Kahlo's artistic and eclectic sense of style. Read on to learn more about Frida's life and unique style, then check out some outfit ideas to help you channel her look for yourself:
5 Facts About Frida Kahlo
Frida Kahlo was born on July 6, 1907 in Coyoacán, Mexico. When she was six, Frida contracted polio, which stunted the growth of her right leg. Despite this disability, Frida was quite the athlete growing up and participated in many sports, including boxing.
In 1925, Frida was involved in a terrible auto accident and had to spend over three months recovering in a full-body cast. Although she recovered from the injuries, she spent the rest of her life having painful relapses, which oftentimes left her bedridden.
After the accident, Frida began to paint and sought out artistic advice from fellow Mexican painter Diego Rivera, whom she later married. However, Frida was a self-taught artist who was well known for her self portraits and still life paintings.
Frida was an avid animal lover and owned dogs, cats, monkeys and birds. Her beloved pets were often painted alongside her in her self portraits.
Frida passed away in 1954, but her paintings did not become well-known until the early 1980s. Today, her work is recognized worldwide and her life has been portrayed in numerous books and films.
Frida's Style 101
Patterns. The most unique aspect of Frida's style was the way she mixed different colors, patterns and textures. Although the eclectic patterns she wore together didn't necessarily "match," they never clashed and always created a one-of-a-kind look.
Statement Jewelry. Frida also loved accessorizing to the nines and always wore lots of ornate jewelry. More is more in this case, and Frida could be found wearing earrings, necklaces, bangles and rings — all at once!
Hair Accessories. Frida made her hair her most colorful accessory by adorning her locks with brightly colored flowers and head wraps. She even wove fabric into her braided updos! Channel Frida's love for accessorizing her tresses by picking up a new hair accessory or two.
Outfits for Inspiration
Outfit #1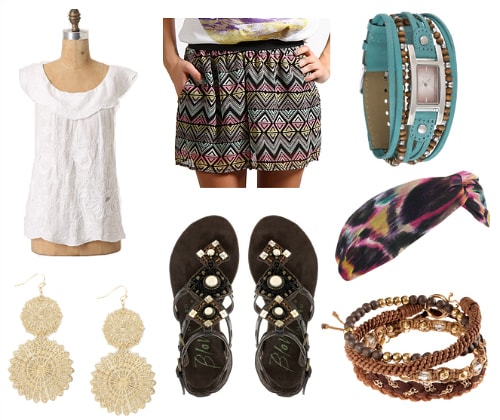 Product Info: Blouse- Anthropologie, Shorts- Edge of Urge, Watch- Debenhams, Earrings- BCBG, Sandals- Blowfish, Headwrap- Forever 21, Bracelets- H&M
Outfit #2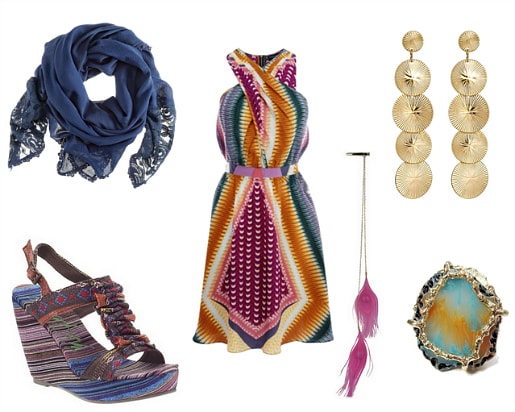 Product Info: Shawl- H&M, Dress- Warehouse, Earrings- Max & Chloe, Sandals- Blowfish, Hair Clip- Forever 21, Ring- Mimi Boutique
Outfit #3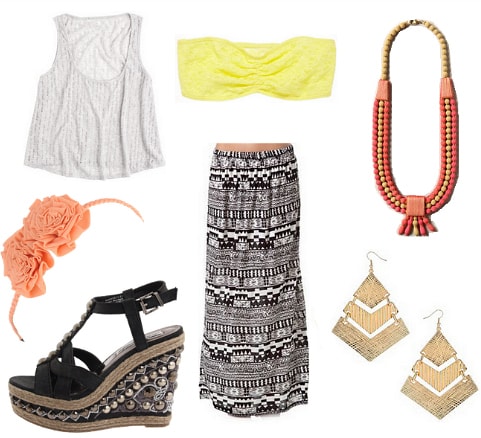 Product Info: Tank- Delia's, Bandeau Top- Aerie, Necklace- Anthropologie, Headband- Forever 21, Wedges- Endless, Skirt- Swell, Earrings- Miss Selfridge
What do you think?
Do you find Frida's style inspiring? What do you think of her look? Would you wear any of these outfits? Let me know what you think by leaving a comment below!