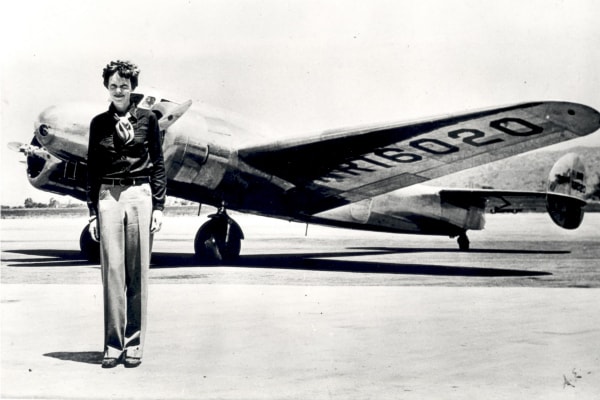 When you think of a fashion icon from the past, who is the first person that comes to mind? Marilyn Monroe? Audrey Hepburn? Edie Sedgwick, perhaps? While all three of those women have enviable styles that we absolutely love, there are so many other fashionable women that have graced the history pages.
This new bi-weekly column is going to focus on just that: unexpected and out-of-the-box fashion icons from the past. We're going to feature women who are not only inspirational, but have a distinct signature style that we can still draw inspiration from today.
Since I've always admired her, first up is the fearless and groundbreaking aviator Amelia Earhart. Read on to learn more about her life and unique style, then check out some outfits ideas to help you channel her look for yourself: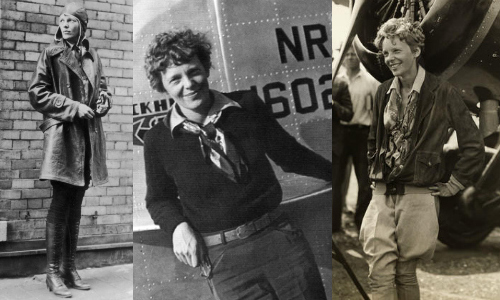 5 Facts About Amelia
Amelia Mary Earhart was born on July 24, 1897 in Atchison, Kansas. At the age of 10, she saw her first airplane at a state fair, but did not become interested in flying until almost a decade later.
Amelia took her first plane ride in 1920, which sparked her interest in becoming a pilot. Amelia took her first flying lesson the following year and six months after that, she had managed to save up enough money to purchase her very own yellow plane, which she named "Canary".
She achieved several aviation records during her lifetime, including becoming the first woman to fly across the Atlantic (1928), the second person to fly solo across the Atlantic (1932) and in 1935, became the first person to fly solo from California to Hawaii.
Amelia was actually the first celebrity to create her own clothing line. Her line was sold in 30 cities across the US and the clothes were marketed towards "the woman who lives actively." However, since the line launched in the middle of the Great Depression, it was not a huge success.
In 1937, Amelia began a transcontinental flight in attempt to become the first woman to fly across the world. About two-thirds of the way into her journey, Amelia and her navigator Fred Noonan became lost while traveling over the Pacific Ocean. Their radio signal eventually went out and Earhart and Noonan virtually disappeared. Although there are many theories, to this day, there is no conclusive evidence about what happened to Amelia Earhart.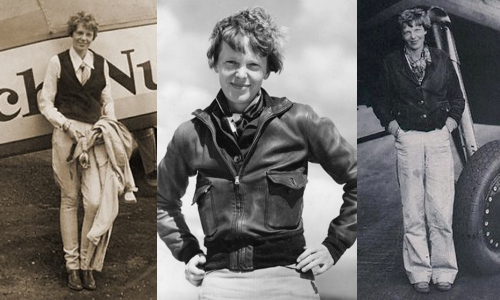 Amelia's Style 101
Menswear-inspired. If you can't tell from all of the photos above, it seems like Amelia's look was heavily influenced by men's fashion. She wore pieces like tailored trousers, smart loafers and sleek neckties with confidence and ease, for a unique androgynous look.
Lots of neutrals. While brown, white, tan and black colored clothing made up a majority of her wardrobe, Amelia kept it anything but boring. She wasn't afraid to wear a monochromatic neutral look or to even mix multiple neutrals together for one stylish outfit.
Smart layering. Amelia definitely knew how to layer like a pro. She expertly layered oxford shirts with pullover sweaters, then added a leather bomber jacket for a fashionable and practical outfit. Take note from Amelia this winter and try out a similar layered look.
Pretty scarves. To break up all those neutral colors, Amelia often added a pop of color in the form of a silky scarf. She would tie them around her neck for a chic look that was sure to add a little something extra to any outfit.
Outfits for Inspiration
Outfit 1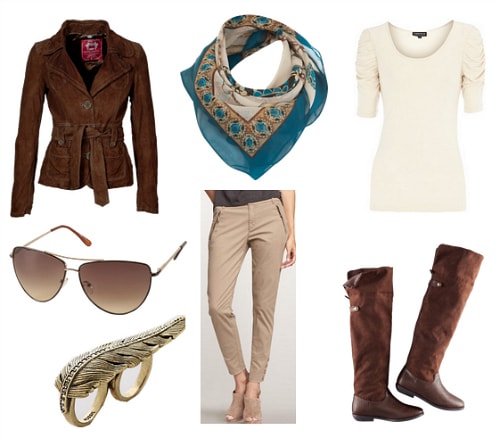 Product Info: Jacket- Espirit, Scarf- Miss Selfridge, Top- Warehouse, Aviators- Topshop, Ring- Fossil, Pants- Gap, Boots- H&M
Outfit 2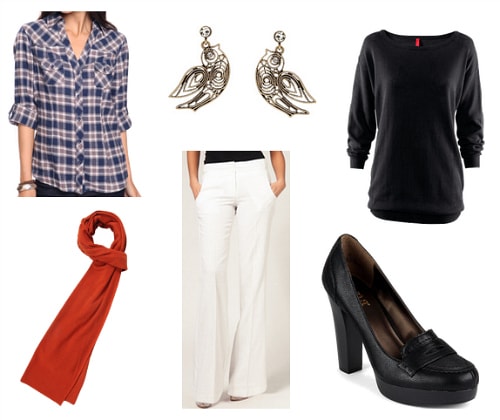 Product Info: Shirt- Forever 21, Earrings- Topshop, Sweater- H&M, Scarf- Forever 21, Pants- ASOS, Shoes- JCPenney
Outfit 3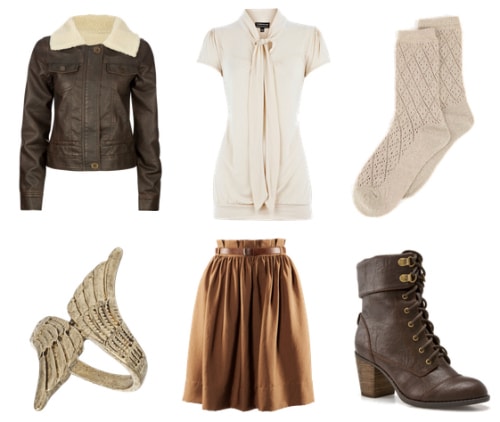 Product Info: Jacket- Tilly's, Blouse- Warehouse, Socks- PacSun, Ring- Miss Selfridge, Skirt- H&M, Boots- DSW
What do you think?
Do you find Amelia's style inspiring? What do you think of her look? Would you wear any of these outfits? Let me know what you think by leaving a comment below!