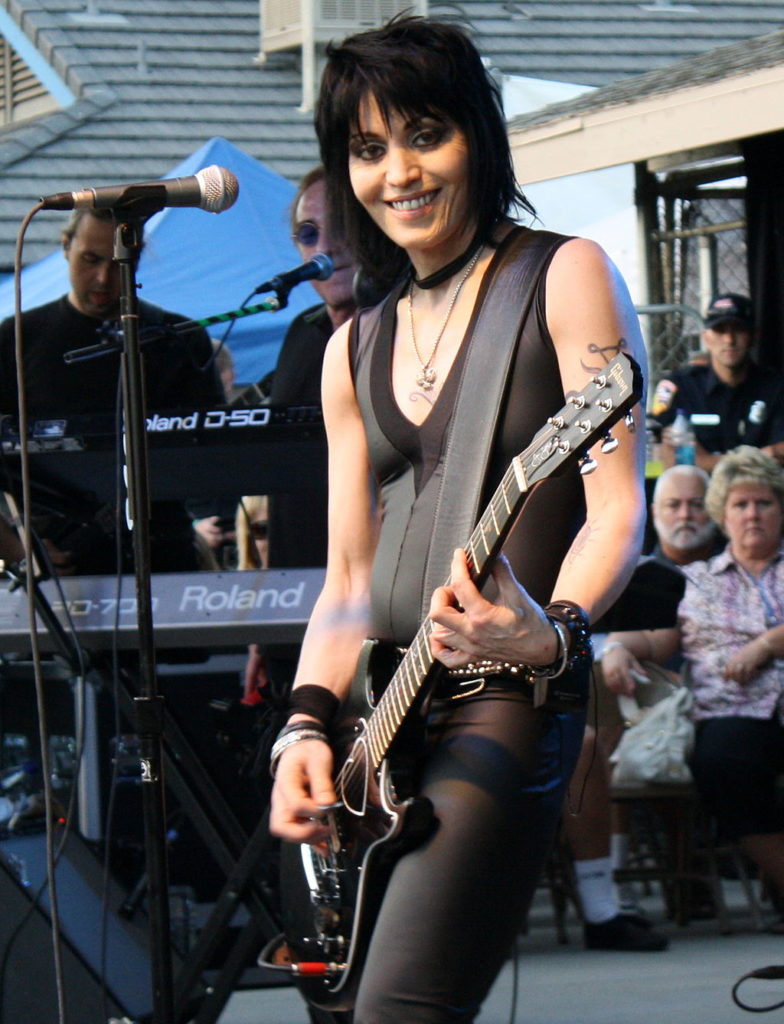 When you think of a fashion icon from the past, who is the first person that comes to mind? Marilyn Monroe? Audrey Hepburn? Edie Sedgwick, perhaps? While all three of those women have enviable styles that we absolutely love, there are so many other fashionable women that have graced the history pages.
This bi-weekly column focuses on just that: unexpected and out-of-the-box fashion icons from the past. We feature women who have not only made an impact, but also have distinct signature styles that we can still draw inspiration from today.
For the last two articles in the series, we talked about Amelia Earhart's androgynous style and Billie Holiday's gorgeous jazz-inspired look, and now we'll be moving forward in history, to cover rocker Joan Jett and her gritty, totally badass sense of style. Read on to learn more about her life and unique style, then check out some outfits ideas to help you channel her look for yourself:
5 Facts About Joan
Joan Jett was born Joan Marie Larkin on Sept. 22, 1958 in Wynnewood, Pennsylvania. When she was 12, Joan moved to Los Angeles with her family and received her first guitar as a Christmas gift at the age of 14.
As a teen, Joan immersed herself in LA's glam rock scene and in 1975 helped co-found the all-girl rock band, The Runaways.
The Runaways recorded four albums together and their most well-known song is "Cherry Bomb." The band went through multiple line-up changes before officially breaking up in 1979. In 2010, Joan served as the executive producer on a biographical movie about the band, called The Runaways. Joan was portrayed in the film by Kristen Stewart.
She went solo for bit after The Runaways breakup, then in 1980, formed her band Joan Jett and the Blackhearts. Together, the band recorded eight platinum and gold albums and released nine Top 40 singles, including "Bad Reputation," "I Love Rock 'n' Roll," "Crimson and Clover," and "I Hate Myself for Loving You"
Joan is still performing today and released her latest compilation album, Greatest Hits, in 2010. Recently, it was announced that Joan Jett and the Blackhearts were nominated for the 2012 induction into the Rock and Roll Hall of Fame. (Vote for them here!)
Joan's Style 101
Tough girl. Joan has an edgy, one-of-a-kind look that incorporates tough materials like leather, chains, studs and safety pins. Add a piece that incorporates one or more of those elements to channel Joan's gritty style.
Pops of bright color. While black clothes and accessories make up a majority of Joan's wardrobe, she also adds some bright pieces for a pop of color. Red and pink are her signature shades and she often wears shoes, jackets and other items in one of those colors.
Go glam. When it comes to performing, Joan isn't afraid to add some over-the-top elements like sequins, exaggerated shoulders or a jumpsuit for a glam look. Mimic her look on your next night out by wearing something sparkly and statement-making.
Jewelry junkie. Joan is definitely not a minimalist when it comes to jewelry. She piles on the necklaces and stacks tons of bracelets for an eclectic-cool look. For an authentic Joan-inspired accessory, try wrapping a bandanna around your wrist to create a unique 'bracelet'.
Outfits for Inspiration
Cherry Bomb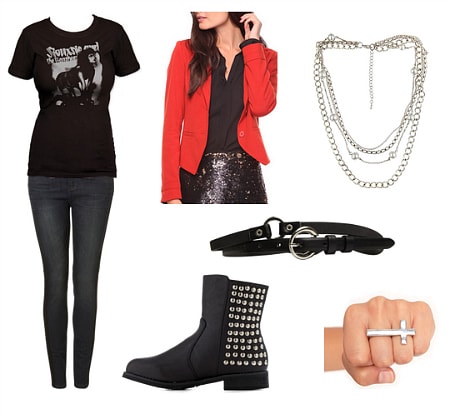 Product Info: T-Shirt- Rivethead, Jeans- Topshop, Blazer- Forever 21, Necklace- Max & Chloe, Belt- Bardot, Boots- ModCloth, Ring- Nasty Gal
Bad Reputation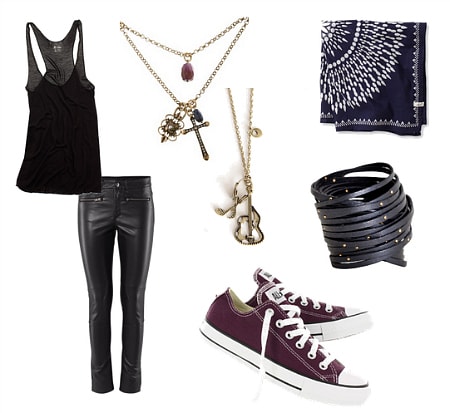 Product Info: Tank- Madewell, Pants- H&M, Layered Necklace- Lucky Brand, Guitar Necklace- Threadsence, Bandanna- Levi's, Bracelet- Linea Pelle, Shoes- Converse
I Love Rock 'n' Roll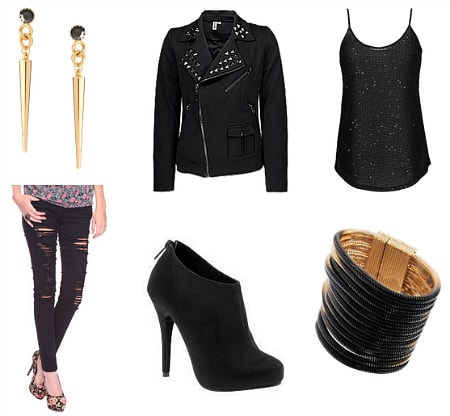 Product Info: Earrings- ASOS, Jacket- Buckle, Top- Buckle, Jeans- Forever 21, Booties- Piperlime, Bracelet- Topshop
What do you think?
Do you find Joan's style inspiring? What do you think of her look? Would you wear any of these outfits? Let me know what you think by leaving a comment below!