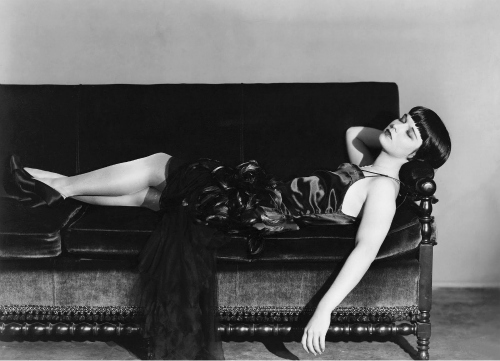 When you think of a fashion icon from the past, who is the first person that comes to mind? Marilyn Monroe? Audrey Hepburn? Edie Sedgwick, perhaps? While all three of those women have enviable styles that we absolutely love, there are so many other fashionable women that have graced the history pages.
This bi-weekly column focuses on just that: unexpected and out-of-the-box fashion icons from the past. We feature women who have not only made an impact, but also have distinct signature styles that we can still draw inspiration from today.
If you haven't seen them already, be sure to check out our other "A History of Style" posts on Amelia Earhart, Billie Holiday and Joan Jett.
This week, we'll be taking a closer look at the style of silent film actress Louise Brooks, who was known for her 1920s-era fashion and her signature sleek, cropped haircut. Read on to learn more about her life and unique style, then check out some outfits ideas to help you channel her look for yourself: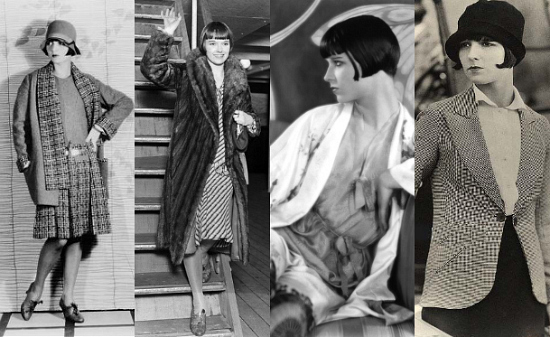 5 Facts About Louise Brooks
Louise Brooks was born on November 14, 1906 in Cherryvale, Kansas. In 1922, she began her career in the entertainment industry by becoming part of a dance company in Los Angeles.
Louise was known for being a very outspoken and independent person, which led to her being fired from the dance company in LA. Shortly thereafter, she started to work as a dancer on Broadway, where she was discovered by a Hollywood film producer.
She made her acting debut in the 1925 silent film, The Street of Forgotten Men. Louise is perhaps best known for her roles in Pandora's Box (1929), Diary of a Lost Girl (1929) and Prix de Beauté(1930). Louise appeared in more than 20 films before officially retiring from acting in 1938.
After leaving Hollywood, Louise remained out of the spotlight until she began a new career in the 1950s — writing. She became a noted writer throughout the '50s, '60s and '70s and many of her essays were published in magazines.
Louise published a collection of her essays entitled "Lulu in Hollywood" before passing away on August 8, 1985 at the age of 78.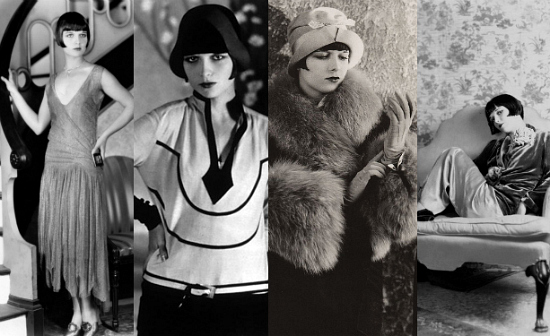 Louise's Style 101
A flair for the dramatic. Louise liked to wear lots of daring and glamorous outfits, like heavy fur coats, sparkling evening gowns and velvet smoking jackets. She never let these outfits look too over-the-top and always wore each ensemble with ease.
Hats off. Louise often accessorized her outfits with a 1920's staple — the cloche hat. These classic hats are still popular and stylish pieces to own today. Add a cloche hat to your wardrobe and you'll have a cute and practical topper that's perfect for chilly winter weather.
Luxe materials. As mentioned above, Louise liked to wear glamorous pieces that were made out of luxurious and exotic materials. Furs, silks, velvets and tweeds abounded in her closet, and buying a piece in any of those materials will make for a glam, Louise-inspired look.
Rebel yell. The Roaring Twenties were a titular time for women's fashion, as young women of that time period used fashion as a way to rebel against the Victorian-era ideals they were expected to follow. Women shortened their skirts, ditched their cumbersome petticoats, cut their hair short and exposed their arms and legs. Louise was no exception, and she rocked a daring bob haircut as well as shorter dresses and even some menswear-inspired pieces.
Outfits for Inspiration
Outfit #1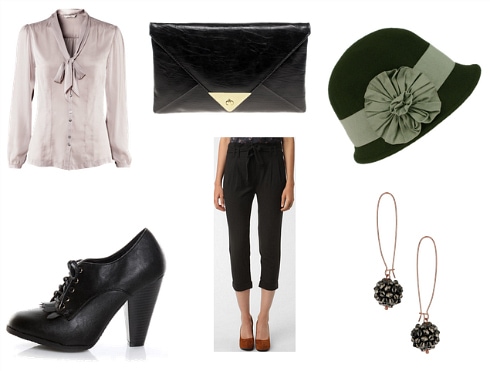 Product Info: Blouse – H&M, Clutch – ASOS, Hat – Amazon, Shoes – LuLu's, Pants – Urban Outfitters, Earrings – Topshop
Outfit #2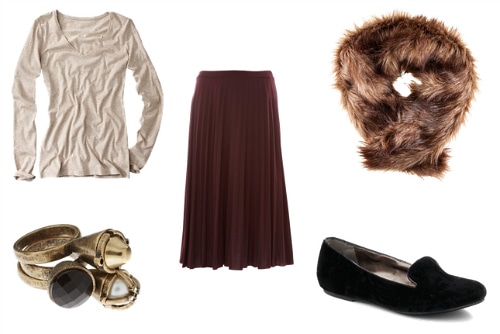 Product Info: Top – Target, Skirt – Warehouse, Faux Fur Collar – H&M, Rings – ASOS, Shoes – ModCloth
Outfit #3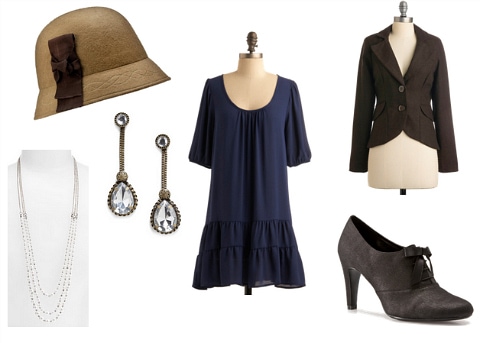 Product Info: Hat – Target, Dress – ModCloth, Blazer – ModCloth, Necklace – Nordstrom, Earrings – ModCloth, Shoes – DSW
What do you think?
Do you find Louise's style inspiring? What do you think of her look? Would you wear any of these outfits? Let me know what you think by leaving a comment below!