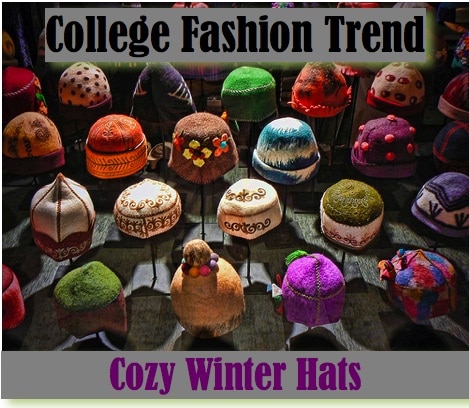 Photo Credit: 1
In Arizona, winter is finally here! For me, this means trying to figure out what to wear for the next few months that will keep me warm, while still being stylish. Now, for some of you winter clothes may take up the majority of your wardrobes, making you experts on dressing chic during chillier seasons. However, here in Tucson at the University of Arizona, it was practically 70 degrees during the day before Thanksgiving! Alas, the majority of my wardrobe is designed around helping me cool off throughout the year.
Since cooler clothes are not the biggest chunk of my wardrobe I have a very firm philosophy on winter items- make sure I can wear them year after year. One of the first items I'm looking forward to wearing are cozy winter hats.
Why I Love Cozy Winter Hats:

They are available in all shapes and sizes and for every budget! There is definitely something out there for everyone.

At least 10% of your total body heat is retained in your head! Wearing a cozy winter hat is not only stylish, but very practical.

Sometimes I find myself wearing the same winter ensemble- a coat, skinny jeans, boots, and a scarf. Hats are a great way to mix up your winter wardrobe!
Types of Winter Hats:
Cloche Hat
"Cloche" comes from the French word meaning "bell." If you like structure and femininity, this is a great pick for you!
When shopping for cloche hats, make sure you try each one on and shake your head around a little bit to make sure it doesn't fall off. Cloche hats usually do not have any built in elastic: they sort of just sit on your head. If they aren't snug enough, on a windy day you might find yourself chasing your hat!
Here are some really cute cloche hats available right now!

Product Information: Bow Cloche Hat- Arden B, Leopard Cloche- Wet Seal, Red Cloche- Tilly's, Brown Cambridge Cloche- Forever 21
Beanies and Berets
Beanies and berets come in two forms: fitted and slouchy. I personally prefer the slouchy versions, but I have seen a lot of fitted versions around campus lately that look really cute as well! Beanies and berets are knit-based, so depending on how cold it is where you live, you definitely want to take yarn or knit thickness into consideration. The thicker you go, the more warm you will be!
Here are some fitted and slouchy beanies and berets available online!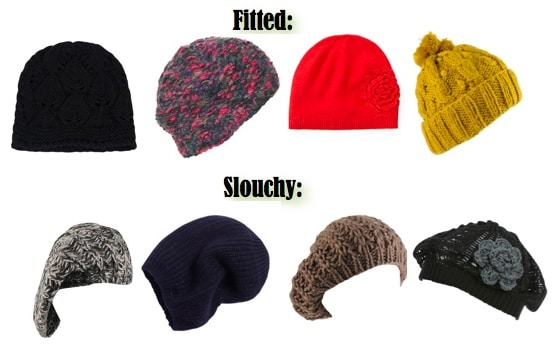 Product Information: FITTED: Open Knit Black Beanie- Tilly's, Space Dyed Knit Hat- Top Shop, Red Rose Beanie- Dillard's, Pom-Top Knit Hat- Forever 21, SLOUCHY: Crochet Slouch Beret- Forever 21, Navy Slouchy Beanie- American Eagle, Taupe Knit Beret- Forever 21, Flower Slouch Hat- Charlotte Russe
Newsboy Caps
Newsboy caps can be worn all year long, in my opinion. However, whether or not one will be functional for winter will depend on the thickness of the hat. If you live somewhere windy, newspaper boy hats will probably be your best bet because they have built-in elastic bands and/or brim structures that are made to stay put!
I found a ton of really cute newspaper boy hats at Anthropologie the other week. Here are the ones I liked and some other examples from other stores!

Product Information: Button Cap- Anthropologie, Gray Hat- Fred Flare, Plaid Cap- Anthropologie, Tan Hat- Lauren by Ralph Lauren at Dillard's
What do you think?
Do you wear cozy winter hats? If so, how do you wear them? Are there any hats I didn't mention that you like to wear?