This post may contain affiliate links, which means we may receive a commission if you purchase through our links. Please
read our full disclosure here
.
When you think of a fashion icon from the past, who is the first person that comes to mind? Marilyn Monroe? Audrey Hepburn? Edie Sedgwick, perhaps? While all three of those women have enviable styles that we absolutely love, there are so many other fashionable women that have graced the history pages.
This biweekly column focuses on just that: unexpected and out-of-the-box fashion icons from the past. We feature women who have not only made an impact, but also have distinct signature styles that we can still draw inspiration from today.
If you haven't seen them already, be sure to check out our other "A History of Style" posts on Amelia Earhart, Billie Holiday, Joan Jett, Louise Brooks, Dorothy Dandridge and Elizabeth Taylor.
This week, we'll be taking a closer look at famed Hollywood costume designer Edith Head. Although she worked behind the scenes, Edith was quite the style icon herself and donned plenty of classic ensembles and unique accessories to create her one-of-a-kind look. Read on to learn more about Edith's life and unique style, then check out some outfits ideas to help you channel her look for yourself:
5 Facts About Edith Head
Edith Claire Posner was born on October 28, 1897 in San Bernardino, California. Although she started her career as a teacher, Edith became interested in art and began taking night classes in order to learn how to draw and sketch.
In 1924, Edith was hired as a costume sketch artist at Paramount Pictures. She started out designing costumes for silent films and by 1938 had become head of Paramount's costume department as well as one of the most famous costume designers in Hollywood.
Over her 60 year career as a costume designer, Edith worked with dozens of talented Hollywood actresses and created some of the most memorable film costumes of all time. Some of her most well-known work was done for Grace Kelly in Rear Window and Audrey Hepburn in Sabrina, Roman Holiday and Funny Face.
Throughout her career, Edith was nominated for 35 Academy Awards in the category of "Best Costume Design". She won a record eight times and currently holds the title for the most Oscar wins by a female.
Edith passed away on October 28, 1981, but her legacy still lives on. In fact, although it's never been officially confirmed, it's widely believed that the character Edna Mode from Disney/Pixar's The Incredibles was modeled after Edith. The resemblance is pretty uncanny, don't you think?
Edith's Style 101
Timeless. Edith was known for avoiding trendy pieces when she designed film costumes, and her classic aesthetic translated to her personal style as well. Edith was very careful not to choose pieces that could easily be dated and instead wore no-frills outfits that were simple, chic and timeless.
Tailor-Made. Edith made sure her classic wardrobe also fit her to a "T" by having individual items tailored to her exact measurements. The next time you buy a new pair of jeans or a blazer, be like Edith and take the item to your local tailor to have it perfectly fitted or hemmed.
Dress Code. Edith rarely strayed away from her "uniform" of a skirt, blouse, blazer and pumps — four classic wardrobe staples. Wearing a basic outfit formula, then switching up the colors, fabrics and styles helped to create her signature look.
Calling Card. Other than her clothing choices, Edith also showed off her style-savvy through her accessories and hairstyle. Edith's round glasses and blunt bangs were her trademarks and made her easily recognizable to many. Mimic Edith by establishing your own style trademark. It can be a piece of jewelry, a hairstyle or even a signature color. Just make sure it's uniquely you!
Outfits for Inspiration
Outfit #1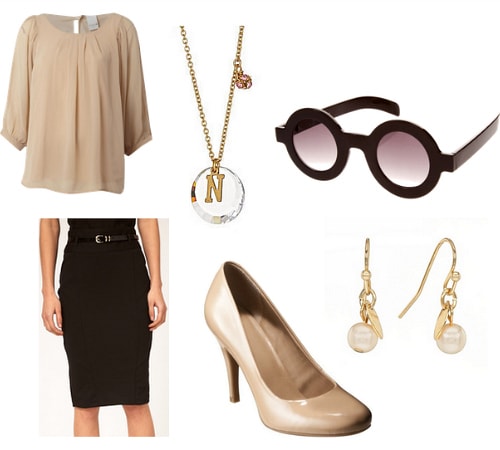 Product Info: Blouse- House of Fraser, Necklace- Max & Chloe, Sunglasses- ASOS, Skirt- ASOS, Pumps- Target, Earrings- Kohl's
Outfit #2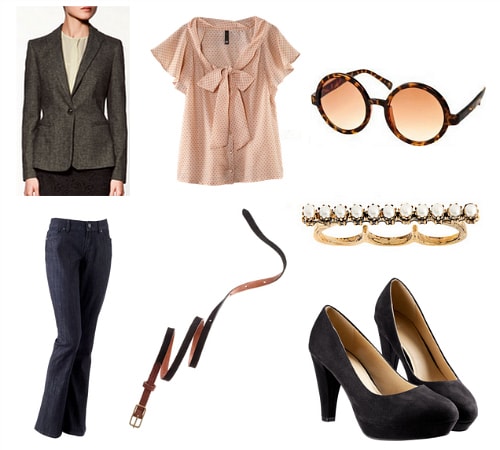 Product Info: Blazer- Zara, Blouse- H&M, Sunglasses- Sunglass Warehouse, Jeans- Kohl's, Belt- Madewell, Ring- ASOS, Pumps- H&M
Outfit #3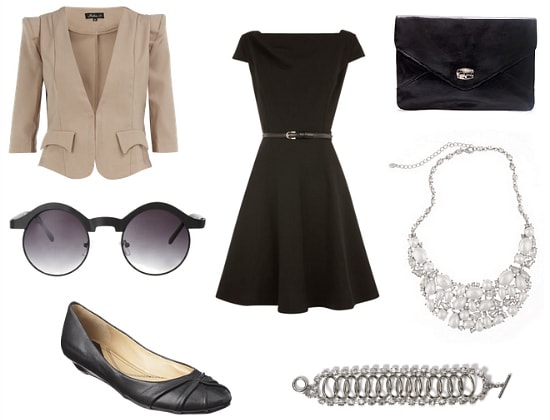 Product Info: Blazer- Dorothy Perkins, Dress- Oasis, Clutch- Nasty Gal, Sunglasses- ASOS, Necklace- Send the Trend, Flats- Nine West, Bracelet- Bloomingdale's
What do you think?
Do you find Edith's style inspiring? What do you think of her look? Would you wear any of these outfits? Let me know what you think by leaving a comment below!