This post may contain affiliate links, which means we may receive a commission if you purchase through our links. Please
read our full disclosure here
.
When you think of a fashion icon from the past, who is the first person that comes to mind? Marilyn Monroe? Audrey Hepburn? Edie Sedgwick, perhaps? While all three of those women have enviable styles that we absolutely love, there are so many other fashionable women that have graced the history pages.
This biweekly column focuses on just that: unexpected and out-of-the-box fashion icons from the past. We feature women who have not only made an impact, but also have distinct signature styles that we can still draw inspiration from today.
If you haven't seen them already, be sure to check out our other "A History of Style" posts on Amelia Earhart, Billie Holiday, Joan Jett, Louise Brooks and Dorothy Dandridge.
This week, we'll be taking a closer look at the style of the late actress and activist, Elizabeth Taylor, who had over 60 years in the biz and, as a result, developed a one-of-a-kind, style-savvy look. Read on to learn more about her life and unique style, then check out some outfits ideas to help you channel her look for yourself:
5 Facts About Elizabeth Taylor
Elizabeth Rosemond Taylor was born on February 27, 1932 in London, England. Prior to the start of WW2, Elizabeth and her family relocated to Los Angeles. Shortly after moving to LA, Elizabeth was discovered by several film studios and appeared in her first movie at the age of nine.
Elizabeth continued to act throughout her life. Some of her most famous roles were in National Velvet (1944), Cat on a Hot Tin Roof (1958) and Cleopatra (1963). She also won the Academy Award for Best Actress — twice! The first was for the film Butterfield 8 (1960) and the second for her role in Who's Afraid of Virginia Woolf? (1966).
Elizabeth was infamously known for her multiple marriages — over the course of five decades, she was married eight times, to seven different men.
In the mid-1980s, Elizabeth used her fame to support and bring awareness to HIV and AIDS programs by co-founding the American Foundation for AIDS Research. She later founded The Elizabeth Taylor AIDS Foundation in 1993. Elizabeth's humanitarian work earned her many awards and honors including the Presidential Citizens Medal.
After struggling with health problems for a few years, Elizabeth passed away on March 23rd, 2011 at the age of 79. She left behind a large estate, which included over $150 million worth of jewelry. In fact, many pieces from her massive jewelry, clothing and accessory collections will be auctioned off this week at Christie's with some of the proceeds going to The Elizabeth Taylor AIDS Foundation.
Elizabeth's Style 101
Taking the plunge. When Elizabeth was a young actress in the 1950s she wore lots of simple and beautiful dresses, but always made sure to amp up the sex appeal. She chose pieces with plunging necklines that showed off just the right amount of cleavage in a way that was never vulgar.
Bedazzled. Elizabeth always embraced out-of-the-box styles, but as she got older, her style became even bolder. In her eyes, bolder was better and she loved pieces adorned in sequins, flowers, beading, feathers and bows. Her eclectic ensembles always made a buzz at events or on the red carpet.
Color theory. Whether she wore a demure dress or an oversized caftan, Elizabeth was all about wearing rich hues and bright colors. Her colorful clothing made a bold statement, which you can easily mimic by wearing a dress in your favorite shade.
White Diamonds. Judging from the fact that she owned millions beyond millions of dollars worth of jewelry, it's safe to say that Elizabeth was a huge fan of gorgeous (and expensive!) jewels. She took her one-of-a-kind bracelets, rings, necklaces and earrings and piled them on for a look that simply exuded opulence and glamour.
Outfits for Inspiration
Outfit #1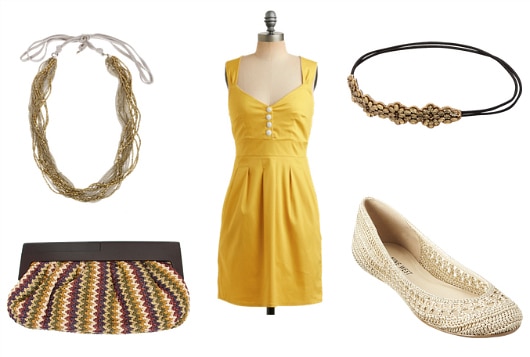 Product Info: Necklace- Jigsaw, Dress- ModCloth, Headband- Witchery, Clutch- Papaya, Flats- Nine West
Outfit #2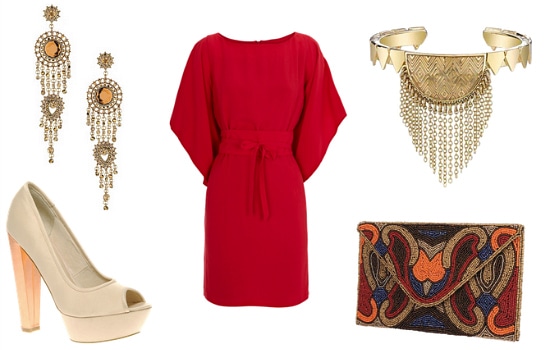 Product Info: Earrings- Topshop, Dress- Oasis, Bracelet- House of Harlow 1960, Clutch- Forever 21, Pumps- ASOS
Outfit #3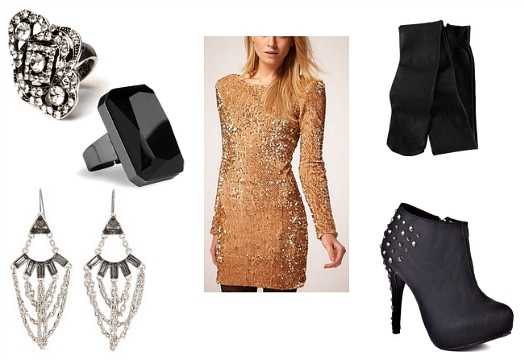 Product Info: Silver Ring- Friis & Company, Black Ring- Debenhams, Dress- ASOS, Tights- H&M, Earrings- Zappos, Booties- Heels.com
What do you think?
Do you find Elizabeth's style inspiring? What do you think of her look? Would you wear any of these outfits? Let me know what you think by leaving a comment below!