This post may contain affiliate links, which means we may receive a commission if you purchase through our links. Please
read our full disclosure here
.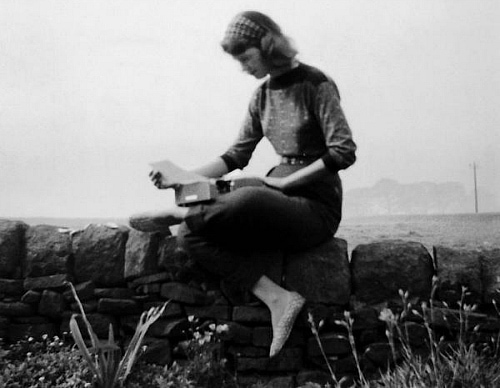 When you think of a fashion icon from the past, who is the first person that comes to mind? Marilyn Monroe? Audrey Hepburn? Edie Sedgwick, perhaps? While all three of those women have enviable styles that we absolutely love, there are so many other fashionable women that have graced the history pages.
This biweekly column focuses on just that: unexpected and out-of-the-box fashion icons from the past. We feature women who have not only made an impact, but also have distinct signature styles that we can still draw inspiration from today.
If you haven't seen them already, be sure to check out our other "A History of Style" posts on Amelia Earhart, Billie Holiday, Joan Jett, Louise Brooks, Dorothy Dandridge, Elizabeth Taylor, Edith Head and Mary Tyler Moore.
This week, we'll be taking a closer look at poet, novelist and short story writer Sylvia Plath, who not only penned some amazing work, but also possessed an inspiring sense of style. Read on to learn more about Sylvia's life and unique style, then check out some outfit ideas to help you channel her look for yourself:
5 Facts About Sylvia Plath
Sylvia Plath was born on October 27, 1932 in Boston, Massachusetts. She began writing at a very young age and had her first poem published at age eight.
Sylvia attended Smith College in Northampton, Massachusetts, where she worked as an editor for her school's literary magazine. When she was still in college, Sylvia was given the opportunity to travel to New York City for a month and guest edit Mademoiselle magazine. Her experience didn't live up to her expectations and later served as an inspiration for her novel The Bell Jar.
After graduating from Smith in 1955, Sylvia won a Fulbright Scholarship to study at Cambridge University in England, where she met fellow poet Ted Hughes. The two married in 1956, but had an infamously tumultuous relationship.
Sylvia had been writing poems and short stories for years and her first book of poetry — The Colossus — was published in 1960. The Bell Jar, her first and only novel, was released three years later.
After suffering from depression for many years, Sylvia tragically took her own life on February 11, 1963 — she was just 30 years old. Her second collection of poetry, Ariel, was released two years after her death. Sylvia was also posthumously awarded a Pulitzer Prize for poetry in 1982.
Sylvia's Style 101
Comfort is key. Sylvia's wardrobe was filled with casual items that were both comfortable and stylish. She wore pieces like tees, skirts and flats to create a simple, yet chic look.
Clean lines. Sylvia seemed to steer away from embellished and ornate clothing and instead opted to wear streamlined, no-frills pieces. To channel Sylvia's style for yourself, look for items that are simple and classic, but try finding fun colors and prints to make them fashion-forward.
Boy Meets Girl. Sylvia always knew how to incorporate both masculine and feminine pieces into her wardrobe. For example, if she wore a girly blouse and skirt, she would add a more masculine jacket for balance.
Outfits for Inspiration
Outfit #1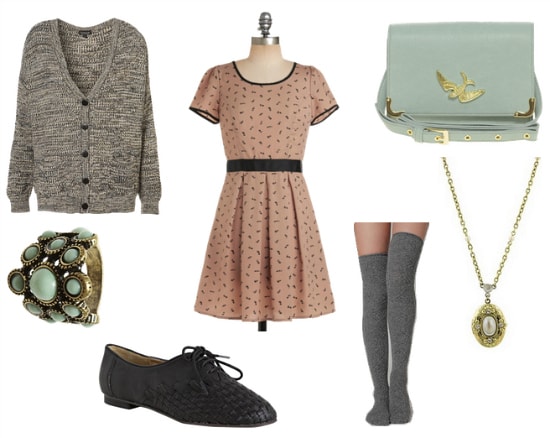 Product Info: Cardigan- Topshop, Dress- ModCloth, Bag- ASOS, Ring- Bardot, Socks- Anthropologie, Necklace- 1928.com, Oxfords- Steve Madden
Outfit #2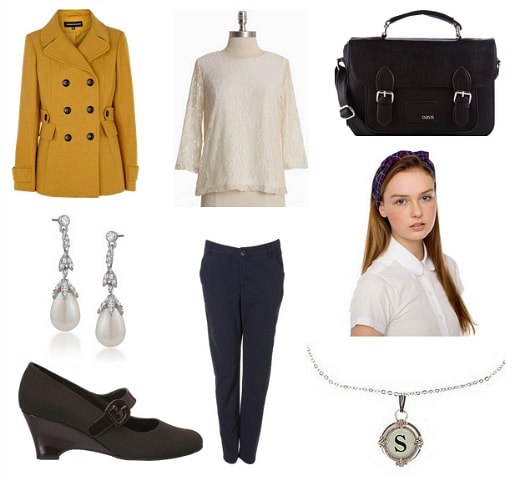 Product Info: Coat- Warehouse, Blouse- Ruche, Bag- Oasis, Earrings- Macy's, Trousers- Topshop, Headband- American Apparel, Shoes- Jildor, Necklace- Urban Outfitters
Outfit #3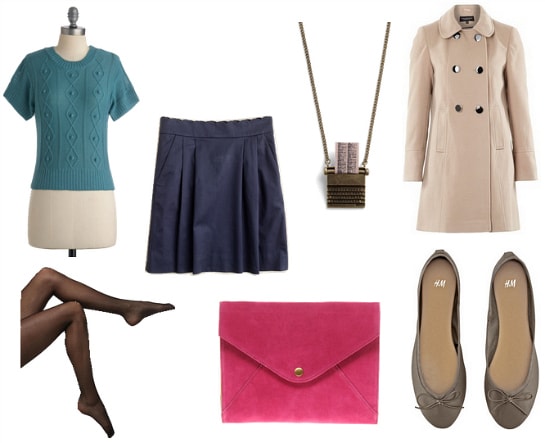 Product Info: Sweater- ModCloth, Skirt- J. Crew, Necklace- ModCloth, Coat- Debenhams, Tights- Urban Outfitters, Clutch- ASOS, Flats- H&M
What do you think?
Do you find Sylvia's style inspiring? What do you think of her look? Would you wear any of these outfits? Let me know what you think by leaving a comment below!