This post may contain affiliate links, which means we may receive a commission if you purchase through our links. Please
read our full disclosure here
.
When you think of a fashion icon from the past, who is the first person that comes to mind? Marilyn Monroe? Audrey Hepburn? Edie Sedgwick, perhaps? While all three of those women have enviable styles that we absolutely love, there are so many other fashionable women that have graced the history pages.This biweekly column focuses on just that: unexpected and out-of-the-box fashion icons from the past. We feature women who have not only made an impact, but also have distinct signature styles that we can still draw inspiration from today.
If you haven't seen them already, be sure to check out our other "A History of Style" posts on Amelia Earhart, Billie Holiday, Joan Jett, Louise Brooks, Dorothy Dandridge, Elizabeth Taylor, Edith Head, Mary Tyler Moore, Sylvia Plath, Edith Bouvier Beale, Marlene Dietrich, Frida Kahlo, Cyndi Lauper and Isadora Duncan.
This week, we'll be taking a closer look at actress Pam Grier's sultry and glamorous sense of style. Read on to learn more about Pam's life and unique style, then check out some outfit ideas to help you channel her look for yourself:
5 Facts About Pam Grier
Pamela Suzette Grier was born on May 26, 1949 in Winston-Salem, North Carolina.
She moved to Los Angeles in the late '60s and began working as a receptionist at a film production company, where she was later discovered and cast in several movie roles.
Pam rose to fame in the early 1970s by starring in a number of 'blaxploitation' films like Coffy and Foxy Brown, where she played strong, vigilante-type characters. She is known as the first African American female to headline an action film.
In 1997, Pam starred in Quentin Tarantino's film Jackie Brown, which played homage to the blaxpoitation genre. She was nominated for a Golden Globe and SAG Award for her portrayal as the titular character.
Pam published her autobiography, Foxy: My Life in Three Actsin 2010. The rights to her book were recently optioned by a film studio, meaning there may be a Pam Grier biopic in the works!
Pam's Style 101
I Love the '70s. Pam was a 1970s fashion icon and therefore many of her most memorable looks come from that decade. Her iconic high-waisted pants, crop tops and platform shoes are just as stylish now as they were back then, so pick up one of these updated trends for a Pam Grier-inspired look.
Super Sultry. Pam wasn't afraid to show a little skin in the name a fashion. Her signature plunging necklines were sexy without looking vulgar.
Glamazon. Another element of Pam's style was her love of all things glamorous. Her accessories were always especially glam, whether she wore oversized sunnies and an arm cuff or hoop earrings and a statement necklace, Pam always knew how to accessorize to a 'T.'
Outfits for Inspiration
Outfit #1: '70s-Inspired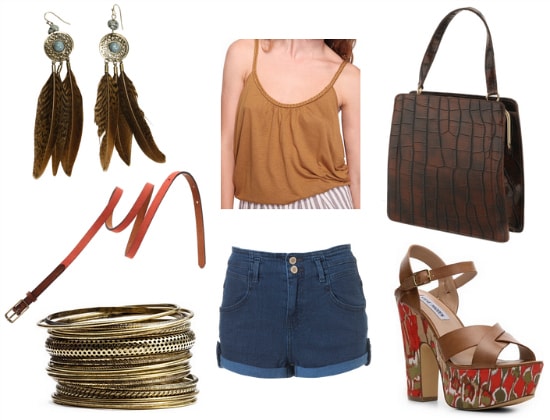 Product Info: Earrings- Swell, Top- Forever 21, Bag- Forever 21, Belt- Madewell, Shorts- Topshop, Bracelets- Nordstrom, Shoes- Steve Madden
Outfit #2: A Night on the Town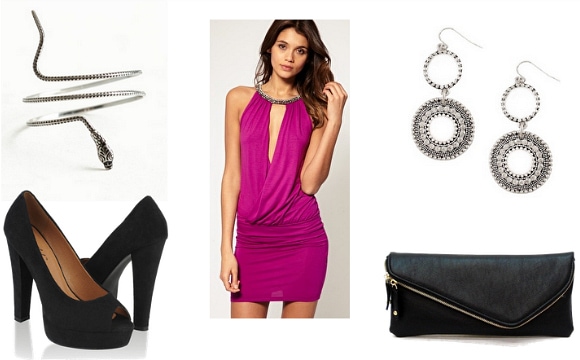 Product Info: Arm Cuff- Threadsence, Dress- ASOS, Earrings- Jessica Simpson Collection, Pumps- Forever 21, Clutch- Mimi Boutique
Outfit #3: Poolside Glam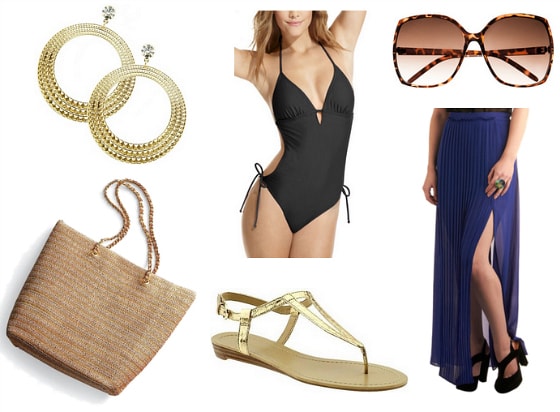 Product Info: Earrings- Guess, Swimsuit- Macy's, Sunglasses- H&M, Bag- Victoria's Secret, Sandals- Piperlime, Skirt- ModCloth
What do you think?
Do you find Pam's style inspiring? What do you think of her look? Would you wear any of these outfits? Let me know what you think by leaving a comment below!