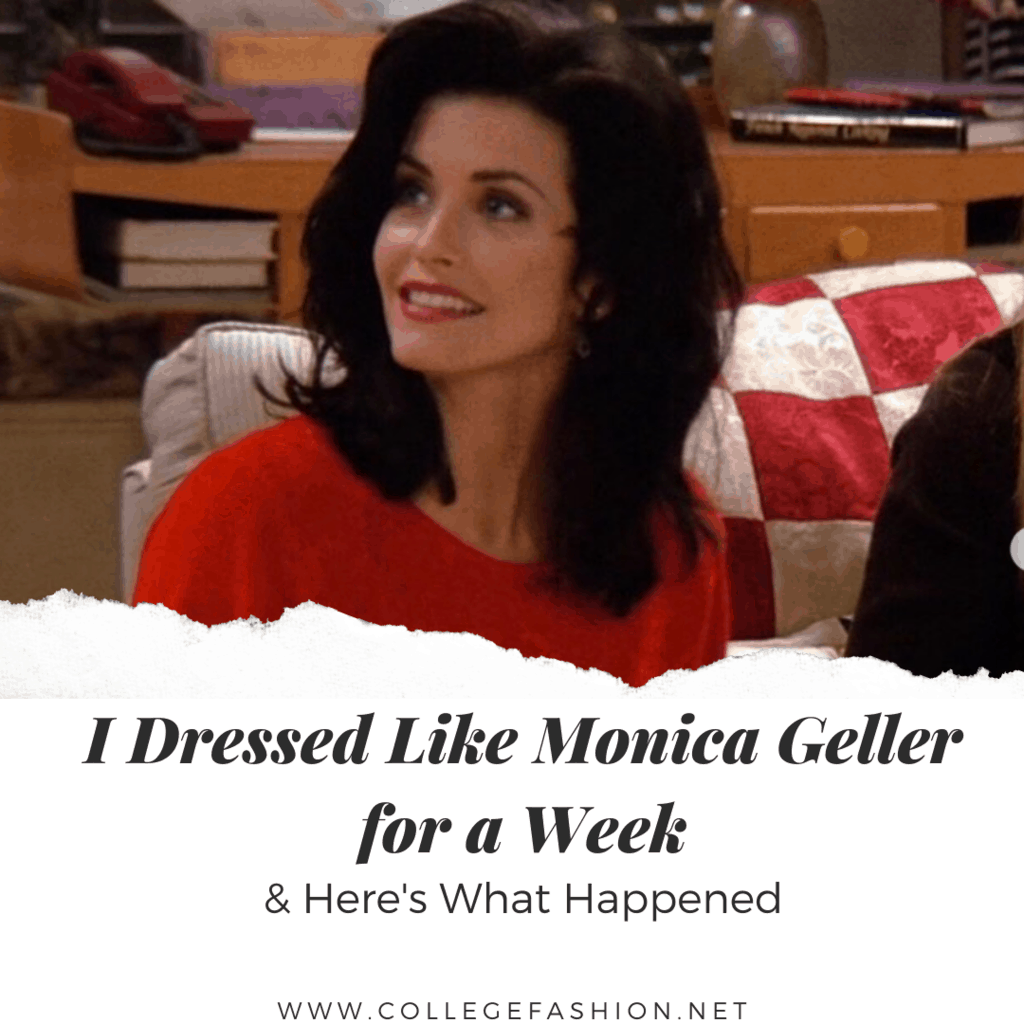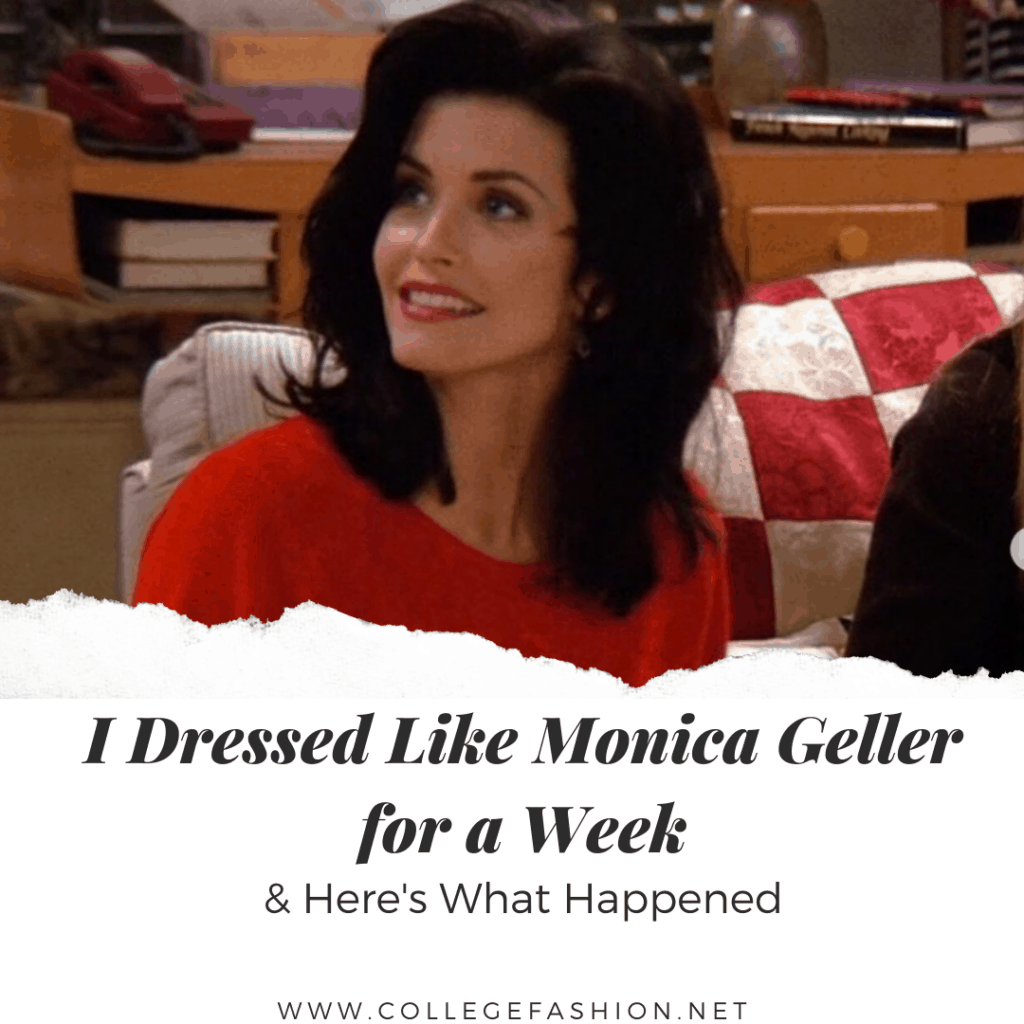 We've all looked to celebrity style for fashion inspiration at some point in our lives. But it's one thing to say "I love her outfit," and it's another to actually copy it in real life.
For this series, I'm going the extra mile and making it happen. Each week, I'm getting inspiration from a celebrity and copying five of her looks as closely as possible. Then, I'm reporting back to you: Did the outfits work in real life? Did I feel comfortable? Did people treat me differently? I'm sharing it all.
In past posts I've dressed like Zendaya, Gigi Hadid, Grace Kelly, Kendall Jenner, Vanessa Hudgens, Sophie Turner, Priyanka Chopra, Millie Bobby Brown, Hilary Duff, Lily Collins, Taylor Swift, Iconic Halloween Characters, Selena Gomez, Alexa Chung, Iconic Christmas Characters, Rachel Green and Queer Eye's Fab 5. This week, I'm recreating the style of the most reliable and loving friend, Monica Geller.
Monica Geller's Style
Monica Geller is the 'Mom' of the group in the tv series Friends. She's responsible, reliable, and maybe just the tiniest bit "up tight." As such, her style is both comfortable and practical.
The practical nature of Monica's style doesn't mean she doesn't serve amazing looks at least once an episode, though. For instance, Monica tends to mix pieces like high waisted pants and skirts, cozy sweaters, structured t-shirts, and Oxford shirts.
As a chef, Monica also wears sensible shoes most of the time — think sneakers, loafers, and boots. Color wise, she stays mostly to the neutral side of the wheel, but her signature color seems to be red.
Without delay, here's how this recreation went!
Monica Geller's Style – Outfit #1, Monday
For the first Monica look, I chose this iconic outfit consisting of a white shirt, a black skirt with suspenders, and tights. You can't see the shoes in the pictures, but in the episode she is wearing a pair of black loafers.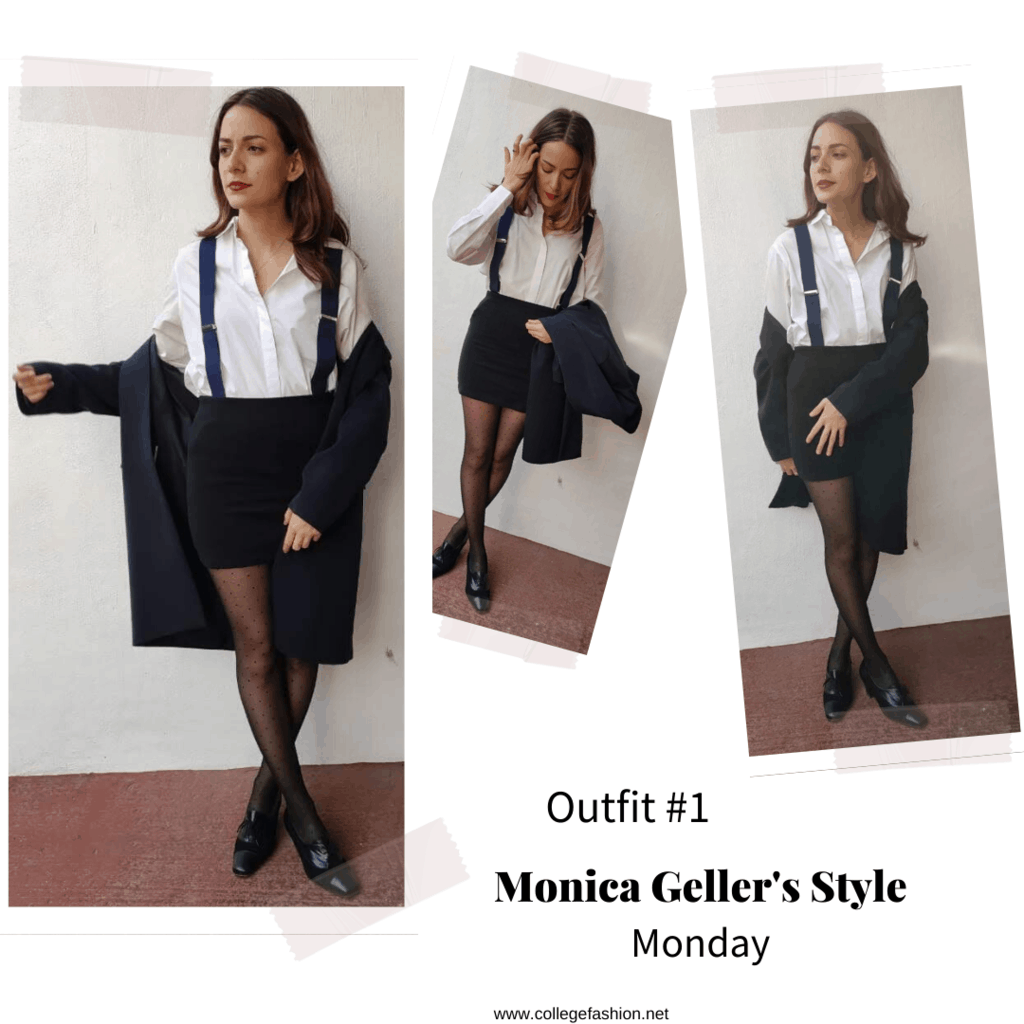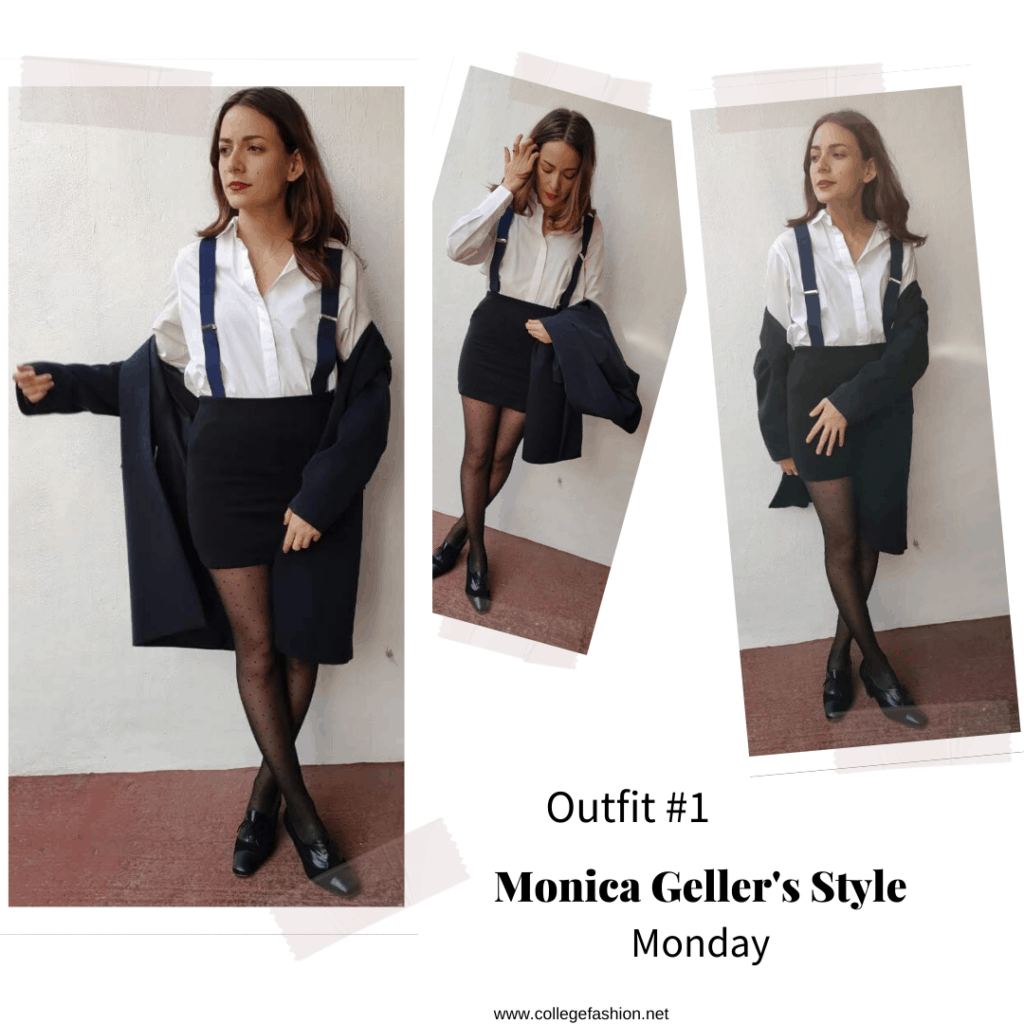 Similar items:
For my recreation of Monica's outfit, I wore a white Oxford shirt with a black pencil skirt. I didn't have a skirt with black suspenders attached, so I borrowed a pair of suspenders from my dad to get the look right.
For accessories, I wore black tights and borrowed a pair of black loafers with heels from my mom. Also, while looking through Monica's outfits, I realized she is almost always wearing red lipstick, so I decided to wear some as well.
I loved this outfit! I was kind of wary of this look, because I felt that it would seem like I was trying too hard to emulate someone else. But the minute I finished getting dressed and I saw the result, I fell in love with it.
I had never worn suspenders before and now I want a pair for me, to just add to different looks that keep coming to my mind!
I went to the office, and this look was right at home in my casual workplace — it was comfortable and put-together.
Monica Geller's Style – Outfit #2, Tuesday
On Tuesday, I went the opposite direction from the previous day with this super casual and bright outfit. In the photos above, Monica is wearing a red sweater, mom jeans, and white sneakers.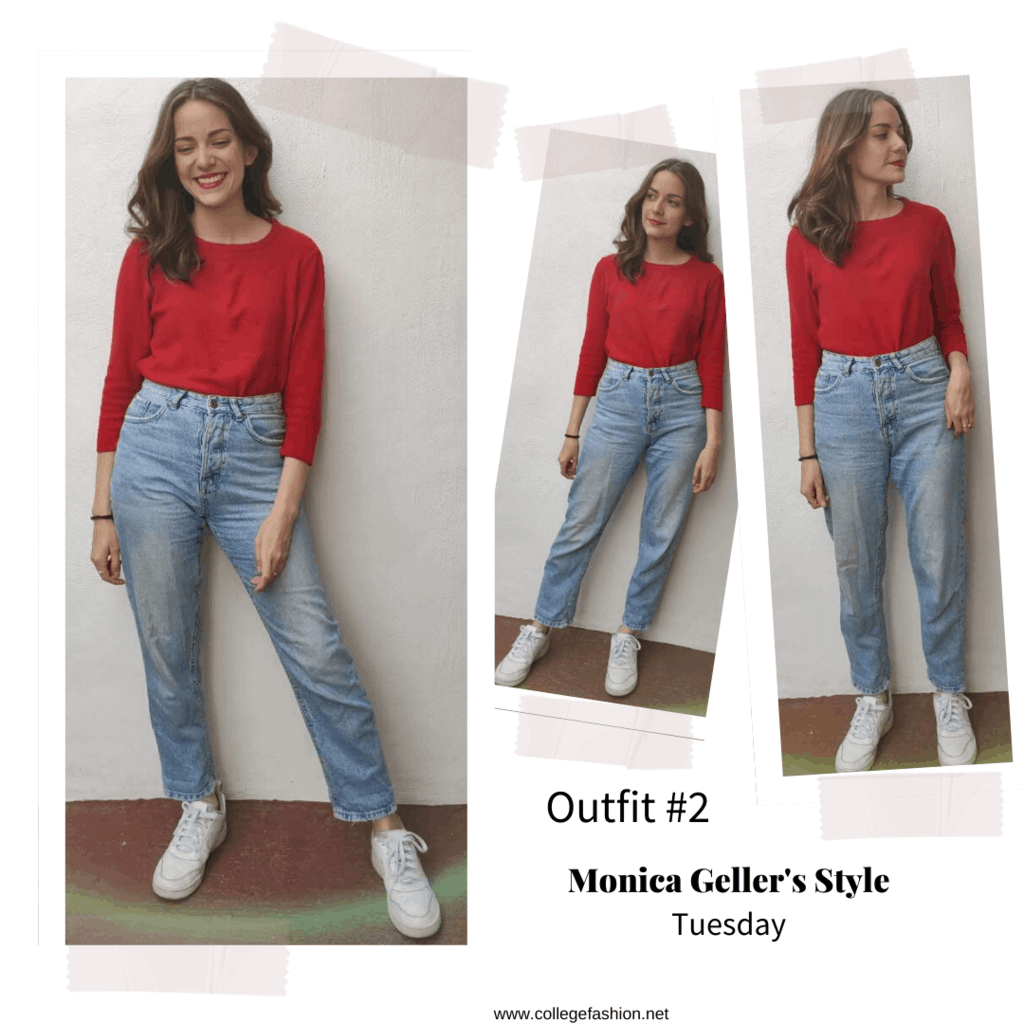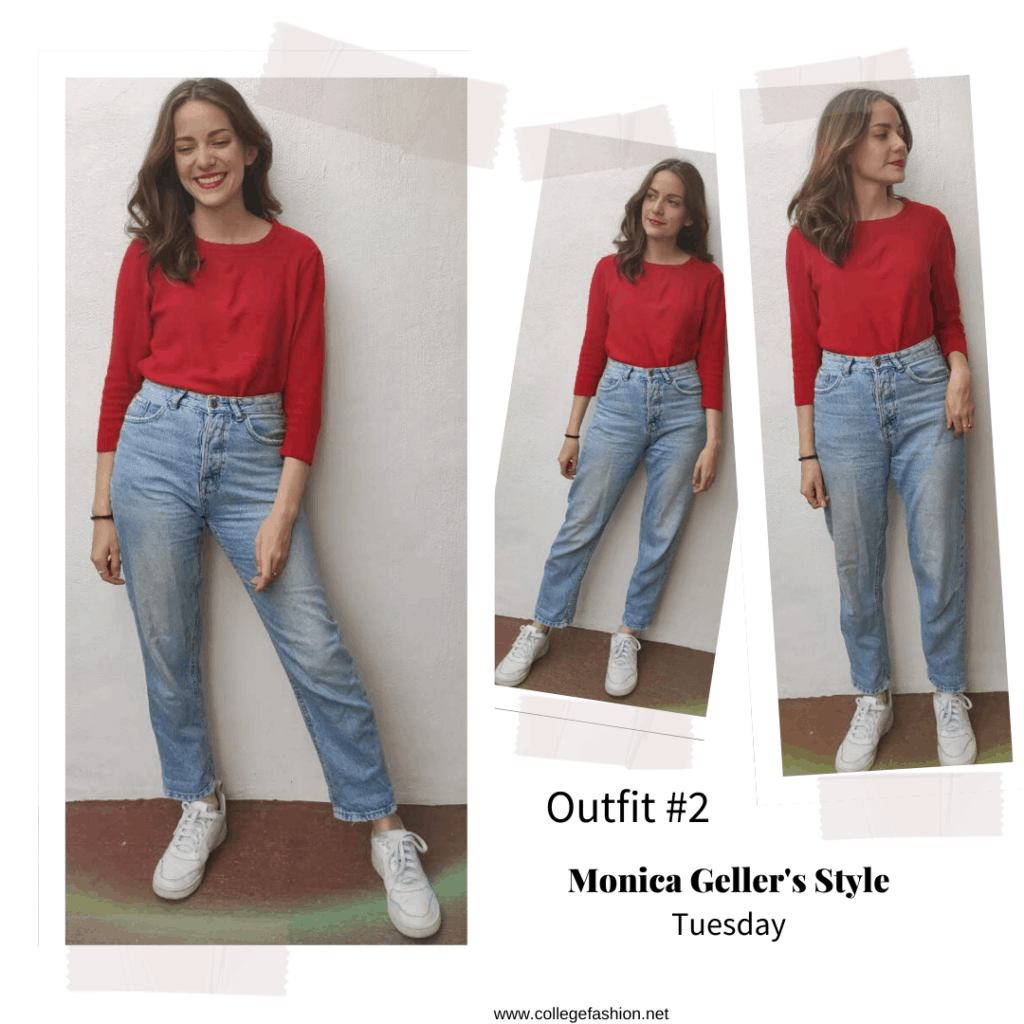 Similar items:
In order to recreate this look, I wore a red sweater tucked into a pair of mom jeans. I tucked it in because Monica's sweater is cropped so I thought tucking mine in was a good compromise to make my sweater look a bit shorter. For shoes, I wore a pair of white Nike sneakers. I added the red lip again.
Honestly, this is an outfit I have worn a thousand times. These are my favorite jeans and my favorite sweater. That said, I always feel like I'm underdressed if I wear this combo to the office, so I usually reserve it for the weekends.
However, now that I've worn it to work, I don't get why this specific look made me feel too casual before. It was comfy and nobody even batted an eye to it — I'm definitely grateful to have such a relaxed workplace.
Monica Geller's Style – Outfit #3, Wednesday
On Wednesday, I chose this look. As you can see, Monica is wearing a long skirt, a grey sweater, a leather jacket, a beret and boots.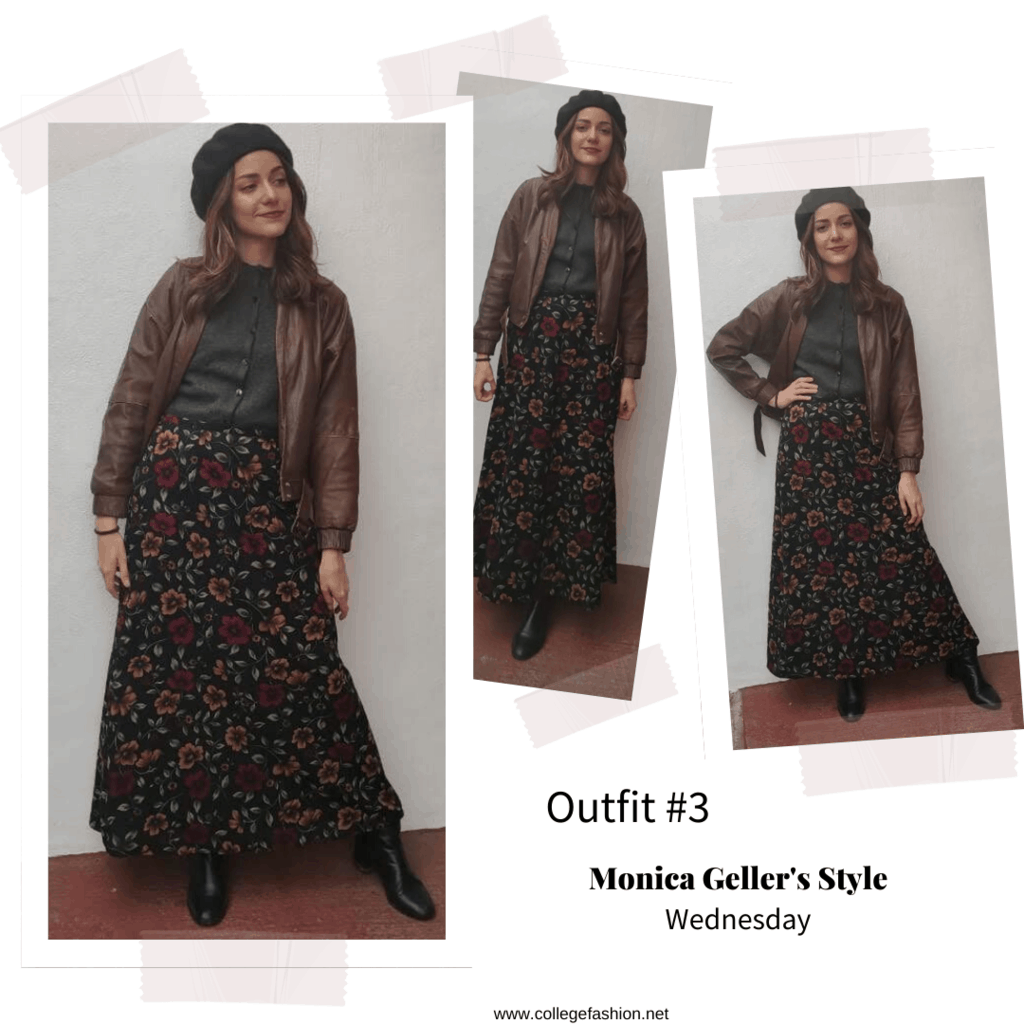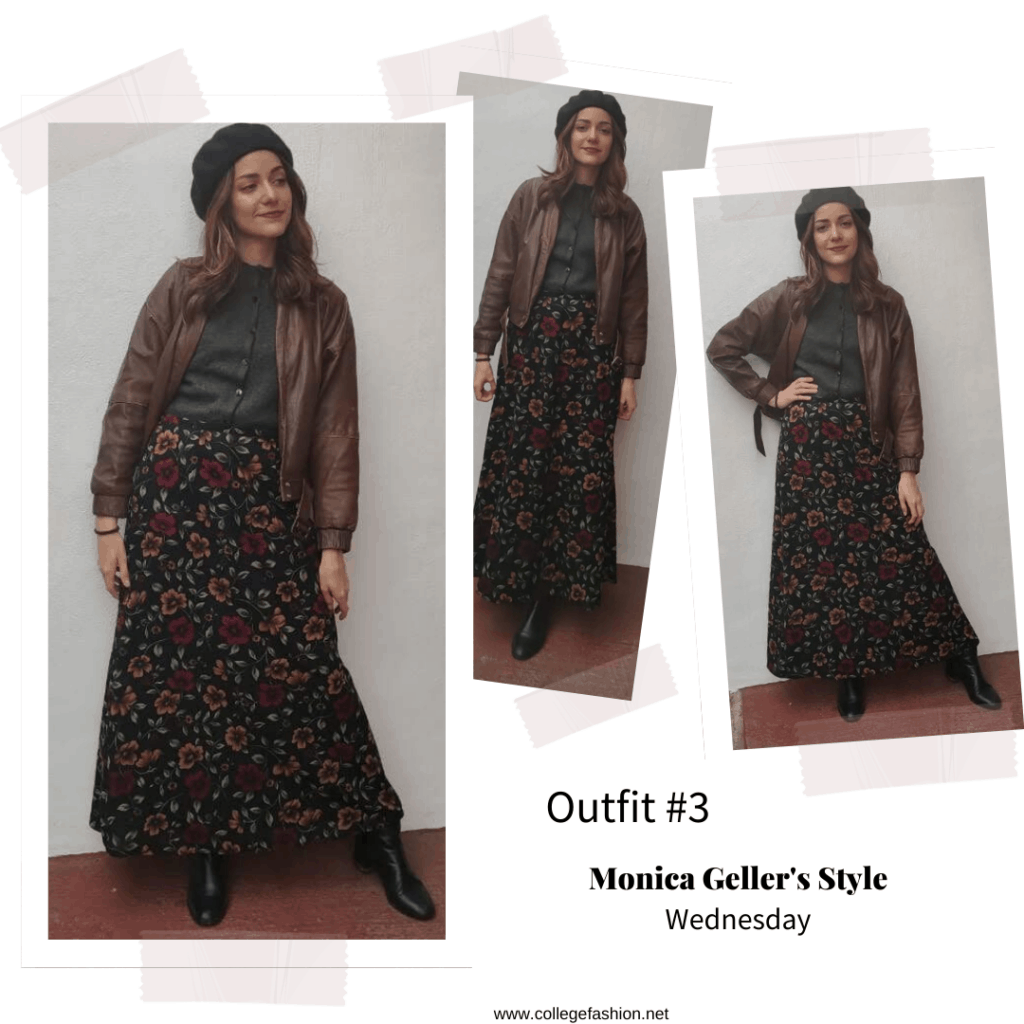 Similar items:
To do this recreation, I borrowed a long printed skirt from my mom and paired it with a cropped grey sweater. Since the pattern and colors of the skirt are different, I used my brown leather jacket and for shoes I wore a pair of black booties. Finally, I accessorized with a black beret and wore red lipstick.
This was a great day! In fact, I loved every single piece in this look. I did have to ask my mom to hem the skirt a bit, just for that day, because she's taller than me and she usually uses the skirt with shoes that have more height. But other than that, it was an amazing outfit.
I will definitely wear this look again, with one change — next time I'll switch the black beret for a beige one, as I think that would blend better with the warmer tones of the look.
Monica Geller's Style – Outfit #4, Thursday
The end of the week was near and I wanted to wear something really comfortable. For that reason, I went for this look. Here, Monica is wearing an oversized sweater, black leggings, and boots.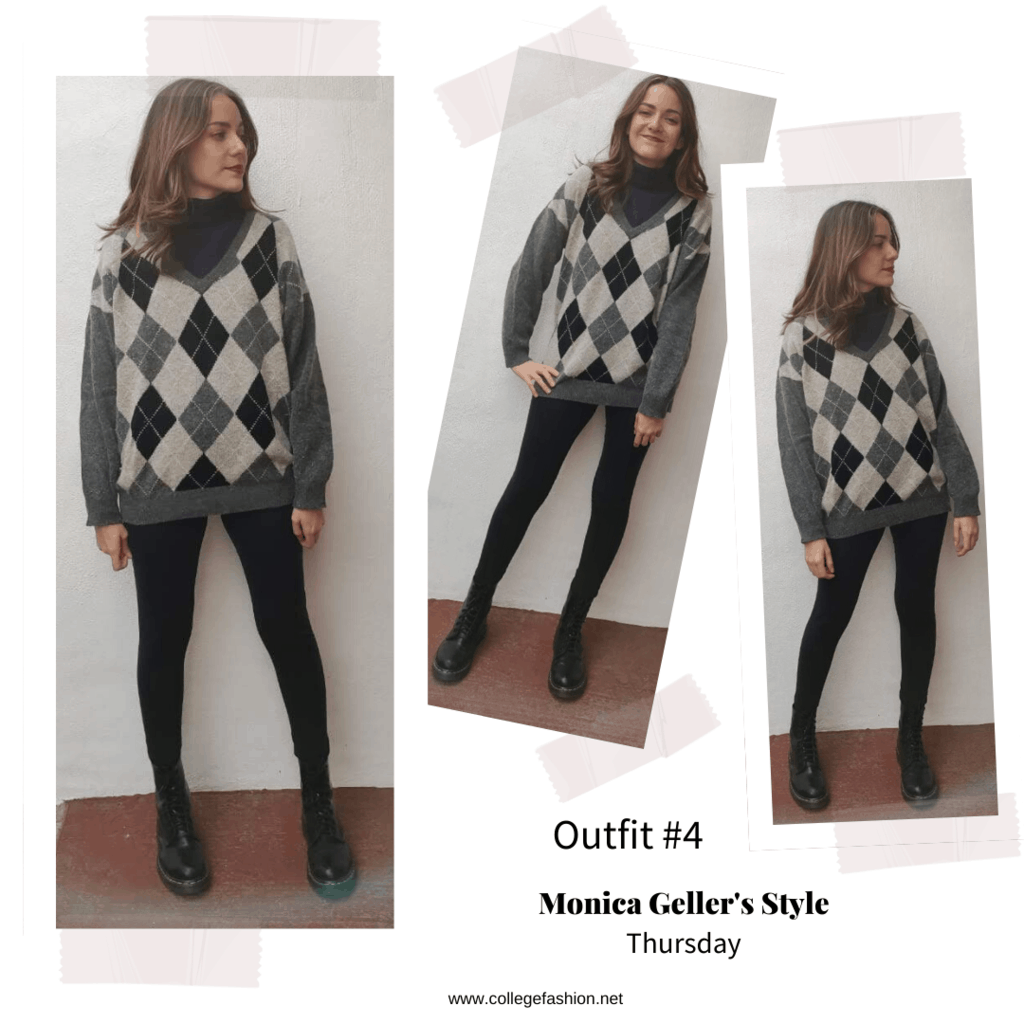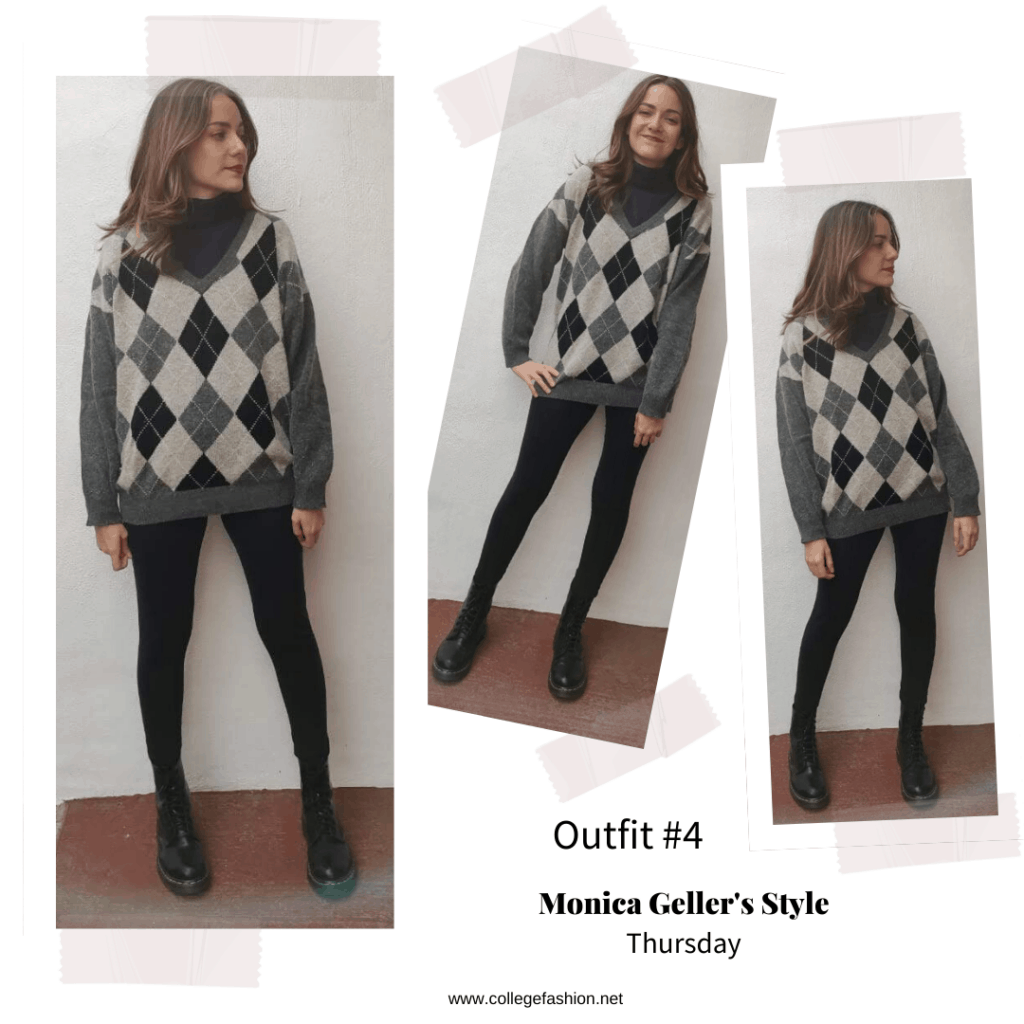 Similar items:
For my interpretation of this outfit, I started with a grey oversized sweater. Since mine doesn't have a turtleneck, I just added a navy blue turtleneck top underneath. Then, I paired the combo with black leggings and some black Doc Martens.
Unintentionally, this was the perfect outfit for this day. This was actually one of the coldest days of the week, and the fact that I wore a turtleneck and a sweater helped a ton.
Overall, this look was cozy, comfortable, and kind of edgy, so I loved it. I also kept using the red lipstick like I did on previous days and I think that elevated the look a bit more than any other element of the outfit.
Monica Geller's Style – Outfit #5, Friday
Finally, for Friday, I went for something very casual. During the episode, Monica can be seen wearing a white shirt, mom jeans, and a pair of loafers.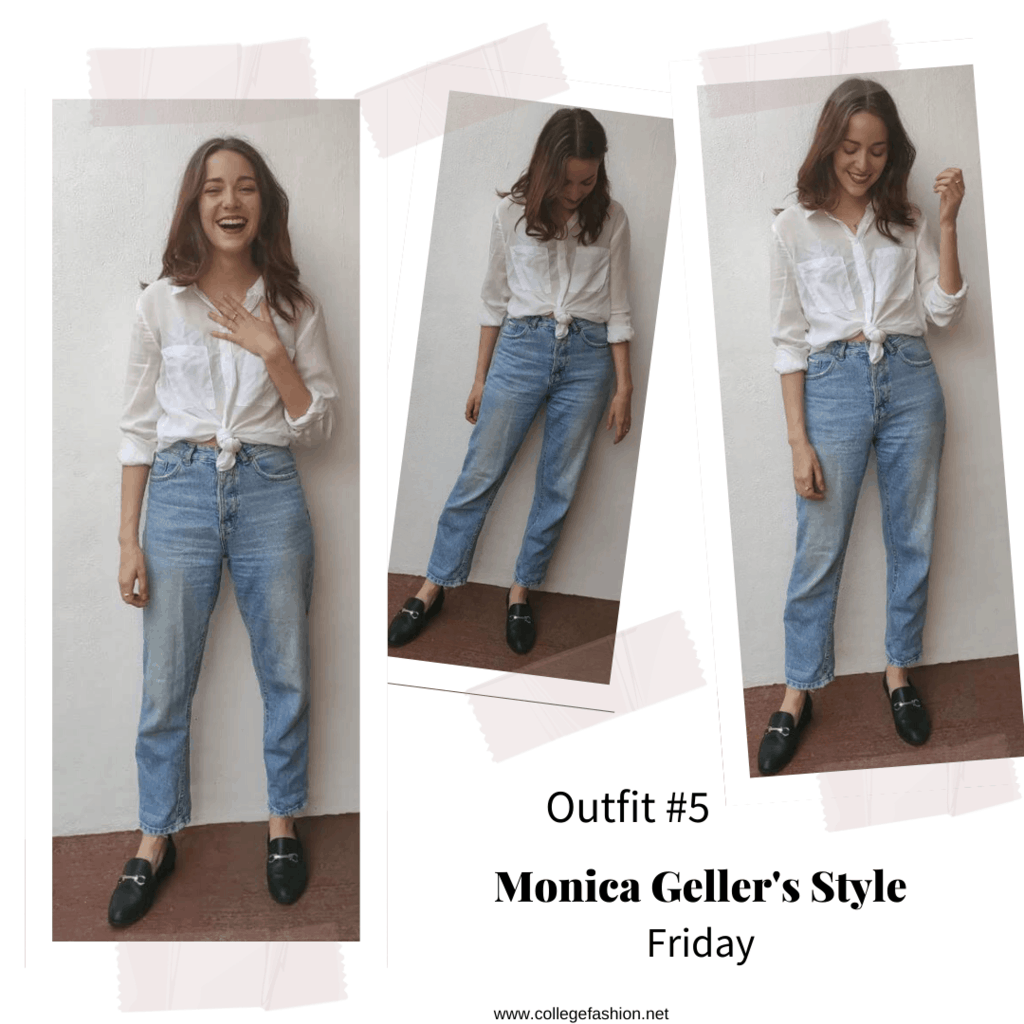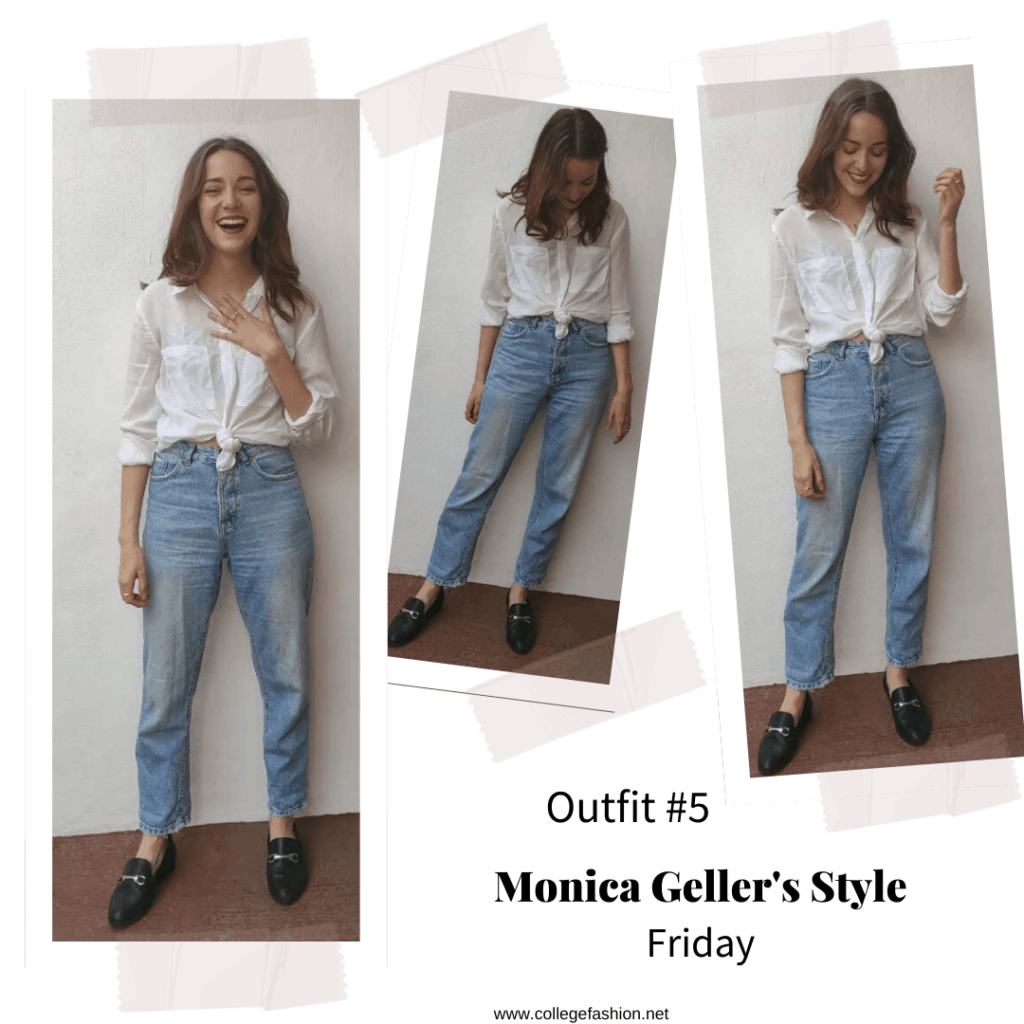 Similar items:
To do this Monica look, I used an oversized white Oxford shirt and the same mom jeans I wore on Tuesday. For shoes, I just borrowed a pair of black loafers from my sister. The finishing touch was, again, the red lipstick.
I think that out of all the outfits, this one was the one that kind of stayed in mere 'okay' territory. I just felt like there was something missing, like maybe a coat or a hat or something to just finish the look.
In spite of that, this outfit was comfortable and I didn't have any weird reaction from anyone. I did change to go out, though, just because it got very cold at night and I wanted to dress up a bit more for a Friday night.
Final Thoughts
Monica is a character that I cherish a lot. Her determination and stable personal life are inspiring, but I really love her protectiveness and sense of care for her friends. Her outfits show all of these elements of her character.
When dressing like Monica, there was never a moment in which I didn't feel cozy, comfortable or ready to just take on whatever the day could bring.
By contrast, Rachel's style, although comfortable, wasn't as consistent as Monica's and there was more thought put into making the day work for my outfit. With Monica, it was the other way around. The outfit answered to whatever the day demanded and this was a big help to me, to be honest.
My favorite outfit was the first one, because I had never worn suspenders and I ended up loving them. I'm going to be purchasing a pair for me, so I don't have to steal my dad's anymore. The rest of the outfits were equally comfortable and pretty, but I think that this one was the most different and the one that felt the freshest to me.
If you want to recreate Monica's style, go for it! You have every item in your closet, you might just have to borrow some accessories from your dad!
Without a doubt, copying Monica Geller's style is a great way to be both ready for anything and look good through the day. While it isn't outlandish or extravagantly "fashion," her style is cute and if you have an early class or you are running late to work, this might be the answer.
Now get ready for the next one, because I'm doing a part 2 on Rachel's style!
What do you think?
Are you a Friends fan? Which character is your favorite, style-wise? Do you like Monica's style? Are you excited for the next Rachel post? Let us know in the comments below!