This post may contain affiliate links, which means we may receive a commission if you purchase through our links. Please
read our full disclosure here
.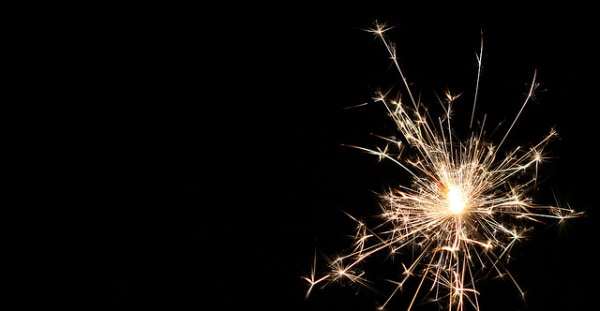 Mark Twain once said,
"New Year's is a harmless annual institution of no particular use to anybody, save as a scapegoat for promiscuous drunks and friendly calls and humbug resolutions."
He failed to mention sequins. And sky-high heels. And va-va-voom make-up. Yes, New Year's Eve is an excuse to put on your best party attire, toast to the good times, and dance the night away. And in my opinion, there's no better time to wear something sparkly. It's one night of the year when you're encouraged to dress to the nines — anything goes.
Regardless of whether you're hitting the hottest club or just staying home to watch the ball drop on the tube, infuse some sparkle into your New Year's Eve outfit with these tips and suggestions:
When wearing a sequined or sparkly garment, keep your jewelry basic. You don't want something that competes with your item's sheen.
Keep everything else simple. You don't want your outfit to get busy, so let one shiny garment stand out – the other items will act as accents.
Try one bright pop of color. If your sequined/shiny garment is neutral (such as black or white) pair it with another item in a bold hue for extra pizazz.
Stay classy, not tacky by balancing how much you reveal. An outfit that's tight and sparkly and sheer and has cut-outs might be too much for most party atmospheres. Those elements are all trendy in their own right, but combine them into one look, and you risk channeling a Jersey Shore wannabe – so proceed with caution!
Take beauty risks. Changing up your usual make up routine is a must for special nights out on the town. Try false eyelashes for an instant dose of glamor or put on a bold red lipcolor for a pout that's ready for that midnight kiss.
Now that you've read our tips for dressing for NYE, here are three New Year's Eve outfits under $100 each!
Outfit #1: Hot Pink & Hot Pants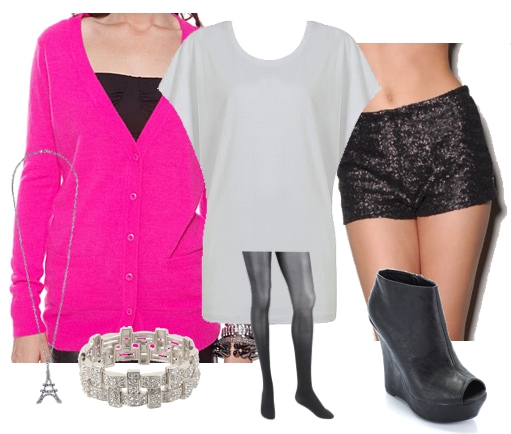 Product Info:Cardigan, Top, Shorts, Booties, Tights, Bracelet, Necklace
Sequined shorts are a modern, trendy way to add sparkle to your outfit. They're unexpected, sexy, and fun – everything a proper New Year's Eve look should be! Wear them with opaque tights so they're cold-weather-ready. The tights, paired with dark wedge booties, will make your legs look mile-long. Tuck a loose-fitting white top into the shorts to balance the proportions of the ensemble. Finally, slip on a hot pink boyfriend cardigan for a fabulous pop of color and warmth to boot.
Outfit #2: Sophisticated Sparkle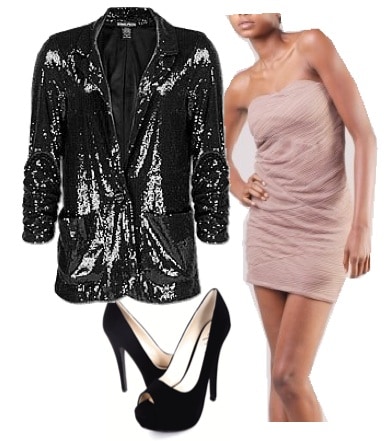 Product Info:Blazer, Dress, Heels
This luxe look is sure to turn heads at any New Year's Eve shindig. With a neutral dress and classic shoes, the bedazzled blazer takes center stage. But that micro-mini dress is fabulous in its own right, too; the color may be basic, but the crisscrossing layers of tulle are anything but. Because the sparkly blazer makes up a majority of the outfit, jewelry isn't necessary.
Outfit #3: Dancing Queen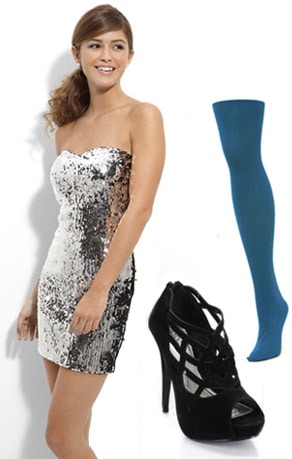 Product Info:Dress, Heels, Tights
Light up the dance floor in a disco-worthy sequined dress, a New Year's classic. This sparklicious number has a flattering sweetheart neckline and a simple shape that works on most body types. For an unexpected jolt of interest, wear with opaque, jewel-toned tights like these teal ones. The black shoes play off the black accents in the dress, and the cut-outs on the heels allow the teal to come through, making your legs look super long!
Beauty Bonus: Try these on NYE!
Liven up your beauty routine for New Year's: Try a bold lip, smoky eyes or sparkly nails!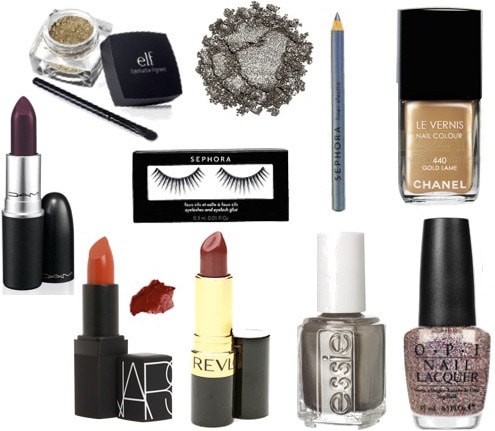 Product Info: (Clockwise) Gold Shadow, Silver Shadow, Glitter Eyeliner, Gold Nail Polish, Sparkle Nail Polish, Silver Nail Polish, False Eyelashes, Berry Lipstick, Red Lipstick, Plum Lipstick
What do you think?
What are you wearing for New Year's? Do you usually dress up and go out, or stay home and watch the celebration? Do you have any NYE traditions? What do you think of these outfits? Please leave a comment!