The "Fabulous Find of the Week" column gives you the heads up on all the hottest, most affordable items at your favorite stores!
Hello beautiful ladies! Merry Christmas to everyone. Can you believe that this year is almost at an end? Where has the time gone? It seems just like yesterday that we were celebrating the start of 2018.
For this New Years, we have you covered in the accessory department. We found the perfect clutch that will keep you stylish as the clock strikes midnight. Whether you're spending the special evening up North where it's cold or at a tropical beach, this clutch is perfect for all locales.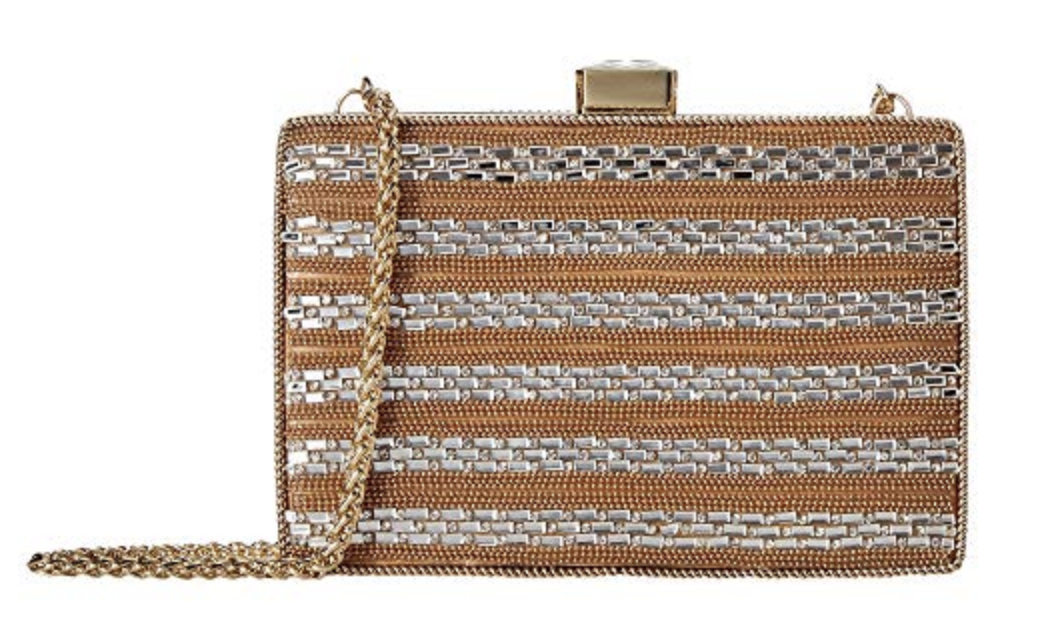 Gold and silver isn't always the easiest combination to make work, but this clutch nails it! I love the intricate rhinestone embellishment that will keep you sparkling all night long. Not to mention, this amazing clutch is 70% off! Originally priced at $102, can get it at 6pm for only $30.99! It's such an amazing deal. It's not exclusive to the winter so you can wear this gorgeous piece all year long!
Casual and Preppy New Years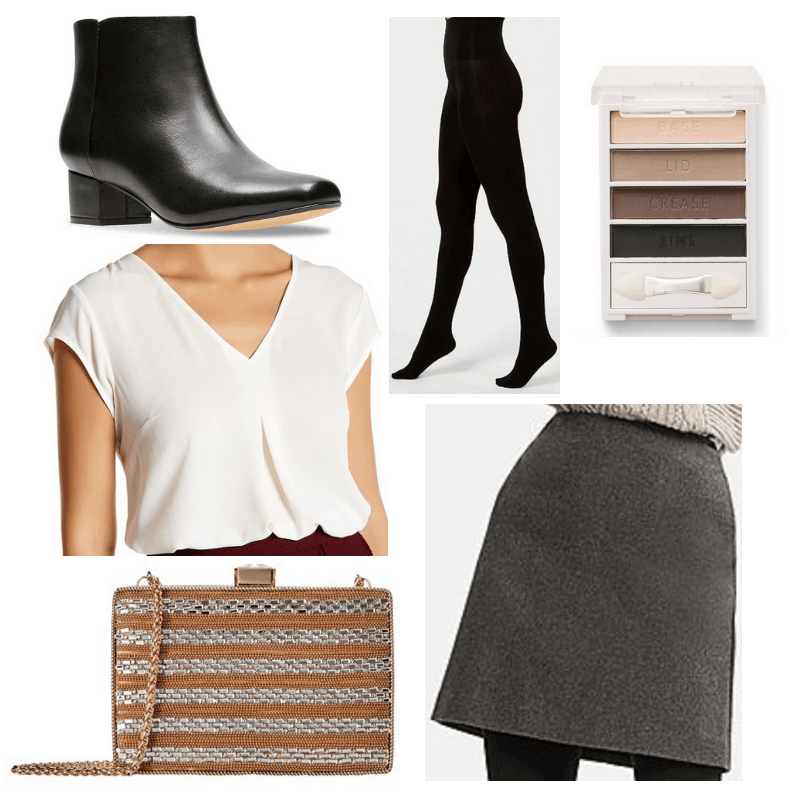 Products: Boots – Clarks (DSW), Blouse – DR2 (Nordstrom Rack), Clutch – Adrianna Papell (6pm), Eyeshadow – elf, Tights – Spanx (Macy's), Skirt – Uniqlo
This is the perfect preppy and casual new years outfit. I adore the skirt. Uniqlo always has such great pieces and the cut of this skirt is so flattering. The wool material will be sure to keep you warm throughout the cold winter days.
I'm a HUGE fan of elf makeup. Not only is it affordable for us college girls, but it's also such great quality. If y'all haven't tried this palette, you have to! There are 4 different colors and it tells you where you should apply each of them on your eye to get the perfect look. It's foolproof and the colors are beautiful on.
Little Silver Dress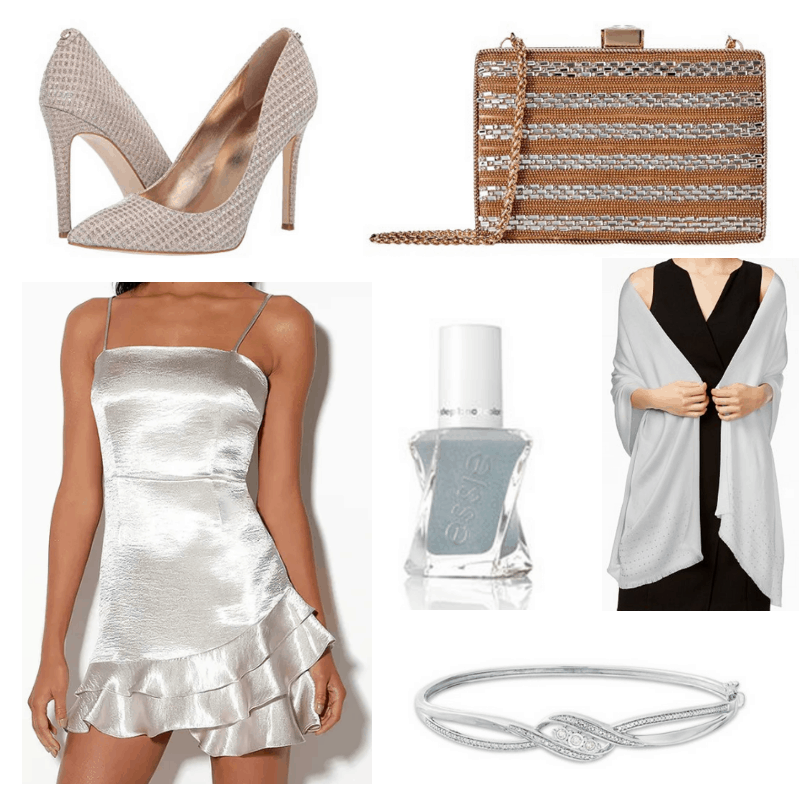 Products: Bracelet – Zales, Shawl – INC International Concepts (Macy's), Heels – Guess (Zappos), Dress – Lulu's, Nail Polish – Essie, Clutch – Adrianna Papell (6pm)
This is the perfect new years outfit for a fun party with friends. I love the Lulu's dress; Lulu's always has perfect pieces for college girls and their quality is fantastic. You could easily reuse this dress for a formal or party next semester, too!
I think shawls are very underrated. As a young girl, I always saw my mom wearing them but most girls of our generation don't so much. I think we need to bring them back because they're beautiful and practical. Not only do they protect you from the cold, but they're so elegant! If shawls aren't your thing, though, you could totally pair this with a dressy coat.
Shine Bright, 2019!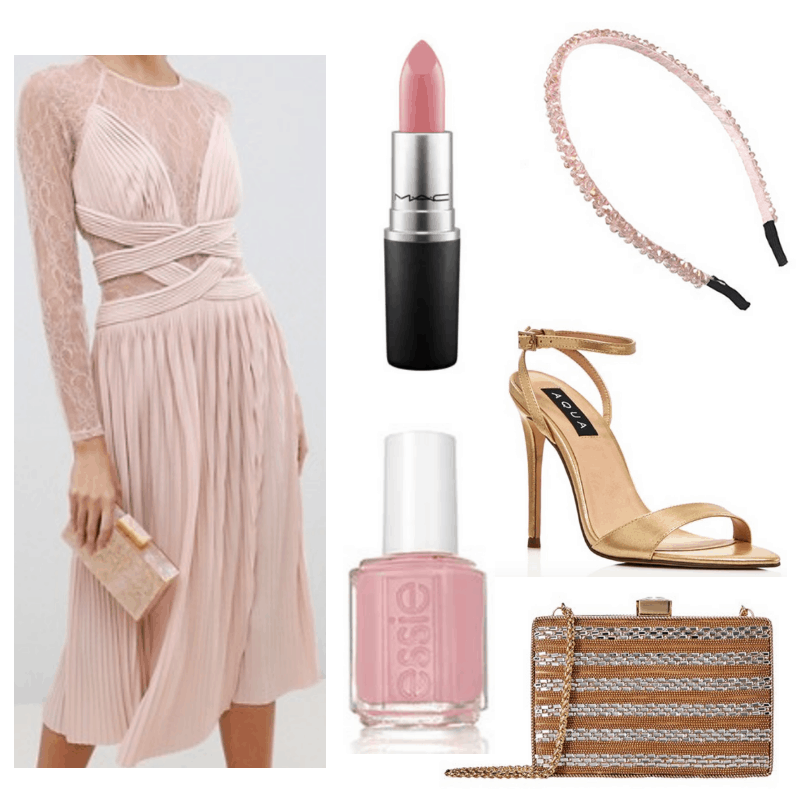 Products: Nail polish – Essie, Heels – Aqua (Bloomingdales), Dress – ASOS, Clutch – Adrianna Papell (6pm), Lipstick – MAC, Headband – Royal Bridal (Amazon)
I'm in love with this outfit. I think the combination of blush pink and gold is so elegant and ladylike. The dress is perfect for an evening out or a formal event. It will ensure that you're shining and beautiful as 2019 begins.
If you have read my past articles, it's no secret that I'm a big fan of headbands. They're my favorite preppy accessory and I think they make any outfit better. This beaded blush headband goes perfectly with the color scheme of the outfit and will make a great addition to your wardrobe.
What did you think about this week's Fabulous Find?
Do you like this clutch? Are you a fan of Adrianna Papell? What are your favorite styles of bags? What have been your favorite winter trends so far? Start the convo below!