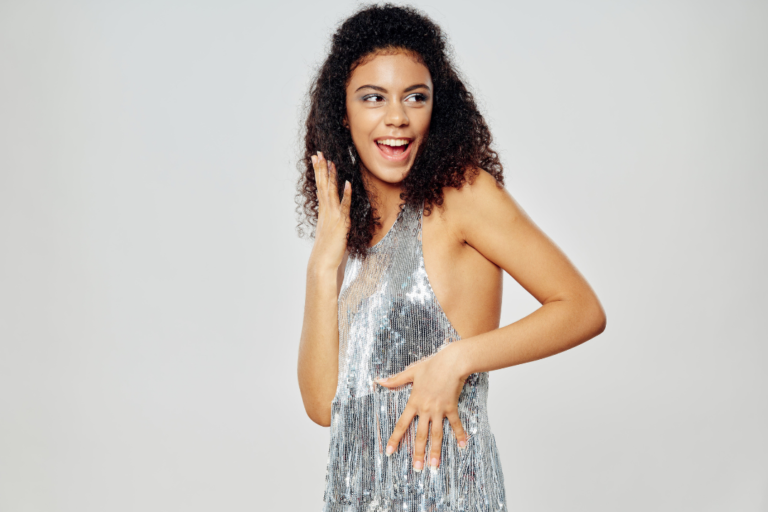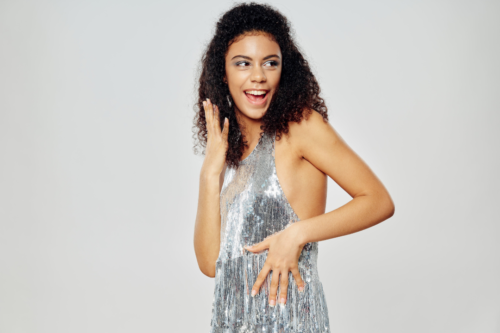 If you've been to a shopping mall or browsed online boutiques lately, you may have noticed that sequined items are everywhere this season. Sequins are the perfect way to add some festive flair to your holiday party looks, or just to inject some sparkle into an everyday look. But do sequins make you think of ugly holiday sweaters and other fashion disasters? Never fear – you can absolutely wear sequins without looking tacky!
That's why I created the ultimate guide to wearing sequins. Read on for some fashion tips, outfit ideas and more:
Some Simple Tips for Rocking Sequins
Stick to only one sequined item per outfit. Any more than that and people might confuse you with Edward Cullen's sparkling bod. After all, you want the sequins to be the focus – you don't want to look like a disco ball.
Since sequins are such bold pieces, go minimal on the accessories. A sleek bag or a simple piece of jewelry is all you need to make a stylish impact.
That being said, don't be afraid to play with color. Try a sequined item in a bright hue or add a pop of color elsewhere in the outfit.
Remember that balance is key. Pair sequined pieces with wardrobe staples like jeans and t-shirts to achieve the perfect blend of glam and low-key.
Three Ways to Wear Sequins
If you need some inspiration before you try out sequins, here are three looks that incorporate a sequined dress, skirt and top.
How to Wear a Sequined Dress: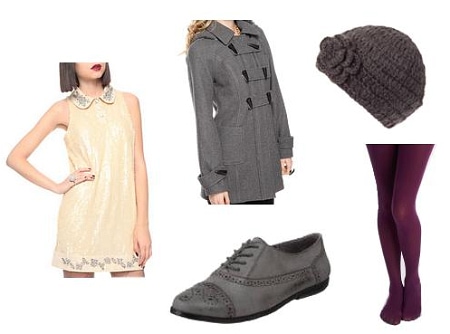 Dress, Coat, Hat, Oxfords, Tights
Although sequined dresses are usually associated with nighttime looks, I wanted to use this pretty peach-colored dress to create an outfit that was appropriate for day. Pairing the dress with these plum tights adds a pretty pop of color, while the gray overcoat makes this outfit warm enough for a chilly day. Accessorize with a knit hat and some oxfords, which help make the outfit perfect for daytime.
How to Wear a Sequined Skirt: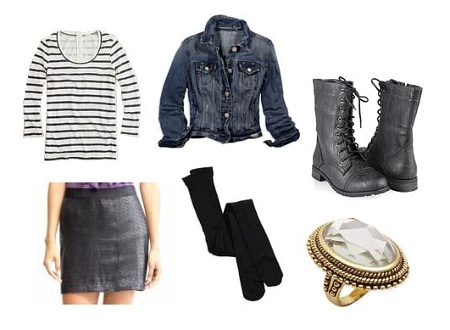 Top, Jacket, Boots, Skirt, Tights, Ring
This skirt is a great option if you aren't a huge fan of sparkling pieces. It's still sequined, but since the sequins are matte, it gives off an understated vibe. If you want to make an impact, try wearing a sequined skirt with a basic cotton top in a simple pattern — like stripes. Although I'm usually not a fan of jean jackets, I really like the contrast between the feminine sequins and the rugged feel of denim. Add some opaque tights and lace-up boots to create a stylish everyday look. Finally, accessorize with a simple yet gorgeous oversized ring.
How to Wear a Sequined Top: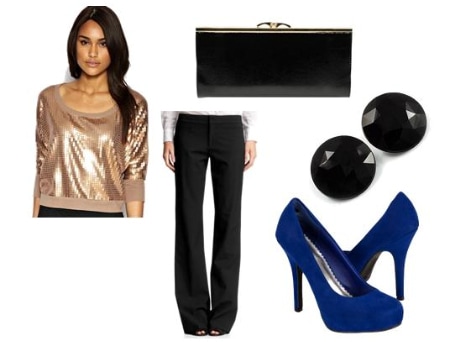 Top, Clutch, Trousers, Earrings, Pumps
Sequins are always a great option to wear at night and this metallic top is no exception. Wear it with some simple tuxedo-style trousers to create an understated yet glamorous look. Accessorize with a sleek black clutch and simple stud earrings. Finally, add some basic pumps in a bold hue, like this royal blue pair.
Other Stylish Sequined Items
Since it was so hard to narrow down which sequined pieces to use in the above outfits, here are some other fab sequined items I came across on my search.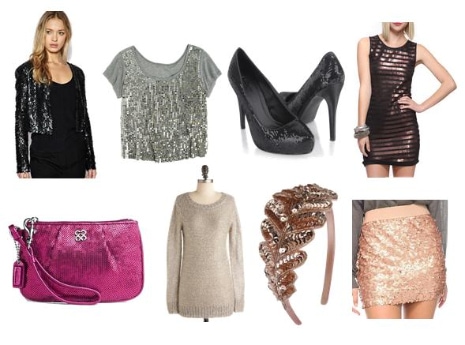 Top: 1, 2, 3, 4 Bottom: 5, 6, 7, 8
I included some alternate options for a sequined skirt, top and dress as well as a sequin-encrusted jacket. If you aren't ready to wear sequined clothing yet, try incorporating a sequined accessory like shoes, a bag, or a headband. Also, you could try a piece that only has a few strategically placed sequins, like the sweater on the bottom row.
What do you think?
Would you wear sequins? Do you already have some sequined pieces? Which outfits would you wear? How would you wear sequins? Be sure to leave a comment and let me know your thoughts!