This post will show you how to style sequins and metallics for everyday life.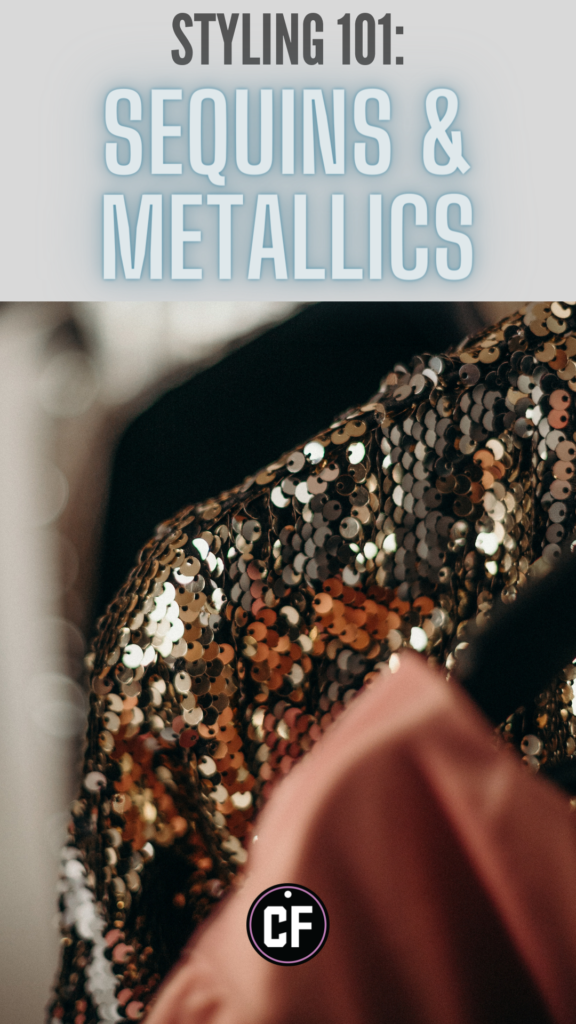 Fashion is fun. Styling an outfit is a fantastic way to get your creative juices flowing. But, sometimes (and for some of us), it can be overwhelming. Look, I get it. It's a fast-paced, ever-changing industry. Trends and styles come and go in the blink of an eye. It can be too much to handle if you are dipping your toes into the pool of fashion for the first time.
I'm here to help.
In this series, I'll give you styling advice for some of the most confusing and difficult styling areas. I'll outline all my tips, tricks, and hacks to help you create amazing outfits. Also, I'll exemplify everything in three degrees of difficulty so it can be easier to see what you can do.
This week, I'll give you all the tips and tricks for styling sequins and metallics.
What *IS* Up With Sequins & Metallics?
First, let's get technical. What are sequins? What's a metallic fabric even called?
In fashion, sequins are small, almost always shiny, ornaments sewn into clothes. They're known by a ton of names.
In English, we usually use them to differentiate the type of sequin used. Diamantés are diamond-shaped sequins or artificial crystals. Paillettes are typically round, big, and flat. This type is what you associate with the noise sequins make. Sequins and spangles are almost the same, except for the placement of the hole used to sew them in. Spangles have the hole at the top, sequins in the middle.
Sequins and diamantés may be stitched flat to the fabric, so they do not move and are less likely to fall off and make noise. Spangles and paillettes are stitched at only one point, so they dangle and move easily, catching more light.
Now, metallics are not as specific. Most fast-fashion metallic items you'll see are made of fabric coated with metallic paint.
But, there are two other important metallic fabrics to note: lame and Lurex.
Lamé is a type of knit comprised of a metallic fiber wrapped with natural and synthetic fibers.
Lurex is actually a brand. This name is used for a proprietary yarn they created. It is yarn made from a synthetic film that has been layered with vaporized silver, aluminum, or gold. In fashion, we use the term Lurex for the actual yarn, the resulting fabric, clothes created with that, or, generally, that metallic appearance in clothes.
How to Wear Sequins & Metallics: Tips, Tricks, & Hacks
As much as I love wearing sequins and metallics, they're not generally considered casual. They shine, they are noisy, they demand to be seen. Usually, most people find it hard to style them for everyday life, instead, they think of them as just occasion-wear.
So, how can you take these materials and wear them on a casual Tuesday? That's what I'm here for. These are my tips and tricks on how to wear sequins and metallics for an everyday style:
Start small. If you want to gain confidence first, start by adding smaller items to casual outfits. Try a silver belt or a sequined purse. It will immediately transform your look.
Warm goes with warm; cold goes with cold. Silver is cool-toned, and gold is warm-toned. To pair them seamlessly when starting, pair silver with cool-toned colors and gold with warm tones for a cohesive look.
Again: neutrals, neutrals, neutrals. Add shine to a neutral outfit by swapping one of your neutral items with a sequined or metallic one. Just remember, swap a cool tone for a cold shine, a warm tone for a warmer metallic or sequin.
Neons are your BFFs. Neons were made to shine, just like sequins and metallics. Silver, in particular, works amazingly with neons. Add glittery or metallic accessories to a neon look or vice versa.
Consider some subtlety with your shine. There are subtler metallics and sequins out there. Metallic mesh, lamé, and lurex fabrics can have a more understated shine.
Try monochromatic looks with depth. Pairing a metallic or sequined item with similar colors create an effortlessly cool look.
Don't forget layering. Sequined and metallic work great as layering pieces, especially in colder weather.
With all that in mind, let's get to the outfits.
A Quick Note on Cool vs. Warm:
Just a quick disclaimer before we get to my outfits: I generally lean more toward cooler-toned metallics and sequins. This is why most of this post will deal with silver items.
That's more of a personal preference than an educated choice on which suits me better: silver or gold. I believe that silver does, but I'm not 100% sure. It's just what I like the best. If you have similar features to mine, don't feel obligated to make a switch if you prefer to wear more gold.
Sequins & Metallics Outfits: Fashion Guide
Easy Outfit #1
So, let's start small. Adding a metallic or sequined item to an otherwise classic look can make it more modern and stylish. This is also a great first step if you don't want the attention a full sequin or metallic outfit can bring.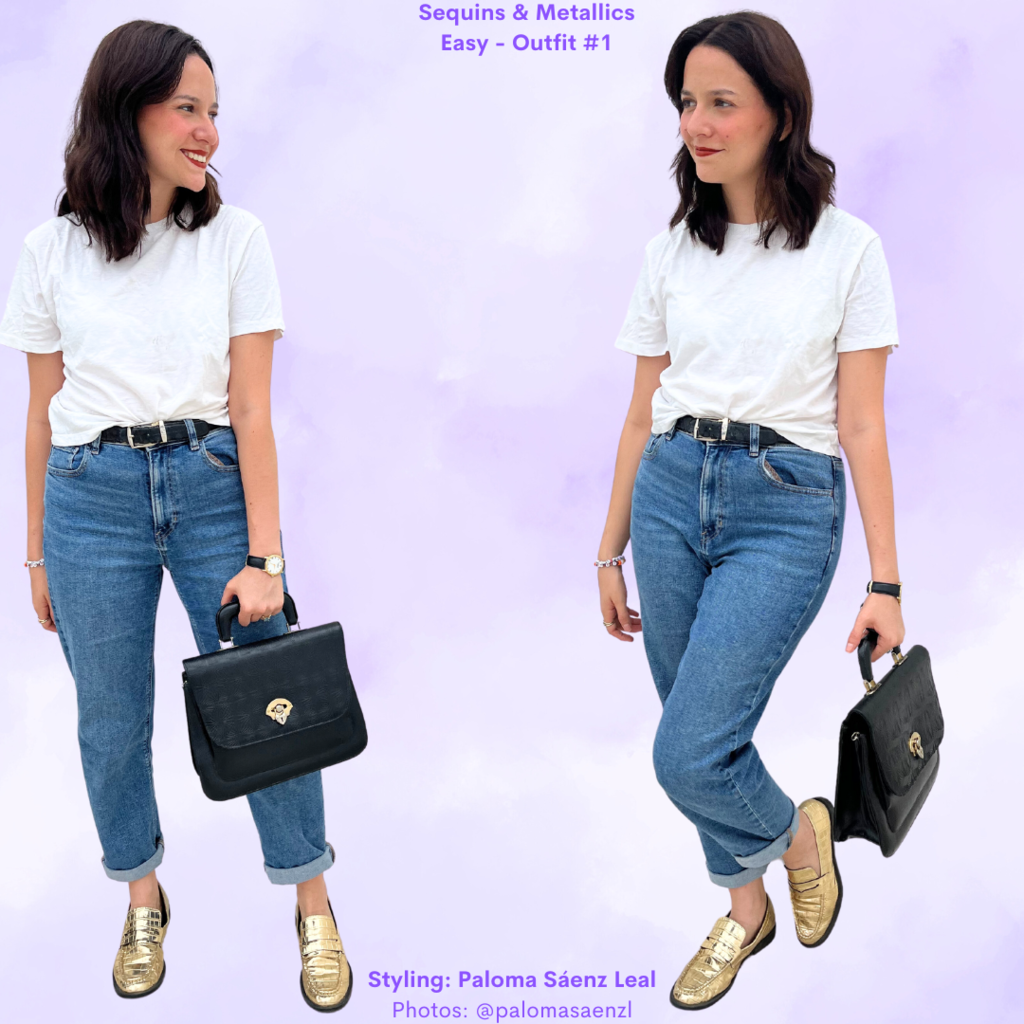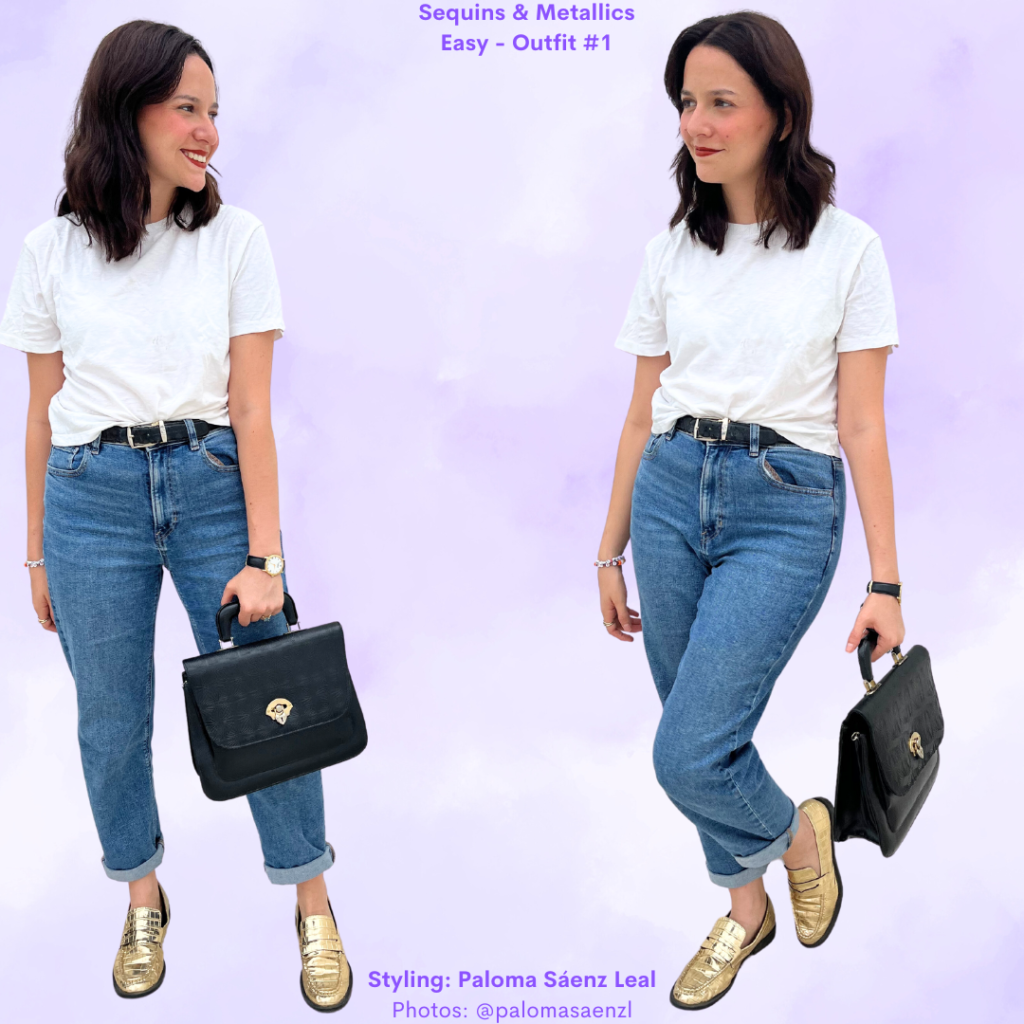 Take this look I created as an example. I threw on a casual, everyday look for me.
First, I wore a white T-shirt and a pair of medium-wash jeans. Then, I accessorized with my favorite black belt.
Instead of going for my white sneakers, I swapped those with a pair of gold loafers. The gold of the shoes ties in with the gold buckle of the belt.
Finally, I grabbed a black purse with a tiny gold detail.
It's a simple change, but swapping your everyday sneakers for gold loafers makes a basic outfit look more unique and put-together.
It is really easy to choose what type of metallic to add to an outfit when you look at everyday accessories like belts, your everyday jewelry, and purses. For my outfit, gold worked better because the belt buckle and the purse's hardware were also gold.
Easy Outfit #2
Keeping the smaller items in, let's play with tone. As I mentioned before, the shine of metallics and sequins brings neutrals to a whole new level. So, if you are wearing a neutral monochromatic look that has a lot of matte fabrics in it, adding sequins or a metallic accessory or shoes brings a lot of depth and basically functions as jewelry for your look.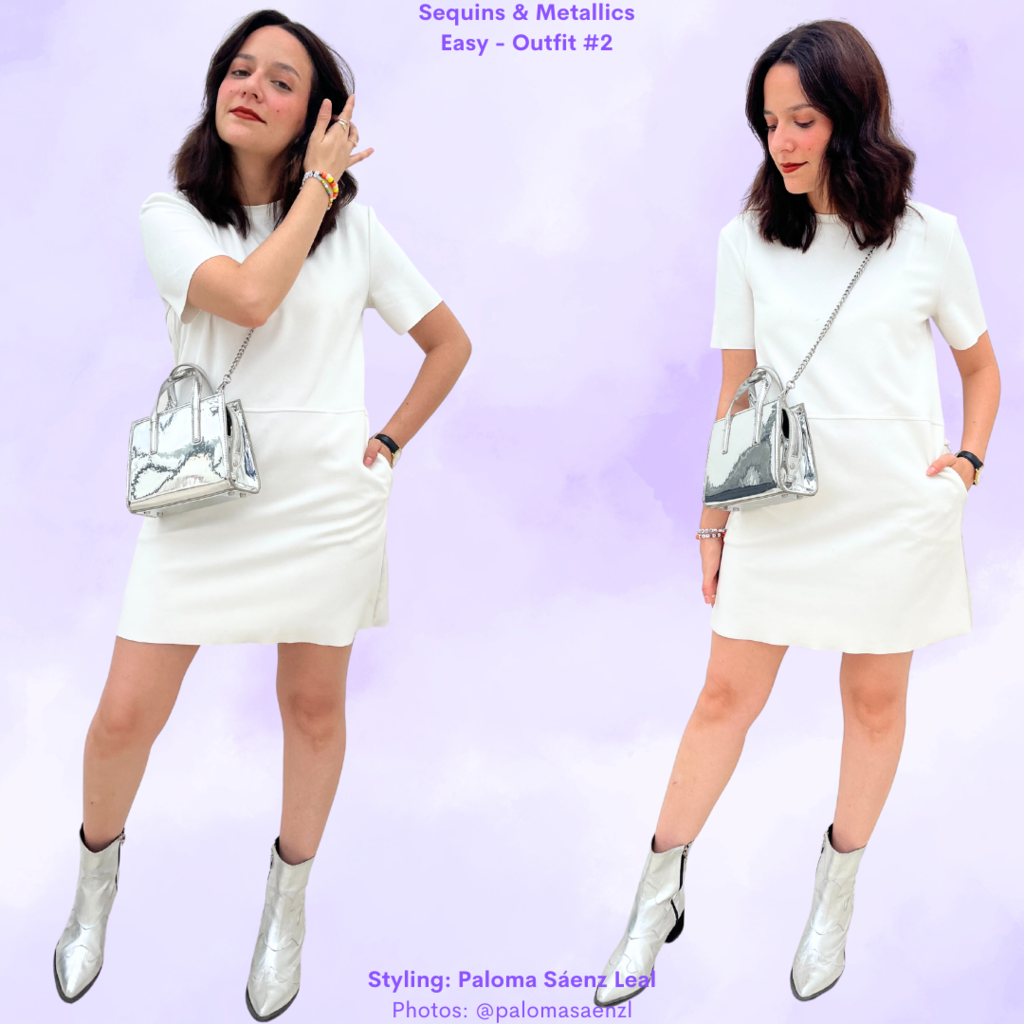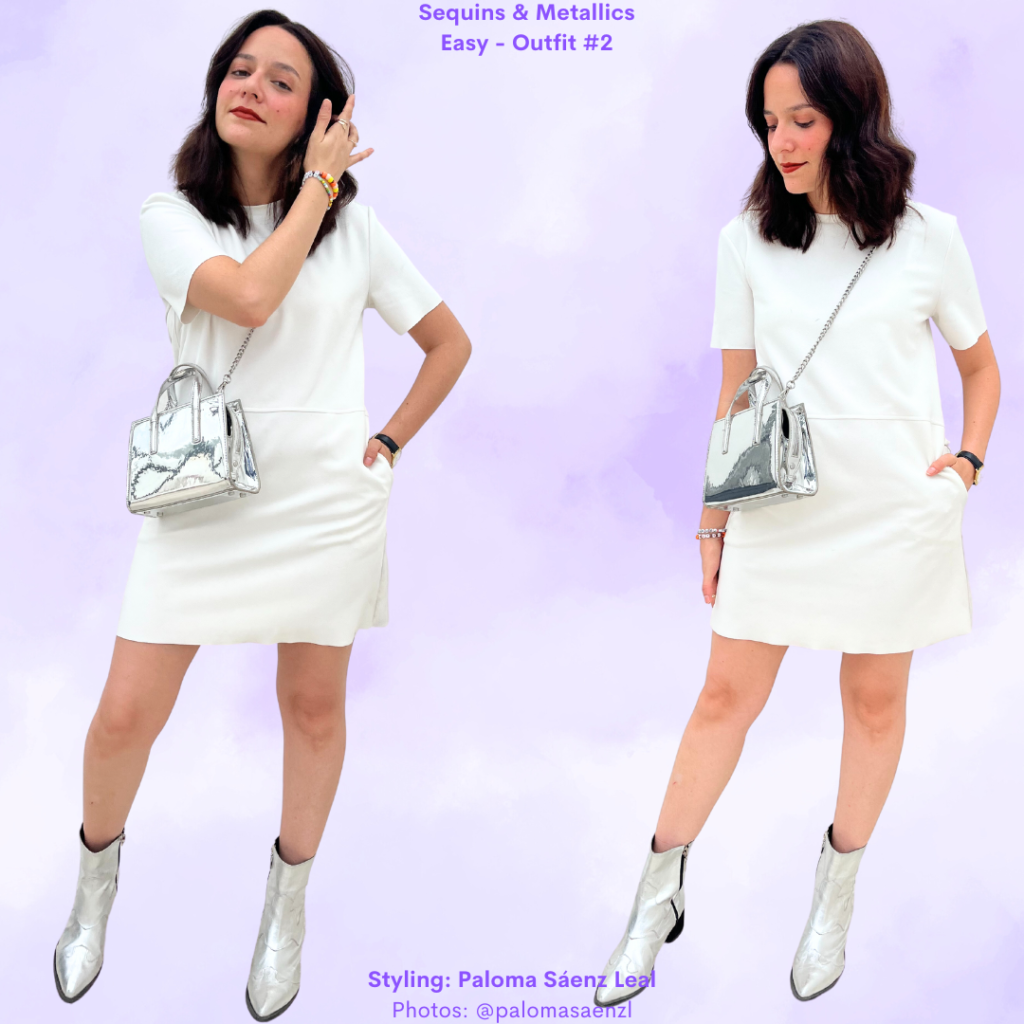 Now, look at my outfit. This is just a classic white dress in a matte fabric, that's almost like suede. I could easily wear this with white booties or sneakers and a simple white bag. Or I could go with contrasting black shoes and accessories. But, for the sake of this post, I switched those for a pair of silver cowboy boots and a structured mirror bag.
I love this dress; it's the perfect layering piece. It's a classic cut that works year-round. But, sometimes, such a blank canvas can be difficult to wear without it feeling boring. By adding a metallic accessory and shoes, I can wear it on its own or add a classic denim jacket without feeling drained.
When you are tackling neutrals and metallics, you still have to consider warm and cool tones. Off-whites, beiges, browns, and warm greys look amazing with gold and copper. Crisp white, black, navy blue, and dark or cooler greys almost shine with silver. So, for this bright white dress, I immediately leaned toward silver.
Easy Outfit #3
For our last "start small" look, let's work with another classic, everyday look: an all-black monochromatic outfit. This is the sort of look we all have turned to in times of need. It works for the office, for a night out, for a casual day running errands. We've all worn it as our first and last resource.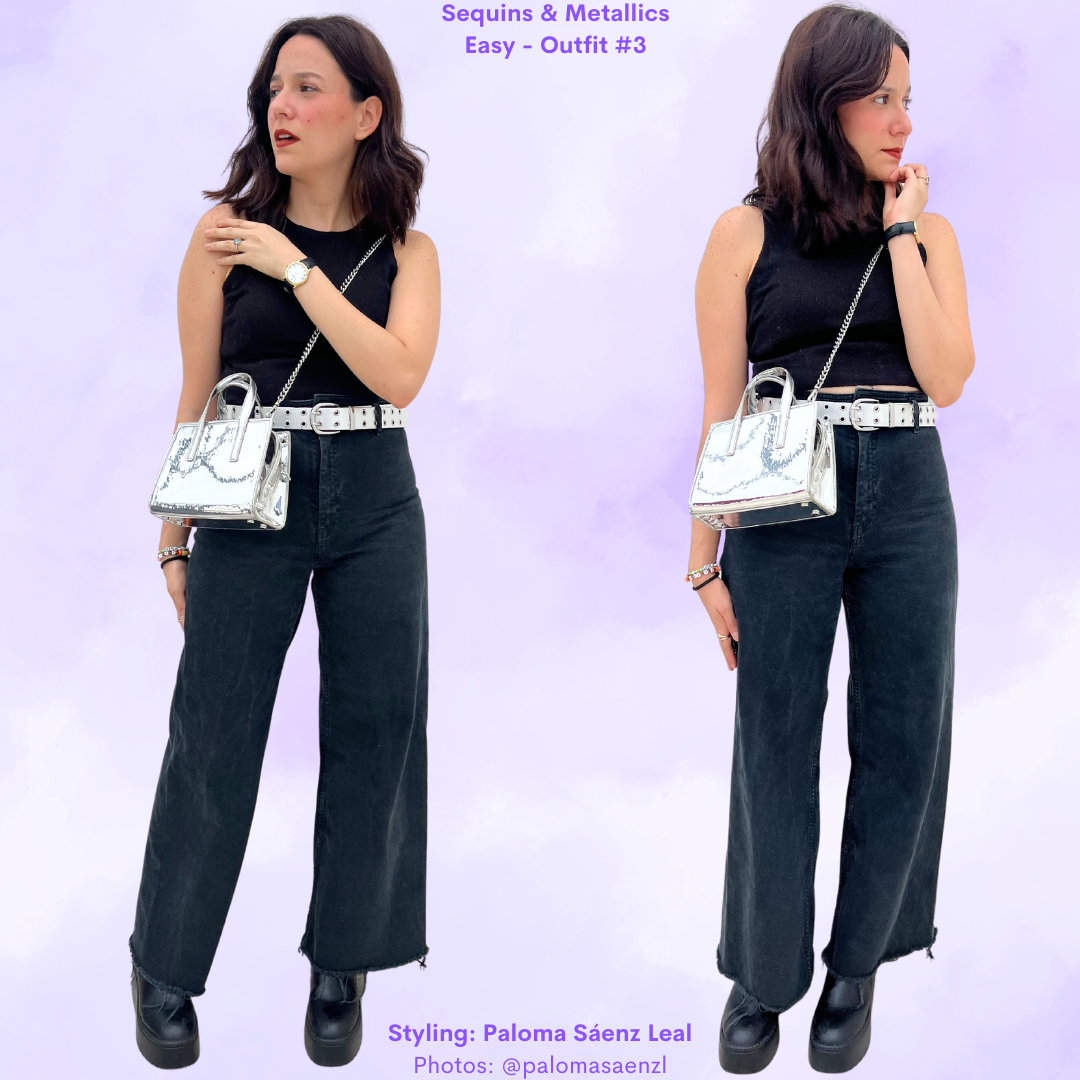 But like any other failsafe, we can get bored of it. The base of my look consists of a simple black tank top and a pair of loose, black trousers. Then, I added my black platform boots. I usually accessorize this monochromatic look with a black belt and a black purse, but, to give it a twist, I chose a silver belt and the same structured mirror bag I used for the last look.
Again, the shine of the accessories gives this classic outfit combo a modern twist. It breathes life back into what is a comfortable, simple choice. It is basically the same look as when I wear a black belt and purse, but the silver adds an exciting element without compromising the simplicity and comfort of the look.
Medium Outfit #4
The best partners for sequins and metallics are neon colors. It is a loud choice, but, it depends on what type of metallic or sequin you choose to wear with neon. If you want to try this combo for the first time, smaller sequins and lamé are great choices to use in your outfit.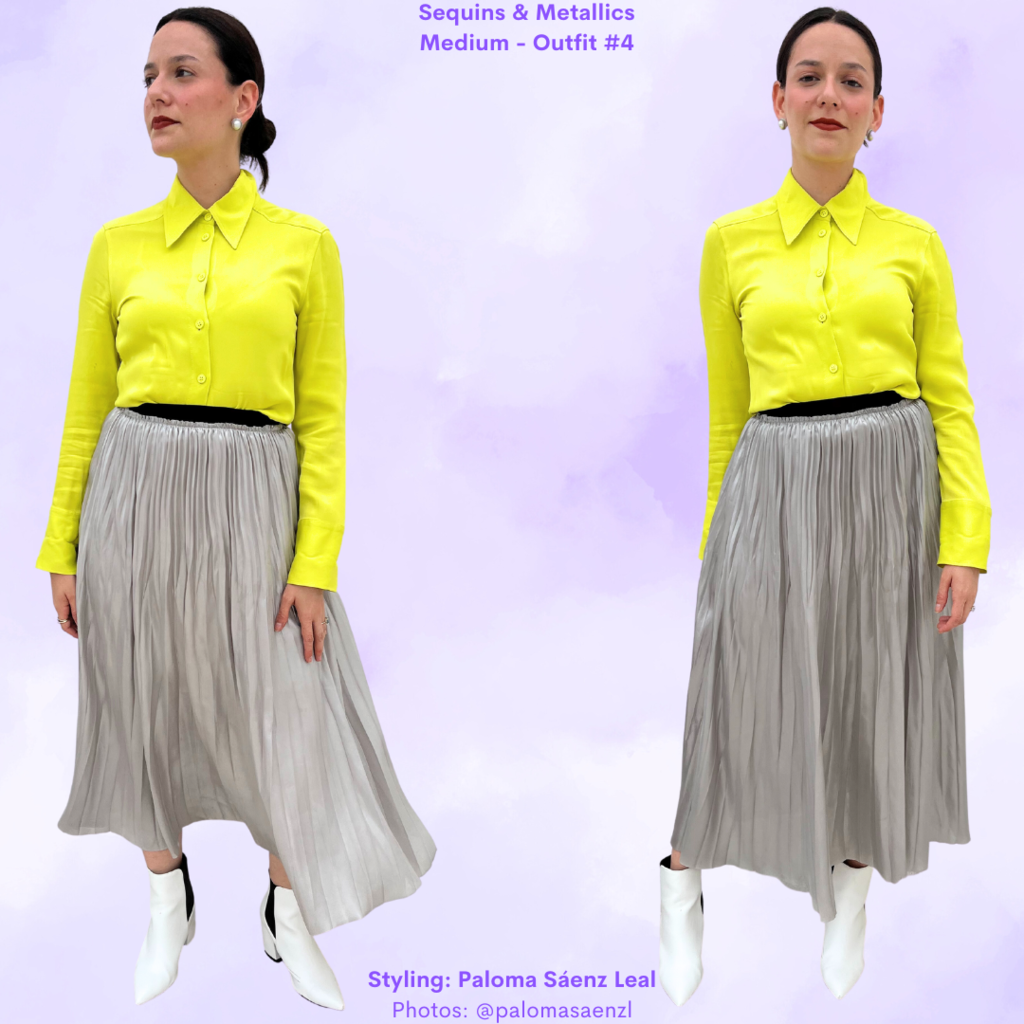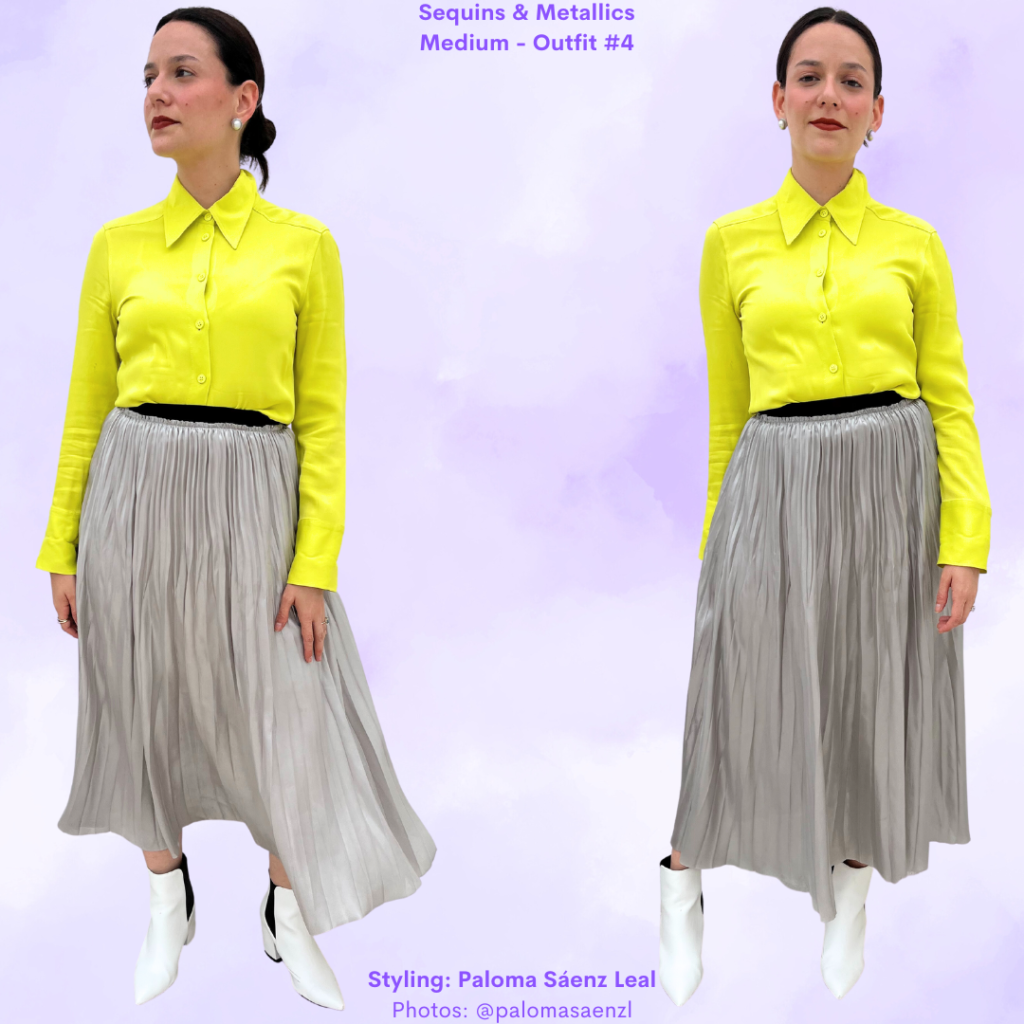 For example, I styled this look with silver and neon yellow. I started off with a yellow neon satin shirt and paired it with a silver midi skirt. Then, for shoes, I put on a pair of crisp white booties. Finally, I accessorized with silver earrings.
One important thing to note: all the colors I used for this look are cool-toned and bright. The white booties are as reflective as the neon shirt and the silver skirt. Black booties could've worked, but I would've lost that echo of brightness in the shoes.
This skirt was the first metallic item I ever bought and it has been in my closet for about eight years. The fabric of the skirt is a bit more matte than other shiny materials, so it is really easy to dress up or down.
This is also an excellent example for anyone who wants a subtler metallic in their closet. Look for flowy materials; they are usually a blend of organic and synthetic fabrics, which results in a much subtler shine. The more rigid the fabric is, the more it will probably shine.
Medium Outfit #5
Now, what do you do when the color and the shine are in the same item? The most straightforward answer is usually the same: neutrals. Pair that bright item with a neutral, classic one.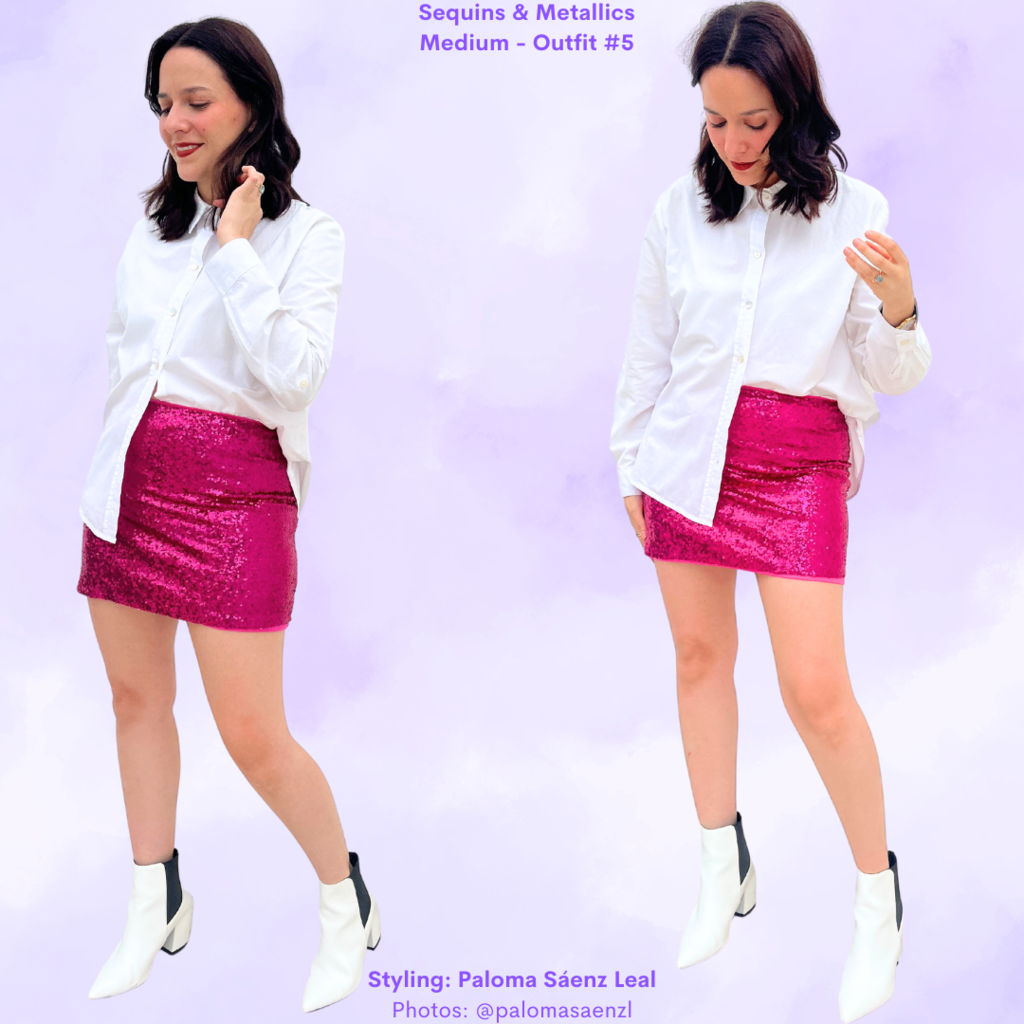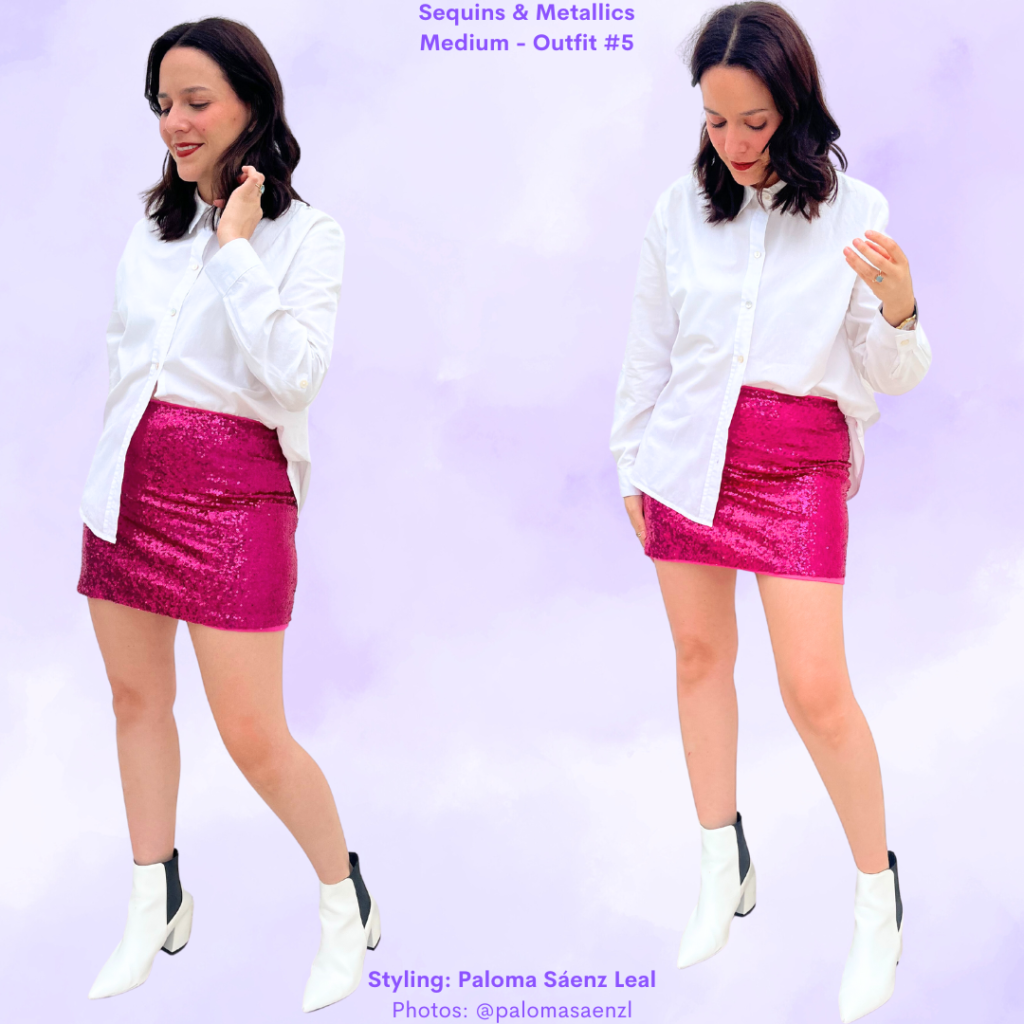 Here's an example of what I mean. The focal point of the above look is, obviously, the pink sequined mini skirt. It is a bright pink, so I needed an equally bright neutral. I wore an oversized white Oxford shirt and tucked it in halfway. Finally, for shoes, I went with the same white booties I wore for the last outfit.
This is a bright skirt, and it demands an equally bright neutral. If you are going for an outfit like this, you must match the rest of your look to the focal item. The best neutrals to pair with colorful metallics and sequins are saturated, bright neutrals: Think crisp white, true black, and bright royal blue.
Medium Outfit #6
For this look, we move on from color into layering territory. Layering is always a good idea. Let's start with a simple black-and-white look sprinkled with a little bit of sparkle.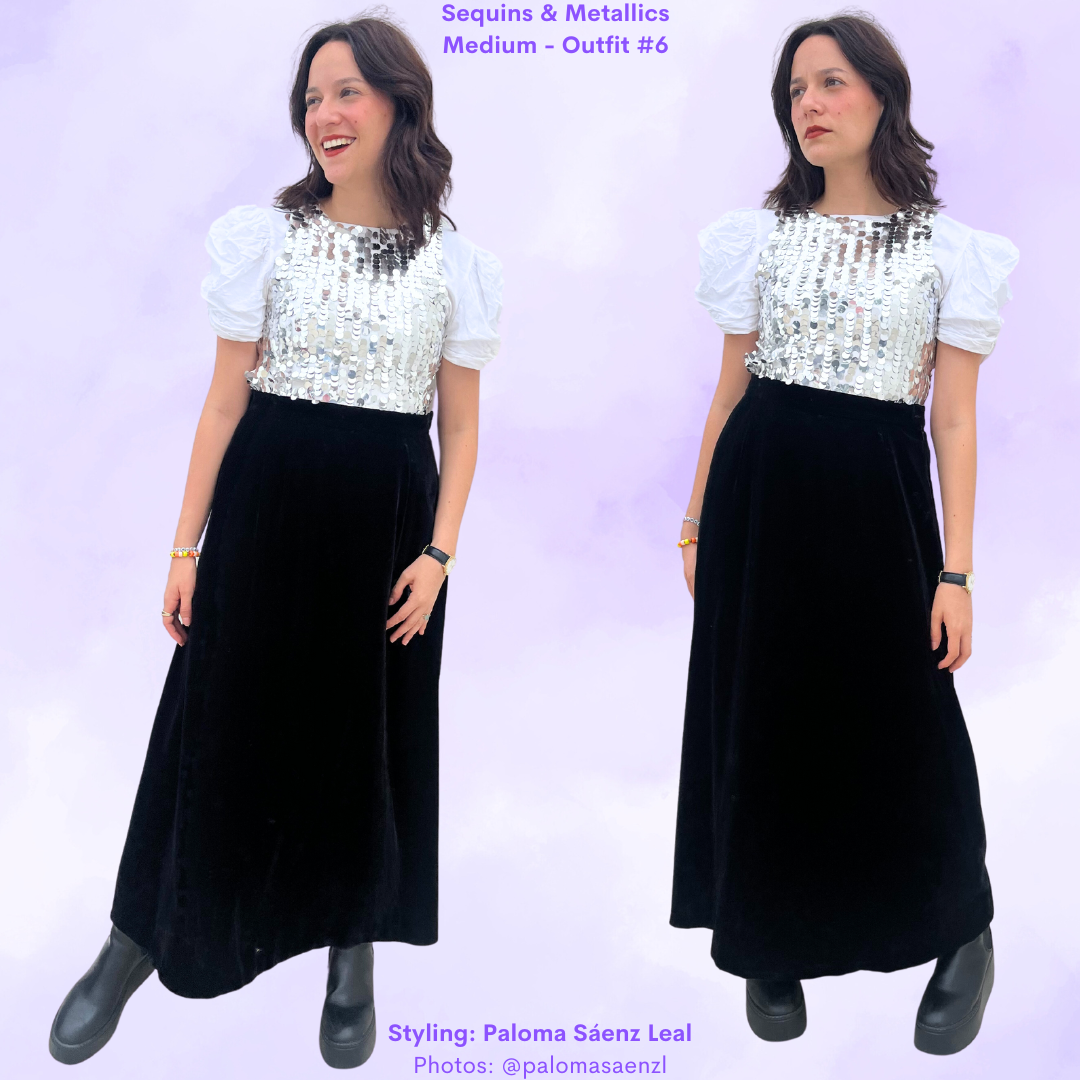 To create this look, I first chose a white shirt with balloon sleeves. Then, I put on a long black velvet skirt and tucked in the shirt. For shoes, I just wore my black platform boots. A perfectly good black-and-white look, right? Now, let's add brightness with a silver sequined tank top and wear it as a vest.
See how easy it is to transform a look with just one item? Two elements make this work: the sleeves and the tank top. The balloon sleeves make the fit of the tank top look like a vest. And the sequins are paillettes, so they're bigger and catch more light, echoing the size of the sleeves.
Difficult Outfit #7
Now, let's add a subtle shine to our layers. Mesh is very in right now. And metallic mesh is all over the runways and in every street-style photo. It's a great tool in any closet, but it can also be daunting and hard to wear. Let's see a not-so-daunting way to create an outfit with metallic mesh.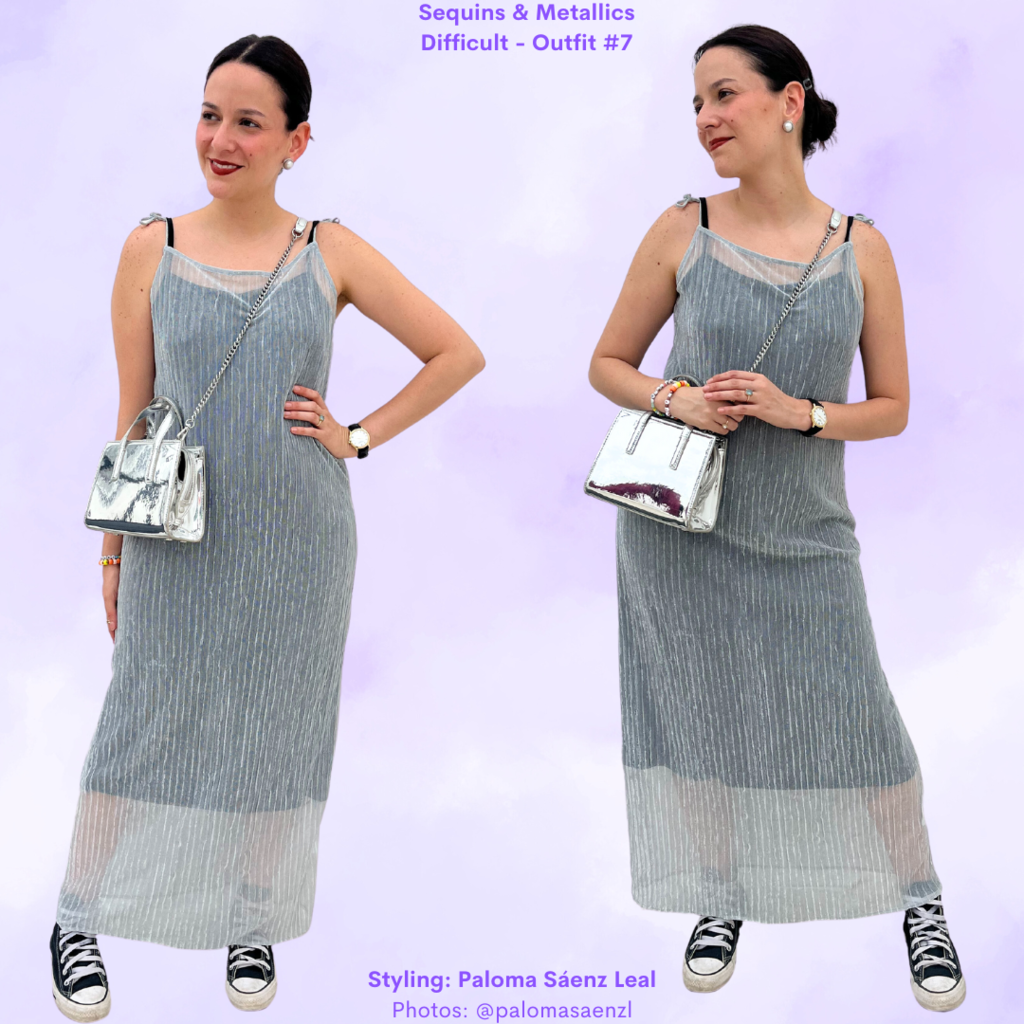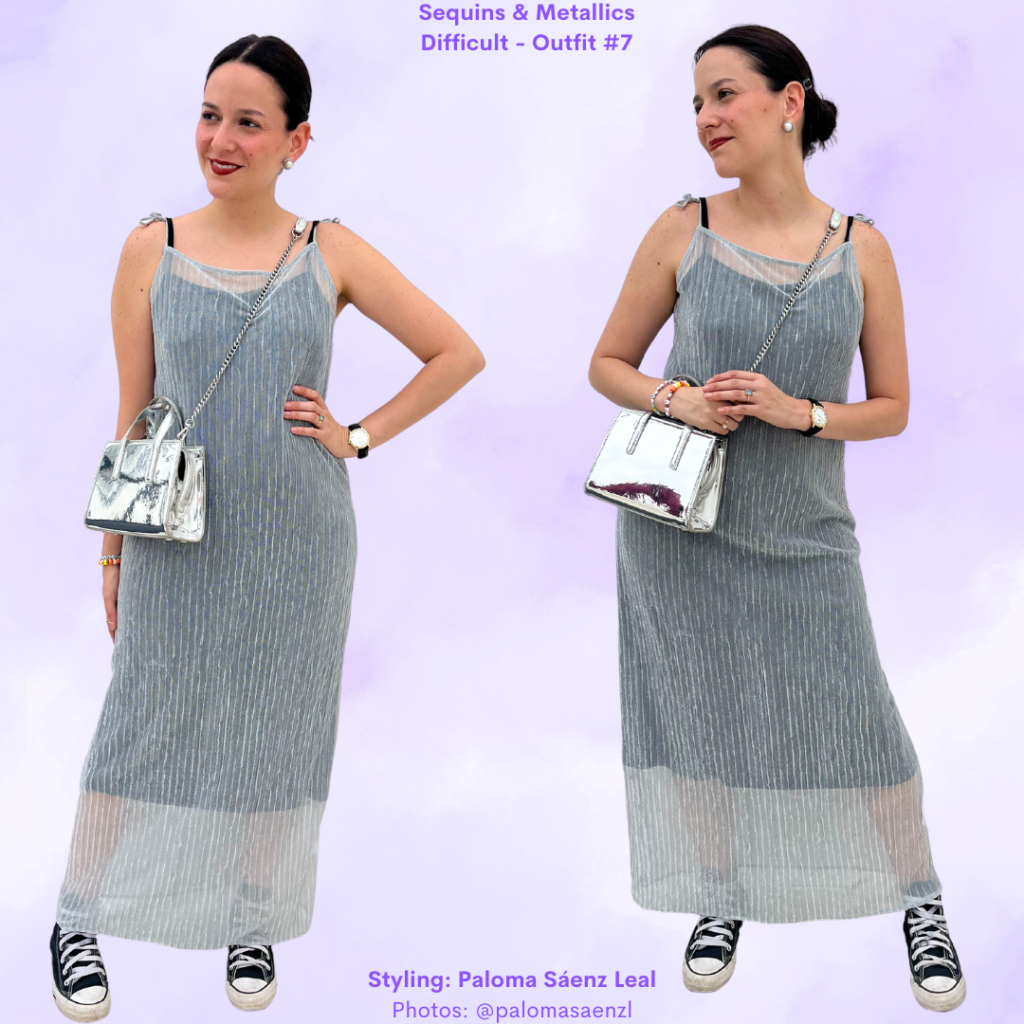 For my look, I started with a black slip dress. Then, I threw a silver mesh dress on top. I accessorized with my structured mirror bag and silver earrings. Finally, to tie in the black from the slip dress, I wore a pair of black Converse sneakers.
This outfit exemplifies a simple way to tackle metallics and mesh, but it works and looks effortlessly chic. The devil's in the details. Both the mesh dress and the slip dress have a squared neckline and similar lengths, which makes it look like they go together. The shine of the mesh dress is subtle, but the right accessories help to bring it out.
Difficult Outfit #8
It's time to jump to bigger, noisier heights. As I mentioned earlier, paillettes are larger sequins that have more movement and reflect more light. They also make noise when you move. And items with paillettes are cute and fun, but they demand to be seen and heard. Especially when they are not a neutral color.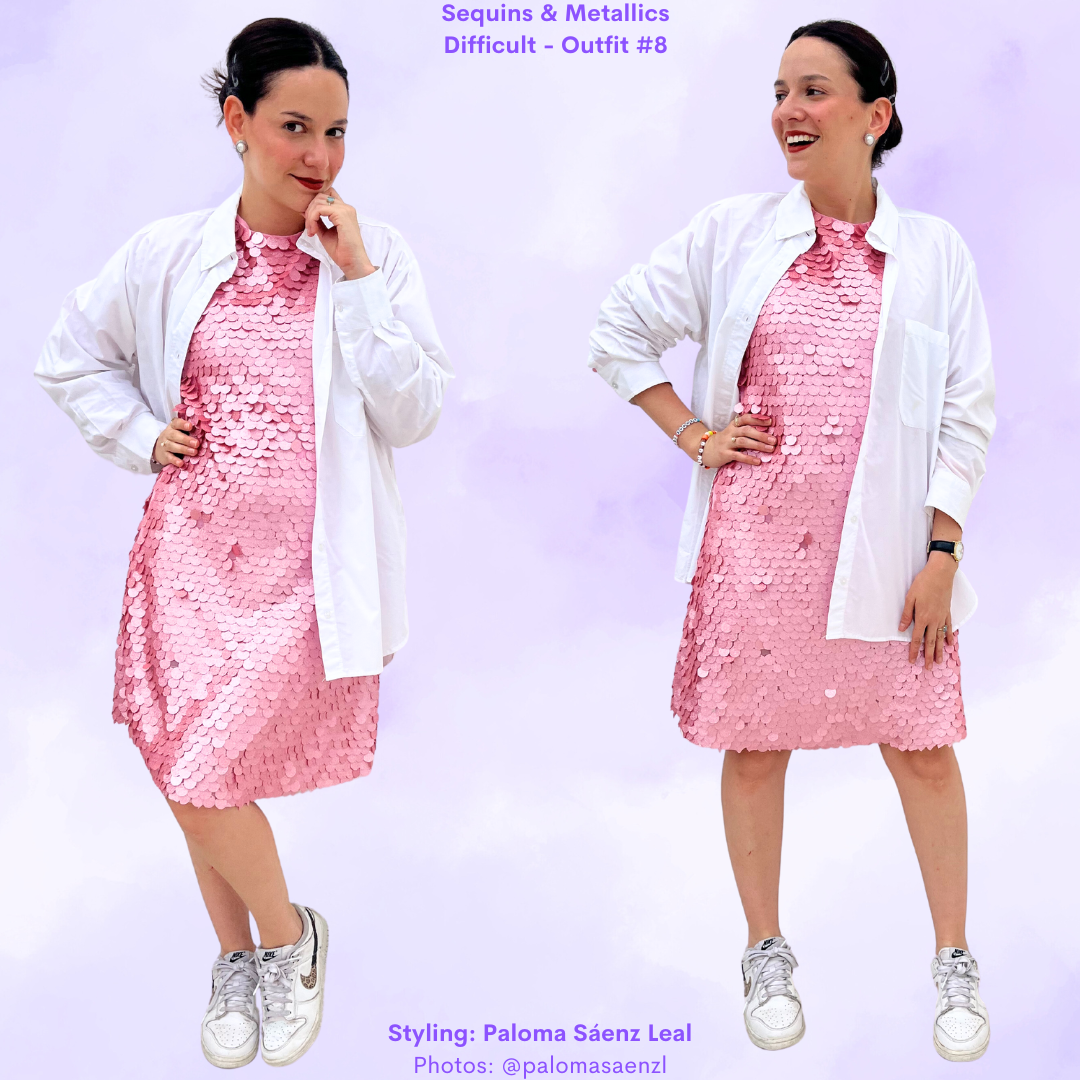 For this look, I wore one of my treasured pieces. It is a pink sequined dress. It has long sleeves and it is the perfect length to wear year-round. To bring it to a more casual space, I threw on a white oversized Oxford shirt and wore it as an overshirt. Finally, I used a pair of white sneakers to make the look sportier overall.
Organic and matte fabrics play really well with sequins and metallics when you are trying to ground them a bit. For instance, I usually wear this dress as is, but sometimes I want it to be more casual. So, throwing on an oversized shirt, or cool jacket over it, helps me wear the dress and not the other way around.
Paillettes are my favorite type of sequin because they brighten up everything and have a lot of movement. The only drawback is the noise, but it comes with the territory of sequins and metallics. Finally, the only tip I have for the noise is to layer, which drowns down a bit of the noise.
Difficult Outfit #9
Now, let's tackle the classic silver sequin dress. This is the sort of sequined item you probably see more often or even have in your closet. Maybe you bought it for New Year's and then didn't know how to wear it.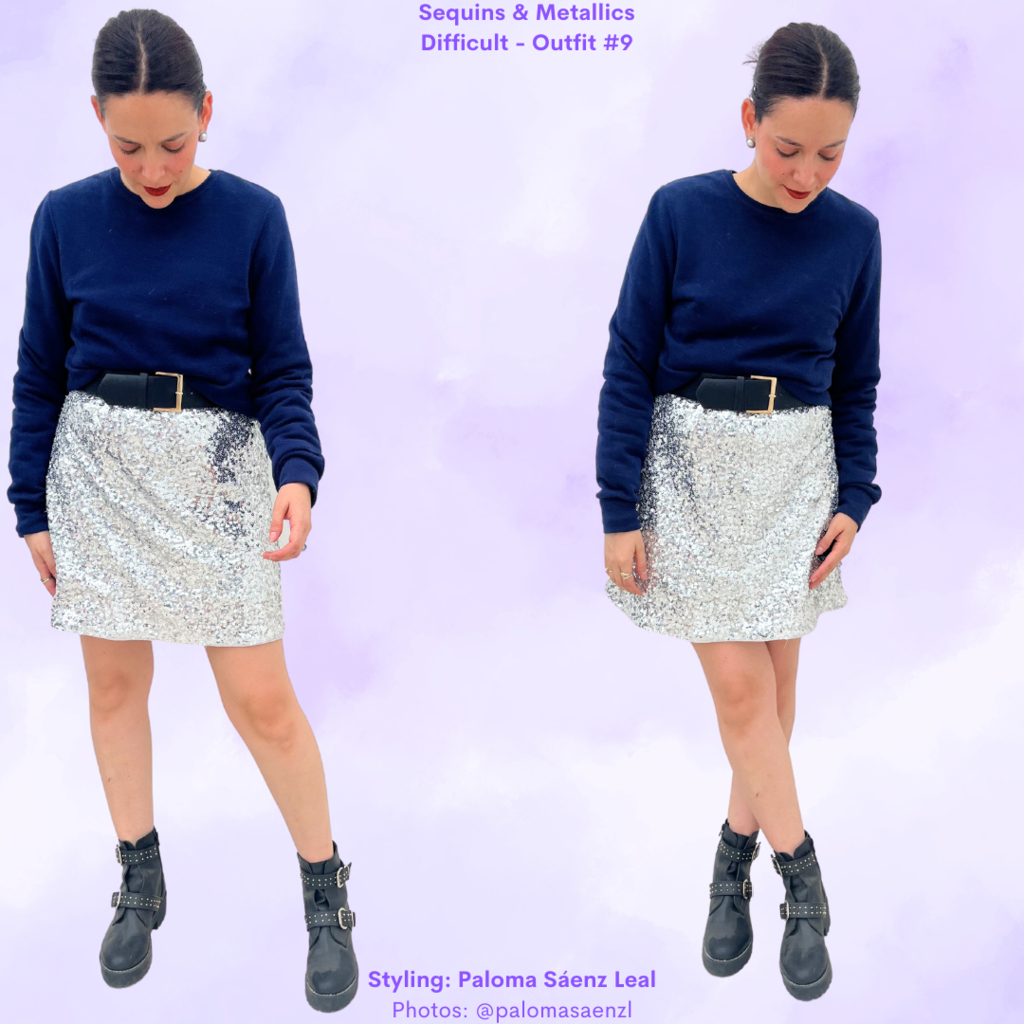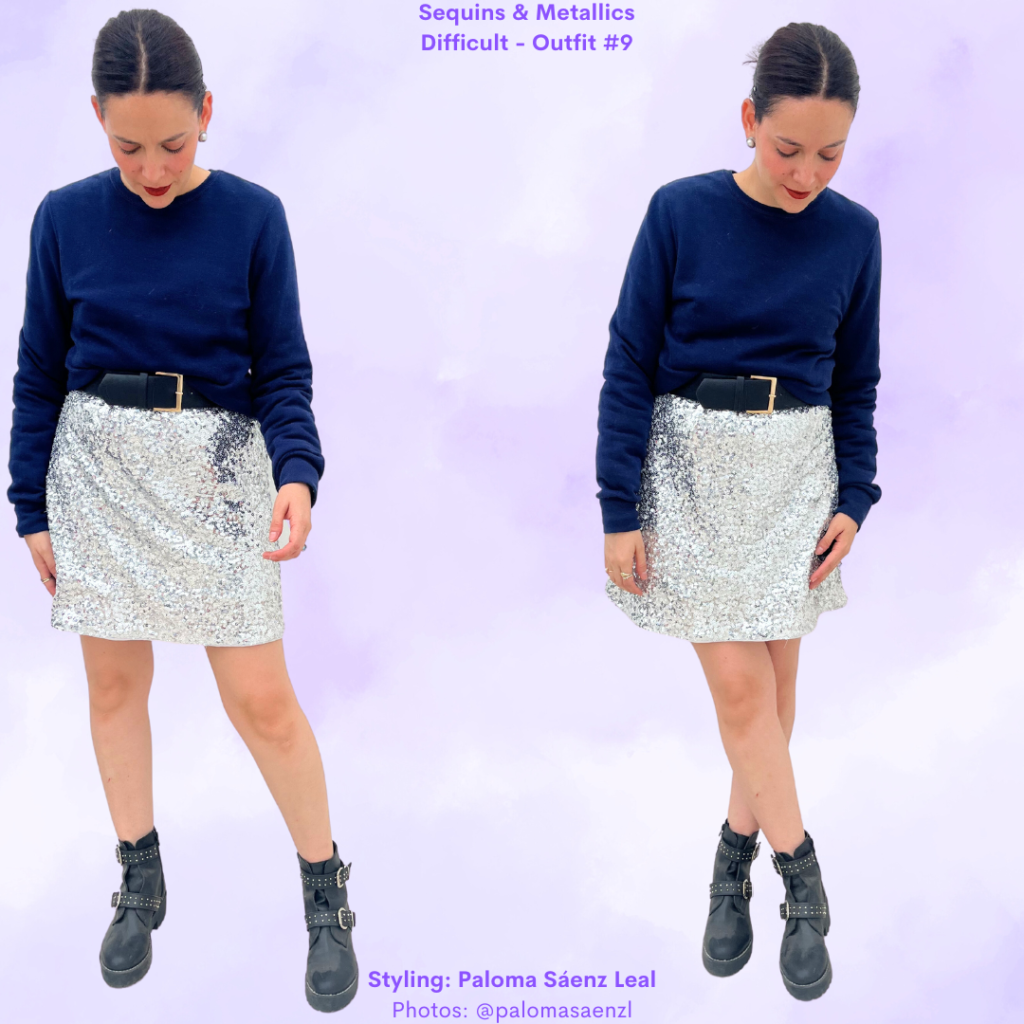 To style this look, I went back to layering. First, I wore my silver sequin dress. Then, I layered on a navy blue sweatshirt that I cinched at the waist with a black belt. For shoes, I chose a pair of combat boots with buckles.
There are a couple of elements to point out here. The dress is loose in the first place, so it's a great dress to layer over or under. But, this sort of layering also works for tighter or shorter dresses. Also, my dress is long sleeve, so this exact look might be better suited for colder weather, but my tips apply the same for short sleeves or sleeveless dresses.
Difficult Outfit #10
Finally, we end with colorful metallics. We've dealt with colorful sequins, but colorful metallics are harder to style. The type of fabric they usually are, the amount of reflection, the 80s vibes…. they can be a lot to handle. So, how do we style them?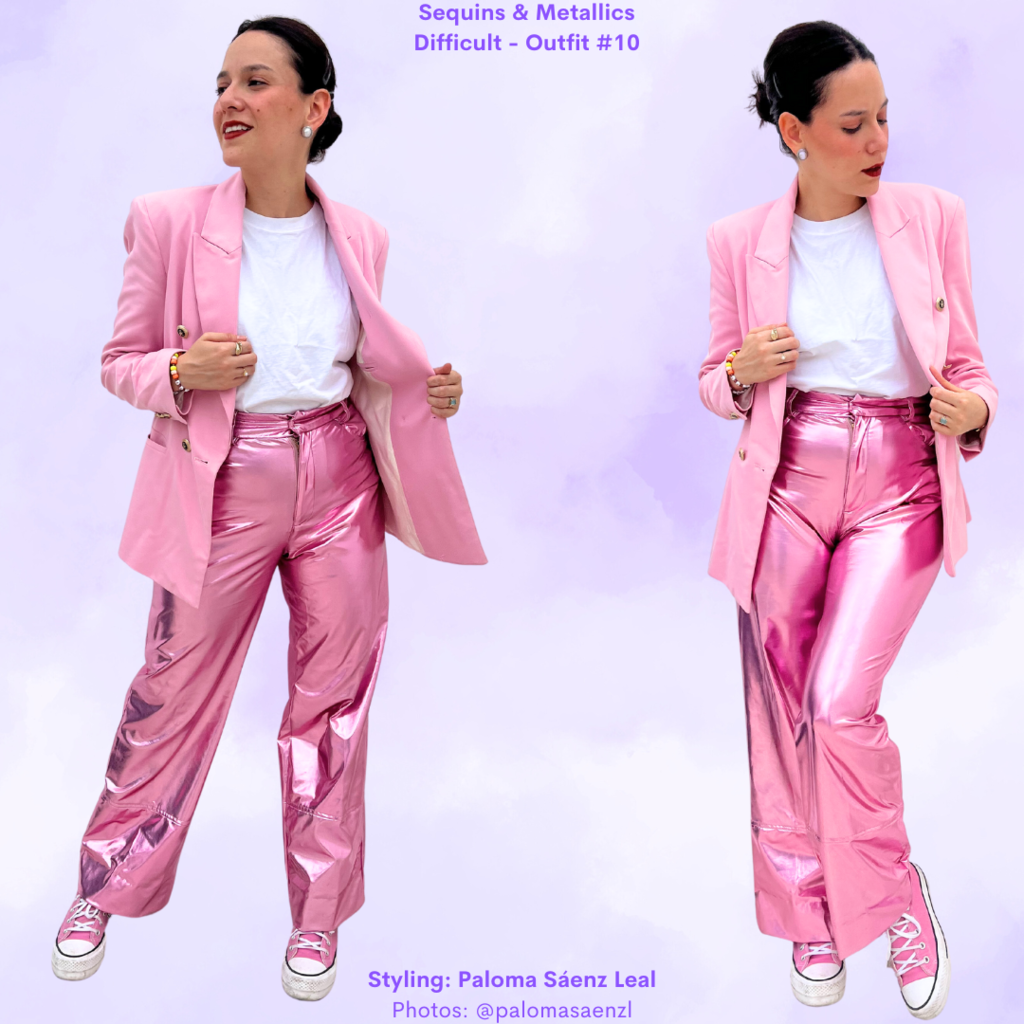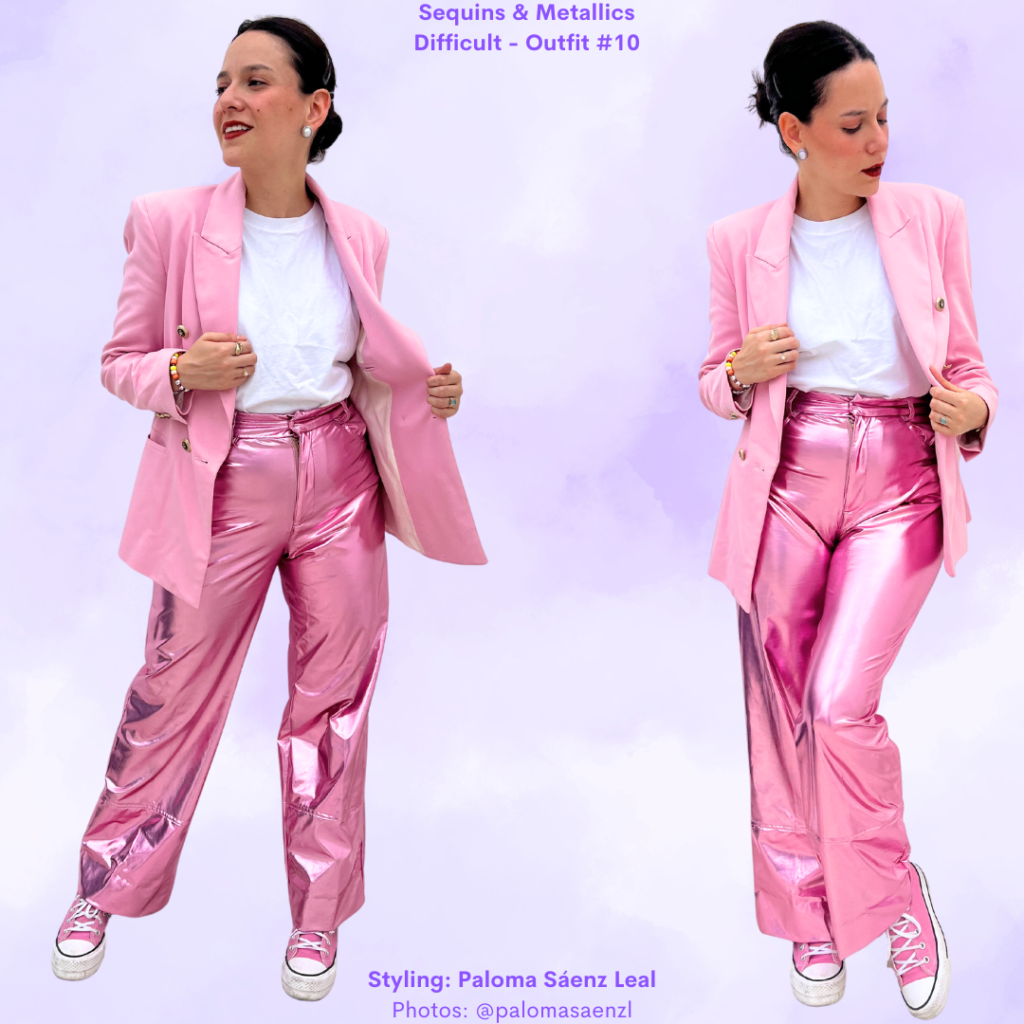 Take this look as an example of how to wear colorful metallics. I started off with a white tank top that has shoulder pads and a pair of metallic pink pants. Then, I threw on a pink blazer that has a similar pink to the one on the pants. Finally, I wore a pair of pink Converse.
Why does this work? All of the pinks are cool-tone pinks. They might not match perfectly, but they are in the same family. In general, colorful metallics feel daunting, but they shouldn't be. Personally, I treat them like any colorful item in my closet. Think of matching tone and brightness, and they will work, whether you're going for a monochromatic or contrasted look.
What Do You Think?
Would you wear sequins casually? What about metallics? Do you already do it? What are your tips if you do? Do you have any styling questions you want me to tackle next? Let us know in the comments below!